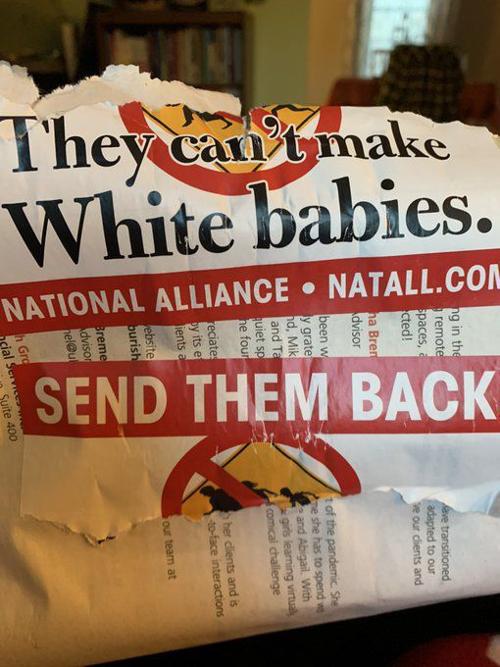 Cap Times newspapers affixed with white supremacists stickers from the neo-Nazi group National Alliance were delivered to several Middleton homes Sunday morning, and other offensive stickers were reportedly stuck to parking kiosks in downtown Madison.
The appearance of the propaganda, which included the statements "They can't make white babies" and "Send them back," was first reported Monday on the Madison365 website. The stickers affixed to parking kiosks urged "Racial distancing" to avoid contracting the COVID-19 virus and noted that Blacks have three times the infection rate of whites and six times the death rate.
"The government won't warn you, but the National Alliance will," the sticker reads.
It's unclear how many of the racists messages were delivered. Madison365 reported that they were delivered on Maywood, Elmwood and Hubbard avenues in Middleton, with one resident saying they appeared to have been randomly delivered to every third or fourth house. Many of the Cap Times papers, which are available free each week in racks throughout the Madison area, were only partial copies of the latest edition.
"We're obviously deeply disappointed to hear that our print editions were used for this purpose," said Paul Fanlund, editor and publisher of the Cap Times. "And we find it highly ironic that the stickers were attached to our newspapers because The Capital Times has stood against racism ever since we worked to prevent the Ku Klux Klan from coming to Madison 100 years ago. We have no way of knowing if the person or people who did this know that, of course. But like I said, the irony is hard to miss."
Madison police said that an East Mifflin Street resident also reported two National Alliance flyers tacked to a lamppost near her home.  
The West Virginia-based National Alliance, a once active neo-Nazi group that the Southern Poverty Law Center described as formerly "the most dominant and dangerous hate group in America," has been largely dormant since the death of its founder, William Pierce, in 2002, according to the Law Center.
The group and Pierce's novel, "The Turner Diaries," are said to have inspired several acts of terrorism, including the 1995 Oklahoma City bombing.
Get Election 2020 & Politics updates in your inbox!
Keep up on the latest in national and local politics as Election 2020 comes into focus.