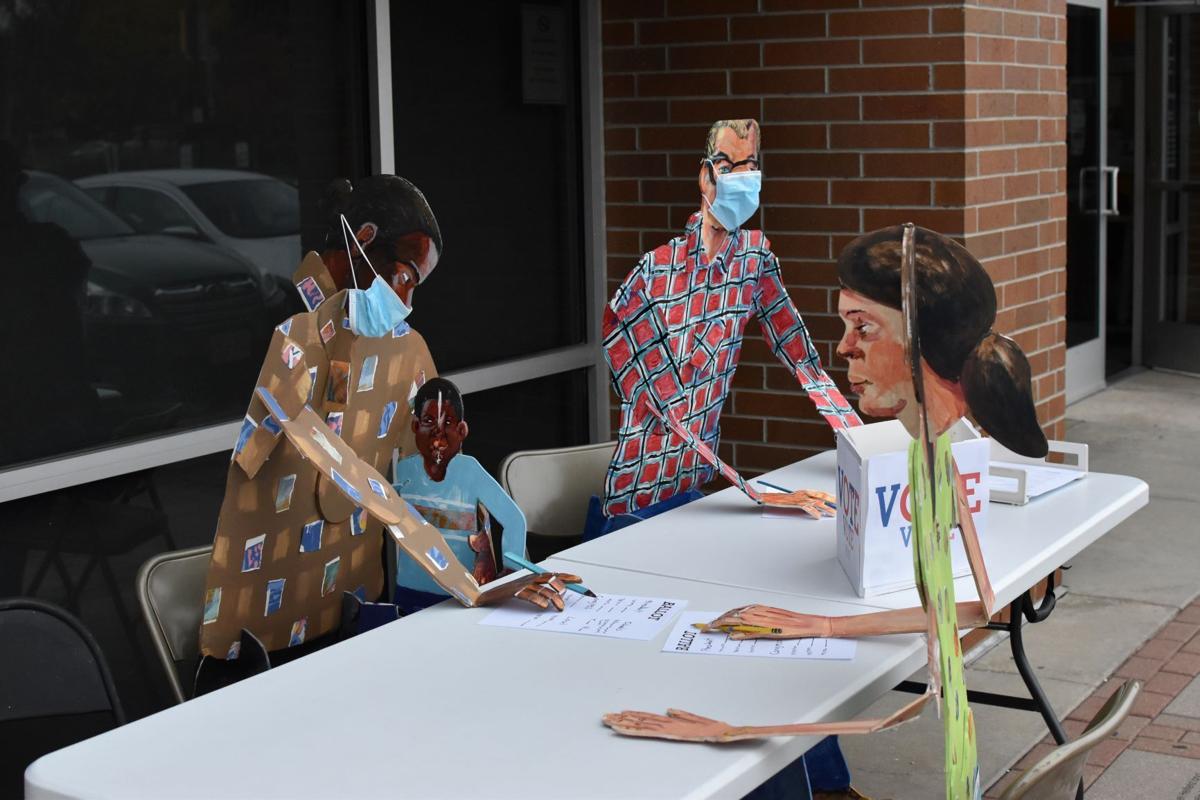 How do I vote on Election Day?  
Madison will operate 92 polling locations on Tuesday, Nov. 3, all open from 7 a.m. to 8 p.m. Everyone in line at 8 p.m. gets to vote. 
"We are fully staffed for Election Day and even have more poll workers than are needed," City Clerk Maribeth Witzel-Behl said at a press conference last month. "We have some cushion if we have a large number of cancellations due to COVID, which we would anticipate given the COVID numbers we've seen recently in Dane County."
In order to register at the polls, voters need an appropriate form of photo ID, listed on the Wisconsin Elections Commission's bringit.wi.gov site. Anyone who moved after Oct. 6, which includes moving to a new unit within the same apartment building, will need to update their voter registration.  
In Madison, curbside voting is available at every polling place for those who aren't able to enter or stand in line.    
I still have my absentee ballot. What do I do with it? 
On Election Day, voters who have not yet returned their absentee ballot can bring it to their assigned polling location before 8 p.m. on Nov. 3. 
Poll workers will wear masks, sanitize surfaces and maintain at least six feet of distance between themselves and others. Those working are asked to wash and sanitize their hands often.
Plexiglass shields will separate poll workers from voters. Though asked to wear masks, voters are not prevented from voting if they don't.
"The early in-person voting absentee process is safe and secure and easy," Mayor Satya Rhodes-Conway said last month. "We have trained poll workers who are wearing vests and personal protective equipment and sanitizing everything in between voters so you can feel safe and secure in accessing the vote." 
What should voters who have COVID-19 or think they might be sick do if they have waited until Election Day to cast their ballot?  
Voters who are quarantining or hospitalized can designate any registered voter to pick up and drop off their ballot on Election Day. In March, the Wisconsin Elections Commission expanded the definition of "hospitalized electors" to include "those quarantined in their home due to COVID-19." 
For voters who are exhibiting symptoms of COVID-19 but haven't been told to quarantine or isolate, they can ask to vote curbside at their polling location. With curbside voting, voters will be able to register to vote and cast their ballot without leaving their vehicles.  
How will the influx of absentee ballots impact the reporting of election results? 
Counting ballots is expected to take much longer than in other elections because of the unprecedented number of absentee votes cast. Poll workers cannot begin counting absentee ballots — opening envelopes, unfolding ballots and addressing any potential issues — until polling sites open on Nov. 3. Wisconsin is one of just four states that doesn't allow this work to begin in advance of the election.
Given the influx of absentee ballots, it's likely unofficial statewide results here won't be known on Nov. 3.
Wisconsin Elections Commission Administrator Meagan Wolfe said poll workers are doing "double duty" between counting absentee ballots and administering in-person voting.
"They're going to continue to operate under the same standards they have in the past, which is accuracy over speed," Wolfe said. "It may take additional time because there are additional ballots that need to be counted and they need to be providing that same service to the voters at the polls on Election Day."
Dane County Clerk Scott McDonell expects a late night with tabulating and reporting finished around 2 or 3 a.m. However, polling locations with smaller turnout could have results in before midnight.
Despite the large number of absentee ballots, Witzel-Behl said she does not expect delayed reporting in Madison. Each polling location will have a team of workers who will process absentee ballots beginning at 7 a.m 
"It sounds daunting to have perhaps 125,000 absentees to process, but those absentees will be dispersed to 92 polling locations," Witzel-Behl said in an email. 
How do different counting procedures factor into the timing?
While most municipalities count absentee ballots at polling places on Election Day, 39 Wisconsin communities, including Milwaukee, use a central facility.
Those communities won't include absentee ballot totals in initial results from voting precincts, accounting for in-person voting totals only on Election Day. That means those early results could be less complete than ever this year, due to the large number of absentee ballots that won't be included in the first round.
Wolfe said she doesn't have an estimate as to when results will be posted but said municipalities should communicate with the public before Election Day about how the process works and to explain whether unofficial results include ballots counted at a central facility.
"The law says each of those municipalities at 8 p.m. on election night are required to post on the municipal websites a statement that says how many absences they have received by that date to be counted so you know what is the potential number of absentee ballots that are going to be added to those polling place totals," Wolfe said.
Witzel-Behl underscored the priority of a complete and accurate count, saying it's important that election officials do not rush.
"As you wait for the results to be posted, send some good thoughts to the members of the community who are serving at your polling location and walking through a series of checks and balances to ensure a fair, secure, and transparent election," she said.
Share your opinion on this topic by sending a letter to the editor to tctvoice@madison.com. Include your full name, hometown and phone number. Your name and town will be published. The phone number is for verification purposes only. Please keep your letter to 250 words or less.
Get Government & Politics updates in your inbox!
Stay up-to-date on the latest in local and national government and political topics with our newsletter.