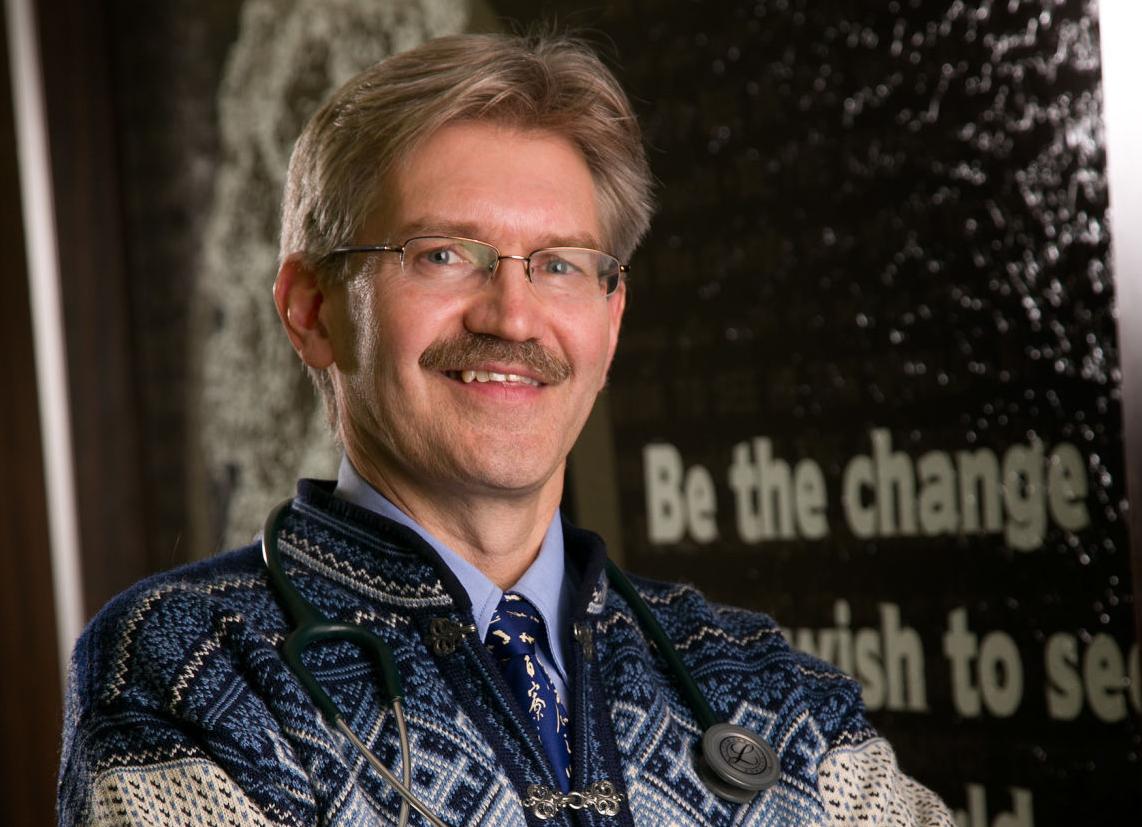 If anyone in Wisconsin was poised to play a part in the coronavirus pandemic, it was Jonathan Temte. A physician and associate dean with the University of Wisconsin School of Medicine and Public Health, Temte is also an expert in vaccine and immunization policy who sat on the Advisory Committee on Immunization Practices for eight years and is currently a member of the ACIP COVID-19 Vaccine Work Group, a panel that will help inform the U.S. Centers for Disease Control and Prevention determine how a COVID-19 vaccine will be deployed.
While the federal government has spent billions in an unprecedented effort to fast-track a vaccine that could be approved in just a few months, the rollout will be fraught with moral, ethical and political issues. Who gets it first? Who wants it? And who doesn't?
And what if another nation beats us to it, like China? How cooperative would that nation be after the cudgeling it's getting from President Donald Trump's administration?
Temte talked about those issues and more in with the Cap Times last week.
The development of a vaccine is moving ahead at lightning speed, with some predicting that one could be approved as early as October. From a safety standpoint, is that too fast?
My gut sense is that in the vetting process for any COVID-19 vaccine there's going to be a high level of scrutiny for safety. So far everything has been progressing very appropriately through these Phase 1 and Phase 2 trials. And the Food and Drug administration has final say in working with the manufacturers in how to set up clinical trials, how to interpret the data and ultimately the FDA has to look at the data and accept that and determine that it's appropriate. I have a lot of confidence in the vaccine safety infrastructure in this country.
How confident are you in the candidates?
We hope that we have a number of home runs, but I've been doing this long enough to know about all the vaccines out there that have made it this far along never to see the light of day. People know about the vaccines that we have. Most people don't know about all the vaccines that were prototypical that were in clinical trials and were abandoned because they didn't work or they produced a safety problem that was deemed unacceptable.
Where's the development process at this point?
Right now what we have is information from the Phase 2 trials, which show that in mostly young and healthy volunteers that the vaccine is safe, and that it produces protective antibodies. But those trials are not set up to show that the vaccine actually prevents the clinical illness or prevents a person from being infected. Those are two very different benchmarks. It's relatively easy to inject a person with a vaccine and 14 and 28 and 42 days later show that they've created antibodies. It's more difficult to show that when you do that you protect them from what you're trying to protect them from.
When you get into the Phase 3 trials, which generally have a lot more individuals recruited, you're kind of at the mercy of the virus out there. What you're doing is vaccinating roughly half the people, randomized people, the other half gets what appears to be a vaccine but is a placebo, and then you wait for cases to accrue in both groups.
Do volunteers actually have to try to expose themselves to the virus?
The challenge is you have to have enough disease out there, but you also have to take into consideration that it would be unethical for me to say, as part of this trial, we want you to give up social distancing, and we want you to give up wearing a mask. Because we're social distancing and we're using masks, many of the people who are involved in clinical trials may not be exposed to the virus. There gets to be a whole lot of nuance with trying to run an effective trial that meets all the ethical standards and at the same time see meaningful results.
Given what some are blaming for recent outbreaks, maybe they should pass the vaccine out at bars.
The best subjects would probably be people age 20 to 29 recruited in bars. They would have a high likelihood. On the downside, I don't really worry so much about the vaccine being of great benefit to them relative to people over the age of 60 or 65 or 70 who have medical problems. Unfortunately, with many of the vaccine trials we don't recruit enough individuals from racial and ethnic minority groups. We don't recruit enough people from the tribal nations. We don't recruit enough people who have a wide variety of medical issues. And so one of the problems becomes translating the outcomes of a vaccine trial into meaningful results. So do we know that when we get this vaccine to somebody who's 80 years old in the nursing home, is it going to do any good?
And how about when the vaccine hits the market? Is there going to be special consideration for those populations, which are contracting the disease and dying at high rates?
There certainly may be. For vaccine prioritization, your goal is to be ethically sound and have a very equitable approach. I think we have to consider the current inequities out there and make sure that any prioritization plan adequately addresses those inequities.
Who else might be at the top of the list?
You want to have a plan that is ethically sound and equitable. But beyond that we start looking at a couple general areas. No. 1: which individuals are at risk because of their own characteristics? We do know with this virus the older you are the more at risk you are. We also know that in general young people have not had as much of severe outcomes. For example, in Wisconsin we've had zero deaths under the age of 20. On the flip side, people over the age of 85 have had a very disproportional share of our deaths. We also know that certain medical conditions put you at higher risk. We also look at who's at risk because of occupation. I'm pretty well isolated, I have that luxury. On the other hand, if I'm working at a meat processing plant in Brown County, I might not have that luxury.
Health care workers are placing themselves at high risk. Because what they have to do is be close to people taking care of people in a hospital setting. There are general categories of occupation.
One other category is what I call critical infrastructure. Who's really important out there that we can't take out of circulation? I live down in the little village of Oregon and I think of my critical infrastructure down there as the people who check me out in the grocery store, the people who keep my lights on. In the wintertime in Wisconsin, our snow plow drivers are pretty critical. There's a lot of nuance for how you define a critical infrastructure, but those are things that are taken into consideration.
How much of the population needs to get a vaccine before you can stamp out the coronavirus?
The answer isn't exactly simple. You have to look at how much of the population is naturally immune from becoming sick and recovering, and you have to add to that the percent of the people that get the vaccine, multiply it by how effective that vaccine is. So some vaccines are highly effective, close to 100%, and other vaccines might be 30% or 40% effective. So for example, if we have a vaccine today, and across Wisconsin we have 10% immune and we have a vaccine that everybody else received but is only 30% effective, that wouldn't be enough to push us over the threshold. With this particular virus we need between 60% and 70% of the population that's immune for it to go away. And I've seen somewhere between 30% and 35% of people when polled said they will not accept the vaccine. When I hear that, I worry a lot. That will be a pool of people that will continue the pandemic.
Do health officials plan an effort to change the minds of those who balk?
I hate to be too cynical here. There will be a lot of community engagement, there will be a lot of education. But at the same time, there will be a huge amount of misinformation from the anti-vax community. We already know that vaccination can be a potent political wedge issue, and there is very good documentation of foreign nations meddling in our social media through bots and trolls and so on to create significant wedge issues out of vaccinations. This occurred four years ago. There will be a lot of education, but it'll be in two disparate directions, I fear.
How do politics play into the distribution?
It depends. The National Academy of Medicine has just formed a group to look at vaccine prioritization, and there may be, as far as I know, other groups out there. Traditionally, it is in the purview of ACIP to create a prioritization plan. What I worry about is you get into competing committees. On top of that, politics can always filter in in terms of who gets what, how it gets distributed. Unfortunately, we've already seen that to an extent with distribution of other critical supplies during this pandemic. I wouldn't say that all bets are off the table. We hope for the best and we're expecting maybe something not quite so good. We'll just have to see.
What if another country beats us to a vaccine?
There are many different vaccine prototypes out there. The last I looked, China had more different vaccines in testing than any other country. There are three under clinical trials in this country. This is one where one hopes that there is significant international cooperation, because this is a global pandemic. We have maybe 13 million, 14 million cases across the globe, and this has grown from zero at the beginning of January — 625,000 deaths that we know of. One would hope for cooperation across all nations, across all peoples, across all classes, races, ethnicities and so on. Unfortunately we find that that isn't always the case. And we've seen certain countries remove themselves from international cooperation.
The U.S. as a case in point?
Get Government & Politics updates in your inbox!
Stay up-to-date on the latest in local and national government and political topics with our newsletter.