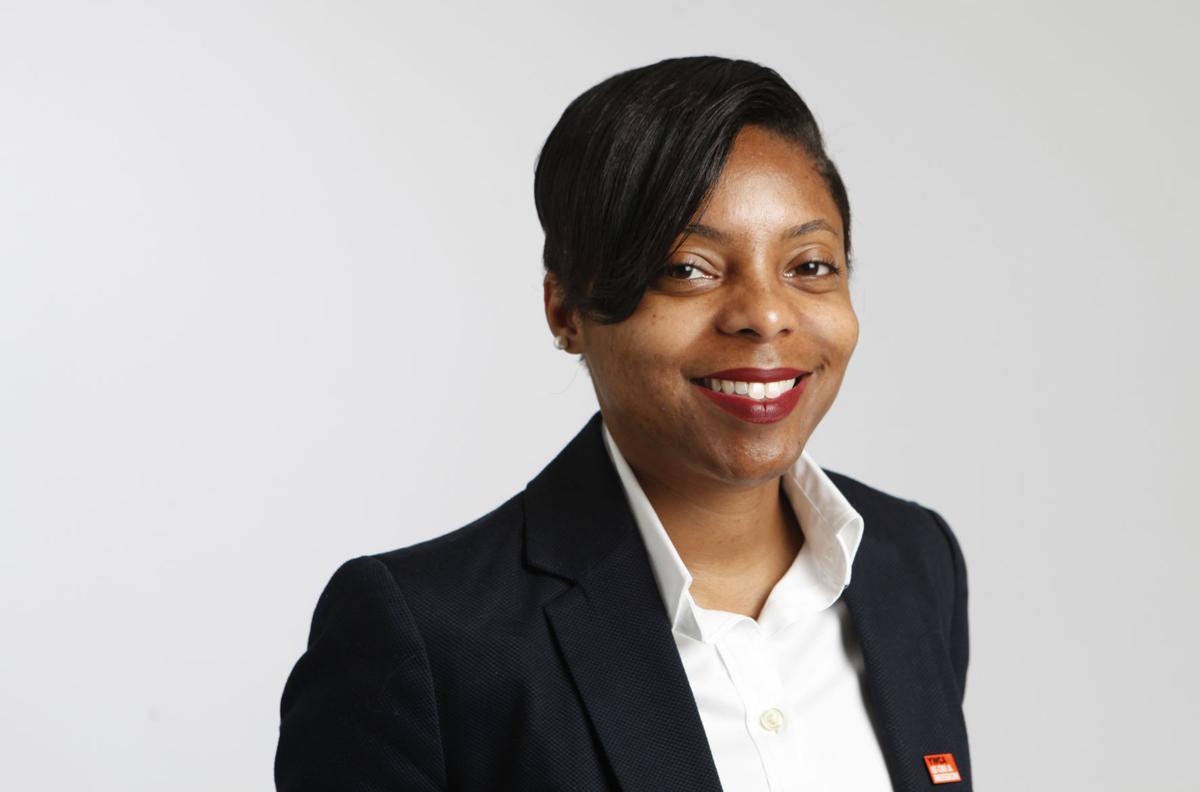 A few weeks ago, Vanessa McDowell made the news when she was named the first African-American CEO of the YWCA Madison, which has been around since 1908.
But as the former interim CEO at the Y, McDowell's not new to the job, and she's not new to the city, either. She grew up in Madison and is a longtime member, volunteer and former employee of Mount Zion Baptist Church and an active member of the Madison Alumnae Chapter of the Delta Sigma Theta Sorority, where she currently serves as the chaplain. Plus, she's a DJ on the side, and mixes music around town at parties and events like Dane Dances.
Now, as CEO, she's on a mission to make sure that the community understands the YWCA's mission (like that it has nothing to do with the YMCA) and to empower the populations the Y serves.
As the first African-American CEO of the YWCA in Madison, you've said "there's a banner that I carry with it, but also a weight that I carry with it." Can you explain that?
One of the great things about right now is I have a lot of support from the African-American community. It's like carrying this banner of victory, like "Yes, we're here, we're doing it together!" But with our mission to eliminate racism and empower women, to be in 2017 and this is just happening is kind of a weight, too. So we've come a way, but we still have a long way still to go.
With the emphasis on being the first African-American CEO, do you think that at all takes away from your personal accomplishments?
Not at all. I mean, for me, this is really not about me, per se. I just happen to be the vessel being used at this time. So I don't really take into account me personally, my accomplishments or things like that. To me, I'm a believer in God, and I just believe that God positioned me at this time to carry this banner and take the baton during this part of the race.
What does it mean for African-Americans to look at a CEO and see someone who looks like them?
I think that makes a world of difference. Just like anything, if you don't see yourself represented somewhere, it makes you feel like you don't belong there. For me, it's an opportunity that the door has been opened to say, "you belong here." We're able to get into different communities of color in a different way than we have in the past.
One of your focuses is moving from a charity model to an empowerment model. Some people might think, what's wrong with charity?
I think that model is problematic because it comes from a lens that "I know better than you what you need." There is no real engagement with the person, it's just kind of throwing this program at you and throwing this money at you, take it. Instead of, "Let me walk alongside of you and see what it is that you need from me."
Can you give me an example of empowerment on an average day at the Y?
I think specifically about our YWeb Career Academy. The goal is to get women and people of color into the IT field that is currently predominantly white and male. I get to meet them at the beginning, and they're all nervous and not sure about this. Like, "Okay, I'm committing 15 weeks of my life here to very intense training and hoping to come out on the other side." But by the end when they get to graduation, they have the ability to really change their lives forever, because the IT field is pretty lucrative. If you go from not really having much, to now you're able to make a family-sustaining wage, that's a major accomplishment. That's empowerment.
It started in the home. I have phenomenal parents who have been advocates and community leaders here in Madison and have really done some trailblazing work. My mom was the first director of the Multicultural Student Center on campus.
It was huge, because they didn't really have anywhere for students of color to have a place on campus. She provided a lot of support to students of color who still call her mom. One of the inspiring things for me is that she was 36 (when she became director), and I'm 36, so it's like this whole legacy feeling.
What are your priorities as CEO, and have they changed at all from your time as interim CEO?
We're still working on those three areas I had in my interim: staff development and morale, building nontraditional partnerships and building an empowerment model, and they're longstanding goals. It's not like magic happens and you're done with them. But my overall vision for YWCA Madison is that whatever touch you have with us, is an empowering touch that inspires you and uplifts you in some type of way. Whether if that's just you surfing our website, you should be empowered by that website. Things that seem small, they still have a way to touch you.
Is there something that you want the Madison community to better understood about your work at the Y?
One of the things that we're working on particularly is making sure that we do tell our story better in the community, just by our social media and things of that nature. And then we're also trying to make sure we don't get confused with YMCA, which happens a lot. We have two very different missions; we have no affiliation, even though they're great. Our focus is really on eliminating racism and empowering women. We don't have a gym. 
How did you get into DJing?
I grew up in a musical family. The story of my house is kind of that on Saturday mornings, you're doing cleanup and the music's going, you listen to '70s music, '80s music. Probably about seven years ago now, I was always bringing a little iPod to parties. Everybody was like, "Vanessa, bring the music!" The a light bulb went off, and I was like, I could probably be making a little money, because I just have this belief that everyone needs a side hustle. (Laughs.) So I invested in some equipment, taught myself the software and the rest is history.
I feel like when you picture the CEO of a major nonprofit, and then a DJ, you'd think, oh, that couldn't be the same person.
I've had people run into me, and it's almost like they're scared to ask me, "Are you DJ Ace?"
Is there anything else you want to add?
I think we are in a pivotal time right now, not only as far as our country but our city. There's this kind of glossing over sometimes of the tale of two cities here. Race to Equity really brought up a lot of conversation, a lot of discussions, which was good. But now I feel like we're at a pivotal place where we can actually figure out a plan to get rid of these disparities. The question is, are we going to rise to the occasion?
Get Government & Politics updates in your inbox!
Stay up-to-date on the latest in local and national government and political topics with our newsletter.