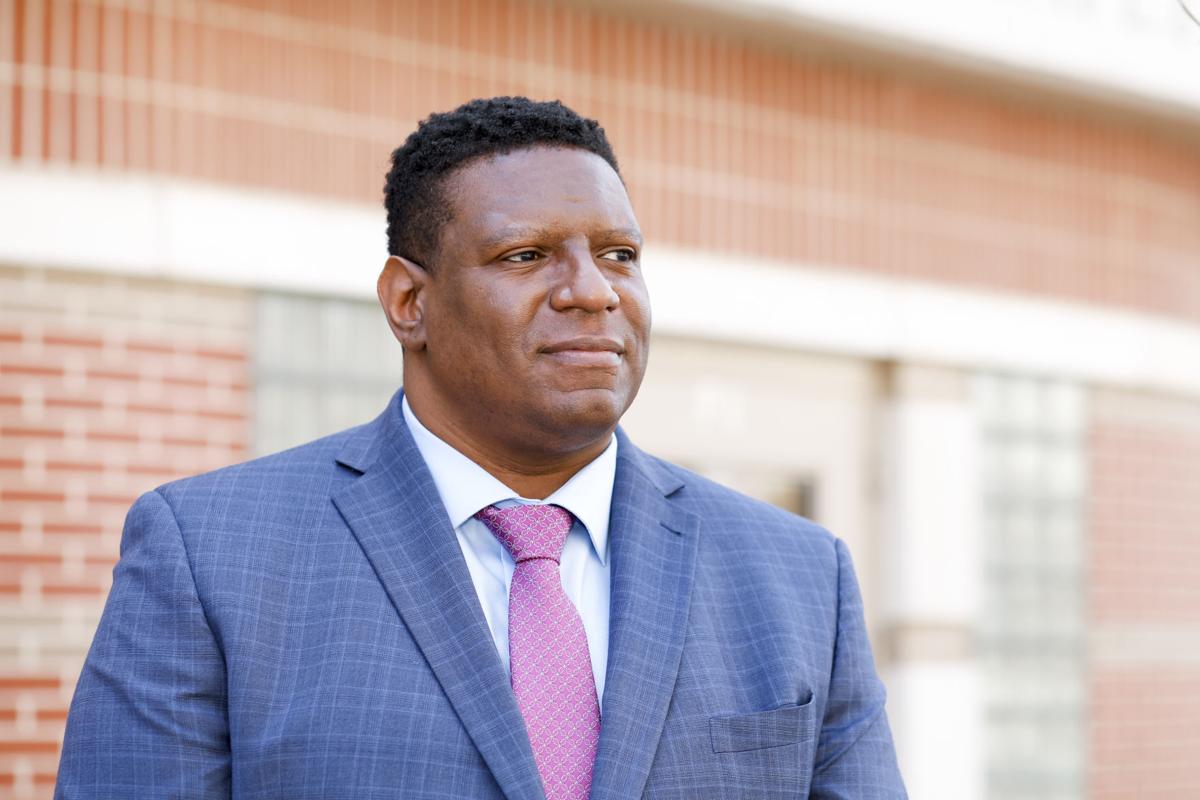 Kalvin Barrett will take over as Dane County's 53rd sheriff on May 9 and lead the agency in which he worked his first job in law enforcement over a decade ago.  
Barrett, 39, will replace Sheriff David Mahoney, who is leaving the top job after 14 years for a safety and security position at American Family Insurance.
"My goal while in office is to continue to increase the integrity, honor and trust of the Dane County Sheriff's Office," Barrett told the Cap Times last week.  "I want to treat everyone with humanity, dignity and respect and want to continue to deliver a high level of service to the people of Dane County. That includes on our roads, in our neighborhoods and our courts, and in our jail facilities." 
Prior to a career in law enforcement, Barret earning a sociology degree from the University of Wisconsin-Madison, where he also played football on the  offensive and defensive lines for the Badgers from 2000-2004. He was a seventh and eighth grade teacher and coach in Texas before his first job with the Dane County Sheriff's Office.
Barrett also worked for the Sun Prairie Police Department from 2011 to 2016 and was the first Black officer on the force.
He's currently a law enforcement officer at Wisconsin State Fair Park and teaches at Madison College as the faculty director of the criminal justice studies program. Barrett is also a workplace violence and active threat response consultant and holds a master's degree in criminal justice from American Public University.   
Barrett has also been involved in several community organizations, including the United Way of Dane County, a community resource center in Sun Prairie called Sunshine Place and Tellurian health care. 
"I am humbled by the opportunity but excited for the great opportunity to bring all that I have learned in my experience, including my life experience, my professional experience, my educational experience, my training experience to the leadership of a fantastic professional law enforcement agency," Barrett said. 
Did you always see yourself in a position like the Dane County Sheriff?
Yes, I really have. It's something that I've been working on and really building relationships throughout our community for a long time in preparation for this, which is why I have established many relationships within the Dane County community already. This isn't something that I just woke up and thought it would be fun to be. It's been in process. 
You are among distinguished Black leaders in law enforcement serving the Dane County community in addition to new leaders in Milwaukee. What do you think this says about this time in our community?
It says that we're heading in a great direction where representation really matters and that you know we are receiving the proper training, and we have the opportunities to really get in positions of leadership and provide our insight from, not just the professional standpoint, but from a personal standpoint too.
I think what it is really saying is that we are definitely changing, we're moving and evolving to a more inclusive environment to all of our community members and that our leaders are starting to reflect the communities that we all love to serve. 
You described yourself as a peace officer. What does this mean and how does that translate into your role as sheriff? 
The title to which we go by and how we view ourselves matters and how we carry out the duties of our position. When I mean peace officer, I mean that is exactly what my goal, my philosophy and my vision is: We are there to keep the peace. I do believe in accountability, but I do believe in rehabilitation and education on the front end to prevent that back end accountability.
Our mission is to ensure and maintain the peace in our communities, jails and courts, that is our ultimate goal."
It really comes down to just the mindset and philosophy about keeping the peace first and not necessarily falling back into, I have to enforce, I have to arrest or write tickets in order to have the same effective outcome of crime reduction and reducing recidivism.
What do you think of the jail project, which has been contentious and divided some in the community? How do you plan to work with everyone on this?  
The key is collaboration and understanding. Over the past two weeks, I really had an opportunity to understand (the project) from an internal standpoint, but also, even before I received this appointment, I've been in contact with community members, just understanding different ways to reimagine that space in theory, and understanding their concerns, number one, but also, two, their ideas on different ways that the space can be used. 
My ultimate philosophy when I'm sworn in, and I raise my right hand and agree to be the 53rd Dane County Sheriff, I swear to serve and protect all the county residents, and that includes those in our communities, and includes those who are in our care under our supervision.
As sheriff, you will manage a budget. How do you think about the balance of investing funds in the criminal justice system while also keeping in mind some calls for the community to invest more in the community? 
I really understand the idea of why there's hesitation of investing into our criminal justice system dollars, but it really comes back to providing the best care for those who are in our custody. It's not just about having a place to go, but it's about really identifying the needs that they need and addressing those needs within the time that we have, so that we can then provide them with the tools that they need to be successful and not return back to our facilities. That's the goal: reducing recidivism. 
What are Dane County's greatest challenges when it comes to criminal justice?
As a whole, law enforcement is viewed as one collective body, and all of the great work that we've done here in Dane County with all of our agencies and our departments and our collaborative work with our community, a lot of times is damaged based off of the actions of other individuals in other areas that we've never met before. We understand that we do represent a collective body of peace officers throughout our country, but the biggest challenge is continuing to build the relationships that are sometimes fractured. 
Share your opinion on this topic by sending a letter to the editor to tctvoice@madison.com. Include your full name, hometown and phone number. Your name and town will be published. The phone number is for verification purposes only. Please keep your letter to 250 words or less.