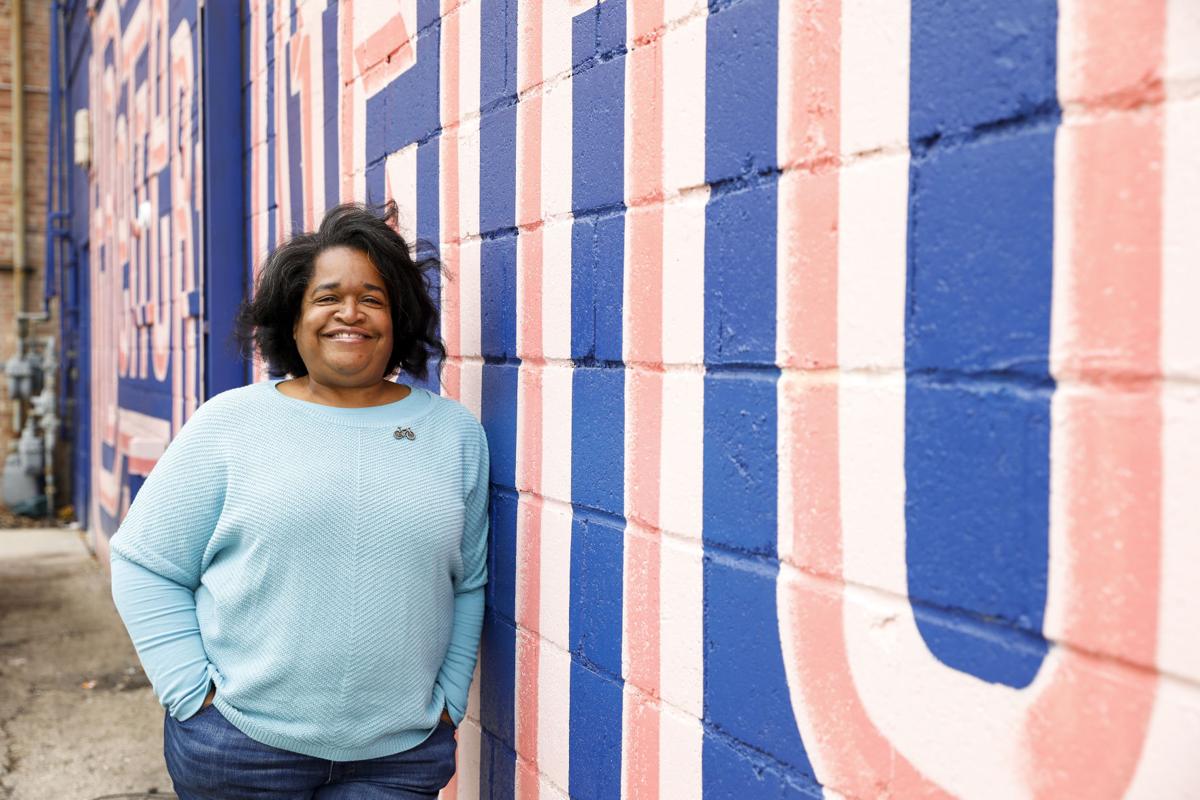 After Jasmine Banks' mother died from cancer in 2012, she confronted the idea that perhaps there is a link between the ingredients in personal care items and the disease.
Banks, 51, describes her mother as the kind of woman who "danced in ballrooms" and was "elegantly dressed" in heels, dresses and makeup with her hair done. Reflecting on how her mom may have developed cancer, she considered the powder puff that was always on her dresser.
"I thought maybe it's the things that we put on our bodies, on our skin, which is our largest organ," Banks said.
Banks, who is also a program coordinator at Operation Fresh Start, started to research ingredients and found that some products contain ingredients that are considered harmful in small doses. But if someone uses the same deodorant over the course of their life, Banks noted that it's likely no longer a small dose.
She began creating her own products like sugar scrubs, soap, body butter, lip balm, body oil and now candles through her company called Perfect Imperfections 608, which she officially began Feb. 27, 2016. Perfect Imperfections will also be one of the first permanent vendors in the Madison Public Market, which is slated to open in 2021.  
Banks calls self-care a divine responsibility and makes sure she's channeling positive energy into every order.
"This is my routine. I go upstairs and I take a nice long bath. I change into some lounge clothes. I come downstairs and I put on some soft music and get a glass of wine and start to create because the energy that I have from my 10-hour day job is different energy than I want to go into these products."
What's the story behind your company's name?
The products are because of my mother. You talk about a daddy's girl? I love my daddy. If you were to ask me from the time that I could speak until today, I will tell you that that man was the perfect dad. I knew early on that if everybody had a dad like mine, the world would be a much better place. But he was human, and he had his imperfections. That's where Perfect Imperfections comes from.
How did you grow from hosting a successful create-your-own product event with friends to attending pop-up markets and launching a website?
There's nothing that I do that doesn't include community. I was so fortunate that people were telling other people that were telling other people that were telling other people. So somebody would say, 'Oh, Jasmine, I'm having a market. Would you like to come?' And I was like, 'Absolutely.' I never said no.
How did you get involved with the Madison Public Market?
Somebody suggested that I apply for the Madison Public Market MarketReady program. And I was like, 'I don't even know where I want this business to go. So why would I do that?' The funny thing is everything that I do when it's like that, it's from fear. Am I good enough? Should I be doing this? Why would I do this? Who's it for? It's probably not for people like me.
I went through steps to get to the MarketReady program. They accepted me into the program, and it was amazing for me. They provided me with different resources, access to different things. One of those beautiful things was a business mentor.
Though you were nervous to launch your business online, your website went live at the end of February just before the state shut down due to the coronavirus. How did your online presence contribute to your growth as a small business owner?
My customers started to send me messages on Facebook and say, 'Jasmine, we know that you're not gonna be able to be at this event. Is there a way that you can send me …' and I said, 'Go to my website.' I started to begin to feel a little bit more confident.
It's definitely taught me how to scale. Prior to this, when I was doing pop-up markets, I would make enough inventory just for that specific show. This has taught me how to order in bulk, to carry an inventory. I've learned how to do shipping and mailing.
How will being a permanent vendor in the Madison Public Market take your business to the next level?
I've always wanted a space where my customers can come see me, kind of like your house. It's different to go out to dinner with your friends than to entertain your friends in your own home. I've been going out to dinner with my customers because we've been going to different spots, different markets, different pop-ups, which equates to different restaurants. Never have they been able to come and see me in my space. I'm always welcoming in through somebody else's door. In this beautiful market, I will be able to welcome them into my door.
What's in the future for Perfect Imperfections?
I say that after my mother passed away, she knew that I wasn't meant to work for other people for the rest of my life. What she did was she divinely gave me this gift of this business. This business is divinely driven. Wherever I'm led, I go. I said all that to say... so when people want me to envision, 'Where do you see Perfect Imperfections?' I kind of really don't know.
Share your opinion on this topic by sending a letter to the editor to tctvoice@madison.com. Include your full name, hometown and phone number. Your name and town will be published. The phone number is for verification purposes only. Please keep your letter to 250 words or less.