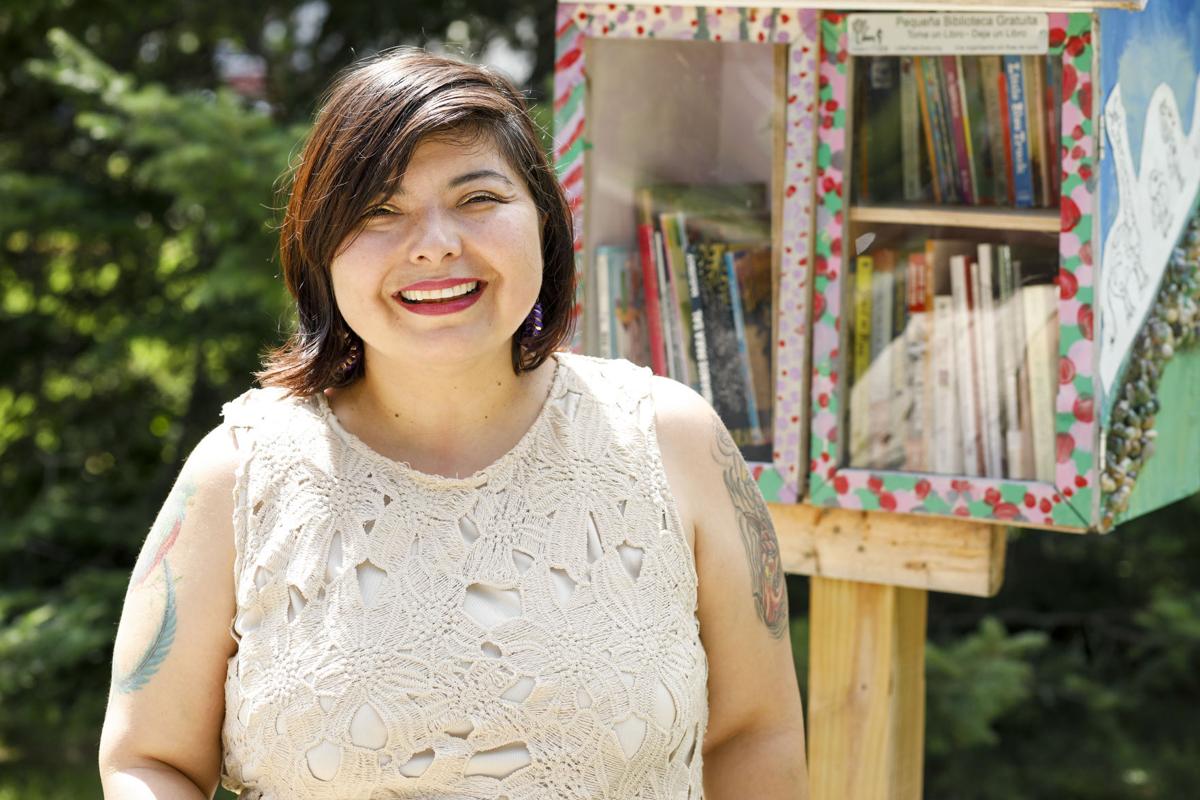 Araceli Esparza is a Madisonian by way of Mexico. She is a proud and energetic poet, writer, podcaster and community leader is committed to helping and advocating for Latinas living in the Midwest.
What are some of the projects you're involved with in terms of giving Latinas a voice in Wisconsin?
Breaking the Isolation of Latinas living in the Midwest is my tagline. It's all about highlighting and centering Latinas and their stories, their events, their triumphs. We do that through numerous channels, one of them being our Wisconsin Mujer Facebook page.
I kind of repurpose media from the Cap Times, Wisconsin State Journal and, most of all, Madison365 because they're the ones who do it the most, but we repurpose media and put it up on Facebook in a way that it's just focused.
It's not just local media. I'll put in national things none of our local newsies are posting but that are still relevant to Latinos living in the Midwest. You know, stuff on voting, talking about ICE, immigration, or some new Latino movie that's coming out or if there's some new Latino tradition.
What other platforms are you using to promote your work?
I do a podcast which is called Midwest Mujeres. It's still a work in progress. We have 12 episodes right now. Our producer, Dina Martinez, has been amazing. So we're launching now our second mini-season, which is going to be a series of Latino artists and we've already done several collaborations with Madison Public Library, the Madison Arts Commission and the Dane County Arts Commission.
They've provided some sponsoring and so we have a mini-series of five interviews- some of which have already been done — and they're in video format on YouTube, and from there we're just getting ready to edit them and repost them for the next year.
Who are the people you have already interviewed?
We've interviewed Rodrigo Carapia, who is a 23-year-old artist from Mexico City who is living in Madison. And Richie Morales, who is an artist-in-residence that has work currently on display in The Bubbler Room at the Madison Central Library.
Some of the other people we're looking at interviewing are folks like Shadayra Kilfoy-Flores, Veronica Figueroa and Angelica Contreras. I wanna call her Seniorita Galleta because that's her Instagram name!
I have another photographer friend of mine, Julieta Alvarez. I'm thinking of interviewing her as well.
So, in addition to art and photography, what are some of the other topics you discuss? Things have been so intense around Madison lately in terms of race and demonstrations. What impact has that had on your work?
There's just so much going on as far as what happened with George Floyd and the Black Lives Matter movement. And how do we make that relevant to Latinos? How do we make space for women who might not be protesting in the front because of their health and because of, like in my case, economic constraints? Maybe you don't have health insurance right now and you might not wanna risk yourself going into a physical demonstration. But how do you show resistance and resilience to white supremacy and the racist structures that uphold us?
What I've been doing is being a guest at various podcasts and talking about why we are resisting. Talking about the challenge, which is our capitalist, racist society that has been oppressing women of color, men of color, anybody who is Brown or Black and Native American in our community.
I use my platform to make space for Latinas to heal. And for Latinos to heal and talk about anti-blackness in our community and let it out.
Describe that concept of anti-blackness in your community, but also talk about what people say when you have forums addressing issues like George Floyd.
When we do forums like our Latinx talk-back, we open with a moment of silence. We name the names of Black children and Black men and women who have died, and we start with a moment of silence. I think that's really important and it ties into what Latinos are. We're about rituals and customs, and culture.
There are many reasons Blacks and Latinos are linked. However, we are also complicit in the systems of Black oppression.
Despite our proximity to Black people and Afro-Latinas in our families, internalized and interminority racism runs deep in our Latino community, and that's all because of "conquer and divide".
If we refuse to be active in that movement of Black liberation and making Black Lives Matter in our world, it's to deny ourselves an alliance that is not just necessary but mandatory in our fight for collective freedom.
If Latinos want undocumented immigrants to have citizenship, we need to understand there are Black undocumented immigrants in our country and we gotta fight with them. We need to understand there are Trans-Black lives at risk and are dying every day, and we need to embrace them as our own and make all of those movements along the spectrum be part of who we are.
Describe your background as a first generation Latina raised in Wisconsin.
My family decided to stay and build roots here in Wisconsin. We did have our roots very formed in Guanajuato, Mexico, which is where my family is from. We came up from picking asparagus to beets, to corn in Sun Prairie, to the canneries of Wausau up north, up there by Berlin.
And so working in those areas my grandmother and my great aunts are still very tied to the rural parts of Wisconsin and I don't forget that part. Living in this mid-size college town, sometimes you might forget that we are only a small part of this very large state and the rest of the state is very much rural. Especially if you look at it through a Latino lens. It's migrant workers, undocumented or documented migrant workers that had been brought up to cultivate the food here or milk our cows. You know? So I don't forget that. I try, in every podcast, to acknowledge that there are second, third and fourth generation Latinos growing up in Wisconsin who might not know Spanish. Who might not know how to make Salsa Verde right (she says laughing) or might not even know how to heat up a tortilla properly!
What is it like living in a climate where family separation is such an overwhelming issue many Latinx families are forced to reckon with?
I have an uncle that was deported. I know exactly what that feels like to be separated from your family. This is my uncle, the only man that ever was a father to me. I have to go to Mexico in order to see him. I'm lucky that I'm a citizen. What if I wasn't, though? Up until I was 18, I didn't really believe I was a citizen. I didn't even understand what that meant. I thought I was undocumented like most people and it wasn't until I filled out my college forms that I was like "Okay, all kidding aside, do I really have a social security number? Am I really a citizen?" Because, yeah, my family would joke about it. We've been a mixed-status family.
As an adult I realized how it's super expensive to become documented. You know, you marry somebody and you think "Oh, it's great". The wedding and everything. Get your house right away! I mean I've seen white families get married, white couples get married and within a week they have a house.
I had to wait eight years to have a house because we spent literally like $10,000 just to help my husband get documented.
Speaking of white people, what do you think — from a Latina perspective — about how triggered many white people in Madison are about the statues being torn down but didn't muster the same emotion for human beings who were being targeted and deported?
I too was very sad the night it happened. Are you kidding? I loved that Forward statue! I love her! I love all the iterations of her.
One time, there was this picture of her with a Mexican flag behind her that I love. I've seen her with a Tampon on her or whatever. A pantyliner, a bra. I've seen her with a ham on her hand.
I've seen her with so many different things. Was I sad that night? I was.
But you know who I was very upset about? I was upset with our journalists taking pictures and putting it on Twitter and making it seem like this was a show. This is not fun and for them to keep posting all those pictures, the fact that they did it that night, they have no idea if they weren't the cause of that girl being burned later. That's the power of the media because you flame the fires. Everybody was on Twitter and these white dudes were probably like "I'm at home, it's 11 at night." And journalists don't think about that. They don't think about some dude in Stevens Point or in, like, Walworth County, that have guns and do bad things to people of color.
And most of the people bringing down those statues weren't even people of color. Am I sad about it? A little bit. Can it be replaced? Yeah.
What does the future hold for you?
Our homegrown Madison people-of-color media has gotten really awesome lately, like it's just grown and it's so fun.
There's a show called Live with Jazz and Otis, and they're two local folks who are getting lots of YouTube followers. They do Mukbang challenges where you go and eat in front of people. They eat, like Wisconsin beer brats. It's just too funny.
I think homegrown, people-of-color media is embracing this intersectionality of where we live and we see a lot of that in Milwaukee and here in Madison.
We have La Movida, which has been doing really well. The focus on radio and education and politics. And there's another called Radio La Sabrosa (in Monona). They're also in Spanish.
We don't have a lot of English-led, Latino media, and so that's when I really saw the opportunity to brand myself with Wisconisn Mujer and kinda claim a stake in the ground.
I thought to myself, "Hey, I can do this".
Get Government & Politics updates in your inbox!
Stay up-to-date on the latest in local and national government and political topics with our newsletter.