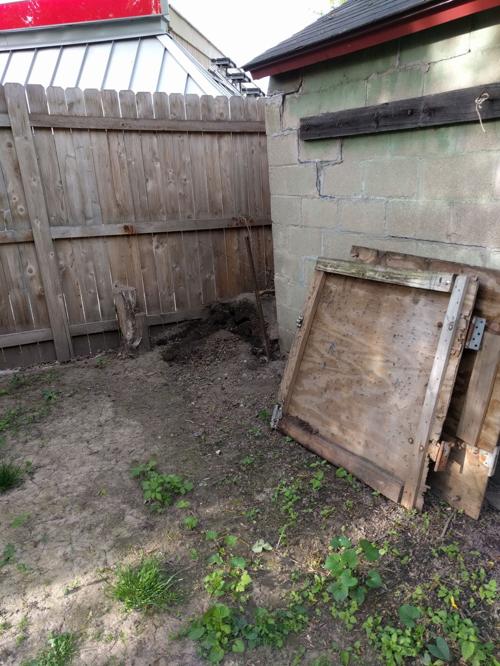 Marissa Recker and her husband Alex bought their first house in the fall, but trouble came in the spring. Recker noticed her dog was acting strangely in the backyard and that there were holes around her garage.
She didn't realize what the problem was until the weather got warmer and she walked into her backyard to find three rats on her lawn in the daylight.
"I saw the rats and I thought 'OK, maybe there's a couple of them,'" Recker said. Her husband would eventually find a rats' nest with hundreds of rats in their backyard.
Their property is directly behind the Burger King at 2655 E. Washington Ave. Their garage and the Burger King dumpster are separated by a few feet and a fence, and there were tunnels between the two.
Recker went directly to the restaurant to alert the staff. The employees were sympathetic and told her they were aware of the problem. Employees told Recker they saw rats every night when they took out the trash, and the rats had chewed a hole in the dumpster, which Recker then photographed. They told Recker that the company had set up two box traps.
"That was really frustrating to me about it ... They knew and hadn't told the community," Recker said. "This is a huge public health concern."
Prompted by Recker, Public Health of Madison and Dane County investigated a rat infestation on East Washington Avenue affecting residents and the Burger King. Residents throughout the Schenk-Atwood-Stakweather-Yahara neighborhood have experienced rat problems for over a year and the damaged dumpster exacerbated the problem.
It's not clear how long Burger King knew about the rats on their property.
Complaints about rats in the area started last year, said Brad Hinkfuss, chair of the SASY Neighborhood Association. Rats were originally sighted in compost piles, which can serve as food sources. Ald. Marsha Rummel, who represents the neighborhood, noted that more residents started keeping chickens and chicken feed can also attract rats.
The infestation worsened with the dumpster, Hinkfuss said.
"The population exploded in the land around that," Hinkfuss said. "You have a hot spot like a Burger King dumpster, but you also have a number of smaller points that provide feeding places."
The same day she talked with Burger King, May 19, Recker alerted Public Health, which dispatched a sanitarian to Burger King the next day. Recker also called the regional manager of Burger King on May 19, telling him that the restaurant had affected the neighborhood and asking what Burger King planned on doing to help remedy the situation.
Recker said he told her that she could not prove Burger King was at fault. 
"You can't completely pinpoint one thing as a problem, but it's definitely the most obvious thing that encouraged them to stay," said Recker. "They're attracted to any sort of garbage."
John Hausbeck, environmental health supervisor at Public Health Madison and Dane County, agreed that the dumpster was a contributing factor. 
"It's going to be a source of food for the rat, period. Whether that dumpster caused the problem or was just part of the problem, who knows," said Hausbeck
The Burger King regional manager had no comment when reached Friday.
On May 20, Maria DeLaruelle, the public health sanitarian, found that a new dumpster had been ordered and Plunkett's Pest Control had been contacted and was on site earlier that day. She directed the restaurant to clean the dumpster and ground regularly.
"I did not see any rats. I saw conditions that might not be favorable to preventing their presence or recurrence," DeLaruelle said.
She also inspected the inside of the restaurant and did not find any evidence of rodent problems inside.
DeLaruelle followed up with the restaurant a week later and found that the Burger King had received a new dumpster and had the ground pressure-washed. She said she discussed keeping the dumpster clean and in good condition.
"They were concerned and they were aware. I think they were doing whatever they thought of, or with the pest control's guidance," DeLaurelle said.
Recker's husband dug out the nest in their backyard, estimating that he saw about 300 rats, some of which Recker photographed.
Burger King then paid Plunkett to set traps on their property and around the fence, including four in the Reckers' yard. The traps caught a few rats, and Plunkett then set out poison on Burger King's property.
The pest control company told Recker it put out poison at a rate that would kill about 200 rats. Recker assumes the actual number is higher, since the poison was used for another week following that conversation.
Since the pest control, there's been a marked improvement, and the Reckers haven't seen a rat in over a week. But as there are still holes in their backyard, they are eager to cement the area behind their garage to prevent rats from digging.
Brandon Macomber, residential sanitarian at Public Health, warned that there will need to be other long-term fixes throughout the neighborhood.
"It's something that didn't happen overnight and won't be corrected overnight," Macomber said. "We're providing as much education as we can to help people to make their yard less hospitable to pests, because that's what ultimately needs to happen."
Macomber suggested ensuring that compost and chicken feed are secured, as well as minimizing overgrown vegetation, where rats like to hide.
The Reckers have already invested significant time and money into the problem. They bought underground wire and traps, and paid to remove a tree the rats had dug into, with costs adding up to over $250. The cementing will cost an additional $200, said Recker, who is pregnant.
"There's a lot of baby stuff we're buying right now and we have to prioritize. Do we want a stroller, or do we want to cement our backyard?" Recker said.
While disappointed that Burger King did not claim more responsibility, Recker's primary frustration is that Burger King knew about the rats and didn't alert the neighborhood, she said.
"If a business has some rats, OK it happens, it's a city," Recker said. "But you have to handle it in a way that's responsible."
Share your opinion on this topic by sending a letter to the editor to tctvoice@madison.com. Include your full name, hometown and phone number. Your name and town will be published. The phone number is for verification purposes only. Please keep your letter to 250 words or less.