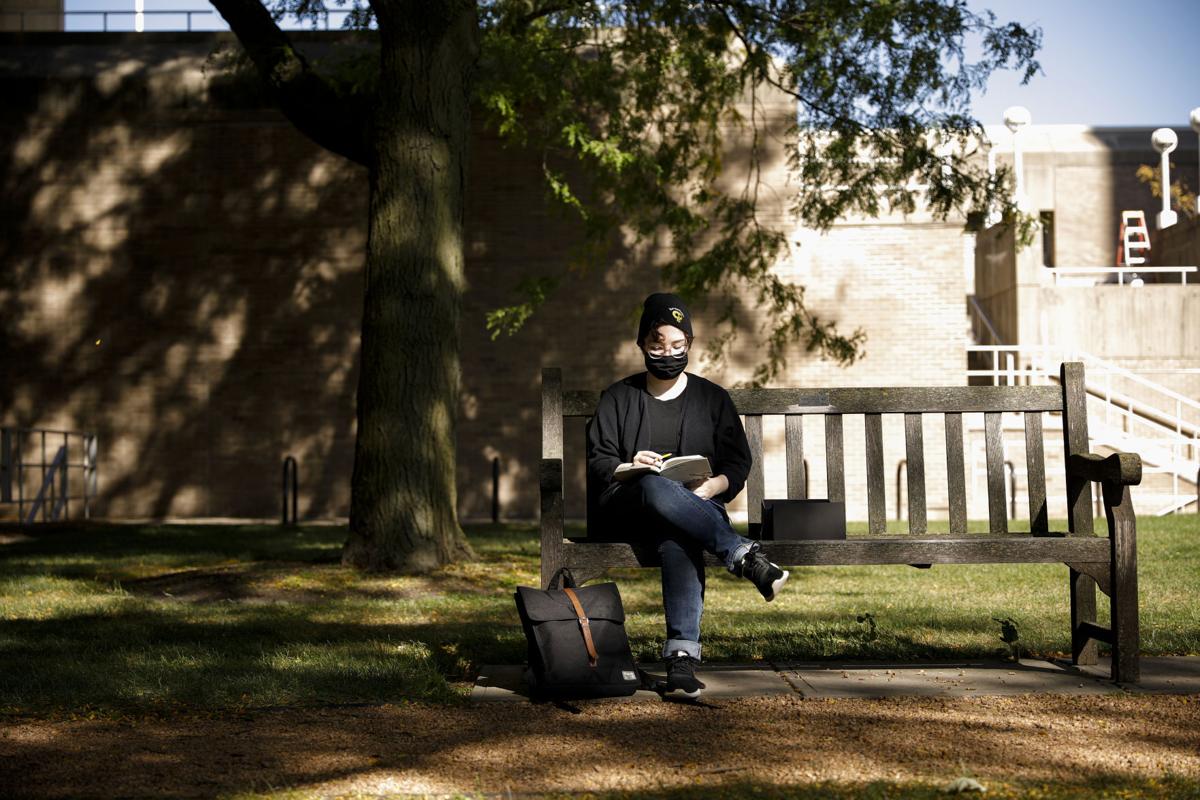 Dane County residents, even those who are vaccinated against the coronavirus, should wear a mask indoors in public spaces and at private gatherings, Public Health Madison & Dane County announced Tuesday.   
Dane County is seeing an increase in the number of people infected with COVID-19 but is considered at a "moderate" community transmission level. Janel Heinrich, Public Health director, attributed the increase to the more contagious Delta variant, which is now the dominant strain in Wisconsin. 
"We are here at another pivotal point in our fight against COVID," Heinrich said at a press conference. "Whether you are vaccinated or unvaccinated, we strongly advise that you wear a mask indoors when you are with people you don't live with." 
The recommendation for all people above 2 years old is advisory and not a mandate, though officials urged compliance to prevent future restrictions. 
Mayor Satya Rhodes-Conway said the numbers are a reminder that the pandemic is not over and that getting vaccinated and wearing a mask can prevent transmission. 
"I know that we are all ready to put COVID-19 behind us and that this seems like bad news, but the good news is that we know how to do it," Rhodes-Conway said. 
Though daily cases are up, 70% of Dane County residents have received at least one dose of the COVID-19 vaccine. Dane County Executive Joe Parisi said that taking protective steps now to prevent transmission will keep the county "ahead of this curve." 
"Between vaccines and masking up, we have the ability to put an end to this latest surge and get this virus under control," Parisi said. 
Hours prior to the local agency's announcement, the Centers for Disease Control and Prevention recommended that people vaccinated against the coronavirus should start wearing masks in public indoor spaces in locations of substantial or high transmission. 
This is a change from two months ago when the CDC said that vaccinated people did not need to wear masks in most indoor spaces. 
Though Dane County is considered at a "moderate level," Heinrich said the masking recommendation aims to prevent reaching "substantial" and "high" transmission levels. 
"We'd like to prevent getting to an area of higher transmission, which is why we're putting forth this advisory today to encourage mask wearing to give us further tools to reduce the spread of this illness," Heinrich said. 
The CDC's new guidance also recommends all teachers, staff, students and visitors in schools wear masks regardless of vaccination status or the spread of the virus in the community. 
On a conference call Tuesday, CDC Director Dr. Rochelle Walensky said the largest concern is that the virus could continue to mutate into a strain that the current vaccines aren't effective against. 
"This is not a decision that we have made lightly," Walensky said.  
The recommendation comes as coronavirus cases started increasing in states with lower vaccination rates and as the more contagious Delta variant sweeps through communities. 
On Tuesday, the Wisconsin Department of Health Services reported a daily case count of 983 — the highest it's been since the beginning of April. The seven-day average is also the highest since mid-May. 
According to DHS, the Delta variant is the predominant strain in Wisconsin. It spreads more quickly than any other COVID-19 strain has during the pandemic.  
Still, the vaccines against the coronavirus are protecting people. From Jan. 1 through July 22, DHS reported over 98% of COVID cases occurred among people who were not fully vaccinated.
Even with the Delta variant, the CDC said infections happen in only a small proportion of people who are fully vaccinated. But preliminary evidence suggests that fully vaccinated people infected with this variant can spread the virus to others. 
PHMDC also released updated guidance for schools Tuesday stressing the importance of vaccinations and masking.
The four-page guidance largely aligns with what the CDC has recommended, including universal masking regardless of vaccination status. Students under the age of 12 are not eligible for any vaccine yet, leaving elementary schools full of unvaccinated children.
While children have been less susceptible to serious complications from COVID-19, there is concern about how new variants could affect children. 
Other mitigation factors cited in PHMDC's guidance are following handwashing etiquette, staying home when sick, improving ventilation and contact tracing. It also recommends physical distancing of at least three feet, but stresses that "a school or district should not exclude students from in-person learning to keep a minimum distance requirement."
The guidance outlines the effect of a mask-required versus mask-optional policy, including potential quarantining if masks are not worn in an environment with many unvaccinated people and someone tests positive for COVID. That could cause disruptions to learning.
The Madison Metropolitan School District announced last week everyone would be required to wear masks while indoors or on a bus to begin the school year. Other area districts, meanwhile, have heard mixed messages from parents at recent School Board meetings as they consider fall policies.
Share your opinion on this topic by sending a letter to the editor to tctvoice@madison.com. Include your full name, hometown and phone number. Your name and town will be published. The phone number is for verification purposes only. Please keep your letter to 250 words or less.