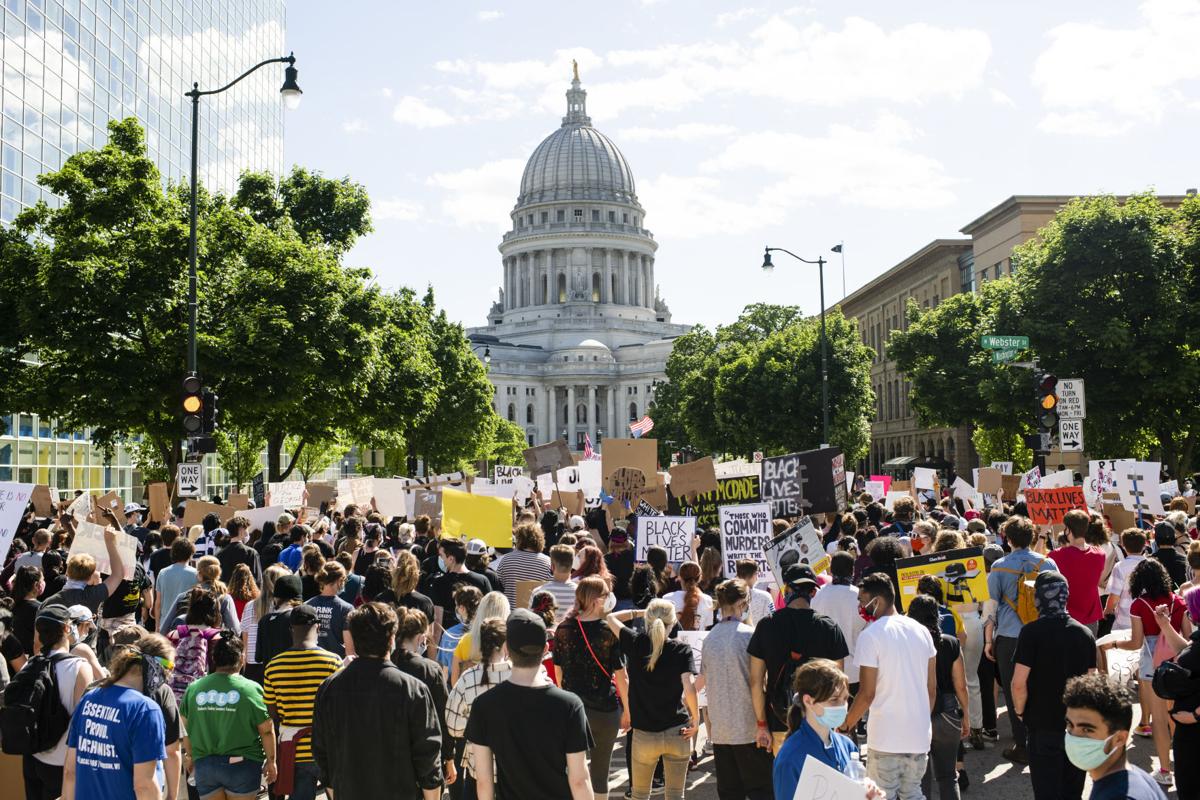 Hundreds of protesters have gathered in downtown Madison over the last four days to protest police brutality, forming large crowds that had been absent in the city since the coronavirus pandemic hit in mid-March.
While many wore masks and other face coverings, which public health officials say protect others from droplets that transmit the virus, demonstrators were often standing or walking in close proximity to each other. 
Most recently, hundreds of protesters marched throughout downtown Madison, along John Nolen Drive and around the Capitol Square in a rainstorm Tuesday afternoon and night.
Protesting in a pandemic is about "harm reduction," UW-Madison epidemiologist Malia Jones said, though the risk of infection cannot be completely eliminated. 
"There is some risk that we will see people who got sick at these protests just like there was risk that people were going to get sick at in-person voting and at the protest a couple weeks ago and at Memorial Day pool parties," Jones said.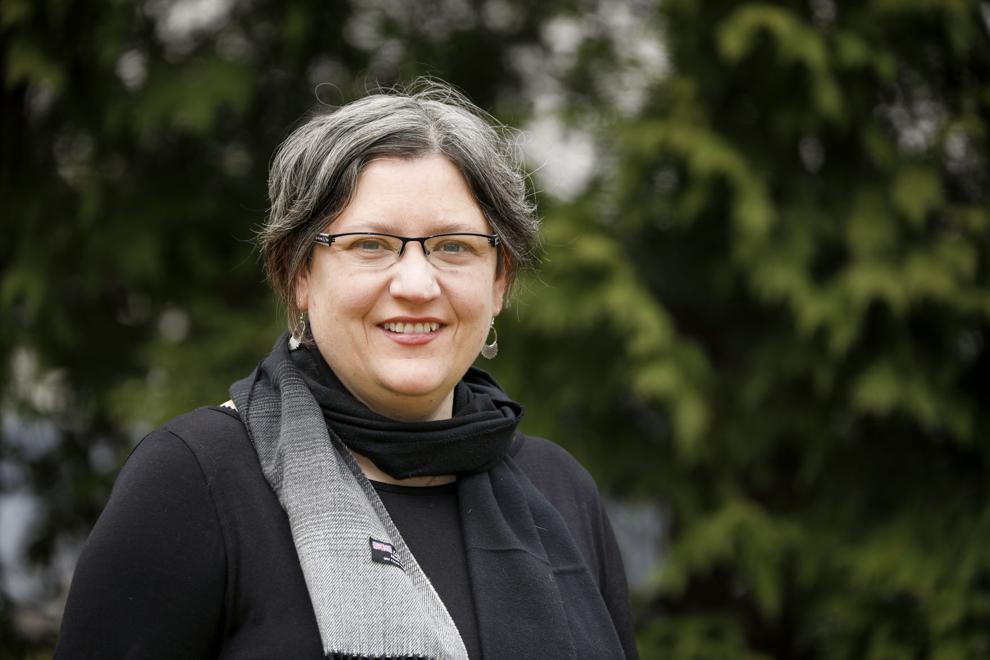 For protesters and law enforcement officers present at the events, Jones recommends getting tested for COVID-19, the virus caused by the coronavirus, about five days after being in a large crowd. Free, community-wide testing is available at the Alliant Energy Center. 
According to Public Health Madison & Dane County, symptoms can develop anytime during the 14 days following exposure. 
"Anyone who attends a gathering should watch for symptoms of COVID-19. If they develop symptoms, they should consult their healthcare provider or visit the community test site to be tested," said Christy Vogt, health education coordinator for Public Health Madison & Dane County.   
Public Health also recommends using hand sanitizer during crowded events, standing six feet apart, washing hands and showering after returning home. 
Dual crises
The protests in Madison, mirroring dozens of others in cities across the nation, were spurred by the death of George Floyd last week. A Minneapolis police officer was charged for murdering Floyd after kneeling on his neck for nearly nine minutes. Floyd repeatedly said "I can't breathe," according to video of the situation. The officer was charged with third-degree murder and second-degree manslaughter late last week.
Protesters in Madison also frequently reference Tony Robinson, who was killed by a Madison police officer in 2015. 
The ongoing unrest reflects two crises facing the black community: disproportionately dying at the hands of law enforcement and death stemming from COVID-19.
"What are you going to do to protest safely when your life is being threatened by systemic racism on two fronts: police brutality and the pandemic, which is affecting people who are black more than anyone else in this country," Jones, who studies how spatial exposures lead to health disparities, said.
One speaker, not wearing a mask early Sunday evening, told the crowd gathered around him on Library Mall that he wasn't concerned about the coronavirus compared with the ongoing loss of life at the hands of police.
Black patients are also more likely to carry stress and be wary of dealing with the health care system due to lack of insurance, average family income disparities compared to whites, employment in jobs on the frontlines in the battle against the coronavirus and housing insecurity issues that mean many in the African American community live in close proximity to others in multi-family units.
"Both racism and COVID-19 are public health crises, and we need to take action to eliminate both to ensure that everyone in our communities can be healthy and safe," Vogt, with the local public health department said in an email. "We hope that people will take steps to ensure that action taken against racism does not increase the spread of COVID-19 in our communities." 
Dense crowds, chemicals create challenges
Wearing masks, being outside and keeping distance between people are beneficial methods of reducing the risk of transmitting COVID-19, the disease caused by the coronavirus. However, strategies employed by law enforcement can make taking precautionary measures for public health more difficult.
During the Madison protests, police officers were seen forming lines and forcing crowds of protesters back into a smaller area. Jones said this created a more dense crowd, which increases the risk for transmission. 
Madison police also used chemicals like pepper spray, which can cause people to cough. In other cities, police officers have been using rubber bullets. 
"Certainly, using pepper spray and rubber bullets to disperse crowds in a way that is chaotic and involves a lot of screaming and first aid where people are close together is not a good harm reduction strategy," Jones said. 
In a blog post following the downtown protest Sunday night, Acting Police Chief Vic Wahl said officers responded with "chemical agents" shortly after a crowd surrounded a group of officers and a projectile struck an officer in the face. 
"MPD remains committed to protecting First Amendment rights and maintaining public safety," Wahl said in the post. "Unfortunately, over the last two nights a number of individuals have been intent on acting in a violent and destructive manner." 
Other law enforcement agencies and members of the National Guard assisted Madison during the weekend protests. Capt. Joe Trovato, public affairs deputy director for the Wisconsin National Guard, said between 100 and 200 guard members were assigned to Madison.  
"Our role is to assist state and local law enforcement in preserving public safety and the ability of individuals to exercise their rights to peacefully demonstrate," Trovato said in an email. "One of the National Guard's core missions is to support civil authorities during times of need, and our Citizen Soldiers will continue to serve in Madison for as long as local authorities request our assistance." 
Phased reopening
Protests occurring on Saturday and Sunday coincided with the first weekend that Dane County was able to begin reopening under the first phase of the Forward Dane Plan — a phased approach to operating post-pandemic. 
Under the plan, most businesses are allowed to operate at 25% capacity and with certain public health requirements and physical distancing in place. 
Vogt said the public health department will continue to monitor data to assess trends in cases and other metrics, such as testing for health care workers and community spread.
In order to move to Phase 2, half of the metrics used must be "green" and the percentage of positive tests and cases per day must not be "red."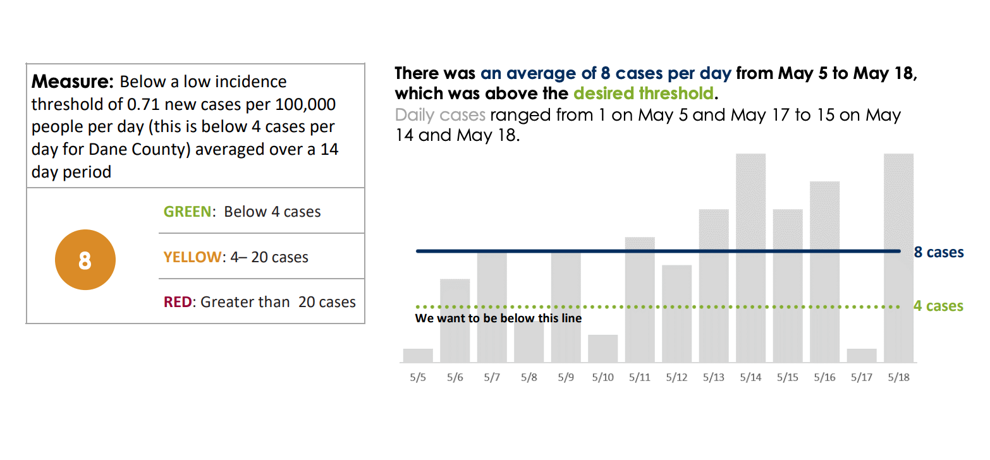 According to data from May 5 to May 18, Dane County is at a percent positivity of 1% — green — and eight cases per day — yellow — averaged over a 14-day period. To move to Phase 2, Dane County needs to be below four cases per day, or below a low incidence threshold of 0.71 new cases per 100,000 people per day, averaged over a 14-day period. 
As of Monday, Dane County has seen 759 confirmed cases of COVID-19, and 29 people have died from the disease. 
Scott Girard contributed to this report. 
Share your opinion on this topic by sending a letter to the editor to tctvoice@madison.com. Include your full name, hometown and phone number. Your name and town will be published. The phone number is for verification purposes only. Please keep your letter to 250 words or less.