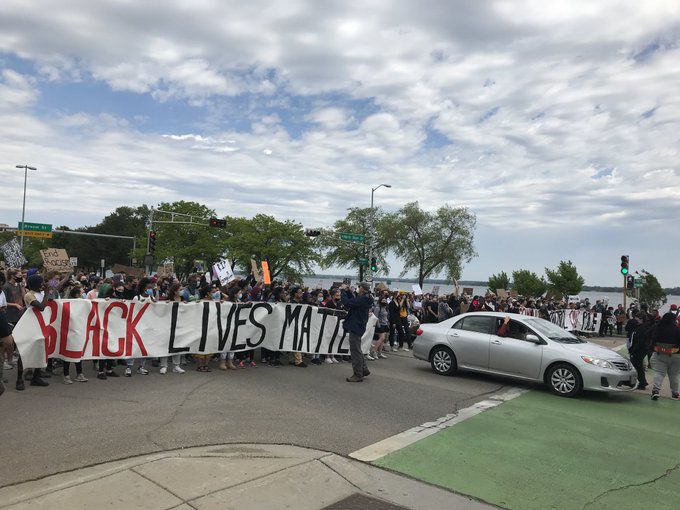 Following a noon press conference, protesters kicked off a third straight day of action against police brutality in downtown Madison with a march from the Central District police station to the busy intersection of John Nolan Drive and North Shore Drive, where they blocked traffic.
"The thing we are drawing attention to is police murder, so we are marching and directly confronting the status quo that people enjoy here in Madison," said M. Adams, executive director of Freedom, Inc, one of the organizers of Monday's rally. "We are not for judging people who are survivors of police terrorism in how they fight back. We stand in solidarity with the rebellions across the country and the rebellions happening here."
Monday's protest came on the heels of a second night of violence that ended in the early hours of Monday morning. The actions have been part of a nationwide effort to call attention to police violence against black people after George Floyd was killed in police custody a week ago in Minneapolis. Former police officer Derek Chauvin knelt on Floyd's neck for nearly nine minutes as three other officers, all since fired, stood by.
On John Nolen Drive, one of the city's most prominent streets, protesters enacted a "die in," an action that involved black protesters lying on the ground surrounded by a large circle of standing white protesters, linking arms. After standing in silence punctuated by activists speaking on the bullhorn, protesters chanted "The whole damn system is guilty as hell, indict, convict, send those killer cops to jail" and "White silence is violence."
In the warm afternoon sun, people distributed water bottles and nutrition bars as they walked around the crowd. One of the organizers ordered pizza. Several participants walked around picking up trash. 
"We are demonstrating that we can march together and fight together. People are sharing water and resources, sharing what action in our beloved community actually is," said Adams.
Tony Booker said he has been coming to protests against police brutality since Madison police officer shot and killed Tony Robinson, an unarmed black teen, on Madison's Williamson Street in 2015. 
"There's not a large black population in Madison," Booker said. "So it was nerve wracking to see so many white people, since that's where the majority of the looting and violence have come from. But there's a lot of hope here. We're letting people know that we actually care and there's hope for something better."
"People are asking, 'What can we do to make the protests stop?' and it's really about answering these demands," Adams said. "Madison is similar to Minneapolis in that it is a liberal bastion. And what people have to reckon with here is that Madison is guilty of white supremacy and terrorism against black people. So what they should be doing right away is to take action. Right away they should fire Matt Kenny, who murdered Tony Robinson. Right away they should slash and cut the police budgets, and instead invest them in black life-affirming institutions and infrastructure."
"It's important for people to understand that it's an ongoing movement and not just a knee-jerk reaction. In this movement we fight for all black lives," said Adams. "We're working to get the cops out of schools because we value black children. Minneapolis did it, Madison should do it."
Carolyn Riley lives around the corner from the intersection. She did not consider herself a protester, but she felt it was important she show her support.
When asked about how demonstrations have changed over the years in Madison, she said, "It seems like because things keep happening, something always happens. People are more organized and able to respond now. So that's good! I like that.
"I'm happy it was in my backyard," she said.
After the organizers announced over the bullhorn that the protest would continue through rush hour, they encouraged participants to gather reinforcements. "Bring your people and tell them to bring snacks."
As of 6:30 p.m., protesters still occupied the intersection.
Share your opinion on this topic by sending a letter to the editor to tctvoice@madison.com. Include your full name, hometown and phone number. Your name and town will be published. The phone number is for verification purposes only. Please keep your letter to 250 words or less.
Get Election 2020 & Politics updates in your inbox!
Keep up on the latest in national and local politics as Election 2020 comes into focus.