Angry protesters swarmed the fourth floor of the State Capitol Monday, shouting through the doors of a committee hearing room where lawmakers considered sweeping Republican changes that would restrict the powers of the incoming Democratic attorney general and governor.
Capitol police officers forcibly shut the door of the hearing room after protesters chanted "Respect our votes" into the packed chamber, where legislators debated measures that, in addition to rolling back the authority of Gov.-elect Tony Evers and Attorney General-elect Josh Kaul, would move the date of the 2020 spring presidential primary and scale back early voting opportunities.
Republican Senate Majority Leader Scott Fitzgerald said last week that moving the election date would help Supreme Court Justice Dan Kelly, who is backed by conservatives. Republicans have also said early voting gives an unfair advantage to Democratic strongholds of Madison and Milwaukee.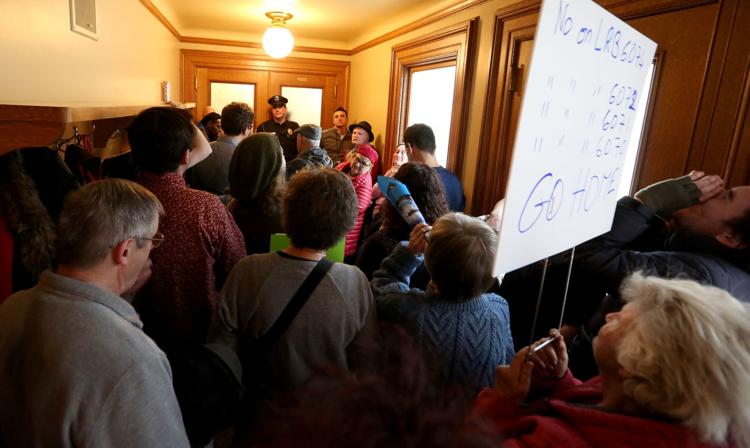 "I did a lot of canvassing to get out the vote and get people registered," said Melissa Schaaf. "Now I feel like we're getting screwed."
Schaaf, who sported a T-shirt reading, "Vote the assholes out," had a dozen pizzas delivered to the hearing room to feed those opposing the Republicans' lame-duck effort to enact legislation before Gov.-elect Tony Evers takes office in January.
"It's a little thank you for the resistance," she said.
Hundreds of frustrated voters registered their opposition to the GOP measures by filling out registration slips that stacked several inches high next to registrations from those favoring the proposals, which numbered two.
Fitzgerald, R-Juneau, and Assembly Speaker Robin Vos, R-Rochester, defended the moves as a way to restore a balance of power in state government that had tipped too far toward the executive branch.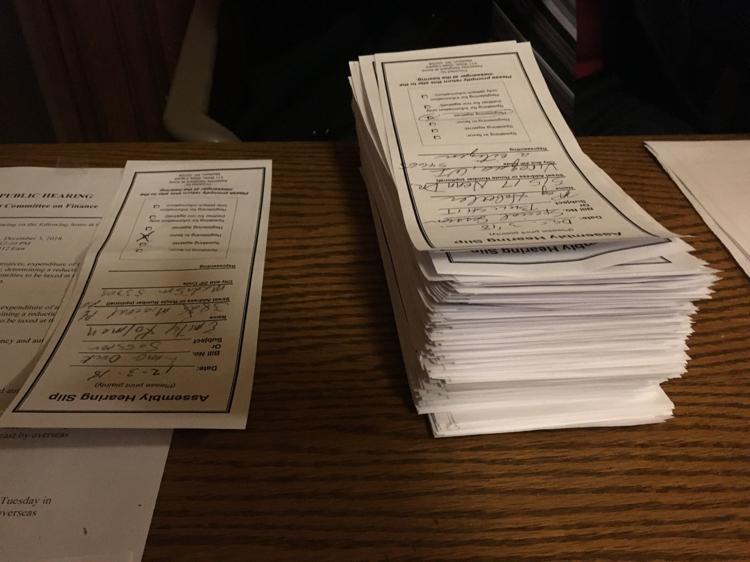 "We want to make sure that the new administration doesn't try to work without the Legislature to rule the East Wing," Vos said. "We want both branches to have an equal seat at the table and we believe that in the end this will allow for a better exchange and more cooperation."
The press conference ended with protesters chanting, "Stop this coup, protect our vote," which sparked similar chants two floors up where protesters crammed hallways leading to the hearing room. Police briefly struggled with people to pull doors shut from inside the room. Protesters pounded on the closed doors until more officers appeared to provide a buffer zone.
The hearing, part of an extraordinary legislative session, was pushed back a half-hour from its 12:30 p.m. start time as people flowed into the Capitol. By noon, the hearing room was filled and officials ushered people down the hall to a large overflow chamber with three large television screens. That chamber, the second-largest hearing room in the Capitol, filled quickly and a third room was opened downstairs. About 300 people, plus scores of media personnel, attended the hearing while more packed the halls.
The protests were reminiscent of the 2011 mass protests that came after newly elected Gov. Scott Walker introduced measures to severely curtail collective bargaining rights for public employees. The new proposals, made public late Friday, uncorked a keg of frustrations that have festered during Walker's eight years in office, during which Republicans controlled all levels of state government.
More protests are slated for outside the Capitol Monday at 5:30 p.m.
Those attending included in their list of grievances the fact that most votes cast on Nov. 6 were Democratic, but because of Republican-drawn district lines, the GOP still strengthened its hand in the Legislature.
"I just think it's ridiculous that after everything's been gerrymandered and the popular votes were against things like this, Vos and Fitzgerald, they're taking over democracy," said Todd Brei, a Madison graphic designer.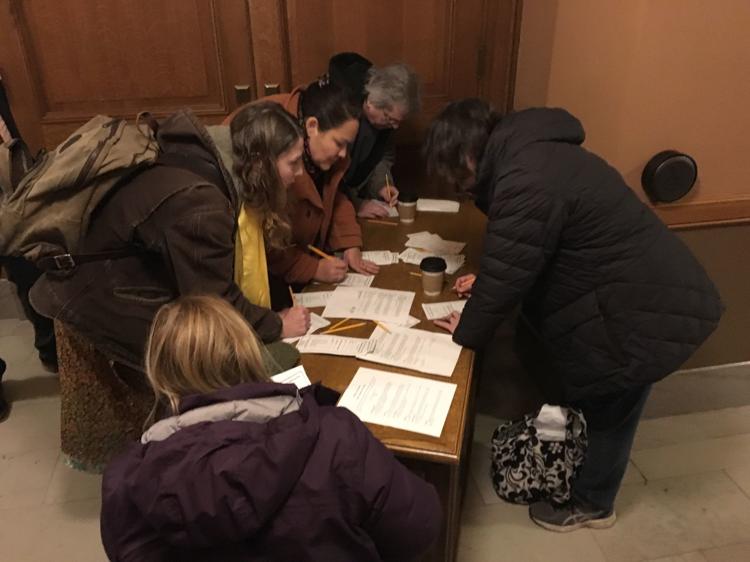 Brei said that's he's not surprised at the proposals.
"But I'm really angry about it," he said. "You just keep hitting your head against the wall, but nothing ever seems to change."
"It's just another one of their power grabs to limit democracy and push their agenda through," said Dan Walker, a retired Madison school custodian. "Anti-democratic like it was from day one. It's pretty disgusting."
Julie Leser, a retired Madison School District secretary, said she's been motivated to participate in local election and oppose Republican outrages since Donald Trump's election to the presidency in 2016.
"The majority has spoken," she said.
Stephen Weiser drove from Wonewoc in Juneau County to attend the hearing, both over the burden that shifting the state's presidential primary date would impose on municipal clerks and for the diminishing of the incoming governor's power.
"I'm not totally shocked," said Weiser, an attorney and head of the Juneau Democratic Party. "But I'm disappointed."
Terrance Warthen, co-chair for the progressive group Our Wisconsin Revolution, said Republicans are shooting themselves in the foot.
"This is generally the dumbest thing that Republicans could have done," he said. "For progressive organizing across the state this is a Christmas gift to remind everyone post-election it never stops. It's all about their cult and their power."