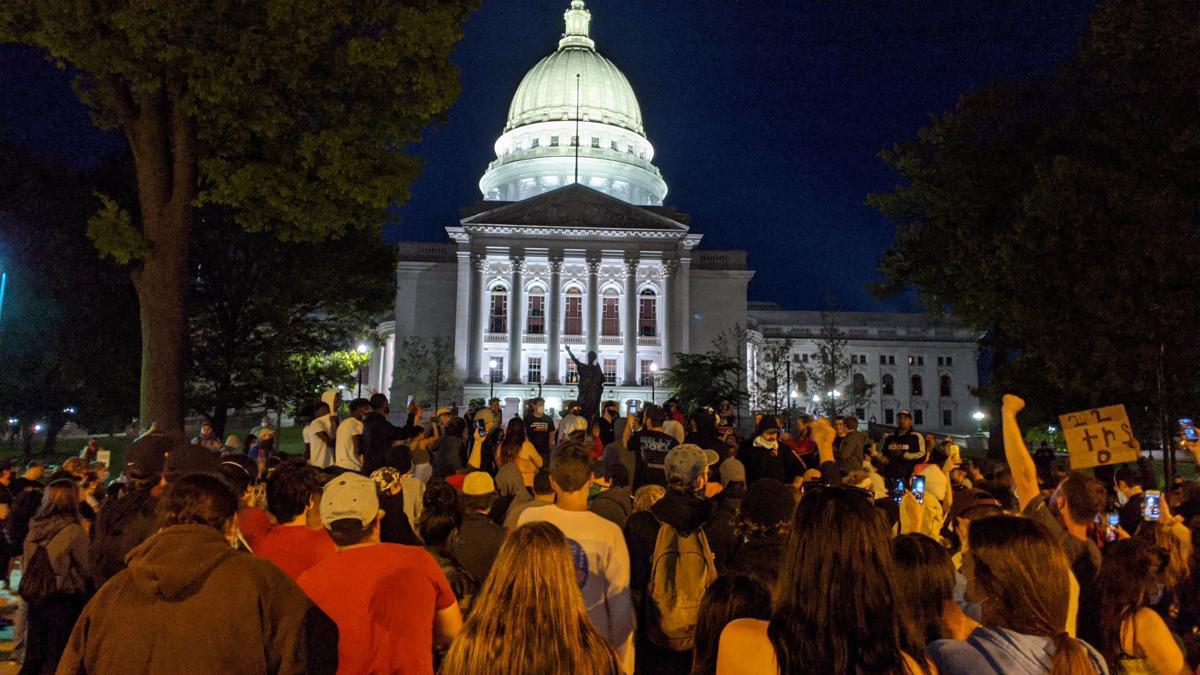 For the second day, a Madison protest against police violence against black people led to tense confrontations between activists and officers downtown. After a lengthy march, protesters engaged in a game of cat-and-mouse with authorities that stretched past midnight.
The marching started around 6 p.m. Sunday and lasted over three hours, with protesters challenging officers stationed along State Street to "Take off your badge! March with us!" The group arrived for a final time at the Capitol Square after 9 p.m., when participants announced their intentions to violate Mayor Satya Rhodes-Conway's 9:30 p.m. curfew order.
A final lap of the Square was interrupted when protesters confronted police officers on South Pinckney Street, quickly followed by officers from behind the marchers firing tear gas. Reinforcements arrived in riot gear. What followed was a series of standoffs that included police officers and National Guard soldiers.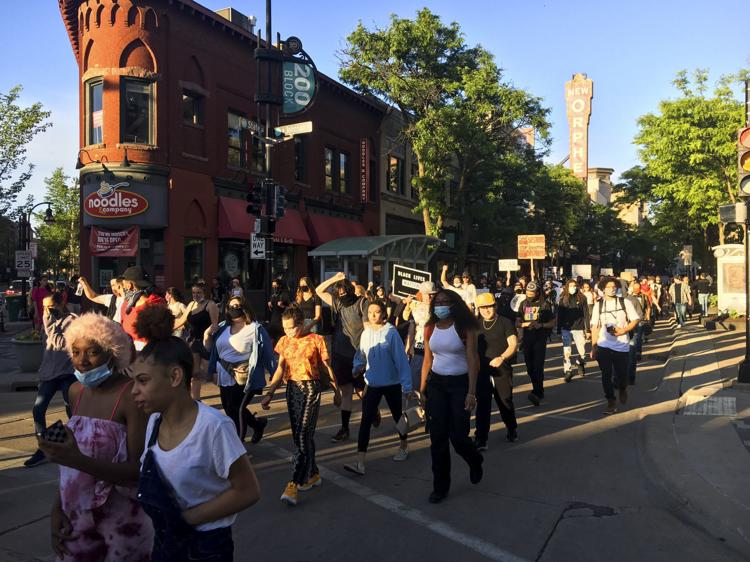 Reporters observed young teenage boys break windows with rocks at an office building on East Mifflin Street. According to the Madison Police Department incident report, 15 people were arrested as of 2:32 a.m.
Some protesters eventually turned up Wisconsin Avenue after police and National Guard members blocked Mifflin Street, using pepper spray and tear gas as they advanced on the protesters, many of whom were kneeling down in front of the line of officers.
Police continued to advance down Wisconsin Avenue in stages, using tear gas to push protesters back, including through the intersections with Johnson and Gorham streets, both of which were busy. Eventually, the protest group split as some moved toward James Madison Park and others moved back toward downtown.
Protesters were still scattered around downtown after midnight, and some small fires were started on Langdon Street. Officers remained on State Street and the Capitol Square.
Many attempts at vandalism throughout the evening, from pushing over trash cans to throwing things at windows, were shouted down by other protesters in the area, but more State Street businesses had their front windows broken out by the end of the night.
The MPD incident report cites looting at multiple stores in the State Street area, along with graffiti and other property damage occurring throughout the night. 
Madison saw peaceful marching on Saturday afternoon, but rioting and looting on State Street broke out Saturday evening, storefronts smashed and police vehicles damaged. On both nights, police used tear gas and pepper spray to disperse crowds.
The protests, which are happening nationwide, come in response to a Minneapolis police officer kneeling on the neck of George Floyd, a black man, for more than eight minutes last week while Floyd was in custody. Floyd died after pleading "I can't breathe" repeatedly, video of the altercation shows.
The officer was charged with third-degree murder and manslaughter late last week.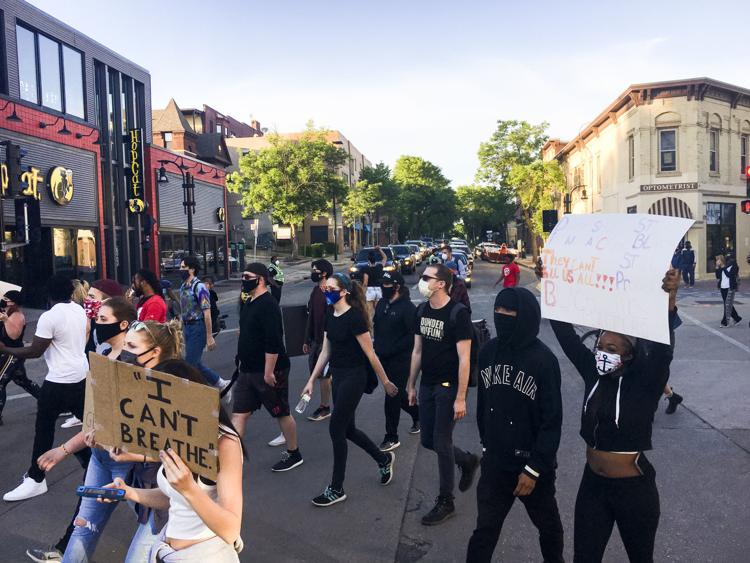 Peaceful marching before curfew
Before the Sunday curfew, a group of varying size marched up and down State Street twice and around Capitol Square, repeating chants like "I can't breathe," "No Justice, No Peace" and "F*** the police." Speakers also mentioned Tony Robinson, the black 19-year-old who was shot and killed by a Madison police officer in 2015.
Officers from the Madison, Fitchburg and University of Wisconsin police departments as well as the Dane County Sheriff's Office were stationed along State Street, at least five on each block. They blocked traffic as protesters crossed Johnson and Gorham streets and around the Capitol Square.
KG, a Chicago resident who said he often stays in Madison, marched on Saturday and returned at noon on Sunday to the Capitol, the first person back for the day, he said.
He said he was out protesting "to make a change, to make a statement that we won't be silent."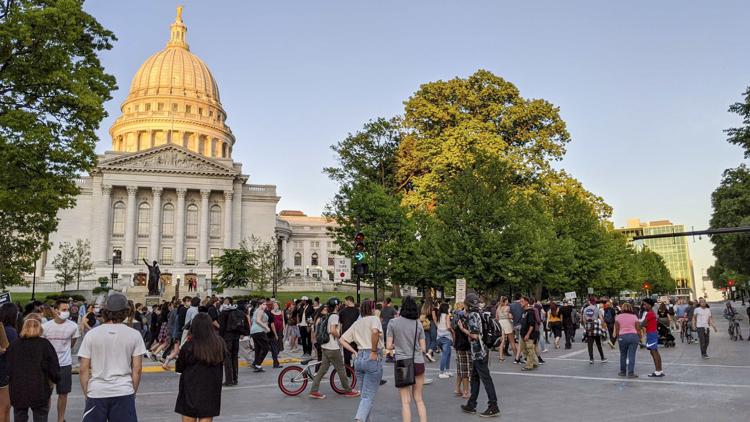 "If we stop now, ain't nothing going to happen," he said. "Every time something happens, everybody goes crazy for a couple days and then they forget about it. Nah, we've got to keep it going."
He said he'll keep protesting "until we see a change." He planned to stay out past curfew, he said.
Verona resident Jordan King brought his 3-year-old son to the peaceful marches both Saturday and Sunday. He said it was important for his son to see "what he's going to be up against in the next 15 years."
"He needs to be in the front lines or at least with his people, that means all races, and fighting for what's right," he said. "Otherwise, he'll be next, and I can't have that happen as his father."
He said seeing people out supporting the cause, both in Madison and around the globe, "means the world." He added that white people who hope to be allies need to understand the pain black people have felt through racism, even if they question the rioting.
"You don't need to think that this is right — stealing and looting and breaking down buildings, burning them down — but you need to understand it's a cry for help that's been said for over 400 years, an unheard cry for help," he said. "If they continue to not answer it, things are going to get really bad.
"As white people, they need to come in here just like they did yesterday, stand on the front lines and say that we understand your pain even if we don't feel it, but we're going to do something about it."
As the sun set, protest leaders held a brief session about what protesters should do if they were arrested. Announcements were made several times leading up to the curfew reminding participants of the time and suggesting they leave if they didn't want to be arrested.
Jason Joyce contributed to this report.
Share your opinion on this topic by sending a letter to the editor to tctvoice@madison.com. Include your full name, hometown and phone number. Your name and town will be published. The phone number is for verification purposes only. Please keep your letter to 250 words or less.
Get Government & Politics updates in your inbox!
Stay up-to-date on the latest in local and national government and political topics with our newsletter.