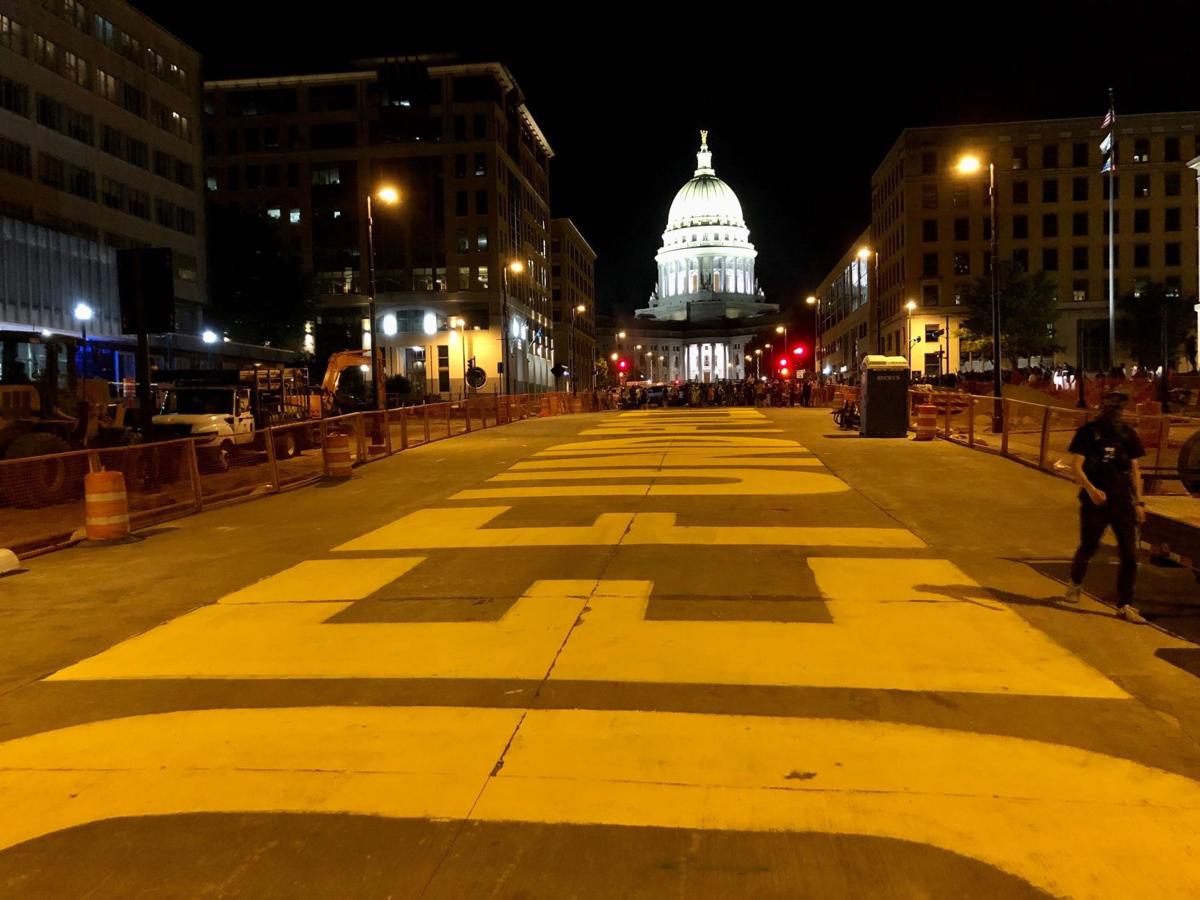 After youth spent hours rolling bright yellow paint onto Martin Luther King, Jr. Boulevard right outside of the City-County Building downtown, bold block letters now read "Defund Police."
Youth organizers with local nonprofit Freedom Inc. spent several hours Monday night painting a demand that has been repeated by community activists over the past week during local protests that began with the police killing of George Floyd in Minneapolis.
Bianca Gomez, youth justice director at Freedom Inc., said the fear of police violence is harming the community.
"The money and the resources that's going to the police is a detriment to our communities," Gomez said. "We can't live, we can't thrive, we can't feed our families, and we can't have a happy, healthy life when the police are in our neighborhoods causing violence, causing harm, again, killing us and again, locking us up."
While youth with paint rollers spelled out their message, a group of youth organizers who call themselves Impact Demand led a crowd that filled the lawn of the Madison Municipal Building in chants consisting of the names of black men and women who were killed by police: George Floyd, Sandra Bland, Trayvon Martin and Madison teenager Tony Robinson.
Since May 30, protesters have gathered in Madison daily. During the first few days, Madison police responded to some people throwing projectiles at officers, breaking into State Street businesses and vandalizing storefronts with tear gas and pepper spray.
Since then, the demonstrations that have occurred nightly downtown have been peaceful. On Monday night, officers blocked off access to Doty Street as people gathered on the block between the local government buildings.
The local events continue to bring out people who are new to participating in the past week of action over police brutality. Sara Schroeder of Middleton, who grew up in Madison, arrived downtown with her two children to support the community.
The ongoing coronavirus pandemic, which has infected 852 people in Dane County and killed 29, had kept Schroeder from being in the protests.
"The coronavirus has had us all hidden inside but enough is enough," Schroeder said. "We'll stand out here and catch it if it means time for a change."
Gomez said the ongoing action has been building.
"I think the movement has been sustained this long for weeks, and in some places months, because people are frustrated. People are done," Gomez said. "People are realizing the reality of police violence. It's not an individual police officer that's harming us; it's a system that's harming us."
Along with Freedom Inc., Urban Triage and the Party for Socialism and Liberation organized the painting demonstration. The groups did not seek city approval prior to painting, according to one organizer.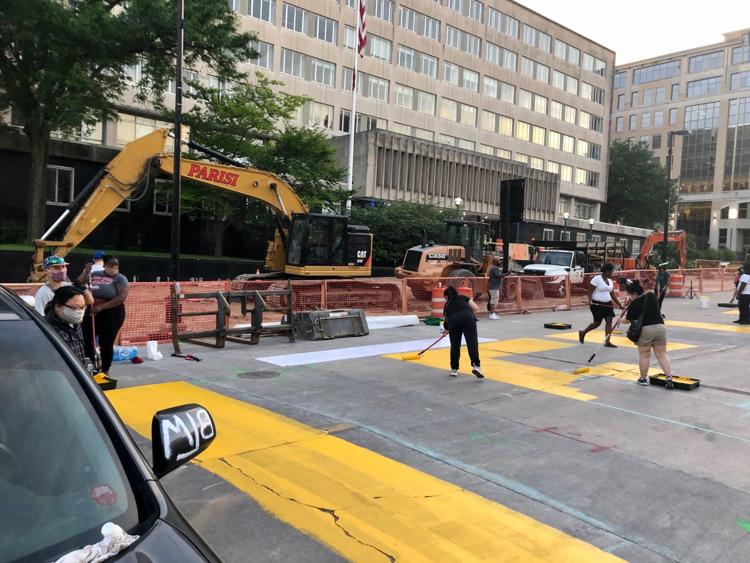 Impact Demand, the group of local youth organizing nightly protests, is supported by local organizations but grew organically. On Monday, they encouraged those in attendance to get to know their neighbor by breaking into small groups.
"We're putting our lives and our family's lives at risk," organizer Ayomi Obuseh, 19, said of leading the now-daily protests. "Madison right now might not fight for our lives."
Even after a week, the young activists' energy is unwavering. They passed the megaphone back and forth, getting fellow protesters to cheer, chant and raise their fists.
"When I say it's a revolution, I mean that," Obuseh said. "We are just youth coming together to get shit done."
Gomez said there is unity across Freedom Inc. and the youth organizers.
"We're aligned across our movement, and I think that's so powerful that we're all fighting against white oppression and state violence," she said.
Share your opinion on this topic by sending a letter to the editor to tctvoice@madison.com. Include your full name, hometown and phone number. Your name and town will be published. The phone number is for verification purposes only. Please keep your letter to 250 words or less.
Get Election 2020 & Politics updates in your inbox!
Keep up on the latest in national and local politics as Election 2020 comes into focus.