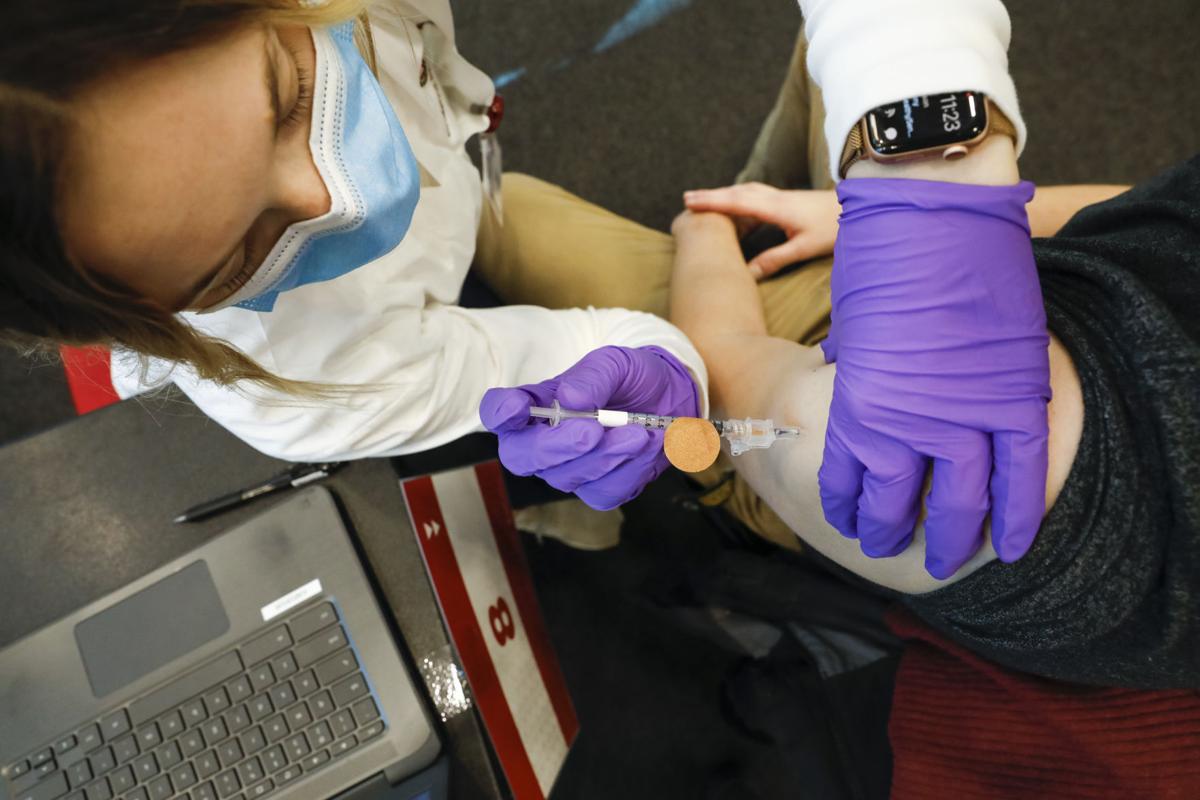 A second case in Wisconsin of a more transmissible COVID-19 variant that is spreading rapidly throughout the nation has added urgency to the race to vaccinate the public.
The variant was first detected through genomic sequencing in Eau Claire County on Jan. 12 in a person who had recently traveled internationally. The more recent infection was detected in Waukesha County on Saturday. State health officials didn't have more information on the Waukesha County case on Tuesday.
Officials say the emergence of the variant is another reason for adhering to health guidelines like avoiding crowds, social distancing and wearing masks.
"This is especially important as we face the possibility of increased transmission with the emergence of COVID-19 variants, including those recently identified in Wisconsin," said Julie Willems Van Dijk, deputy secretary of the state Department of Health Services.
Because of limits on capacity, genetic sequencing to identify the variants is performed on less than 1% of positive cases in Wisconsin and about 0.5% nationally. Researchers are targeting the test at those who test positive for the coronavirus and have other factors that might increase the chances of detecting variants, like recent travel. The variant found in Wisconsin, known as B.1.1.7, was first found in the United Kingdom in December and is now the predominant strain there. A variant from South Africa was first detected in the United States in late January.
Researchers at UW-Madison, who have been sequencing about 5% of positive cases in Madison and Dane County, say they haven't detected the variant yet.
"We can have a fair degree of confidence that if there was a significant number of the variants that first caused concern in the United Kingdom or in South Africa, we would have seen it by now," UW School of Medicine and Public Health Professor David O'Connor said in a UW report posted Monday. "And the fact that we haven't means that if these viruses are here, they're here in low enough levels that we don't have to worry too much — yet."
The variant from South Africa, which has been detected in more than 30 countries, including the U.S., is particularly troubling because it may be resistant to at least one vaccine that was expected to apply for emergency use authorization in the U.S. in coming weeks. The AstraZeneca vaccine is being used India and Europe, as well as several other countries.
There's no evidence that any vaccine is less effective on the B.1.1.7 variant, but because studies have estimated that its rate of transmission is 30% to 40% higher than earlier variants its spread would likely mean more sickness and more death where it becomes dominant. Some researchers have suggested that could happen in the U.S. by the end of March.
And according to a study posted online last week by researchers at the London School of Hygiene and Tropical Medicine, the death rate from B.1.1.7 could be 35% higher.
Dr. Ryan Westergaard, the state's chief medical officer, said on Tuesday that "the likelihood is high" that the variant is already spreading in Wisconsin communities, but is undetected because of limited testing capacity.
"When we find a case, we're back where were with diagnostic testing many months ago where we're detecting a tip of the iceberg," he said.
He said where variants have spread more widely — in Florida B.1.1.7 makes up more than 4% of cases — they are infecting people who have not traveled, indicating community spread.
"It's not a given that they're going to become the dominant strain," he said. "But many people who have observed the spread of these in other settings said that the likelihood of that is reasonably good."
The emergence of the variant comes as the state is seeing its lowest COVID-19 case numbers in months. On Tuesday the seven-day average for new cases dipped below 1,000 for the first time since early September. Deaths are averaging 22 a day after reaching a high of 60 in December.
Westergaard said the drop is likely due to a number of factors, including immunity among the more than half-million people in the state who have contracted the disease — who may be protected for three to six months — a wider adoption of preventative measures like wearing masks and social distancing, and better capacity by local health officials for contact tracing and containment after being overwhelmed by the November surge.
"We're actually better able to respond to local clusters, to local cases, than we were before," he said, "because we've really strengthened that muscle. Our local containment efforts have been improved over time so that when we do have cases we can do the things we needed to do."
According to Westergaard, it's probably too early the vaccine effort to credit it with significantly lowering COVID-19 case numbers in the state. And he cautioned that the new variants could potentially fuel a new surge.
"We're very vulnerable and we need to take the risk seriously that this progress could be undone because of novel variants," he said.
As of Tuesday, nearly 800,000 vaccine doses had been administered in the state, 174,000 of those being second doses, completing the vaccination process. More than a third of people 65 and older have received at least one dose.
According to the CDC, Wisconsin now ranks eighth among states for the rate of vaccines administered after recently being near the bottom of the pack. Officials have attributed the early slow start to several factors, including a large share of the state's allotment from the federal government being reserved for the federal program for vaccinating nursing home residents and long-term care patients.