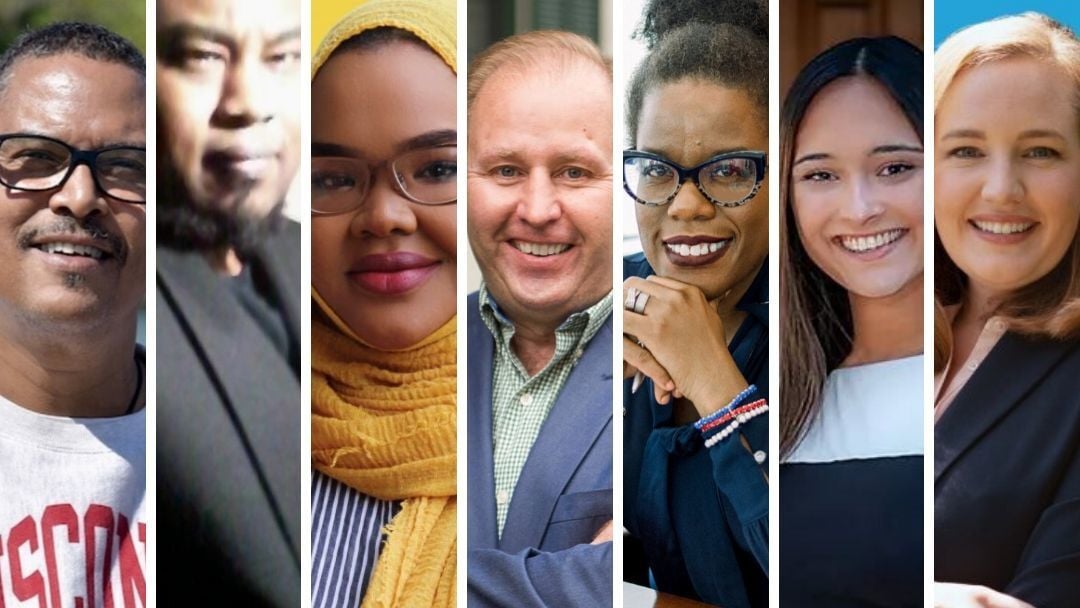 Months before the longest serving lawmaker in Wisconsin and national history announced his plans to retire, there were already a small handful of challengers looking to unseat him this election cycle. 
Those three Democrats planning to take on Madison Sen. Fred Risser launched their campaigns in what now seems like a different time — before the COVID-19 crisis fundamentally altered the way contenders interacted with voters, gathered support and shared information about their candidacy. 
But in the days and weeks after Risser, 93, declared his intentions at the end of March to leave the Senate and not seek re-election, the field more than doubled as it rapidly ballooned outward. 
Now, those early contenders are facing a different challenge: rather than attempting to overthrow a long-serving incumbent, they are aiming to prevail in a seven-way race for one of Madison's four open legislative seats. 
Still, recent UW-Madison graduates Nada Elmikashfi and Aisha Moe, who officially filed their paperwork to run for office in January, say their approach has not changed in spite of that reality. 
"We are presenting a future for Madison that is not the status quo," Elmikashfi said of her campaign. "The candidates that have joined represent the status quo. Our campaign declared against a 57-year incumbent for the sole reason of disrupting the status quo, so that continues all the way until August."
Moe noted both she and Elmikashfi — two young Muslim women of color — saw an incumbent who "didn't represent our demographic." 
"That says something about the representation that, first off, we want for this district, the representation that's been lacking," she said. "I really saw a vision for the Madison I wanted to live in and what it means was someone had to run, someone had to do it." 
The earliest entrant into the race, William Henry Davis III, who declared in December 2018, refused to be interviewed over the phone. The write-in candidate for lieutenant governor last cycle also declined to submit a statement about his campaign to the Cap Times. 
The three are now among a wide field of contenders for Madison's 26th Senate District, which stretches from the isthmus to the city's west side.
That includes a few who have held public office: former Madison Ald. Brian Benford, now a success coach for the UW-Madison Odyssey Program; Wisconsin Environmental Initiative head John Imes, a current Shorewood Hills Village board member who unsuccessfully ran for state Assembly in 2018; and former state lawmaker and unsuccessful 2018 gubernatorial candidate Kelda Roys. 
Also in is Amani Latimer Burris, a small business owner and the daughter of the late, celebrated community leader Milele Chikasa Anana. While she served as a Wisconsin Democratic Party organizer, this is her first time running for election. 
The candidates will face off in a Cap Times debate on Wednesday, July 29, about two weeks before the Aug. 11 partisan primary where the field will be narrowed down to just one candidate. 
Because no Republican or third-party candidate is in the race, the winner will not face a challenger during the November general election and will all but assuredly be seated in January. 
Political experience isn't lost among the wide primary field, ranging from volunteer work with the Wisconsin Democratic Party to stints in public office at the local and state levels. 
But six of the seven candidates also highlighted their professional and lived experiences to draw distinctions between themselves and the other contenders in separate interviews with the Cap Times over the last couple of weeks. 
For example, Latimer Burris, 50, pointed to her work as a journalist, teacher, retail business owner, as well as her more recent political advocacy work, that set her apart from the field.   
As a daughter of Anana, Latimer Burris was surrounded by her mother's activism growing up. But it wasn't until she personally experienced losses in the Great Recession, causing Latimer Burris to look into state statutes surrounding foreclosures, evictions and housing rights that eventually kick-started a decade of litigation, that her own interest in the political process began. 
Years later, in 2019, she was hired as a Waukesha-based field and community organizer for the Wisconsin Democratic Party. Around that time, she also started working on former presidential candidate Pete Buttigieg at the grassroots level. 
"I decided to find the room where it happens," she said. "Initially I thought I'll stay in the background. And then, once i found the room, like they say in 'Hamilton,' I was like, 'oh my gosh, it's right here in front of me. This is where all the decisions are being made, right here.' So I said, 'OK, maybe I can start to make a difference.'" 
The other two first-time candidates who haven't before held public office — Elmikashfi, 24, and Moe, 21, have also spent time knocking doors and organizing for Democrats. 
Elmikashfi worked with NextGen America in the 2018 midterms, served as a legislative fellow for then-Senate Minority Leader Jennifer Shilling last summer and worked as a staffer in Gov. Tony Evers' office for four months before stepping down to run for office. 
But she said what distinguished her from others in the race is both her rural, immigrant background — she was born in a small farming village in Sudan and immigrated to Wisconsin in 2002 — and her commitment to electing Democrats across the state by expanding the electorate.  
"I will work successfully to bring the Democratic majority into the Legislature," she said. "It only comes when we expand the Democratic electorate, when we include groups that haven't been represented in the Democratic Party within the electoral process."
Moe, who served as a 2016 fellow and 2018 field organizer with the Wisconsin Democratic Party, said her vision for Madison and Wisconsin are what makes her different from the field of contenders.
"I see that Madison is an amazing place to live for white people and white families but we need to make this a place that's amazing to live for everyone regardless of what families you grow up in, what race you present as," she said. 
She added she wants to see the state again be a "progressive stronghold" that passes legislation and polices "that other states want to copy, that other states are impressed by." 
Among the candidates who have held office before, Roys, 41, and Benford, 60, pointed to their years of experience politically and professionally.
Roys, an attorney and business owner who served in the state Assembly from 2009 to 2013 (a seat she left to launch an unsuccessful bid for Congress), noted she worked under both Democratic and Republican control while in the Legislature to get things done.
As a mother of young kids, she also touted the importance of the Legislature including representation from working parents, particularly as the state grapples with COVID-19's impact on schools and families. 
"It really matters whether we just talk about big ideas or whether we are actually able to implement them," she said. "It matters to people's lives, it matters to our health, our financial wellbeing, our kids' future. And I have experience turning these great progressive ideas into public policy and making law." 
Benford, who recently got his Master's degree in social work from UW-Madison after spending 30 years working in community-based organizations as an educator and activist, noted his career and two terms as an alder, past president of Madison's Equal Opportunities Commission and work as an intern in Madison Democratic Rep. Shelia Stubbs' office during grad school would all aid him in the Senate.
"I have real, lived, informed experiences," he said. "It's one thing to say you're an ally but to have ever lived some of the trauma and abuse of living in a society that has given us indifferent or misinformed policy makers for years and has created this system that's been festering, we don't need that anymore. We need these new, diverse voices." 
Pledging to bring in new leaders should he get elected, he knocked candidates who held up their years in the state Legislature by likening them to people who were auto mechanics in the "state's largest, most corrupt auto repair place," a location that rips people off and disenfranchises individuals.   
"For us to make change at every level of government, to have new diversity, new people with my types of informed experiences, I can help throughout the state mobilize people to really get engaged and hopefully we can get rid of the special interest in government and make the government more inclusive and more diverse," he added.  
Imes, 59, touted his effectiveness at "bridging perspectives," including those from environmental and business backgrounds through the Wisconsin Environmental Initiative he runs. 
The co-owner of the Arbor House bed and breakfast on Monroe Street also touted his connections with a variety of constituencies that he said would help him break through a "dysfunctional" and "divisive" Capitol. 
"I think someone who started a business with nothing, made payroll every week for 26 years, I think that allows me to apply that unique experience in a way that's going to allow me to be effective and be the strongest voice for the district," he said.
If elected, the candidates vying for state Senate say they'd like to pursue a range of policy objectives from expanding health care access in Wisconsin to tackling climate change. 
Following is a list of each contenders biggest issues: 
Prioritize the scientific recommendations to combat the COVID-19 crisis; 
Expand health care and pursue a universal, single-payer system; 
Keep individuals safe and in housing throughout the remainder of the pandemic, including by getting money into people's hands through monthly cash payments "until this disaster is long over," a priority he pledged to "fight with my whole being" for at the state level; 
Ensure education doesn't suffer amid the current uncertainty. 
Affordable, sustainable housing; expanded health care and progress on climate justice, issues she acknowledged are all "connected within this progressive framework." 
Push for an economic recovery plan "that works for all" and includes measures to protect workers during the COVID-19 crisis, accept federal Medicaid expansion dollars, upgrade broadband and find money-savers in the budget process and redirecting the funding to higher education and Main Street businesses; 
Pursue adoption of a Wisconsin Green New Deal, which he acknowledged could as "kind of a long-term" goal. 
Address four key areas: health care, education, housing and social justice, priorities she said are "deeply" impacted by the base of her platform, "economic dignity." 
Accept federal Medicaid expansion dollars and expand health care access to all Wisconsinites; 
Adopt a Wisconsin Green New Deal; 
Overhaul policing and criminal justice practices, including banning for-profit prisons and reducing the prison population, particularly for those who are being locked up for drug-related charges.   
Ensure individuals have health care and economic security to prevent "further unemployment, worsening death rates and the disappearance of small businesses everywhere" because of the ongoing COVID-19 crisis; 
Address climate change by prioritizing regenerative agriculture and sustainable, renewable energy sources; 
Prioritize public education, including early childhood education, K-12 and higher education. 
Meanwhile, Davis previously told Up North News in a candidate questionnaire that the top issues facing individuals living in the 26th District include homelessness, poverty and broader economic hardships stemming from rent increases and low salaries. 
Share your opinion on this topic by sending a letter to the editor to tctvoice@madison.com. Include your full name, hometown and phone number. Your name and town will be published. The phone number is for verification purposes only. Please keep your letter to 250 words or less.