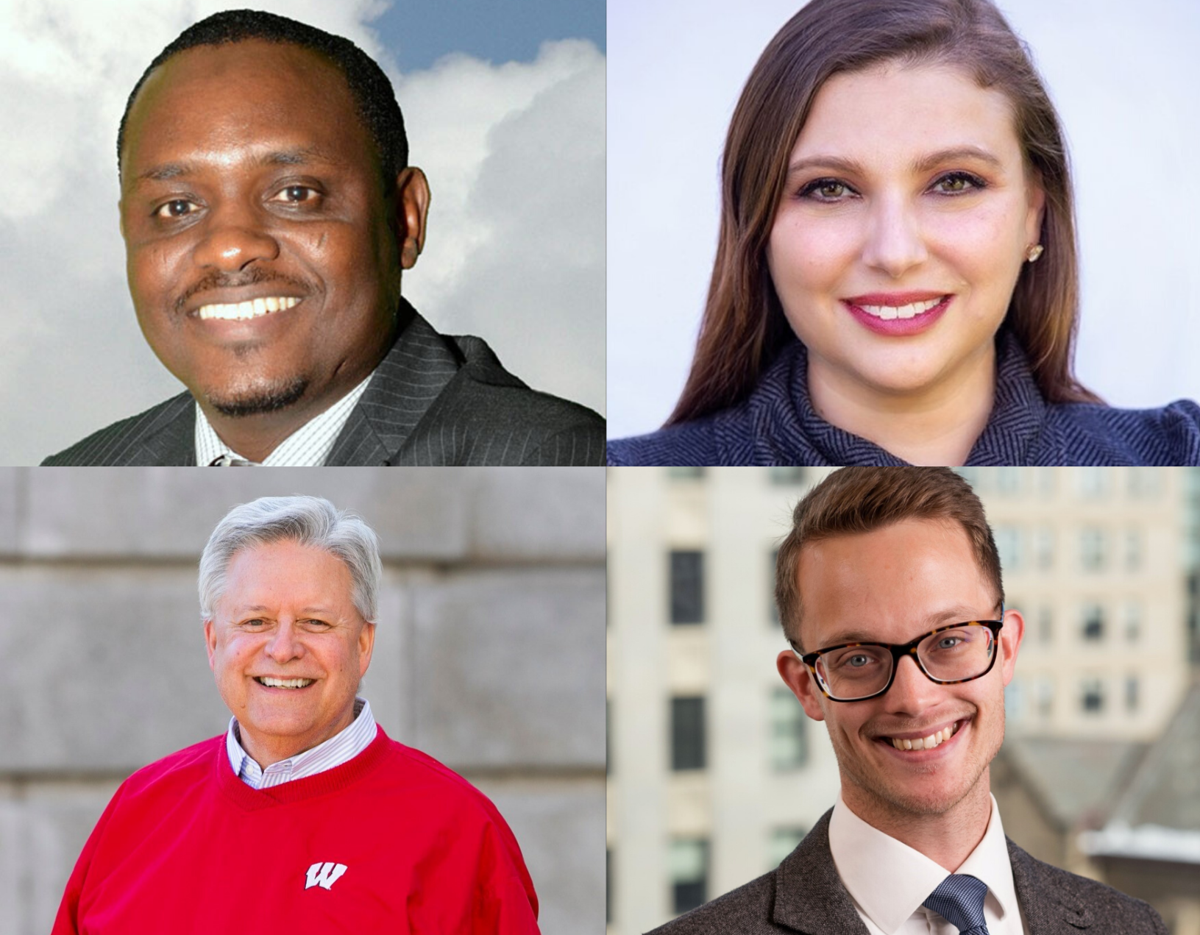 The two City Council members and two political newcomers vying to represent Madison's north and east sides in the Wisconsin Assembly may have varying levels of experience, but they largely align in their desire to see state movement on overhauling policing procedures and other key areas. 
The field of four Democrats, ranging in ages from 30 to 65, will be winnowed down to a single candidate during the Aug. 11 primary, with the winner going on to face the sole Republican in the running for the 48th Assembly District, Samuel Anderson. 
Madison Alds. Samba Baldeh and Lindsay Lemmer, lawyer Walter Stewart and economic developer Jason Vangalis will participate in the virtual debate Wednesday, July 8.
But for now, the contenders — Alds. Samba Baldeh and Lindsay Lemmer, as well as lawyer Walt Stewart and economic developer Jason Vangalis — are focused on getting through the primary in the heavily Democratic district, where the winner will almost assuredly go on to become the state representative.
The district is one of four open Madison-area legislative seats voters will weigh in on this cycle. And voters who cast ballots in the 48th Assembly District will also have the opportunity to elect a new lawmaker in the 16th Senate District this year. 
The two Democrats running in the 16th participated in a Cap Times debate last month, while the 48th candidates will do so on Wednesday at 7 p.m. But ahead of the latest candidate forum, each of those Democratic contenders shared their top issues, platforms, backgrounds and more.
While some of the candidates' priorities overlapped, the four are also bringing with them different experiences they say make them uniquely qualified to represent the district as well as different solutions to key challenges constituents are facing now.
Standing out in a crowded primary 
For Baldeh and Lemmer, the two alders, it's largely their political experience that they say distinguishes themselves from the other contenders.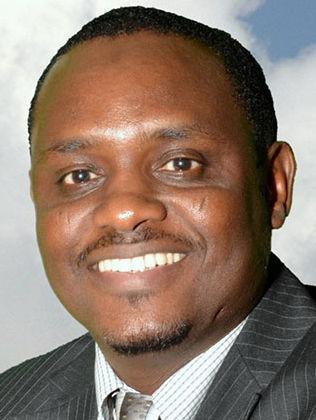 Now in his third term representing District 17, Baldeh, 49, pointed to his leadership role as the City Council president as well as his two decades of volunteer work in the community and his dedication to being in the service of others as separating himself from the field. 
"I am in this to make sure that we change our communities for the better, we address the issues we are faced with and make our communities look like the way we want them to look like so that all of us as Americans can live peacefully, can live life free and realize our potentials as human beings," he said. "That is the only reason I am in this, so that differentiates me from the other candidates."
Baldeh's top issues are health care, overhauling the state's criminal justice system, education, housing and building back the economy following the COVID-19 crisis and ensuring "it works for everybody."  
Lemmer, who has served on the City Council since last April, touted her work as the head of the Wisconsin chapter of the National Organization for Women and time as the communications chair for the nonpartisan Dane County Voter ID Coalition, which seeks to increase access to the polls. 
"It's that combination of skill and experience as an alder and an advocate that sets me apart," the 38-year old Madison native said. 
Included in her top issues are prioritizing education and fully funding it at all levels, ending partisan gerrymandering and protecting voting rights, addressing systemic racism, bolstering environmental protections and emerging from the novel coronavirus pandemic. 
Among the pair of candidates who haven't held political office before, Stewart, 65, noted his experience, skillset and community contacts as areas that differentiate him from the others. 
Specifically, he touted his ability to work with those who may disagree with him, as well as his more than 30 years as a lawyer during which he said he worked with people, small businesses and nonprofits by listening to their needs, considering options and ultimately trying "to make life better for them." 
"What I have tried to do is to show that I have support from regular people within the district and within the city," including retired teachers, executives, state employees and more, he said. "I'm relating to people who are in the district on a one-to-one level."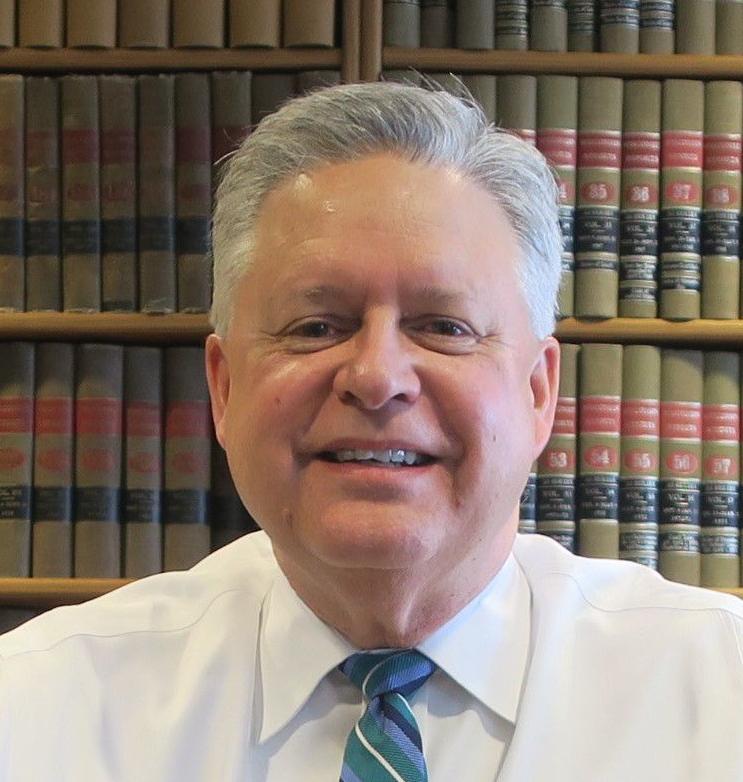 If elected, Stewart said his three biggest issues are finding ways to get people back to work, especially in light of the ongoing COVID-19 crisis, meeting the needs of the district's older residents and bolstering the availability of affordable housing. 
Meanwhile, Vangalis, a 30-year old economic developer at a bottled water manufacturer, said his work experience, broader background and "fresh" perspective as a political outsider help set him apart. 
As the youngest of four children raised by a single mother in Sheboygan Falls that relied on social welfare programs to get by, he said he has a direct understanding of what it means to struggle economically and how important governmental help is to aiding families. 
But when looking across the representation in the state Assembly and Madison in particular, Vangalis said he doesn't "see people with the same background as me." 
"That struggle, it just really, I think, deepens the understanding I have with a lot of folks, that they would love to do well and access the success Madison has experienced for the last five to 10 years, but they can't because there's a lot of barriers," he said. 
In addition to wanting to "build an economy focused on inclusivity and accessibility," Vangalis stressed the importance of education and developing the workforce by creating "skilled pathways" for students so a four-year college education isn't the only option. He also touted the importance of affordable health care, reducing the hierarchy and complexities within the current system and improving how it's administered. 
Of the four open seats in the Legislature representing the Madison area, all but one will see a contested general election in November. That's in the 26th Senate District, where there are no Republican or Independent candidates vying to succeed Sen. Fred Risser. But the first hurdle is the Aug. 11 primary.
State action on policing changes
Although the Legislature has yet to act on proposals brought largely by Democrats to address policing issues amid ongoing demands for greater accountability, all four candidates agree the state has a role to play. 
In recent weeks, Gov. Tony Evers and Lt. Gov. Mandela Barnes have pushed for a package of nine bills — most of which have been previously introduced — that would bar no-knock search warrants, require police to prohibit the use of chokeholds, compel the Department of Justice to publish annual reports on use-of-force incidents, create additional use-of-force and de-escalation training requirements for law enforcement and more. 
While it's unlikely the Republican-controlled Legislature will act on those proposals before the November election, Lemmer said she "fully" backs the package and committed to working hard to get those measures passed if she is elected. 
"Mr. Floyd's murder has caused a reckoning and as an elected official, I am not going to let this moment pass," she said, referencing the death of George Floyd at the end of May in Minneapolis police custody, which sparked nation-wide protests.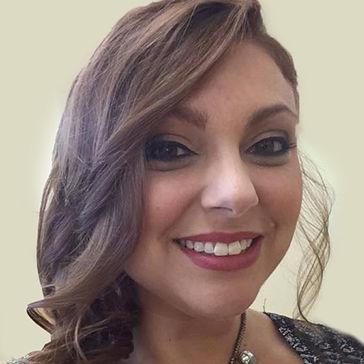 Beyond that legislation, Lemmer stressed the importance of investing "substantially in modernizing our criminal justice system," transitioning eligible, nonviolent offenders out of the state's prison system and taking another look at a previously introduced bipartisan package to overhaul and reinvest in the state's corrections system from Milwaukee Democrats Rep. Evan Goyke and Sen. Lena Taylor.
While lawmakers and the state's top Democratic officials are working on legislation in response to calls to overhaul policing procedures, action on the provisions might not come this year.  
Among the proposals are changes to community supervision and moves to address non-criminal revocations, all of which are part of "smart solutions" that Lemmer said "would help us with our inequities and help us in a difficult budget time to save money as well" given the novel coronavirus pandemic. 
The other three candidates all agreed on the opportunity and need for state action, but they differed on what those initiatives would look like. 
Stewart pointed to three areas where the state could take "a more assertive role," including requiring body cameras to be worn by law enforcement, banning chokeholds as part of use-of-force standards and taking "a careful look" at qualified immunity, a legal doctrine that protects public officials from being sued for actions they take while working, even if their actions violate another's constitutional rights. 
On body cameras, state officials this session signed off on legislation surrounding the storage and release of video footage, though it doesn't require that police wear the cameras. Instead, it sets parameters over footage that's captured. 
Still, Stewart stressed that these were just a few items "among many" that lawmakers could consider. 
Vangalis said lawmakers should be adopting legislation "that allows local communities to really take charge," noting existing restrictions surrounding the creation of police and fire commissions and guidelines surrounding the addition and removal of individuals from those bodies.
"Providing an opportunity for communities to really take charge and lead the effort that they think works best for them, even if that means having 72 disparate, different systems and how the accountability or the management of policing works, I think, is one of the systems that would work best for the state," he said. 
In terms of funding, Vangalis called for realigning "our entire public safety infrastructure system to focus on treating the sources of issues." Noting that criminalizing addiction has been one response to the opioid epidemic, including in the cases of his three siblings, he stressed the importance for expanding support systems before an individual gets into the criminal justice system and re-entry opportunities.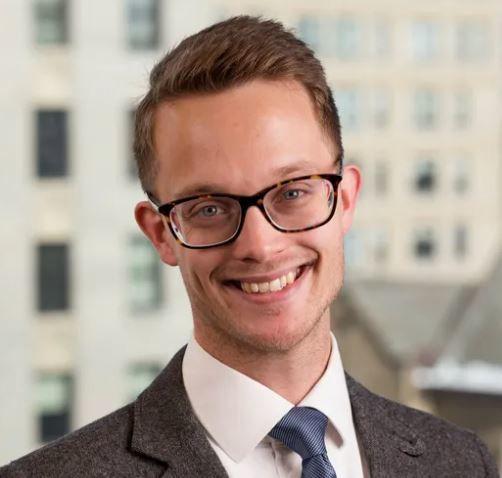 "I think that goes for across the board when we start looking at access to mental health services, social services, those kinds of things," he said. 
Baldeh said the state should institute a ban on chokeholds while ensuring law enforcement receives continued training, particularly cultural and social training, as well as more broadly evaluating the role police play in communities. He also highlighted the importance of state officials engaging in "very genuine conversations" with communities and law enforcement. 
"I do believe that this is the second wave of the Civil Rights movement," he said. " A lot of changes will come and the state has a role to play."   
Speaking generally about laws surrounding policing and criminal justice, Baldeh, who immigrated to the United States from the Gambia and moved to Madison in 2000, noted the majority of people writing those policies "do not live the life of a black person, do not live the life of an African American, do not live the life of a descendant of slavery and all that kind of stuff." 
"It is important that we be at the table, that we make ourselves available to the decision-making processes but also the policy-making process," he said. "For a long time, that has not been the case."  
The debate, hosted online by the Cap Times and moderated by political reporter Briana Reilly, was the first matchup for the candidates, one of whom voters will choose in the Aug. 11 primary to face Sun Prairie Fire Department Lt. Scott Baker, the lone Republican in the race for the heavily Democratic district.
COVID-19 response 
For many, the COVID-19 crisis has brought issues of affordable health care, the availability of social safety nets and heightened economic inequality into high relief. 
Asked what each candidate would want the state to do to increase access to government programs and reduce economic divisions among individuals, both Baldeh and Stewart mentioned the importance of accepting federal Medicaid expansion dollars. 
Evers proposed accepting the funding in his plan for the current budget, but the Republican-controlled Legislature rejected it last year.
Estimates at the time showed accepting the money would have amounted to more than $1 billion over the biennium and $324 million is state general purpose revenue savings.  
In addition to expanding Medicaid, which Stewart said would provide more people with access to health care, he noted the crisis would likely lead to conversations about whether the state should increase taxes to provide for services or cut services because of the anticipated revenue loss. 
"Whatever the approach, we should be sure the burden of meeting the COVID-19 challenges should not fall on the shoulders of people who are least able to carry them and that is going to require a case by case analysis of each legislative proposal that is going to go through," he said.  
He didn't name further policy proposals, saying he's reluctant to do so "because we're still trying to manage the situation, figure out what problems we can solve and then what's the best way to go about solving the problems." 
Noting what could be a $2 billion budget shortfall, Baldeh, meanwhile, called for raising taxes on the wealthiest individuals and potentially looking at a further, temporary tax that would be lifted once the pandemic ends. Such a tax, he suggested, could be levied on services, including those that lawyers and accountants provide. 
"I'm not advocating for those to be taxed but I think one of the ways to augment the gap, we have to find a way to really bring in funding," he said, adding: "We should look at those options, just for a temporary fix of our economic gaps."  
Through his job at a private manufacturer, Vangalis said he's been working on COVID-19 response plans in conjunction with different states and communities, as well as federal agencies -- knowledge he said he could bring to the Wisconsin Legislature. 
But even prior to the current crisis, Vangalis said he had been working on social economic development efforts that focus on addressing disparities within communities that have seen significant growth, such as Madison, which he said has seen such growth being centered around college educated individuals that are probably white and can afford luxury housing. That reality, he said, pushes others not matching the description out of neighborhoods and housing. 
Among the ways to address the issues, he said, are methods to bring more wealth into the district by leveraging workforce development training and workforce ready programs to allow more individuals to see growth opportunities in economic wealth and success. 
Lemmer pledged to continue advocating "for aid and support that prioritizes families, individuals and businesses who have been affected by COVID as well as frontline and essential workers," while also working to make personal protective equipment more readily available. 
She also lamented the Wisconsin Supreme Court's ruling striking down Evers' extended safer-at-home order in May and effectively creating a patchwork of local reopening plans. 
But she didn't offer solutions as to how the state should respond given the court's constraints and the current reality, saying only: "I think that the governor and the Democrats have proposed a number of good solutions. It's unfortunate the Supreme Court overturned what we already had in place. It'd be helpful if we were able to have something statewide but unfortunately we don't have that right now."  
Both the COVID-19 question and the policing procedures question were derived from comments the Cap Times received from its People's Agenda, which seeks to gather input from readers and community members about what issues they want to hear candidates discuss. The information will help guide the stories the Cap Times covers this cycle and beyond. To weigh in, visit go.captimes/pa.
Share your opinion on this topic by sending a letter to the editor to tctvoice@madison.com. Include your full name, hometown and phone number. Your name and town will be published. The phone number is for verification purposes only. Please keep your letter to 250 words or less.
Get Government & Politics updates in your inbox!
Stay up-to-date on the latest in local and national government and political topics with our newsletter.