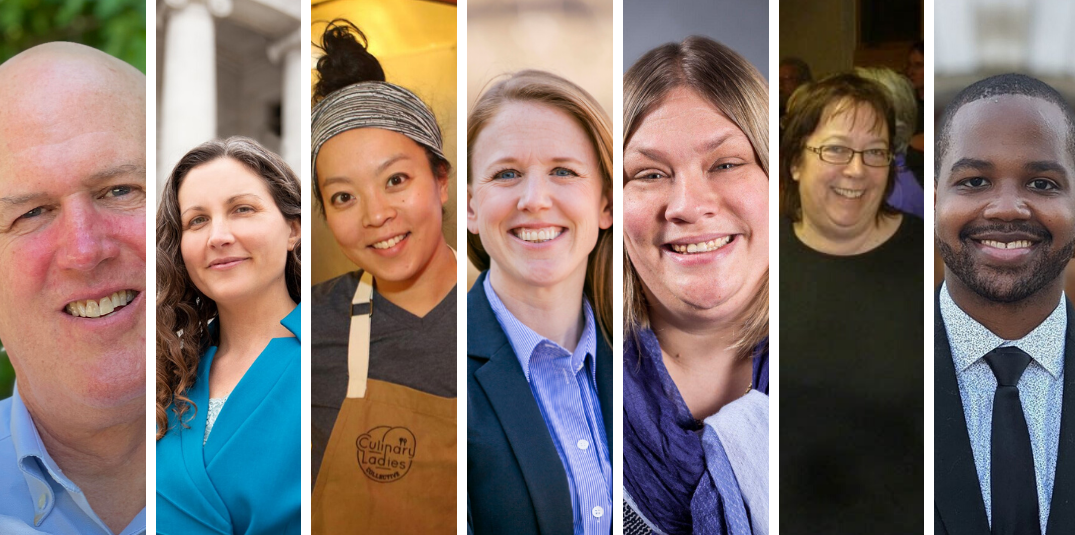 Most of the seven Democratic contenders vying to replace Madison Rep. Chris Taylor in the state Assembly have never run for or held public office before. 
But come November, one of those newcomers may very well find themselves preparing to join the state Legislature on behalf of the 76th Assembly District, which spans the length of Madison's isthmus.
While the primary winner will go on to face Republican Patrick Hull in November, the prevailing candidate on Aug. 11 will all but certainly represent the district due to its history of voting heavily Democratic. 
In the meantime, most candidates in the wide field are seeking to highlight their outsider experience as activists and advocates, police officers and restaurateurs, and generally, Madisonians seeking to work through partisan gridlock and implement needed policy changes across a series of topics. 
Just two of the contenders currently hold public office: Madison School Board member Nicki Vander Meulen, 41, a juvenile attorney and disability rights advocate; and longtime Madison Ald. Marsha Rummel, 63, a state Department of Revenue employee. 
Both touted the importance of elevating their professional and elected work to the state level and allowing it to help inform their policy priorities in issues ranging from housing and tenant protections to education. 
"There are certain changes I want to make that have to be made at the state level," said Vander Meulen, who said if elected she'd retain her seat on the school board and close her law office. 
A third candidate, Heather Driscoll, unsuccessfully ran for Dane County Board in 2018. But the 40-year-old is familiar with the political process through her work as an activist pushing for gun safety measures with the Wisconsin Coalition for Gun Safety, Moms Demand Action for Gun Sense in America and others. 
That leaves four first-timers in the running:
• Dewey Bredeson, who works in commercial real estate and started his own real estate company in 1987
• Francesca Hong, a chef and co-owner of local restaurant Morris Ramen and president of the Culinary Ladies Collective
• Ali Maresh, a mental health advocate and former Department of Health Services employee
• Tyrone Cratic Williams, a police officer who in 2017 started a financial education business aimed at boosting financial literacy among young people and in communities of color
Though united in their newcomer status, they all share different reasons for seeking office now. Bredeson, 59, said while he's always considered seeking office, this was the seat he's most interested in running for — and with his real estate career winding down more, the timing fits. 
Hong, 31, said she saw the pandemic as a "call to action," one that left her with the feeling she wasn't able to protect her staff, family and colleagues and showcased the reality that leadership "was failing us" and lacked a sense of urgency.
Maresh, 33, said it was her time in state employment under the administrations of Govs. Scott Walker and Tony Evers — and her view of the political gridlock that often prevented action —  that spurred her bid for office. 
Meanwhile, Cratic Williams, 31, saw Taylor's announcement that she wouldn't be seeking re-election as an opportunity to bring the resources, skills and relationships he's forged to state government. 
"I have always been involved with developing people and providing opportunities and helping others understand our current system," he said. 
Standing out in a crowded field
Regardless of their level of political experience, each candidate is facing the same dilemma: how to distinguish themselves when going up against six competitors during a pandemic. 
Each contender's experiences — both worked and lived — factor into the answer. And no first-time candidate gave a similar answer. 
For Hong, it's her reality as a small restaurant owner who's concerned about losing her own livelihood that she said makes her voice especially important to elevate.
"I am an example of a lot of the statistics and the numbers people are talking about, and I think we need, in order to make policies that are going to directly impact the people who are like me, we need people like me at the table making these policies alongside others," she said. 
Cratic Williams pointed to his lived experience as a Black man in Dane County since 2003. An officer with the Madison Police Department since 2014 with experience in youth financial education programming, he touted his "unique perspective in knowing the systems at play" plus his community ties.   
"No other candidate has that grassroots experience on a personal or professional level to really know and understand the true needs of the community..." he said. 
Maresh noted her background in journalism and public relations, which included a stint advising international students attending college in the U.S. and managing communications efforts for the office. She said being an effective communicator goes hand-in-hand with being an effective lawmaker.
"I have tried to devote my entire career and using those [communications] skills to advocate for others and to raise people's voices," she said. "Not only as a representative do you have to communicate with fellow lawmakers and try to work with a diverse group of people and ideologies and everything like that, it's also imperative to communicate our message statewide as a whole to the Wisconsin public."
For Bredeson, it's his commitment to working across the aisle and coming to a compromise with people (something he identifies as one of his strengths) that he said helps him stand out. 
"I've got a number of friends who are Republicans," he noted. "I'm able to have conversations with them without people flying of the handle. I don't see as much of that happening today."  
The variance was consistent among those who had sought office before. 
Driscoll, whose father died by gun suicide when she was two, emphasized the fact that many of the issues she's pushing for (such as gun safety initiatives) have been ones that have impacted her directly. 
She also touted her efforts knocking doors outside of Madison to help get Democrats elected to the state Legislature, something she pledged to continue to do as a state rep by leveraging the seat "to support candidates in as many ways as possible through fundraising, on the ground and making phone calls." 
Vander Meulen , who won re-election to the school board in April, stressed her status as the only lawyer in the race, which she said would give her "a leg up in working with legislation." She also noted her victory would be "incredibly important to the disability community" because she said she'd be the first openly Autistic legislator in the country if elected. 
"I'm the strongest fighter," she said. "I'm an advocate by training. I'm an advocate by birth. I became an advocate at 7 years old when I was discriminated against in school. I will fight for all causes. I work equally hard and I do my homework but I will champion the little guy and I will help as much as possible."
Rummel, a former City Council president, pointed to the more than 1,500 resolutions and ordinances she's adopted over her tenure as an alder, the difficult debates she's had with colleagues and her participation in the politics surrounding an engaged and active district.   
"I try to get people engaged, get their opinions, make sure their views are heard and also their recommendations are included," she said. "I have lots of experience representing constituents and that's part of this job at the Assembly is people are going to send you requests for help." 
Top issues 
Many of the candidates' top issues overlap, with a few saying they would prioritize increasing affordable housing and health care, as well as fair maps.
Bolstering affordable housing; implementing a nonpartisan redistricting process; opposing any efforts to suppress voters or access to the polls; and prioritizing funding for K-12 education and the UW System. Many of those issues, he noted, are going to be further impacted by the COVID-19 crisis.  
Tackling climate change and prioritizing efforts to protect clean water, while keeping in mind the "impacts of how [these issues] affect racial disparities and how we can fight for solutions around environmental issues;" 
Prioritize efforts to curb gun violence including bolstering background check requirements, instituting a so-called "red flag" law in which family members or police would be able to ask a court to take firearms from an individual who is considered dangerous; increasing protections for victims of domestic violence and more; 
Making health care more accessible by accepting the federal Medicaid expansion funding and doing more to address racial disparities in the field across Wisconsin. 
Implementing a $15 minimum wage, bolstering the availability of affordable housing and taking steps to make health care more affordable, all of which she said "must be done through an equity lens" while bringing individuals with lived experiences to the table to craft policy. 
Addressing political gridlock in the Capitol "because if we don't, we can't get anything done;" 
Removing barriers to accessing mental health care and other treatment services; 
Bolstering equality by revamping the state's criminal-legal system in its entirety, from looking at policing to the allocation of funds; making housing and health care more accessible, embracing changes to the education system and prioritizing environmental justice; and banning conversion therapy, updating the state's nondiscrimination policies and putting more measures in place to support LGBTQ youth.  
Longer-term goals include changing the school funding formula by scrapping the revenue limits; "properly" funding special education;  overhauling the criminal justice system by targeting the cash bail system and freeing those with nonviolent drug convictions; and scrapping the subminimum wage for those with disabilities that allows businesses to apply for permits to pay certain employees below $7.25. 
Shorter-term goals range from instituting a $15 minimum wage to ensuring teachers have affordable health insurance and that those with disabilities can work from home without losing benefits. She also stressed the importance of allowing Wisconsinites with disabilities to receive federal pandemic aid, which state regulators have denied, though they are now seeking federal permission to do so.  
Safeguarding drinking water and combating PFAS, the group of chemicals linked to cancer, reproductive problems and a host of other health issues; increasing protections for renters; prioritizing the COVID-19 recovery process, which could include examining levy limits; and instituting a nonpartisan redistricting process. 
She also stressed the importance of bolstering accountability in public safety by prioritizing community-based approaches and reevaluating the state's approach to policing.  
Overhauling policing practices and procedures through incorporating implicit bias training in recruit academies and annually, expanding restorative justice initiatives, requiring body cameras be worn, limiting use-of-force in certain cases, establishing policies to track use-of-force incidents by individual officers and more;

Prioritizing economic development by ensuring yourh, women and communities of color have access to paid apprenticeship programs, wealth-building processes and more; 

And expanding the availability of health care. Noting that the many issues are intersectional, he said it would take "an equitable mindset" and partnerships with communities most impacted by the current system to make effective change. 
The Democrats will face-off in a Cap Times debate Wednesday at 7 p.m., one of the last of the four open Dane County legislative seats to be featured in a forum hosted by the publication.
Voters in the 76th AD will also have the ability to elect a new lawmaker in the 26th Senate District, held by outgoing Sen. Fred Risser. That debate, also featuring seven Democrats, will take place July 29.  
Share your opinion on this topic by sending a letter to the editor to tctvoice@madison.com. Include your full name, hometown and phone number. Your name and town will be published. The phone number is for verification purposes only. Please keep your letter to 250 words or less.
Get Government & Politics updates in your inbox!
Stay up-to-date on the latest in local and national government and political topics with our newsletter.