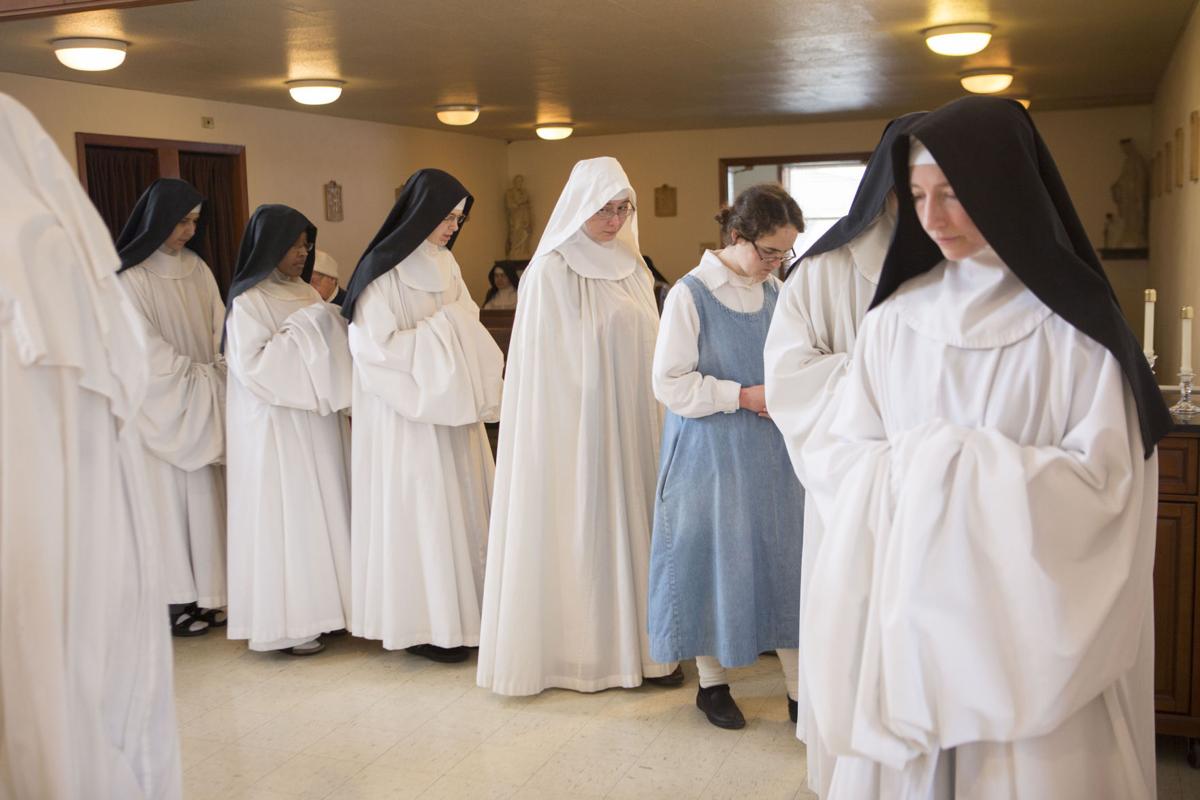 PRAIRIE DU SAC — Sister Christina Marie, 33, was an entomologist. Sister Mary Benedicta, 36, studied to be an aeronautical engineer. And Sister Mary Bede, 30, intended to become a professional violinist.
In four weeks, Erin Wells, 24, heads there, too.
She'll come from her parents' house in Columbus, Ohio, after earning a degree in mechanical engineering from Ohio State University. She'll sell her car, get rid of most of her possessions and bring only a few things, including a Bible and her rosary.
"I went to college thinking I was going to be an engineer, work for Honda and travel to Japan all the time," she said, "and be rich and write a book and be on the New York Times best-seller list."
Now Wells is set to be part of an ancient tradition of communal religious life known as contemplative monasticism. She will live simply, becoming singularly focused on prayer, talking and listening to God without distraction.
"I've thought about serving in various ways, but ultimately what would fulfill me the most would be to hold the world in my heart and pray for them," she said.
Wells will be one of growing number at Valley of Our Lady, an outlier in a 40-year downward trend in women entering convents. With 21 nuns once Wells joins this month, the convent will be at full capacity, millennials comprising more than one-third of the group.
Although the monastery in Prairie Du Sac is growing, nationwide, the number of nuns and priests has decreased dramatically. In 1965, there were 179,954 religious sisters in the U.S. Last year, there were 47,170, according to the Center for Applied Research in the Apostolate (CARA), a nonprofit research group affiliated with Georgetown University.
If current trends continue, there would be fewer than 1,000 religious sisters in the United States in 2043 as they die out, according to CARA.
Wells will enter the monastery's ranks as a postulant, a "trying it out" position that lasts one year. She'll continue to go through phases called "formation," eventually wearing a white robe and veil and taking a religious name. Five years from now, she will decide whether to make a permanent vow.
Until then, like others at the monastery, she will live a radically austere life behind closed doors, working out the mystery of what she views as a distinct calling from God.
This begins by waking up at 3:30 a.m. every morning to pray, one of seven formal times throughout the day. The sisters also attend mass before an 8:30 p.m. bedtime.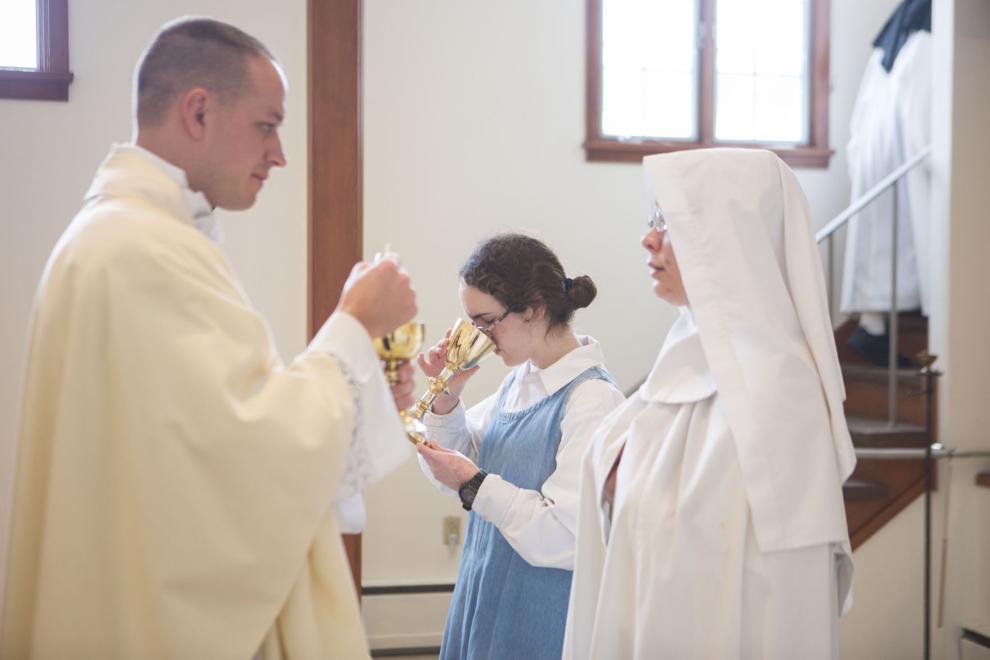 They can speak to one another during 15 minutes of recreation time each evening. On Sundays, they get 30 minutes.
The rest of the time, they are silent.
They maintain simplicity by making their own clothes. Their meals are basic and unchanging, mostly eggs, tuna, cheese, bread and beans.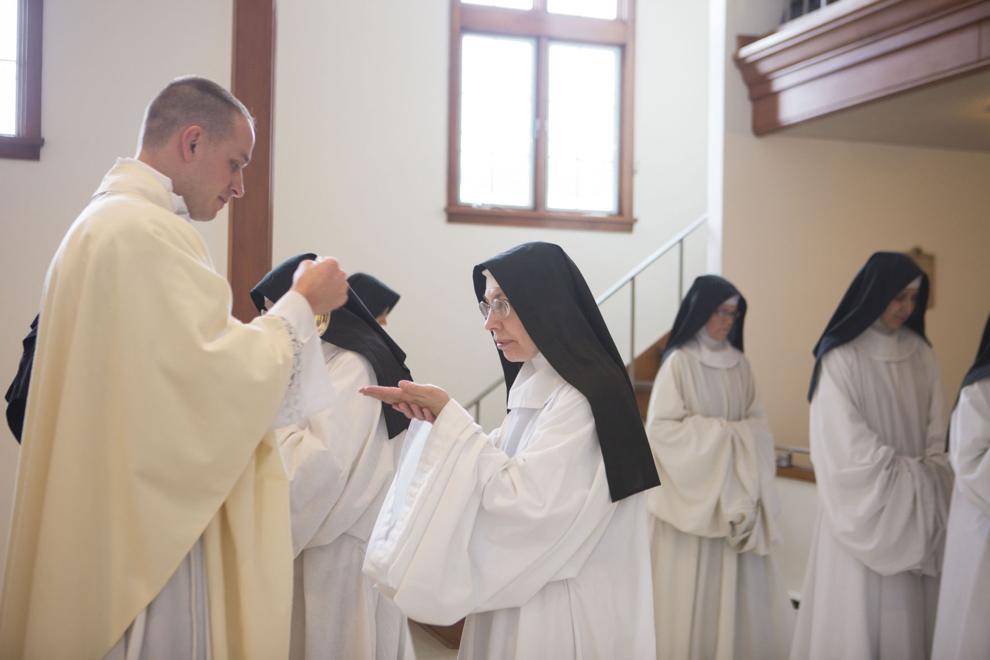 Every part of cloistered convent life points toward prayer, said Sister Anne Marie, the prioress, or head nun at Valley of Our Lady.
"When we can keep our life simple, then we can keep a balance of work and prayer," she said. "Most people in the world don't have the luxury of meeting seven times a day for prayer, but it is very essential to our life. That's why we're here."
Sisters who have made permanent vows have email addresses but don't peruse websites. Sister Anne Marie assigns one nun to scan the internet briefly each day, only to find subjects for which to pray. A headline is all it takes.
People can also leave prayer requests on the sisters' answering machine (press 1 for that option when calling) or mail in requests. Asking God to help other people is at the core of their conversations with him, said the prioress.
"Most of the time it's a walk in faith. Most of the time we have no idea who we prayed for and how God took care of it," she said. "We join together with people praying for people and it's just one of the great blessings and mysteries of our life."
Sometimes Sister Anne Marie prays by geographic region, she said, but her prayer focus varies. She often feels compelled to pray for those who were "carried in the womb with hate," unwanted children brought into the world without love.
"They may have reached the age of 5 and have never known love," she said.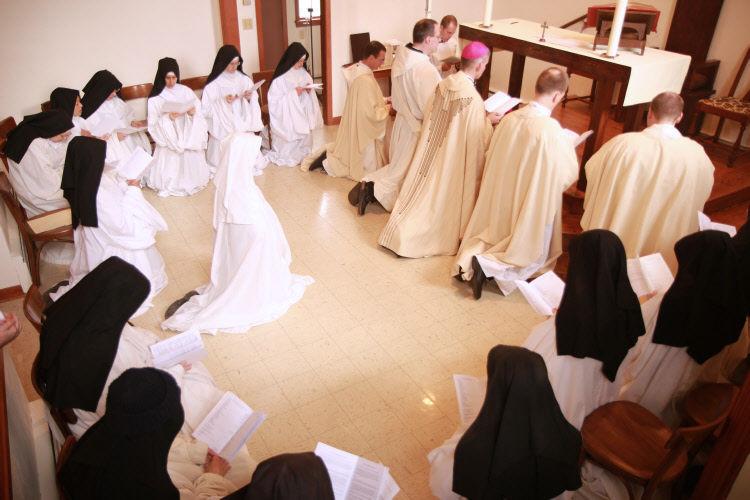 While Wisconsin's Cistercians sleep, there are others praying around the world. There is a Cistercian monastery in every time zone, she said.
"The young people have this expression, 'You're in my face.' Well, we're in God's face. God is being pestered all the time, we don't leave him alone," she said. "The pestering is: 'Lord have mercy, your people are hurting.'"
That kind of prayer, facilitated by a set-apart life of silence, solitude and manual labor, is what draws Wells to the convent.
Should she change her mind, however, Wells can leave at any time before she takes permanent vows.
"It's not everyone's vocation and sometimes the only way you can figure out is if you come," said Sister Anne Marie. "It's pretty easy for them to know, are they happy? Are they at peace? Can they live the life? Those things show up. We're not going to keep someone here who is not happy. We're not going to keep someone here who is not at peace. When they come they still receive grace and help for whatever God is going to call them to later."
Even permanent vows can be broken, though it is considered extremely serious. Permanent vows include one of obedience.
"We take a vow of obedience which is probably the hardest," said Sister Christina Marie, who helps run the convent's bakery. "Having my own life and my own will, having license to do whatever I want, will really just make you miserable. Really, that self-offering, that self-giving love is really where true freedom is found."
Valley of Our Lady Monastery is a series of cobbled together buildings on 112 acres of farmland. It was founded in 1957 when six nuns from a Cistercian convent in Frauenthal, Switzerland, arrived on Thanksgiving. "Frauenthal" is German for "valley of our lady."
"The six sisters didn't know English, they didn't know our culture and they came with such great courage. They had next to nothing," said Sister Anne Marie.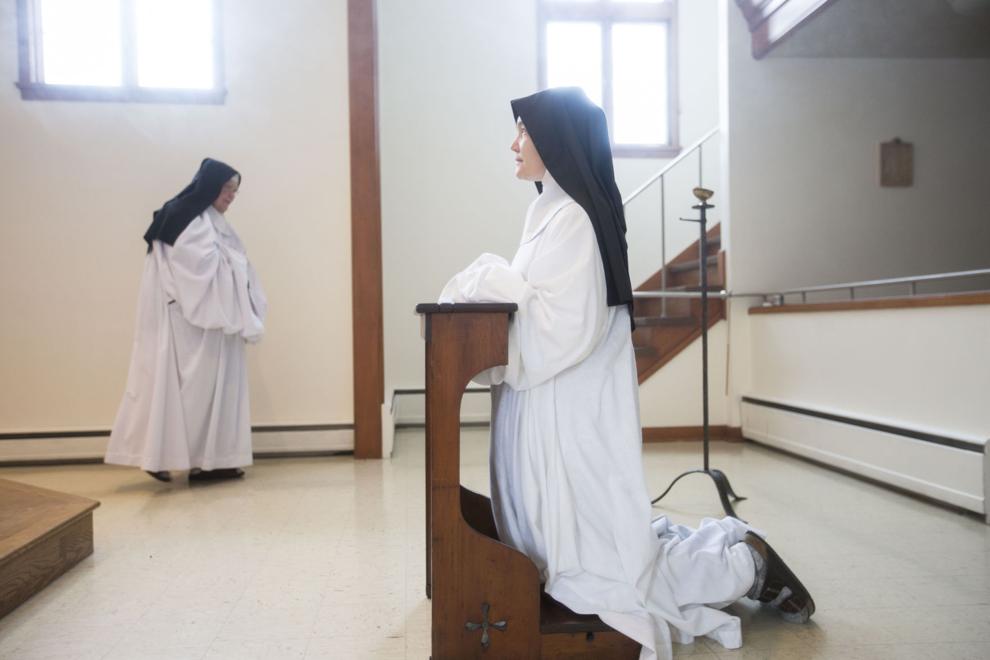 They moved to Wisconsin at the request of Bishop William O'Connor, the first bishop of the Catholic Diocese of Madison, which formed in 1946. O'Connor wanted a convent of cloistered nuns in the newly formed diocese. There were Cistercian monks already in the country, but no order of Cistercian nuns. Though Valley of Our Lady is located within the Diocese of Madison, with the Bishop's permission, the sisters there are under the authority of the Abbot of the Cistercian Order in Rome.
"They were so poor, they had next to nothing, but they had trust in God that was incredible and that's part of the heritage they left to us. What they had going for them was that God wants this, if God wants this, it's his project," said Sister Anne Marie.
People from the community brought gifts, made food, and as the convent grew, donated money to build additional facilities.
From six nuns, the order grew to more than 10 and stagnated. One or two new nuns would come every few years and usually leave. They have never had a nun from Wisconsin.
"The foundresses in their broken, thickly German-accented English would say, 'They comes and they goes and mostly they goes,'" said Sister Anne Marie.
The main convent residence sits at the foot of a bluff. Originally built by pioneers in 1850, it was the summer home of former Wisconsin Gov. Emanuel Philipp, a Republican who governed from 1915 to 1921.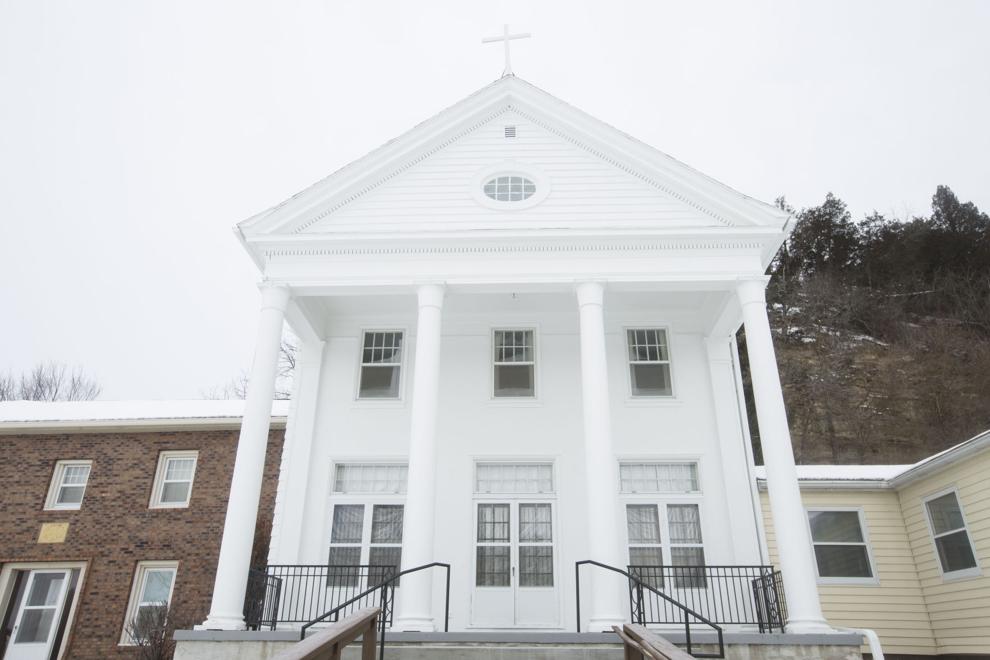 They are now at capacity and plan to raise money soon to build a new monastery on 200 acres in the town of Brigham in Iowa County. The new convent would hold 30 nuns. If they were to outgrow that space, a second monastery would start somewhere else.
The original Cistercian Catholic convent of nuns from which Valley of Our Lady monastery was born was founded in 1231. The Cistercian order itself, which was established by medieval Benedictine monks, was formed in 1098 in Citeaux, France. The Latinized form of Citeaux is Cistercium, hence the Cistercian name.
At the foundation of Cistercian spirituality is simplicity and a vow to be poor like Jesus Christ. Cistercian communities typically live in the country. Early European Cistercians were some of the original swamp drainers, emptying them to build monasteries because they couldn't afford better land.
"We are known for being given lots of swamps, but again the Holy Spirit comes to our aid and taught some monk how to drain them," said Sister Anne Marie. "And the Cistercians became experts at draining swamps. Once they got them drained, they were a place you could live in without 5 million mosquitoes."
It's a common misconception that cloistered nuns don't work.
At Valley of Our Lady Monastery, they run a business baking and selling Communion wafers, work that's both a practical and spiritual necessity. The sisters also maintain and operate the convent building, cleaning, preparing meals, mowing the lawn in the summer and shoveling snow in the winter.
They work to pay their bills, but ultimately, it's just another vehicle for prayer.
"This is our form of manual labor. It's a good opportunity to pray while you're working. It's fairly repetitive, fairly simple. It is able to free your mind," said Sister Christina Marie, who is in charge of packaging and shipping in the bakery. Valley of Our Lady sells its wafers to nearly 1,000 parishes nationwide. Last year, it shipped more than 12.9 million of them.
The work enhances the monastery's mission as a "powerhouse of prayer," said Sister Christina Marie.
The sisters rotate through work assignments but all nuns start in the convent's bakery, making the unleavened, 2¾-inch discs. Wells will work there when she arrives.
The wafers are made only of wheat flour and water, as the Church mandates. The runny batter is pressed and baked with rotating irons.
"It's basically like a glorified waffle iron," said Sister Anne Marie. The irons automatically rotate on a carousel and batter is poured onto them. The nuns pull the baked sheets off of the iron and later cut them by hand into discs and package them into tubes. The wafers have Biblical designs and symbols etched into them, patterns drawn by the sisters.
During mass, the wafers become Christ's body, according to Catholic teaching. That the wafers are made by hand rather than by a machine is important, the nuns said.
"It's definitely a privilege to be able to make the altar bread," said Sister Christina Marie.
Like everything else at the monastery, bakery work is silent, too. Sisters can only speak to the bakery manager if they have a question, not to each other.
For Wells, this bakery work will replace a job she was offered with General Electric. The opportunity was one she had worked for throughout school, but when she realized she was interested in religious life, her earlier career ambitions waned.
"I had the opportunities of the world laid out before me," she said. "But ultimately, what would it amount to? What if I did end up high up in a big company with all the money and technology I could possibly want? What would it amount to? Nothing. Nothing compared with God."
Cynical surprise is a frequent response to their lifestyle, several nuns said.
The Cistercian sisters at Valley of Our Lady don't think of their former lives, attached to their old names and hobbies, as a loss.
Parents of cloistered nuns can especially struggle, wondering how their child could "give it all up" for the convent, never to return home. Nuns are not permitted to leave but families can visit them at the convent once a year.
Sister Christina Marie was Chrissy Murphy when she was researching microscopic insects and their role in soil decomposition in Puerto Rico. She had just graduated from the University of Colorado at Boulder with a master's degree and had fallen "madly in love totally unexpectedly" and was planning on entering a Ph.D. program.
"Everything was falling into place except I didn't have any peace about it," she said. "There was still something not quite right and at this point in my life, I knew I needed to give God a chance."
After "a great deal of agony and prayer and tears" she felt like she couldn't make the commitment to the Ph.D. program. She left Puerto Rico and searched for a religious community. She wanted to try a cloistered, contemplative order and found Valley of Our Lady online. Sister Christina Marie entered as a postulant when she was 24, nine years ago.
She was drawn to the quiet thoughtfulness at the core of monastic life, and said it was how she related to her career in the world, too.
"Even in the world I would have been a contemplative scientist," she said. Monastic life, she said, "just fed me more."
Her colleagues and boyfriend were stunned.
"Yeah, people definitely just think you're throwing your life away," she said. "It's really a great gain, just on a different plane. It requires a vision of faith to be able to understand the vocation because it is mystical."
Though the sisters are separated from other people, "that's just physically," Sister Christina Marie said. "We're very present to the sorrows and the joys and the struggles and the sufferings of the world. It is hard to explain what it is. It's always something mysterious because God speaks to the heart and the individual in a mysterious way."
She added: "No one can really totally explain what got them in the door and usually if someone can give you a detailed description of why they're here, you might want to question their vocation."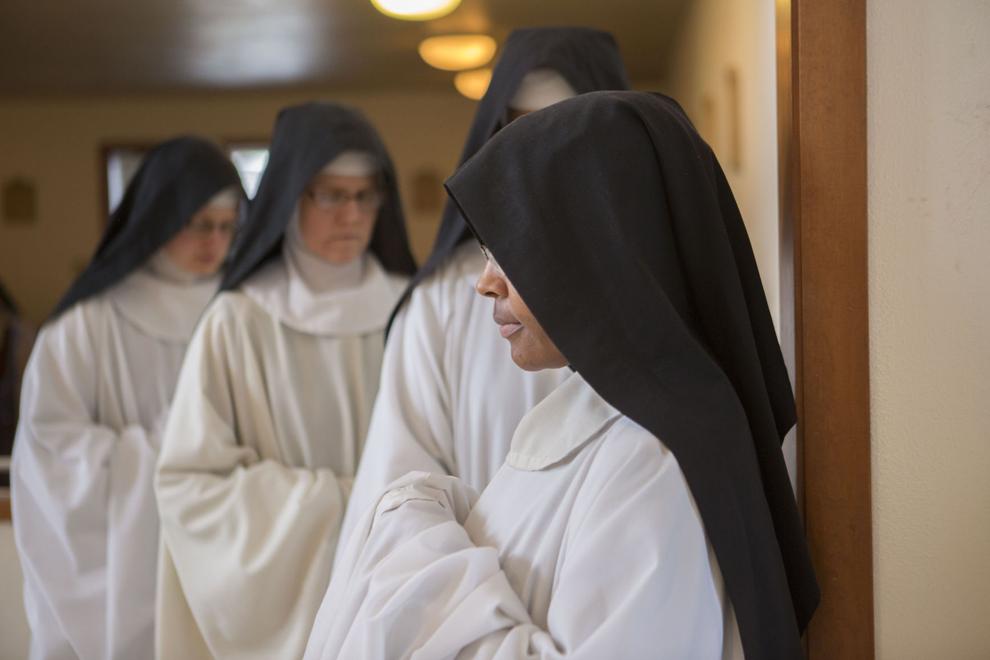 Sister Mary Benedicta was Starsha Johnson when she was studying aeronautical engineering at the University of Illinois at Urbana-Champaign.
She was not raised Catholic and knew nothing about nuns outside of what she saw in the movies "Sister Act" and "The Sound of Music." She grudgingly attended a Catholic church when she was in college, only because a young mentee in a group for women engineers kept asking her to try it.
"Every excuse a non-Catholic I could give, I gave it: 'Oh no, I'm just a pagan,' 'Oh, if I set foot in that place it would burn down,'" Sister Mary Benedicta said.
She eventually relented but didn't know what she was doing or why she was there. She stood when people kneeled to pray. She wasn't sure what Communion was, or how to take it.
She later learned the purpose of mass and how to receive Communion.
Sister Mary Benedicta said she thought, "So God is not just a three letter word, it's a person? Well, now knowing that, I need to try again."
She went again to receive Communion and that's when everything changed, she said.
"I felt amazing. I was so excited on the inside, like, this is awesome. And it was such a great feeling," she said.
She entered the monastery when she was 26 and 10 years later is now its vocations director. She is the primary point of contact for Wells and other postulants. They are allowed to speak to her anytime during their first year.
Wells said she is at peace with her impending move. She realized she wanted to be a nun when frustrations with dating led her to recognize and understand the idea of spiritual motherhood.
"The Lord revealed to me that what the religious life was, was to embrace the world as God's children. Basically if I marry him, everyone is my child other than who my natural children would be if I were to marry someone else."
The imagery of nuns being "brides of Christ" resonates more with some sisters than with others, said Sister Anne Marie. But human Christian marriage principles of lifelong fidelity and intimacy are reflected in the permanent vows of a cloistered nun.
"In a human marriage, the wife gives herself to her husband, the husband gives himself to the wife saying, 'I want to journey my entire life with you in a very intimate way,'" she said. "When a cloistered nun makes solemn vows, we are basically saying to God, 'I am yours, do with me whatever you will; because we know he only wills our best good."
Of her earlier plans to become an engineer and travel, Wells said: "I was totally fine with letting it go when something better came up. There's so many other people out there who could have been called to this.
"I get to spend all my time with Jesus, what else could you possibly want?"
For many nuns, the most striking challenge of monastic living is coming to truly know themselves.
Self-knowledge is both an incredible burden and a source of grace from God, they said.
"You encounter yourself very clearly, you can't get away from yourself because you're with yourself all day long and there's no distractions," said Sister Christina Marie. "(It) was a great blessing but brought a great deal of suffering … coming to know yourself and why you are the way you are."
It brings out the best and the worst in everyone, said Sister Mary Bede, the former Abigail Berg who entered the convent nine years ago at 21.
"Because the life is so demanding, you come face to face with who you really are and that can be painful. (It) shows who you really are and how much in need of God's mercy," she said.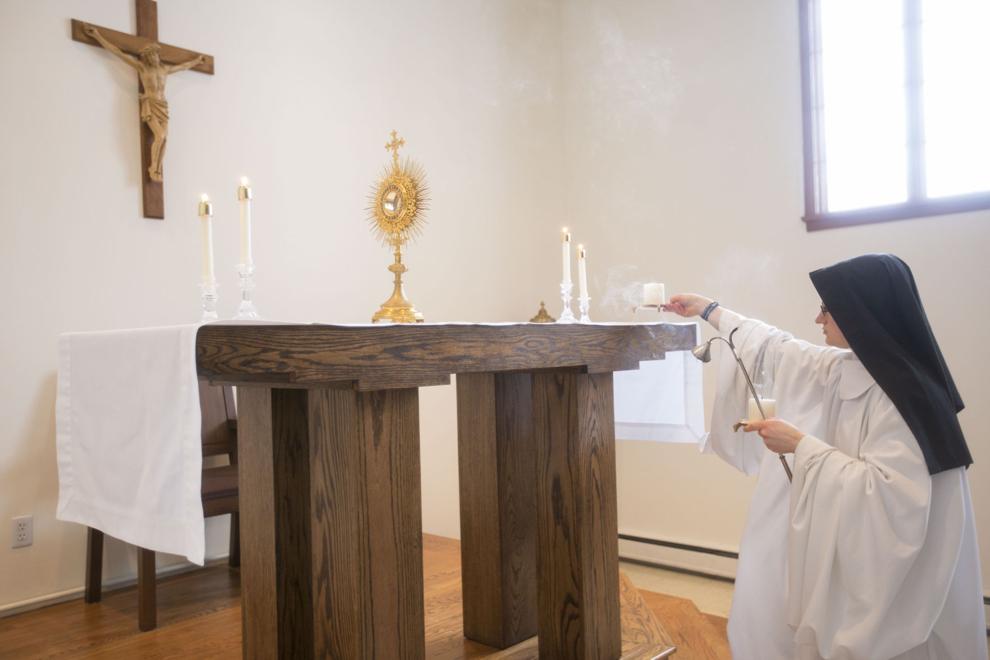 Sister Mary Bede said she struggled with giving up her love of academics and her diligent violin playing, a skill and passion that had marked her life since she was 3 years old. She was allowed to bring her violin to the convent, but does not play as often.
"Giving up music, I never realized how much a part of my life it was. I still do play once a week but I don't have time to practice two or three hours a day," she said. "You think, 'Oh yeah, I can give everything up,' but then when it comes to making that sacrifice, it can be more painful than you think."
If it's the right fit, the convent reveals the core of a sister's personhood then teaches her to let go of it. They are able to do this only by relying on God, the sisters said. There's nothing else around to cling to and nothing to measure achievement or success.
"There is nothing else. There is no chart to put stars on, there's none of that here," said Sister Mary Benedicta.
As St. Bernard of Clairvaux, one of the first Cistercian monks puts it: "It's not a matter of self-torture or of producing special achievements of self-assertion, but rather we let go of ourselves, to become interiorly free and so available for the call of God."
Struggling to find fulfillment in a society fixated on personal achievement and run on social media can be a driver for some 20- and 30-somethings to consider religious life. The simplicity of setting aside everything else to pursue only God is attractive, the nuns said.
"They no longer carry the full weight of making themselves happy but it is through relationships with Jesus Christ that they grow into a person who is capable of supernatural love and is able to give that love to others," said Father Greg Ihm, the vocations director for the Catholic Diocese of Madison, which has made a concerted effort to introduce religious life to young men in its parishes.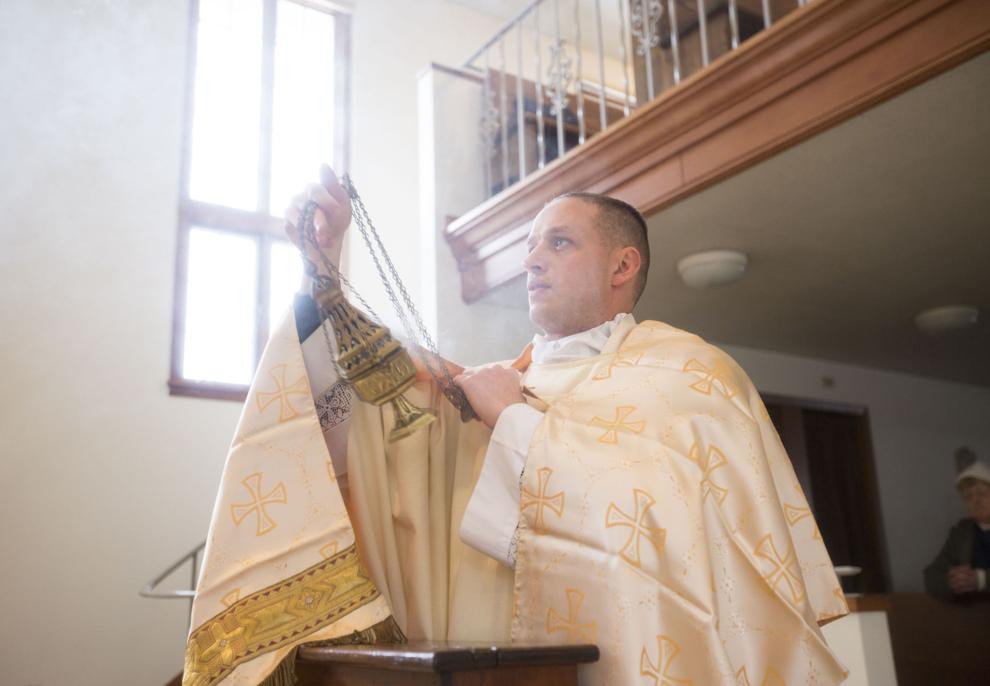 Bishop Robert Morlino designated Ihm to focus on religious vocations, helping young men determine whether the priesthood might be a good fit for them. Ihm said he often encounters the perception that one must be perfect or exceptionally holy to consider religious life.
"The truth is: the Lord equips the called rather than calls the equipped," he said.
Although one may seek a silent and ordered lifestyle, it is not an escape, an end in itself for personal comfort, said Sister Marie-Pierre Sercer, 33, who has a degree in studio art and has been at Valley of Our Lady for 10 years.
It is about the person of Jesus Christ, she said.
"It's not a spiritual career, it's not a self-improvement program; it's about a person: finding that person, learning more and more about that person, falling more and more deeply in love with that person, following that person wherever he leads you, even if that looks like a scary place."
Wells feels similarly. For her, coming to Valley of Our Lady is the way she can best follow and serve Jesus.
"For one person, serving materially is what's necessary, for another it's prayer. Both are necessary to help the world," she said. "I have to pray."