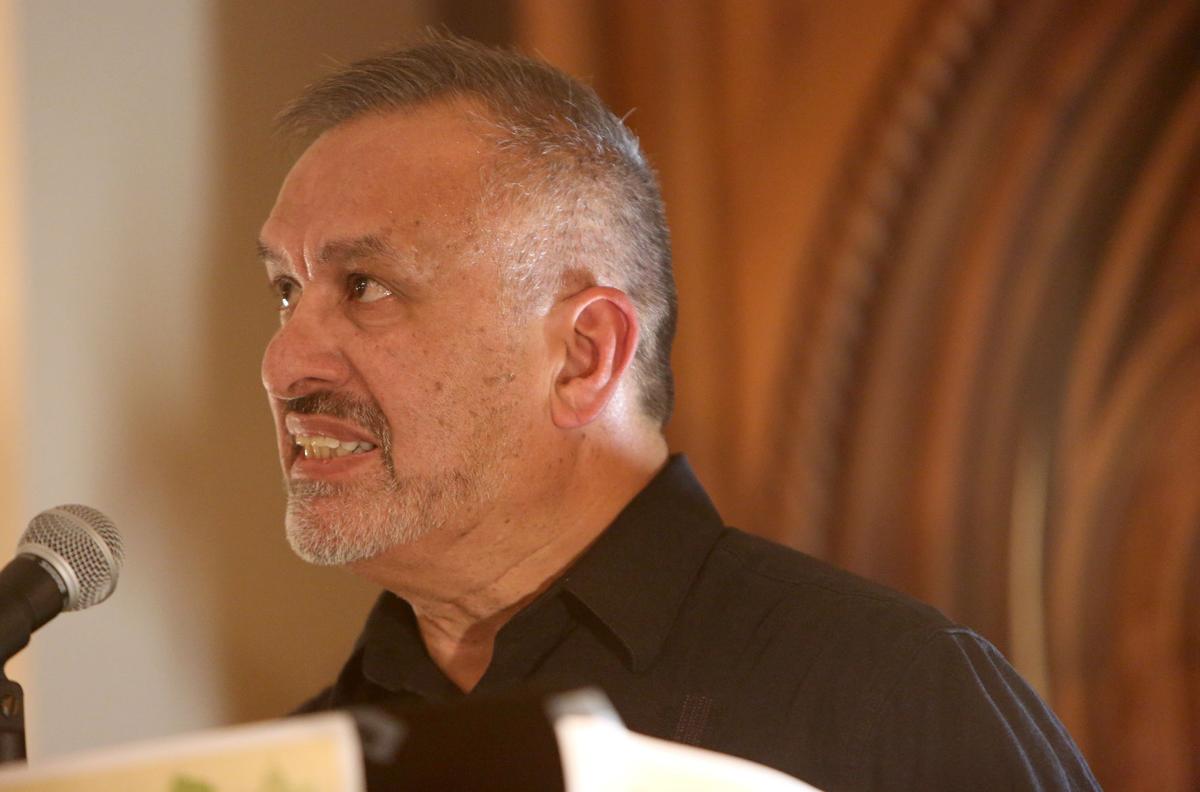 Oscar Mireles is Madison's poet laureate and the executive director of Omega School. After two years in the poet laureate position and a few years after the Omega's GED graduation rate took a plunge, Mireles is looking forward.
He said in both roles, he wants to help expand horizons by putting Madison residents in contact with more poetry and helping Omega students realize their potential. 
Mireles has been the city's poet laureate since 2016 and his two-year stint ends in January. But he has decided to sign up for two more years, he said, because he's not quite done yet.
"I was thinking, I'm just kind of getting the hang of this," he said.
Much of his work as poet laureate has been focused on exposing the city to the work of many poets in many places.
That's why he loves the annual Bus Lines poetry event, when Madisonians submit poems that Mireles selects to be displayed on Madison Metro buses, transit cards and ride guides. The project was started in 2009 by then-poet laureate Fabu, who wanted to get poetry into unusual places and give high school students a platform to publish their work.
The poet laureate is also tasked with reading poetry at City Council meetings four times a year. Mireles has brought other poets to read their work at the meetings, too.
"It's an opportunity to kind of share the stage," he said.
That's also the focus of his three-volume work, "I Didn't Know There Were Latinos in Wisconsin," an anthology of writings by Latino writers in the state.
And he has more sharing planned. He has plans for a "poem a day" presentation in partnership with the Madison Public Library this April. He asked about 30 community members, including former Wisconsin Public Radio host Joy Cardin and former Wisconsin first lady Jessica Doyle, to share their favorite poems with an explanation of their choices.
It's just another way to get more voices and styles involved, Mireles explained. If everything were in his style, he said, it would be very simple.
He spoke at the Madison Senior Center last month and he said the retired English teachers and writers in the crowd kept telling him, "Your words are so simple and direct. They're not flowery."
He knows his style is straightforward, but said it used to be almost painfully concise. Before he started writing poetry, he took an introductory English course in college and was instructed to write an essay about his summer vacation.
He wrote the following epic: "On my summer vacation I had a lot of fun. I went to the beach, I went out dancing and I went on a picnic. I had a great summer."
His professor told him that wasn't an essay; Mireles argued he had completed the assignment.
"He said you have to show us a little more detail," Mireles said, and invited him to "open the doors, to look a little deeper."
Without that teacher, Mireles said, he probably never would have considered the power of writing.
Mireles tries to similarly open the minds and perspectives of students in his role as executive director of Omega School.
"They just need to look at things a little differently," he said. "We look at things through our own lens, which at a certain level makes sense, but then in hindsight we realize how much that's held us back."
Omega specializes in one-on-one training for high school students and adults to earn a General Education Development or High School Equivalency Diploma. About 80 percent of the students are unemployed, Mireles said, and the center is open 10 hours a day and provides free onsite childcare, gas gift cards and bus tickets to help ease the logistical burdens of finishing school.
The school suffered a setback a few years ago after a change in the GED test. Omega typically has 80 to 100 students pass the GED each year, but only 12 passed in 2014.
It was "disheartening for the staff and disheartening for the students," Mireles said, and the students who failed in 2014 are just starting to come back to Omega to try again, he said.
It wasn't a phenomenon unique to Omega: national, state and other local GED completion statistics saw significant drops after the test changed to a more rigorous, more expensive computer format. Wisconsin saw a 92 percent decrease in the number of residents who passed the GED from 2013 to 2014.
One reason for the drastic drop is that historically, whenever the test has changed, students rushed to take the old version before the switch. When the test was updated in 2001, there was an over 50 percent national decrease in GED completion in 2002.
Omega saw an increase in graduates in 2013, with 139 passing the GED before the change. But only 12 passed in 2014 and 11 in 2015.
That led to changes in Omega's curriculum, laptops for students to use, a new attendance coordinator to reach out to students who skip class and frequent GED practice tests to evaluate student progress. The GED also recalibrated the test to lower the cut-off passing score from 150 to 145 in March 2016. 
In 2016, 39 Omega students obtained their GED.
"Our numbers are getting back up to where they used to be, they're not there yet," Mireles said.
On top of his executive director and poet laureate duties, he's keeping busy with a self-published children's book, which he's hoping to finish by the end of the year.
The process was a true family affair. It's about his kids, was illustrated by his daughter and translated into Spanish by his ex-wife. The story, entitled "A Story About Finding the Perfect Name For Your Child," describes his children questioning why their parents chose their names. In the book, Mireles wants his kids to take pride in their Latino names, a wish that came true in real life. 
"All my children have really embraced their names as they got older, because here, their names aren't common," he said.