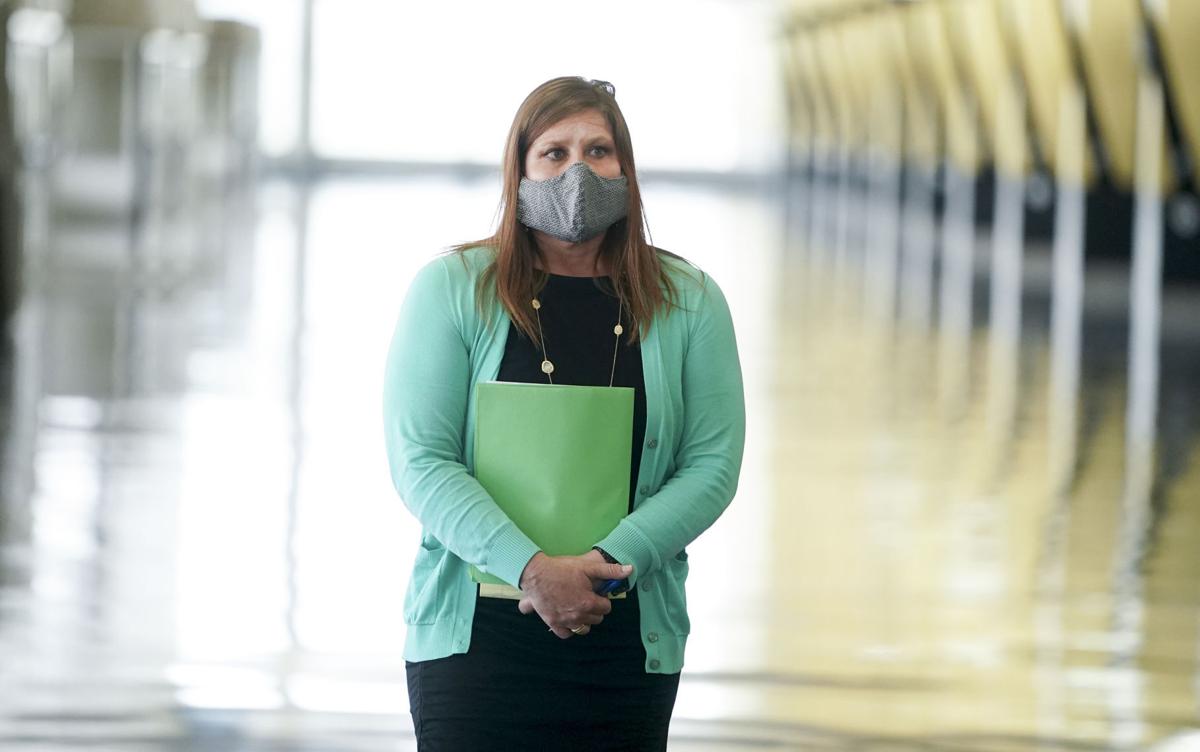 As the coronavirus pandemic swept across the world and took hold in Dane County, the local public health department became the go-to resource for residents desperate for information on how to keep themselves safe.
If locals were unaware of the agency prior to March, it's likely they are now familiar with director Janel Heinrich's regular appearances in the news and the department's data dashboard that tracks the growing toll of COVID-19.
Aurielle Smith, the director of PHMDC's Policy, Planning & Evaluation Division, said she hopes the public's increased awareness of Public Health Madison & Dane County's pandemic response work will elevate the department's many other priorities — some of which have shifted during the public health crisis.
"One of the things that's really big for us is dealing with a pandemic — or an emergency response — is one small part of the department of what we do," Smith said. "It's really expanding people's knowledge about what public health is and does."
PHMDC looks at the health of the entire community and how it's affected by individuals. The agency makes population health level decisions and implements strategies to support the overall health of the community.
Smith said the department's pandemic response work fits into PHMDC's mission: "Healthy people. Healthy places."
"That has been a pivotal focus in the pandemic. It centers around how we make decisions, how we support the community, how we provide resources because we want healthy people and we want Dane County to be a healthy place," Smith said.
During the pandemic, it has ordered restrictions on gatherings, overseen testing and communicated with the public on safety protocols.
With an increased public awareness of the department has come greater scrutiny and criticism, said Carl Meyer, director of PHMDC's Community Health Division. That, he said, along with an intensified pressure on public health officials to continue ongoing services while also shifting to new priorities has been challenging.
"When we have a pandemic like this, and it's the need to be local experts and having to entirely shift our strategies — and we were already feeling at somewhat of a deficit base of what we're able to do because of the limited capacity — it only increases the complexity and the challenges that we experience," Meyer said.
Through it all, Meyer said as public health professionals, the department is sticking to what they know.
"What we know is science and lending an ear to our community and the different populations within our community that we serve, so that we can adequately prepare our strategies for the response and hopefully build a more resilient community," Meyer said. 
Due to staffing capacity during the pandemic, some programs within the focus areas of maternal and child health, violence prevention and opioid use prevention have been affected.
"Our commitment to the community hasn't changed, but there has been a shift in focus," Meyer said.
For example, the department is not able to take a coordinated approach to its work on fetal infant mortality because PHMDC had to suspend the work of analyzing medical records and reviewing cases. PHMDC also paused initiatives to support breastfeeding, though some services are continuing through the supplemental nutrition program Women, Infants & Children (WIC).
Meyer said most staff have been uprooted from their program areas to work in the pandemic response, while others balance both workloads. Some have taken on additional work in their programs if their colleagues have been assigned to pandemic response tasks.
PHMDC had to significantly reduce staffing for two of its programs that support mothers before and after giving birth: Prenatal Care Coordination and the Nurse Family Partnership. Meyer said about eight nurses in these areas were reassigned due to COVID responsibilities.
For some time, two nurses were maintaining perinatal services, a huge lift considering a Nurse Family Partnership nurse would carry a caseload of about 20. These two nurses also transitioned family visits to a virtual setting and attended to eight families a day.
"The public health industry spans issues that are deep and wide, and this breadth and depth becomes increasingly taxing on staff during the pandemic," Meyer said. "For us, the personal integrity, the commitment and the strength of our staff certainly shine in times like these."
The program was not accepting new clients, though that has now changed. As of mid-December, the partnership program had four nurses and a temporary worker is providing Prenatal Care Coordination services to high-risk clients.
Smith said PHMDC has been able to continue services for the most part, noting that flexibility is needed when cases spike.
"We as a department remain just utterly dedicated to this community and recognize that there are so many other issues that in some cases are being exacerbated by this pandemic that we can't just ignore and that we have to also respond to," Smith said.
On opioid use prevention, Smith said PHMDC had to shift the Madison-area Addiction Recovery Initiative to a virtual setting, and the pandemic led to a six-month delay in hiring a program coordinator. Also, a team overseeing a review of overdose fatalities resumed meeting in September after a several months long hiatus.
Despite the pandemic-induced workload increase, Smith said the department carved out time in July to move planning around violence prevention forward. A comprehensive plan is expected to be released in the New Year, she said.
While providing a broad range of services and responding to the pandemic requires a balance, Smith said it doesn't change PHMDC's resolve to continue serving the community.
"We're just as dedicated — and I would maybe argue even more so — to the other services and delivery from our department," Smith said.
Share your opinion on this topic by sending a letter to the editor to tctvoice@madison.com. Include your full name, hometown and phone number. Your name and town will be published. The phone number is for verification purposes only. Please keep your letter to 250 words or less.