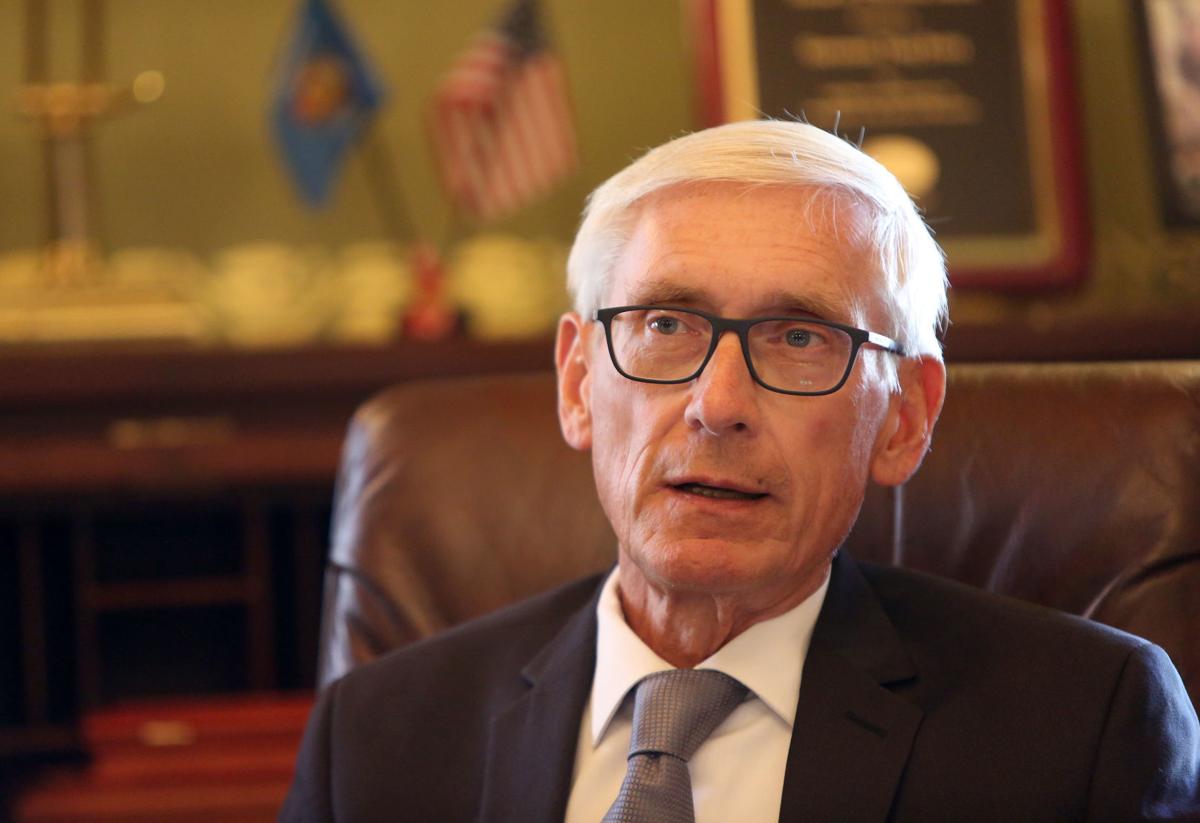 Gov. Tony Evers is calling off in-person voting and postponing it until June 9 in a new executive order that comes one day before Wisconsin's spring election. 
Under the directive — the latest development in a tumultuous timeline spanning the last few days and weeks — absentee ballots that have already been cast will still be counted, while voters who are already registered could continue to request absentee ballots until June 5.
The eleventh-hour delay comes after the Democratic executive pushed the Republican-controlled Legislature to take up a bill creating a mostly mail-in election and extending voting to the end of May. GOP leaders declined to do so in a special session over the weekend, opting instead to gavel in and out without acting. 
Rather than vote Tuesday, Evers' order calls on the Legislature to meet in a new special session that day to set a new in-person voting date for the election. And he knocked leaders for failing to do their part "to help keep people healthy and safe." 
"I cannot in good conscience allow any type of gathering that would further the spread of this disease and put more lives at risk," he told reporters. 
Republican leaders said they're "immediately challenging" Evers' order in the state Supreme Court, calling it "an unconstitutional overreach."
"The clerks of this state should stand ready to proceed with the election," said Assembly Speaker Robin Vos, R-Rochester, and Senate Majority Leader Scott Fitzgerald, R-Juneau. "This is another last minute flip-flop from the governor on the April 7th election."
Wisconsin has faced national scrutiny over its plans to move forward with its in-person spring general and presidential primary amid the novel coronavirus pandemic. Both Evers and top Republicans have previously expressed support for keeping the election on-track, though the governor on March 27 did urge the state to send absentee ballots to all registered voters. 
Evers' decision Monday to push back the election aligns the state with 10 others that were originally scheduled to hold contests in April but have all either postponed or significantly altered them. 
But it comes after weeks of preparations from local clerks statewide and the Wisconsin Elections Commission, where officials have worked around the clock to consolidate polling places and scrambled to find staff as many repeat poll workers — many of whom are over age 60 — have taken steps to maintain social distance and self-isolate during the COVID-19 pandemic. 
Nearly 1.3 million requests for absentee ballots have been submitted to local clerks across Wisconsin and almost 725,000 ballots have been returned, according to a tally updated Monday. But clerks predicted large crowds outside of polling places for in-person voting on Tuesday, especially as the number of sites was slashed in different communities.
In Madison, where turnout is traditionally high, Mayor Satya Rhodes-Conway said poll workers would remain ready to staff the polls in the event Evers' order is blocked by the state Supreme Court.
"Our clerk's office is standing at the ready and continues to be prepared to have an election tomorrow if the appeal should goes through," she said. "But I certainly hope that anyone who has any influence on the decision recognizes again that from a public health perspective, it would be a really, really bad idea to hold the election."
Evers' executive order is reminiscent of Ohio Gov. Mike DeWine's last minute decision to call off that state's presidential primary in mid-March, as he issued a public health emergency to keep polling sites closed the following day rather than allow ballots to be cast in the race. 
But less than a week before Evers issued his directive, he said on Twitter he didn't have the authority to do so, writing in a tweet: "If I could have changed the election on my own I would have but I can't without violating state law."
Still, he expressed optimism the court, controlled 5-2 by conservatives, would rule with him, saying the issue spans "conservative and liberal biases."
If justices do rule against him, Evers said he wouldn't take any further steps to alter the election, adding: "This is it. There's not a 'Plan B.' There's not a 'Plan C.'"
In Wisconsin, a flurry of federal lawsuits has sought to delay the election or add more flexibility to those seeking to vote absentee. A federal judge last week ruled to extend the deadline to turn in absentee ballots until April 13 and waive the witness signature requirement, though the latter was rolled back after Republicans appealed the decision Friday. 
Over the weekend, legislative Republicans again appealed the federal judge's absentee ballot extension to the U.S. Supreme Court, requesting the justices act on it Monday. That action is still pending.
For the greater Madison area, Evers' order means any turnover on the Dane County Board and school boards, including in Madison, will have to wait. 
Evers' order extends the terms for those currently in office until three business days after clerks have issued certificates of election. Terms for those elected this year will still expire as if the election had occurred on the normal April date, according to the order.
State statutes govern the terms for elected officials, with two-year terms for county boards normally beginning on the third Tuesday of April and three-year terms for School Board normally beginning on the fourth Monday in April.
The Madison School Board features two contested races and one uncontested race. 
In Seat 6, incumbent Kate Toews is not running for re-election, with Maia Pearson and Christina Gomez Schmidt running to succeed her. Incumbent Nicki Vander Meuelen is running for Seat 7 against challenger Wayne Strong. Savion Castro, who was appointed to Seat 2 last summer, is running for a one-year term to finish out the term of Mary Burke, who resigned from the seat.
Toews, whose time on the board would have ended this month under a normal timeline, told the Cap Times she would "continue to serve until an election can be safely held."
"And I'm very grateful we can protect the people of Wisconsin tomorrow," she wrote.
All seats on the Dane County Board are up for re-election. Five of them are contested races, including two incumbents who are being challenged. 
It's unclear exactly what turnout could have looked like for an in-person election. 
Elections Commission administrator Meagan Wolfe declined to make any such predictions in a press call ahead of Evers' order. 
"We really have no way of knowing exactly what voter behavior will be and how many people will choose to participate in tomorrow's election in-person," she said at the time. 
Local public health officials warned that COVID-19, a communicable disease, will spread rapidly if an in-person election is held. 
Two days before the election, mayors across the state called on Palm to exercise her emergency powers under state law to stop Tuesday's in-person election. 
A March 30 memo from Public Health Madison & Dane County argues that holding an in-person election could expand the network of people surrounding a person who is asymptomatic but contagious — potentially increasing the number of people infected. 
"Our case counts have been increasing steadily — but not exponentially — since mid-March," the memo said. "Holding elections is a walk back to the fragile, but effective, system of social distancing we have established in Wisconsin and a risk we should not willingly take."  
In Dane County, Clerk Scott McDonell said he agreed with Evers' decision, noting he was "very nervous" about holding the election tomorrow and the subsequent spread of the virus. 
On preparing for the postponed election date, he said: "I'm just going minute by minute."
Local clerks have also been working around the clock to prepare for an in-person election. City of Madison engineering staff designed Plexiglass shields to serve as barriers between voters and poll workers, and the clerk's office has implemented curbside voting.
Scott Girard and Abby Becker contributed to this report. 
Share your opinion on this topic by sending a letter to the editor to tctvoice@madison.com. Include your full name, hometown and phone number. Your name and town will be published. The phone number is for verification purposes only. Please keep your letter to 250 words or less.
Get Election 2020 & Politics updates in your inbox!
Keep up on the latest in national and local politics as Election 2020 comes into focus.