Madison's African American youth led the city's eighth night of protests on State Street Saturday, with hundreds gathered to call for reforms to stop racial inequity while others created art to amplify their stories.
A new platform for artists was created in the city after last Saturday's protest turned violent, ignited by the killing of George Floyd by a Minneapolis police officer earlier in the week.
Storefront windows were smashed on State Street and now those businesses are boarded up and have become canvasses for artists to create something new over what was destroyed. Dozens of murals have been painted throughout the week and now adorn plywood storefronts on all blocks of the street from the Capitol to the University of Wisconsin campus.
Amidst a backdrop of cheers and chants, Alayvia Jackson worked on her mural "Unity" Saturday night on the 100 block of State Street.
The developing piece shows hands of various shades of brown linked with each other. She started to paint the piece on Thursday with a Latinx friend to illustrate the coalition between the black and Latinx community.
"This is representing us leaning on each other, supporting each other no matter what shade of brown we are," she said.
Jackson said she lives on State Street and witnessed some of the violence of last week's protest unfold. She definitely wants to be a part of the healing process, she said.
"I felt a lot of hurt and frustration over how things were being dealt with, so just being able to have this outlet to express that and to get that out in a positive way and to show other people how we want things to be represented definitely is more than healing," Jackson said. "I've lived in Madison the majority of my life and I've never seen anything like this happen in Madison before and to see how much love is truly going on here. It really is history and I'm so glad to be a part of it."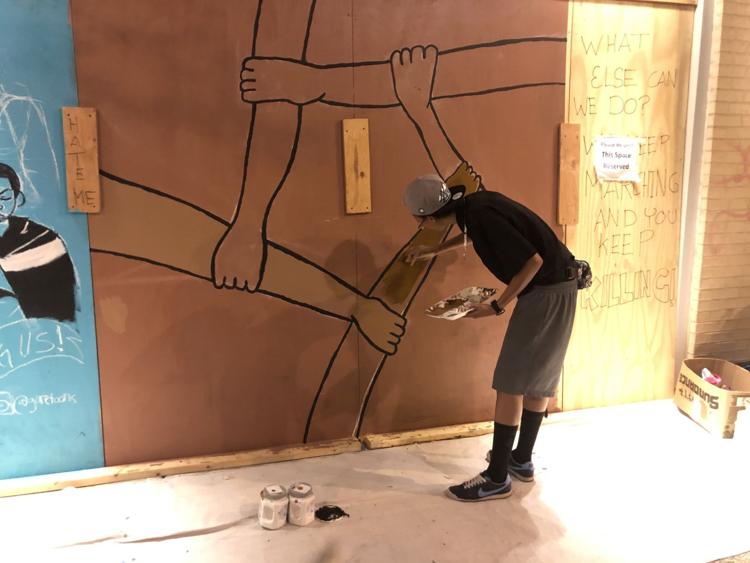 It's important that the State Street murals in the wake of the ongoing protests showcase the stories and illustrations of artists of color, Jackson said, and several of them have had good dialogue with white organizers coordinating the murals downtown.
"We want there to be an understanding that the people of color be in control of the art that goes on down here," she said. "We want our white allies to understand what it's like to be in that position of having to follow someone who is of color."
Sirena Flores, a student at the University of Wisconsin-Madison who is Afro-Latina, is finishing up two murals next to Jackson's on the 100 block of State Street in front of the Vom Fass oil and vinegar shop.
She has helped recruit friends who are also artists of color, sharing her supplies and encouraging them to paint murals with her, she said. One mural is honoring her friend Tony Robinson, an unarmed black teen who was killed by a Madison police officer in 2015.
As a portrait artist, painting Robinson's high school graduation photo was the first thing Flores thought of when she decided to paint on State Street.
"I think it's important to be reminded of people's humanity, so we say black lives matter, and I think it's very generalized. ... We forget that Tony was 19 and Tony was my friend. Tony was a basketball player. Tony was a skateboarder. Tony was a big brother," she said.
It's important to highlight something positive about his life, Flores said.
"I wanted to give a space for my friends to take a picture with their friend. Because even though he is not here, they can still take a picture with him. I made a commitment to myself or Tony that I will always keep fighting for him ... because his life mattered," she said.
"Our Existence is Resistance" is the name and message of Flores' second mural, adorned with butterflies to illustrate immigration.
"Butterflies migrate, especially to Mexico," she said, though immigration is not specific to her culture, and often various ethnic groups migrate because of white supremacy. "Our existence, the fact that we are still alive, the fact that we are still fighting, is resistance."
"My body bears the feeling of being black, it's not just something on the outside of my skin, it's something that I internalize. When I'm near the police, I can feel that in my body, that fear," she said. "And so I literally feel my existence is powerful."
She is studying sociology and political science and wants to become a policy maker and rework the system.
"We are here. We are present. We are resisting every force possible that tried to destroy us."
Across the street, next to Michelangelo's Coffee House, Infinity Gamble is sketching out two murals to celebrate the beauty and joy of black boys and girls.
A blue-painted plywood mural will say "Black Girl Magic" with positive, affirming words framing each side: "We are positive, we are intelligent, we are influential." Crowns are on the bottom, "so a mom and daughter can sit underneath and the mom is giving that love to her child and the child is taking it in," Gamble said.
The same message will be painted on a yellow-paint plywood mural next to it, but aimed at boys, with the title "Black Boy Joy."
"It's just supposed to support and encourage and reiterate that black people are beautiful and to inspire and remind them that we are beautiful," Gamble said.
"I want to take up space that should rightfully be mine. I'm fighting for my life as much as my community's life and I feel like this is my opportunity to give back that encouragement, shed that love and make sure that we are all together," she said.
Gamble said she's received mixed receptions from people walking by her mural, and has been discouraged to see white people claiming space to paint on State Street rather than lifting up black and brown artists, she said.
"It's disheartening when I see non-Black people take up that space instead of helping black artists," she said. "If you are really supporting people than you need to let that space be for those people."
Painting amid the protests is freeing, said Sandra Jackson, who worked on her painting, a black silhouette of a black woman on Saturday night. The piece is meant to showcase the simple beauty of black women, she said, with the phrase "I am beauty" underneath the silhouette.
"I just want to represent simply 'I am beauty,' she said. "It doesn't have to be extravagant when it comes to black women, just our natural beauty."
Though she doesn't consider herself an artist, she said she was drawn to create in the midst of the protests.
"I just love that everyone is putting beauty back onto these streets. Bringing beauty in a tough time," she said.
Get Election 2020 & Politics updates in your inbox!
Keep up on the latest in national and local politics as Election 2020 comes into focus.