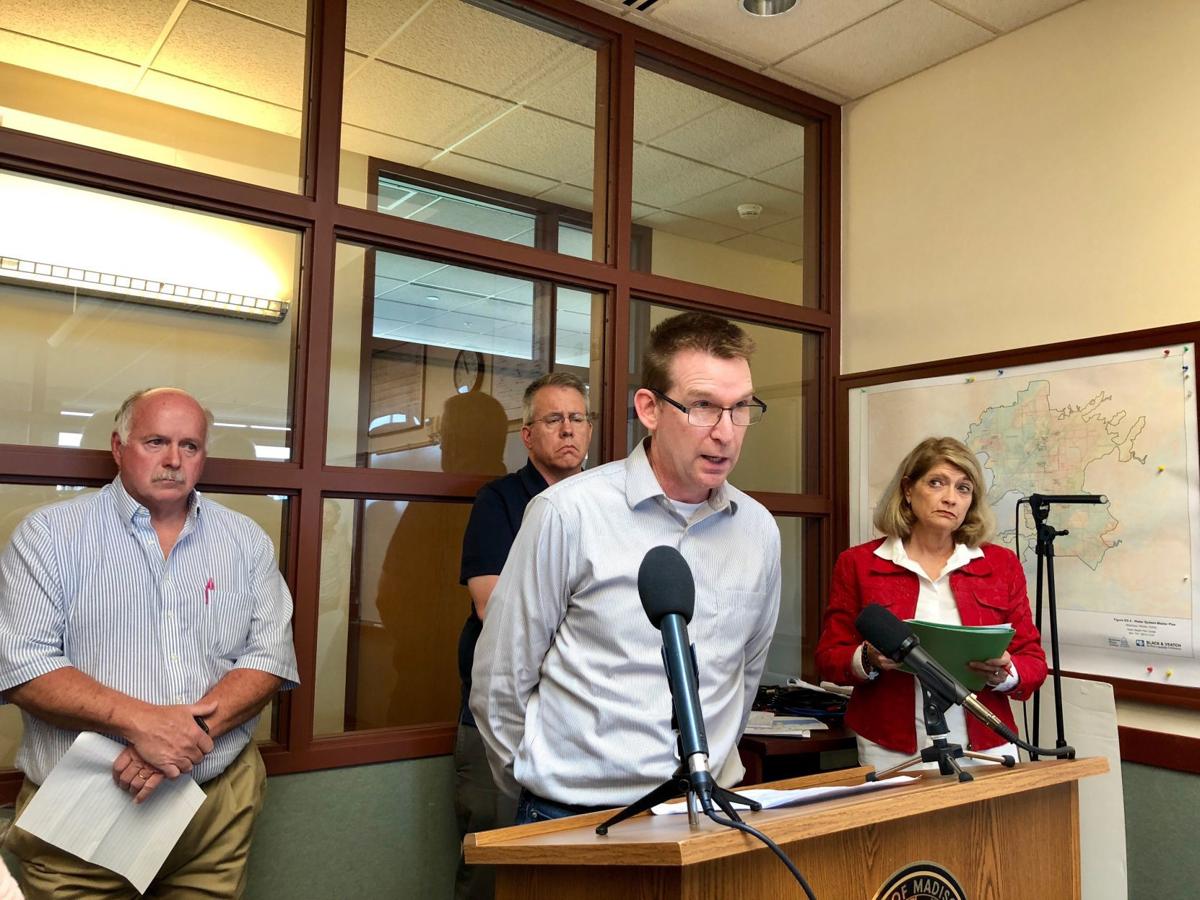 No other rainfall event in Madison compares to the storm that drenched the city Monday night, city engineer Rob Phillips said.
"It's unprecedented. It's just unprecedented," Phillips said at a Thursday press conference. "We're going to be exceeding 100-year elevations."
City staff from nearly every agency huddled in a large conference room at the Water Utility on Olin Avenue Thursday, three days after the record-setting rainfall and one day before more rain is forecast to hit Madison.
They were strategizing on street closures, lake levels and hoping that the forecast for rain on Friday proves wrong.
"If it doesn't rain, we can get ahead of this," Phillips said. "If it continues to rain or if we get large, intense amounts of rainfall, that is a very serious scenario."
Rainwater is causing lake levels to rise and filling storm water sewers, which causes street flooding. A primary concern is the dam at Tenney Park.
On Wednesday, the Yahara River rose 5 inches and is expected to increase by another 3 to 6 inches over the next 24 hours, according to the mayor's office. Lake Monona is expected to rise by three inches over the next 24 hours.
Dane County manages the lakes and is monitoring water levels. As of Thursday, the county had increased the amount of water coming out of Lake Mendota at the dam into the Yahara River. The county also opened the locks channel to release more water.
The level of water in Lake Mendota needs to be reduced to provide room for the rain predicted for Friday and early next week or else the dam will be compromised. Phillips said increasing the release rate of water from Mendota through the dam is necessary to protect the integrity of the dam.
"If the Tenney dam were to fail, we would have a catastrophic event far worse than what we're experiencing now or even what we expect to experience," Phillips said.
Though it may seem counterintuitive for areas far from the river and lakes to flood, the interconnected system of sewers channels water underneath the streets. Due to flooding, low-lying areas of the isthmus are at the same elevation as the river, meaning water is no longer flowing into the river and some is washing back into the streets.
The storm sewers are full, Phillips said.
"When it rains, instead of the water falling and being collected and draining into pipes that are empty, it's draining into pipes that are full of water," Phillips explained. "That water has to be forced or pushed out of the pipe by the new water that is entering it."
This makes street flooding, and urban flash flooding in the event of severe rain, more likely.
Currently, East Main Street at the Yahara River, the 700 block of Mifflin Street between Livingston and Blount streets and Johnson Street by Tenney Park are closed. City staff say it is likely that East Washington Avenue could be closed.
In the event that East Washington Avenue is closed, Williamson Street would serve as the main thoroughfare. Parking is now prohibited on Williamson Street.
"Willy Street's pretty much all we got left there," city traffic engineer Brian Smith said.
Residents should avoid parking in low-lying areas. The city is also exploring the possibility of using municipal garages for parking.
Sand and sand bags are available at the Tenney Beach parking lot, Commonwealth Development, 913 E. Main St., the Olbrich boat landing and other sites. Up to date information can be found on the city's website.
City staff also encouraged residents to take precautions such as moving furniture and valuables up from lower levels, swiftly cleaning up water damage and staying aware of flood conditions.
The public health department has warned residents to treat all flood water as if it is contaminated.
The city's water supply is currently safe with one well on North Livingston Street at risk of being affected. As a precautionary measure, the Madison Water Utility will close the well Friday.
Share your opinion on this topic by sending a letter to the editor to tctvoice@madison.com. Include your full name, hometown and phone number. Your name and town will be published. The phone number is for verification purposes only. Please keep your letter to 250 words or less.