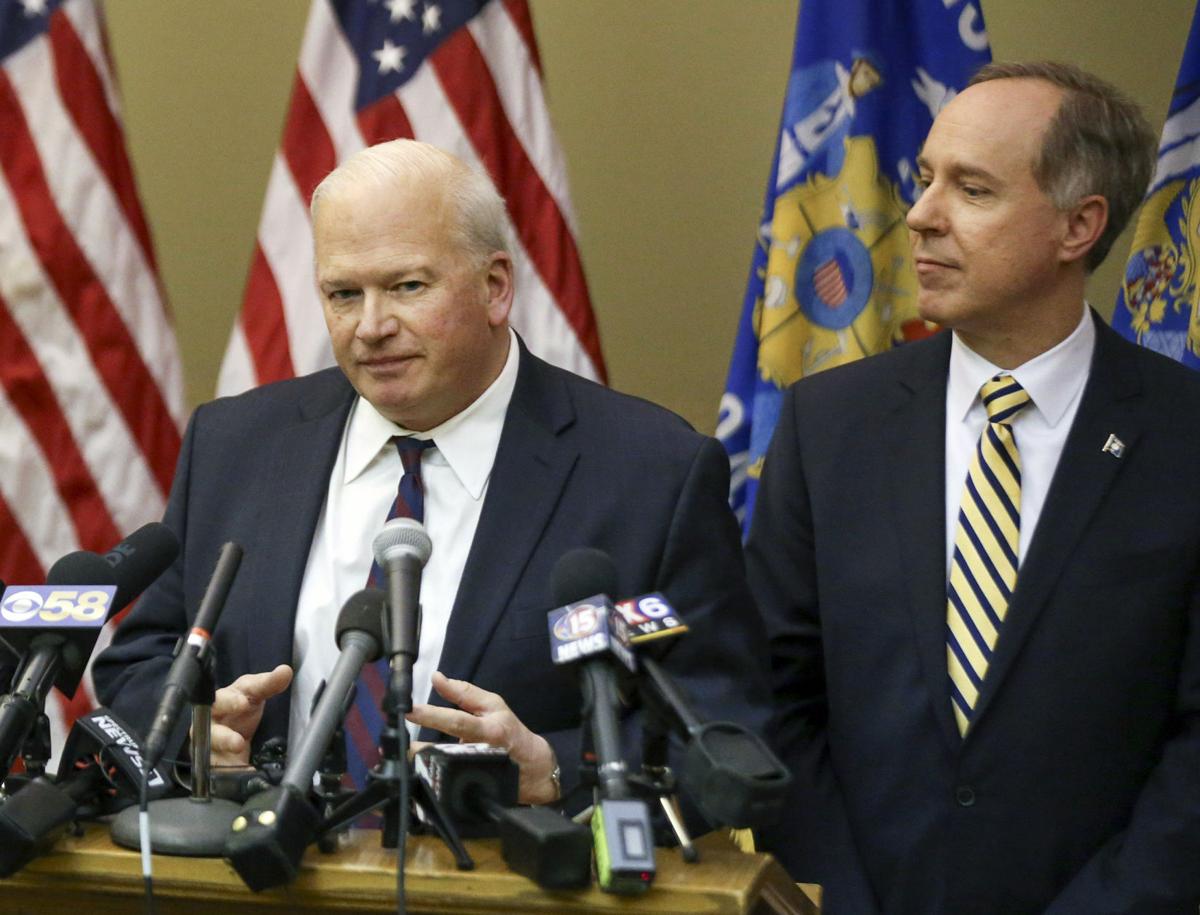 While Democrats, activists and even Milwaukee Bucks players are pushing for action on a slate of bills to bolster policing transparency and accountability, Republican lawmakers aren't expected to fully convene or debate the legislation in Monday's special session. 
Called by Gov. Tony Evers in the wake of the Kenosha police shooting of 29-year-old Jacob Blake, a Black man, last week Sunday, the session is likely to be brief as GOP leaders from both chambers said they'd be gaveling in but indicated they wouldn't take up bills this week. 
Senate Majority Leader Scott Fitzgerald suggested action from his Republican caucus could come in months, rather than days. And Speaker Robin Vos, who was quick to reject the call last week in the hours after Evers urged the Legislature to convene in special session, has since dug in on creating a task force to look at racial disparities, educational opportunities, public safety and police policies. 
Evers wants lawmakers to pass nine bills, including one that would ban the use of chokeholds and another to prohibit no-knock search warrants. He began pushing for the legislation in June, as activists took to the streets in the days after George Floyd was killed in Minneapolis police custody.
While he didn't convene a special session at the time, the Legislature had the ability to come in on its own to take up the bills — an option Republican leaders didn't take, with Vos telling reporters earlier this summer that lawmakers aren't "going to rush into an answer" and any action would not come before the November election. 
Although the governor has the power to call a special session, lawmakers aren't required to meet or take up the legislation he calls for. In the past, Evers' special session calls have been ignored or supplemented by additional Republican-backed legislation.
This time around, Fitzgerald, R-Juneau, signaled the session would be convened and left open as lawmakers consider dozens of proposals that they "will work through in the coming months." 
In addition to the nine bills Evers is pushing for, Fitzgerald pointed to a package of legislation from Republican Sen. Van Wanggaard, a former Racine police officer. 
Among them are measures to mandate use-of-force reporting, reduce state aid for police departments that have their funding cut and create an outside group he previously likened to the National Transportation Safety Board to investigate police shootings. 
Fitzgerald, who is running for Congress, also said he anticipated taking up future recommendations from Vos' planned task force. Typically, it takes months for members to produce such recommendations, and, as a recent WisPolitics.com report noted, aren't guaranteed to easily pass the Legislature. 
This session, the report found, just three of 30 recommendations from task forces Vos created on adoption, water quality and suicide prevention have passed the Senate and Assembly. The remaining 27 bills, per WisPolitics.com, have cleared the Assembly but so far faced inaction in the Senate.
For the latest task force, Vos said Monday that Majority Leader Jim Steineke would lead the members, including lawmakers and community figures, in discussion. 
Monday's special session was called for noon, meaning it could be convened sometime between then and midnight. 
The date kicks off what will likely be another tension-filled week in the Capitol. Last week, Vos, R-Rochester, in a radio show interview blamed Evers for the shooting deaths of two protesters in Kenosha after 17-year-old Illinois resident Kyle Rittenhouse used an AR-15 semi-automatic rifle to kill two people and injure a third. 
Evers has also received criticism over his response to activity in Kenosha and Madison, where protests initially led to fires, looting and tense confrontations with police. Though he declared a state of emergency and steadily increased National Guard presence in Kenosha starting last week Monday, Vos and others have argued he should have sent more troops and accepted federal help sooner. 
Upset by the unrest in Kenosha, a Burlington woman began a recall petition to pull Evers from office — an effort Republicans are skeptical of because it gives Evers the ability to increase his profile, grow his fundraising list and raise a lot of money in the short-term, as former Gov. Scott Walker did during the unsuccessful 2012 recall campaign in the wake of Act 10. 
Share your opinion on this topic by sending a letter to the editor to tctvoice@madison.com. Include your full name, hometown and phone number. Your name and town will be published. The phone number is for verification purposes only. Please keep your letter to 250 words or less.
Get Election 2020 & Politics updates in your inbox!
Keep up on the latest in national and local politics as Election 2020 comes into focus.