As a former state official, City Council alder and candidate for Dane County executive, Greater Madison Chamber of Commerce president Zach Brandon knows municipal politics well. But he said what's happening in this year's race for Madison mayor is something new.
"This isn't a usual thing where an incumbent who has been elected and re-elected this many times has (such a large) amount of challengers," Brandon said. But also notable is "the sophistication" of the campaigns. 
Four candidates are on the ballot along with incumbent Mayor Paul Soglin, who bowed out of the race over the summer as he ran for governor before changing his mind in October. In three stints, Soglin has served as mayor for 22 of the last 46 years.
Satya Rhodes-Conway, Mo Cheeks, Raj Shukla and Nick Hart are officially challenging Soglin in the election. A sixth candidate, Toriana Pettaway, is running as a write-in candidate.
Madison residents will be asked to narrow the diverse field to two in a primary election on Feb. 19. 
The current mayoral campaign stands out from recent races in the amount of money candidates are raising and reflects a continuing trend of sophisticated campaigns, including polished social media outreach and ads, as well as a high level of experience brought to the race by campaign staff.
As evidenced by several packed mayoral forums that drew hundreds, energetic and involved constituents are mobilizing around the candidates, who bring a range of academic, practical and personal experience to the race. More than 600 people attended a Cap Times forum at the Barrymore Theatre on Jan. 8 and over 400 returned a week later for a forum dedicated to arts issues.
While some involved with the race say the professionalization is a result of Madison's status as a growing city with a booming tech economy in a time of political upheaval, others fear a move away from grassroots campaigns fueled by volunteers.
 "Madison is a highly engaged electorate in terms of voting, but when you get this kind of money and professionalization in campaigns, the next step is actually shallower than the previous steps," said Michael Jacob, a self-described "key volunteer advisor" with Rhodes-Conway's campaign.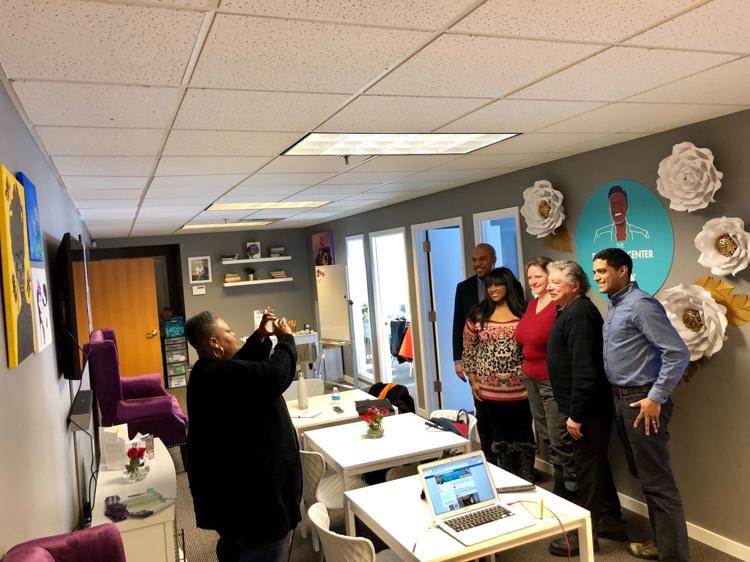 'Yard signs don't pay for themselves'
Candidates brought in nearly four times as much money during the second half of 2018 than candidates did in the same time frame for the 2015 mayoral election.
With more money in the race, candidates can pay skilled campaign managers and consultants, print and distribute glossy literature and utilize digital communication tools to stay in touch with voters. There are sponsored ads on social media, polling, professional campaign announcement videos and frequent email blasts from candidates.
Shukla released the first television ad of the election season Jan. 29.
"That is an expensive thing," Shukla said. "To reach as many people as you possibly can in a really short amount of time ... we felt like we needed to be the first candidate to go up on broadcast TV, on cable TV, all the ways that voters are paying attention."
In total, 2019 mayoral candidates raised approximately $333,000 in the first campaign finance reports of this election compared to about $90,000 four years ago when five candidates competed in the primary.
The election 16 years ago in 2003 is similar to this year's election. Six candidates were vying for Mayor Sue Bauman's seat. Soglin and former mayor Dave Cieslewicz pulled through the primary, defeating the incumbent, with Cieslewicz seeing victory after the general election.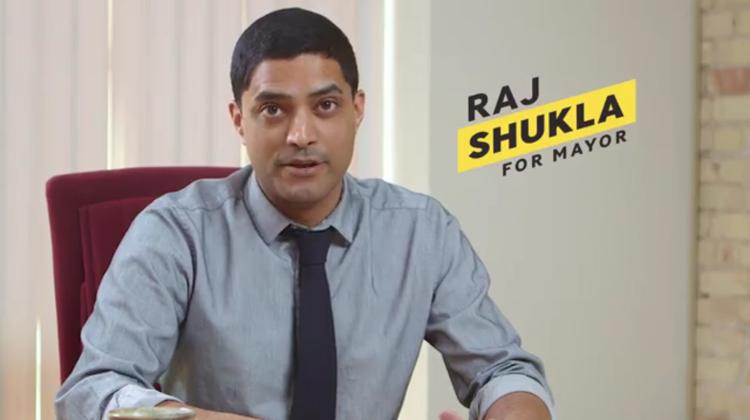 In that race, candidates raised a total of $249,371 during the first round of fundraising.
For the current election, Cheeks leads the pack and reports fundraising $113,118 for the reporting period from July 1 through Dec. 31, 2018. Shukla raised $90,482 followed by Soglin with $76,693 and Rhodes-Conway who raised $52,311. Candidates whose spending does not exceed $2,000 are not required to file campaign finance reports. Hart did not, though Pettaway reported raising $355.
This year's candidates are outpacing individual candidates from the 2015 election. During the same six-month reporting period ahead of the 2015 primary, campaign finance reports show Soglin raising $60,585, challengers Scott Resnick and Bridget Maniaci raising $14,494 and $14,503, respectively. 
Brandon questioned whether there is new money in the race or if donors are contributing earlier than in previous elections. Either way, candidates are working with significant funding ahead of the primary.
"Part of that is you've got highly qualified and engaged and engaging candidates who have a message, have a reason for running, have a base of support and aren't afraid to pick up the phone and ask for money," Brandon said.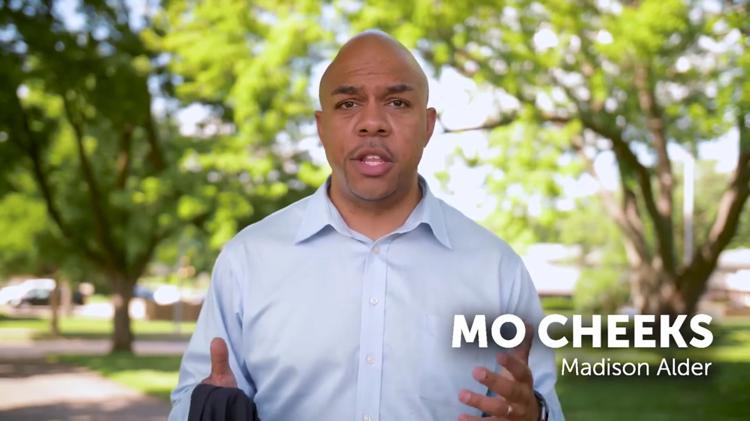 This election cycle, out-of-state influence, including donations and endorsements from political action committees, is present in some Madison mayoral campaigns.
Cheeks received funding and an endorsement from The Collective PAC, which works to build black political power, and the People for the American Way Action Fund, a liberal advocacy group. Shukla received funding from the American Indian Impact Fund, which seeks to improve political representation of Indian-Americans, and Rhodes-Conway received an endorsement from the LGBTQ Victory Fund.
And individual contributions play a significant part in fundraising. Shabnam Lotfi, Our Wisconsin Revolution-Dane County co-chair, underscored this at the beginning of a mayoral forum Jan. 15 when she said that campaigns cost money and encouraged audience members to get involved. 
"Yard signs don't pay for themselves. Mailers don't pay for themselves. Campaign managers deserve a living wage," Lotfi said.
The next round of finance reports for the fundraising window of Jan. 1 to Feb. 4 are due Monday, Feb. 11.
First-time involvement
Coming off of statewide elections, some Madison residents say they feel the political momentum and are getting involved locally.
Krista Doelder, 27, has lived in Madison on and off for more than four years and attended the Jan. 15 mayoral forum with some friends. In the past, she was not tuned in to Madison's local politics.
"I got more involved with the gubernatorial election and primaries and with this election coming up, I have friends who were involved," Doelder said.
Mark Bakken, 54, is the managing partner of a digital health care-focused venture capital fund based in Madison called HealthX Ventures. He and his wife each donated $4,664 to Cheeks' campaign.
Additionally, Bakken donated $1,000 to Shukla's campaign to support a second candidate with "passion and vision."
Bakken said in the past, he has been more involved in statewide elections. He is excited about the future of Wisconsin leadership and now wants to support a "fresh vision" for Madison.
"There are ramifications to elections and sometimes if you're not passionate enough or if you're not willing to put your money where your mouth is, then things happen that might not be good," said Bakken, who has lived in Madison since the 1980s.
Brita Olsen has noticed a "sense of urgency" among progressives and Democrats to participate since the 2016 election. Olsen is working for Cheeks and comes to the campaign most recently from her role managing Dana Wachs' campaign for governor before Wachs dropped out. She also worked for Hillary Clinton in 2016 as a Wisconsin political director. 
"We have gone through this shift in statewide politics with electing Democrats at a statewide level, re-electing (U.S. Sen. Tammy Baldwin)," Olsen said. "We have an opportunity to have just as vibrant of a conversation about our future as a state senate race."
While changes at the state and federal level are motivating residents to get involved locally for the first time, Soglin's campaign manager Melissa Mulliken, a well-known political consultant, said Madison typically turns out for elections.
"Madison is full of engaged and caring people. There is a solid core of people who vote every spring because they have realized for a long time that local, nonpartisan elections are critically important," Mulliken said in a statement. "Mayor Soglin and the city have prioritized making voting convenient and accessible. And the record setting turnout in Madison that we've had is partly a reflection of those efforts."
Mulliken has managed or consulted on more than 50 campaigns over the last 25 years, including JoAnne Kloppenburg's Wisconsin Supreme Court race, Dane County Circuit Court Judge Jill Karofsky's campaign and county executive and school board races. 
Greg Frank, partner in the Food Fight restaurant group, is one of those Madisonians who has stayed involved in local politics. He's a longtime supporter of Soglin, though he says they don't always agree. Frank donated $1,000 to Soglin's 2019 campaign.
Frank said this election is different, calling out the wide and diverse field of candidates.
"We've been out of power for so long at the state, I think, and now there's a feeling that Madison can lead again," Frank said. "That's another reason why there are really good people running for Madison. They see this as an opportunity for Madison to not just lead locally, but statewide and nationally."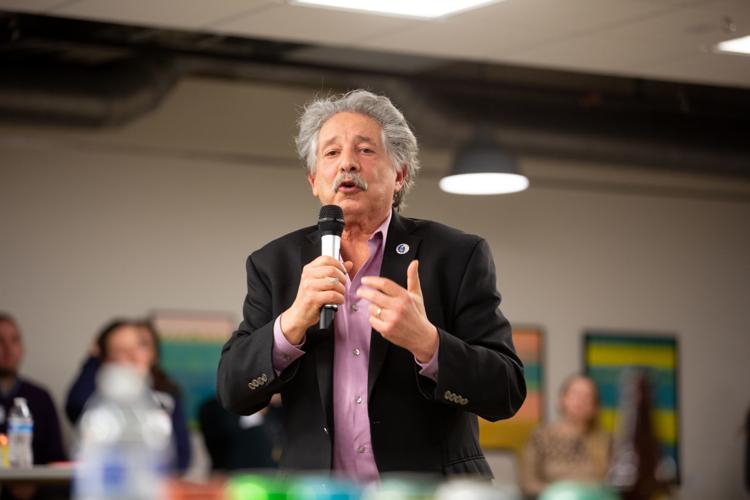 The candidates
Madison mayoral elections have typically drawn multi-candidate primaries. This year's field brings diversity in experience, gender, race and age. Whoever is elected would make history.
If re-elected, voters would demonstrate a steadfast confidence in Soglin as he would start a third four-year term. He has been mayor for a total of 22 years, serving in the 1970s, 1980s and 1990s, in addition to his current term. Prior to being mayor, he served five years on the City Council. 
"As the incumbent, this is pretty typical in that I'm really looking forward to the primary because I don't know who my opponent is and … that means right now I have to run a different kind of race," Soglin said. "I seem to attract a lot of candidates. I'm glad I've got that experience." 
Soglin, 73, said he keeps coming back because of his concern and love for Madison. He often cites reports that document the city's successes but acknowledges there is more work to be done regarding racial disparities in Madison, improving transportation by pursuing Bus Rapid Transit and increasing affordable housing.
"We've made some really good strides. We've got a long ways to go," Soglin said.
Soglin said his time in office demonstrates his ability to manage, though that's likely not a deciding factor for voters.
"I know how to get these things done, how to take a very complicated problem and deal with all those moving parts and get the kind of results that we've seen," Soglin said. 
If voters go a different direction, they could elect Cheeks as the first African-American mayor or Shukla as the first Indian-American mayor. Rhodes-Conway would be the second woman to serve as mayor and the first to be openly gay. Pettaway would be the first African-American woman. Hart would be the first comedian to lead the city.
Cheeks, 34, is currently the District 10 alder and executive director of business development at MIOsoft. He said Madison needs a mayor who has a sense of urgency to make the city more inclusive, innovative and safe.
As someone raising two young children with his wife, Cheeks said this election is personal.
"The reality is as we talk about a city that is a great place to live and raise a family in, that's not true for everyone and most commonly it's not true for folks who look like me," Cheeks said. 
Shukla, 42, is the executive director of the River Alliance of Wisconsin, a nonprofit that works across the state with communities to protect clean water.
Shukla would be a newcomer to elected office but has been involved as the chair of the Sustainable Madison Committee, which worked to establish a goal for the city of using 100 percent renewable energy sources.
 "It's a moment in Madison history where fresh ideas are needed, where a different attitude toward government is needed," Shukla said. "We need, I think, leadership that sees this community for its possibilities instead of its limitations and the constraints we're operating under."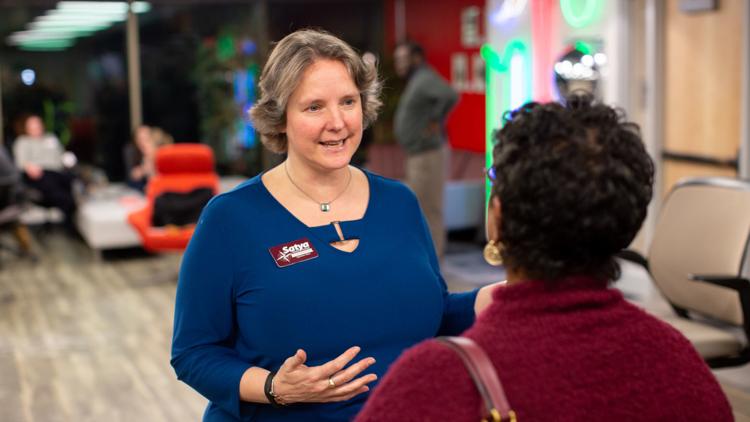 Rhodes-Conway, 47, works with municipalities on local issues through her work on the Mayors Innovation Project, a national learning network for mayors, at the Center on Wisconsin Strategy.
Previously, Rhodes-Conway served for six years on the City Council and represented the east and north sides of the city.
"Between those two things I really have a grounding in how cities work and what mayors need to do," Rhodes-Conway said. "There's a set of issues and problems and challenges that Madison is facing that I don't see us working on enough or fast enough."
To Rhodes-Conway, those issues are housing, climate change, transportation and racial disparities.
Hart, 39, is a professional stand-up comedian.
Hart said he is running to highlight low voter turnout in local elections. He previously ran for mayor in 2011 on the same platform and is essentially daring Madison residents to vote or else someone like him could be elected.
"The voter turnout isn't that high in the primaries, so that's the kind of strategy of getting people who would normally not be involved. Most of those people are sitting on bar stools and those are my people," Hart said.
If elected, he said he would do the job. Yet he recently discovered he lives in the town of Madison and would have to obtain city of Madison residency if he pulls through the primary.
Pettaway, 48, is the city's racial equity coordinator. Her background includes working in human resources at Madison College and the state, and work as a project manager at the Nehemiah Center for Urban Leadership.
"As Madison's next mayor, what I want to bring is grassroots leadership that is transformative, that is innovative, with real solutions that will work for the city," Pettaway said.
Pettaway did not get the 200 signatures needed to secure her name on the ballot. She officially registered as a write-in candidate with the city clerk's office Feb. 5. 
Write-in candidates must register before noon on Feb. 15. According to state law, poll workers only tally write-in votes for official write-in candidates.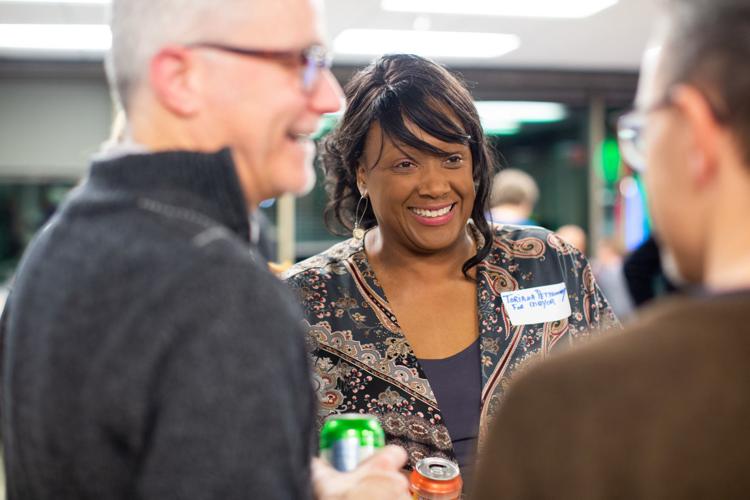 Unseating an incumbent is challenging, but Dane County's Democratic Party Chair Michael Basford said unseating an incumbent like Soglin is "incredibly difficult." He and former alder and Soglin challenger Resnick know from firsthand experience. Basford ran Resnick's 2015 mayoral campaign. 
"(Soglin is) a very well-regarded mayor in the city whether or not you feel that a change is needed," Basford said.
"He's Paul Soglin. The man's an icon for a reason," he said.
Contemplating the political climate eight years ago to today, Basford thinks Madison voters wanted a fighter like Soglin to take on then-Gov. Scott Walker.
"I think what really helped Paul Soglin in 2011 was we were in the midst of the Wisconsin uprising, and people wanted somebody who was going to really fight Scott Walker and they saw that in Paul Soglin," Basford said.
Four years later, Basford said the Walker administration was still at "war with Madison." With a change at the state level now, Madison voters could be looking for someone else. 
"At this point, people may feel that the time is right to take a step back and say, 'OK, we have a new state administration, a new state governor, a new day in Wisconsin, maybe this will be the time to say that it can be a new day in Madison,'" Basford said.
Mulliken, Soglin's campaign manager, said the election of Gov. Tony Evers and Lt. Gov. Mandela Barnes is serving as the backdrop to the spring election. The next mayor would have the opportunity to work with the newly elected state administration and "hopefully, make progress on a number of fronts."
"But, the next mayor will also have to contend with a legislative majority that actively disparages and thwarts Madison," Mulliken said in a statement. "There is no one better able to do both those things than Paul Soglin."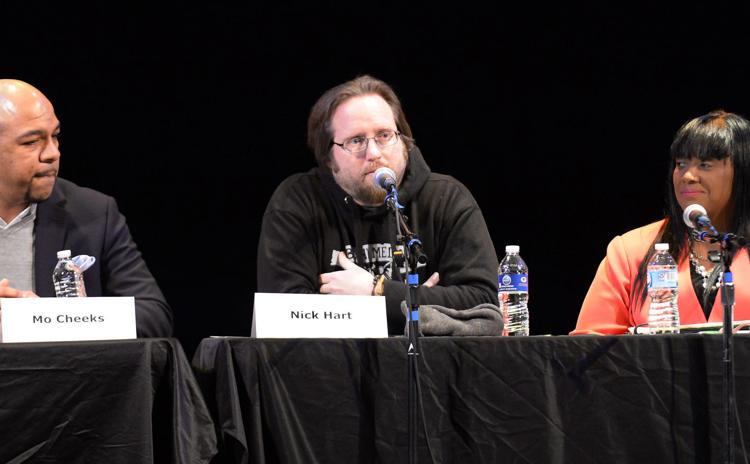 'Arms race'
Campaigns are balancing raising funds to effectively disseminate their message while also staying in touch with voters in a grassroots way.
Jacob, the volunteer advisor for Rhodes-Conway's campaign, said the first round of campaign finance reports show "an arms race to the election." In his view, aggressively fundraising takes away from the personal nature of local elections.
"It diminishes the range of things that voters are presented with," Jacob said. "Who looks good and sounds good in 20 seconds is a little disheartening way to decide who's going to take us to the next place in the next four years."
Brenda Konkel, a former candidate in this mayoral election and the chair of Progressive Dane's election committee, shared the same concerns as Jacob. She fears the professional standard exhibited in this race will be a barrier for future candidates to run for mayor, lead to a loss of volunteer expertise and less of a community connection.
"To me, it's the wrong direction because of the professionalization of candidates means they have less grassroots connection to the community," Konkel said.
Konkel said the inability to raise as much money as her fellow candidates was a contributing factor to dropping out of the race.  
Eric Upchurch, campaign manager for Pettaway, said the amount of fundraising in the race is "marginalizing."
"The more money that comes into this race, the more likely money is actually the deciding factor," Upchurch said. "We don't want money to be the deciding factor. We want values to be the deciding factor. We want people's actual opinions."
Some candidates said their campaigns still adhere to tenets of grassroots campaigns: Talking to voters.
Amanda Brink, who is managing Shukla's campaign and previously worked with Tim Burns in the 2018 Supreme Court race and with Tony Evers' 2017 state superintendent election, said the campaign is "leaning into house parties," embracing yard signs, hosting brunches and canvassing on and off the isthmus.
Rhodes-Conway emphasized the importance of knocking on doors, and Cheeks cited nearly 500 individuals who have contributed to his campaign as well as a number of volunteers, who are just getting involved in politics.
"I think what you're seeing is that people are interested in putting their time into shaping the future of Madison as well putting their money into it," Cheeks said.  
Brandon said one result of more campaigns with greater resources is that voters will have more opportunities to learn about the candidates. Overall, he thinks a competitive field with sophisticated campaigns is positive for Madison.
"I personally like what it says about this community: that everybody can be challenged in a race and people will support new ideas and new opportunities and new discussion," he said.
Editor's note: In an earlier version of this story, Mark Bakken was incorrectly characterized as a first-time donor to Madison mayoral campaigns. He donated to Resnick's campaign in 2015.