Visitors to a revamped Wisconsin state history museum on the Capitol Square could eat in a supper club restaurant, watch a moccasin-making demonstration or get a glimpse of underwater archaeology at work through a video feed.
Described as a "history hub," the Wisconsin Historical Society's vision for a new museum would offer interactive experiences, state-of-the-art technology and connections to classrooms across the state in a facility twice the size of the current museum on the corner of North Carroll and West Mifflin streets.
"It's about learning opportunities that are hands on. It's about lifelong learning opportunities," said Christian Overland, the Ruth and Hartley Barker Director of the Wisconsin Historical Society, at a Downtown Madison Inc. event Thursday. "Education and economic development is core to this region and this museum can help do that."
The history museum is located in the former Wolff Kubly hardware store building at 30 N. Carroll St. and faces many limitations, including adequate space for exhibits and visitors.
"This is not something that is worthy of Wisconsin, and so it is time for us really to step up," former Gov. Jim Doyle said in a promotional video about the project.
Doyle and former Gov. Tommy Thompson are co-chairing a campaign to raise $50 million needed for the project, which is two decades in the making. The state has committed $70 million.
In the video, Thompson promised to "do everything we possibly can to build this world class museum."
The society is hoping to build a 100,000-square-foot facility that would offer more space for its renowned North American history collection and for the many groups of schoolchildren who visit the museum each year.
Overland cited "significant support" for the new museum, which he said the society plans to open in 2024.
"We're well on our way, and our goals are being met," Overland said.
In March, the Historical Society moved its North American history collection to the State Archive Preservation Facility on the city's east side at 204 South Thornton Avenue. The new facility allows greater access to the collection and facilitates transferring objects to other museums.
A new museum would "democratize that collection" and make it more readily available to the public, Overland said.
Conceptual ideas for exhibits, like a working supper club restaurant with cooking demonstration space, are subject to change. However, Overland emphasized engagement and interaction.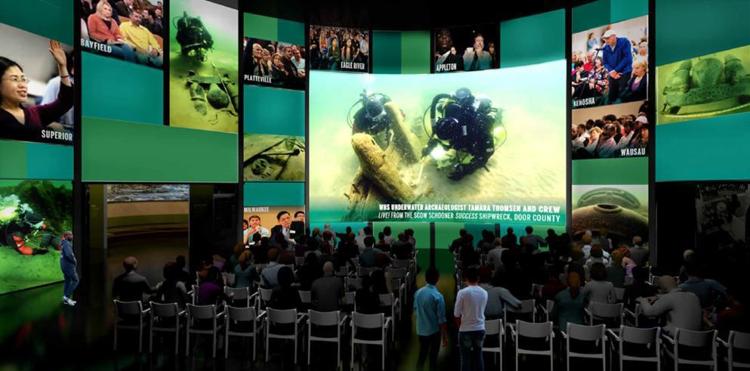 To build support and gather input, the Historical Society is touring the state and leading informational sessions.
At the first engagement session Oct. 2 with the Lac Courte Oreilles Band of Ojibwe in Hayward, a woman explained how she learned how to harvest wild rice from her mother and grandmother and how she teaches younger tribe members.
The new museum would have the digital technology to broadcast a ricing demonstration across the state. Additionally, educators could digitally connect to the museum, allowing students to engage in live video discussions.
The project is part of a larger development with Hovde Properties and landowner Fred Mohs. Hovde and Mohs plan to build a private development on top of the new museum.