In addition to the major reconstruction on Monroe Street, the west side thoroughfare is set to gain a variety of public art installations in the form of sculptures, mosaic works, utility box wraps and sidewalk poetry.
The small triangle-shaped parcel on Monroe Street unofficially known as Crazylegs Plaza will be home to a bronze sculpture of a badger designed by Madison artist Harry Whitehorse, who died in 2017.
Whitehorse designed the sculpture with interaction and accessibility in mind, his wife Deb said.
"He wanted art to be experienced by all," Deb said. 
The "Badger" sculpture will be cast in durable bronze and will sit at eye-level with young children on a rubberized surface. Deb said Whitehorse wanted to convey "strength and the stubbornness of a badger" through the piece.
The sculpture will be cast in bronze by Milwaukee-based Vanguard Sculpture Services. Funding for the project uses a mix of Municipal Art Fund dollars, private contributions and the Monroe Street capital project fund. The Finance Committee approved the funding Aug. 13. 
Whitehorse is known for his "Effigy Tree" carving on the near east side at Lakeland and Maple avenues and the sculpture "One Child Spinning Through Mother Sky" at the Bayview Community Center.
With his Ho-Chunk Family Tree carving at Thoreau Elementary School, Deb said the badger sculpture will serve as an "anchor" on a trail that leads down Monroe Street to the school on Nakoma Road.
Madison Arts Program administrator Karin Wolf recalled her first memory of spotting a piece of public art — a tyrannosaurus rex outside of a science museum — and the joy it brought her. She hopes the badger sculpture will do the same for Madison community members.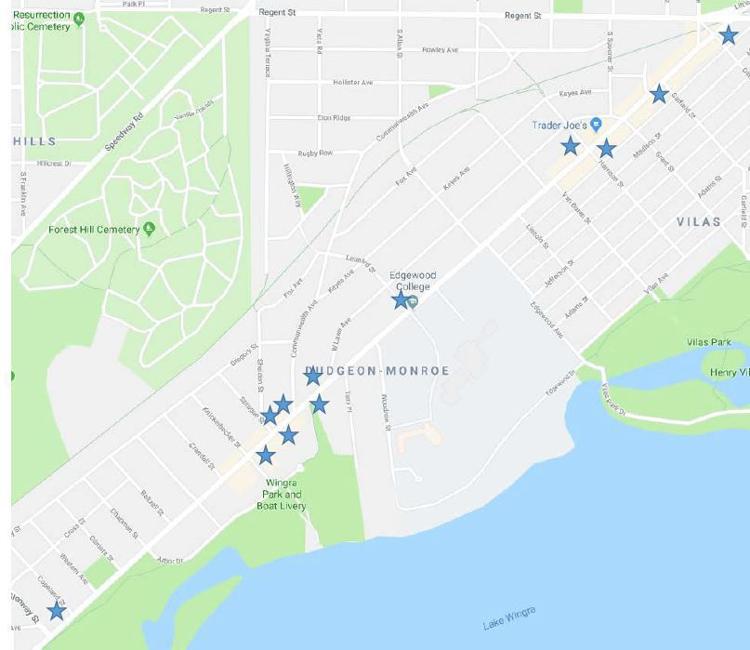 "I'm super excited that there's seating for moms and dads and other caregivers around this piece and it's going to be a centralized object, an icon that children can explore," Wolf said.
City planner Ben Zellers said the piece will be installed in spring 2019, though the space for the sculpture is currently finished. It will be located on a green rubberized surface along the west side of the plaza, which has not yet been officially named.
The plaza is bordered by Regent and Monroe Streets and North Breese Terrace and bisected by one of the city's shortest streets, Crazylegs Lane.
In addition to Whitehorse's sculpture, community artist Marcia Yapp's mosaic pieces will be installed in the plaza by the end of September and at the entrance to Wingra Park by the end of October. William Turnbull's "Anchorlily" sculpture will likely be installed in early October.
Zellers said traffic utility box wraps will be installed at intersections with signals around mid-September at the earliest. As new concrete is poured along Monroe Street, sidewalk poems will also be stamped in certain sections.
Construction on the major project kicked off in March and reduced Monroe Street to one lane for traffic heading east toward Camp Randall Stadium and downtown. The city is reconstructing and repaving nearly the entire length of Monroe Street, from Odana and Nakoma roads to Regent Street.
Jim Wolfe, a city engineer, said contractors appear to be on schedule to wrap up construction by the Nov. 16 deadline.
"The majority of the sanitary sewer mains and water mains have been installed, and the new curb and sidewalk have been installed in a lot of areas, so the street is being prepared for additional pavement in other areas of the project," Wolfe said.
The portion of Monroe Street between Glenway, Nakoma and Odana roads re-opened to two-way traffic at the end of July, Wolfe said. The blocks between Grant and Regent streets are expected to be completed by Aug. 30, excluding miscellaneous concrete, electric and landscaping work.
"As of now, we still plan to keep this area open to just the single lane moving inbound," Wolfe said.