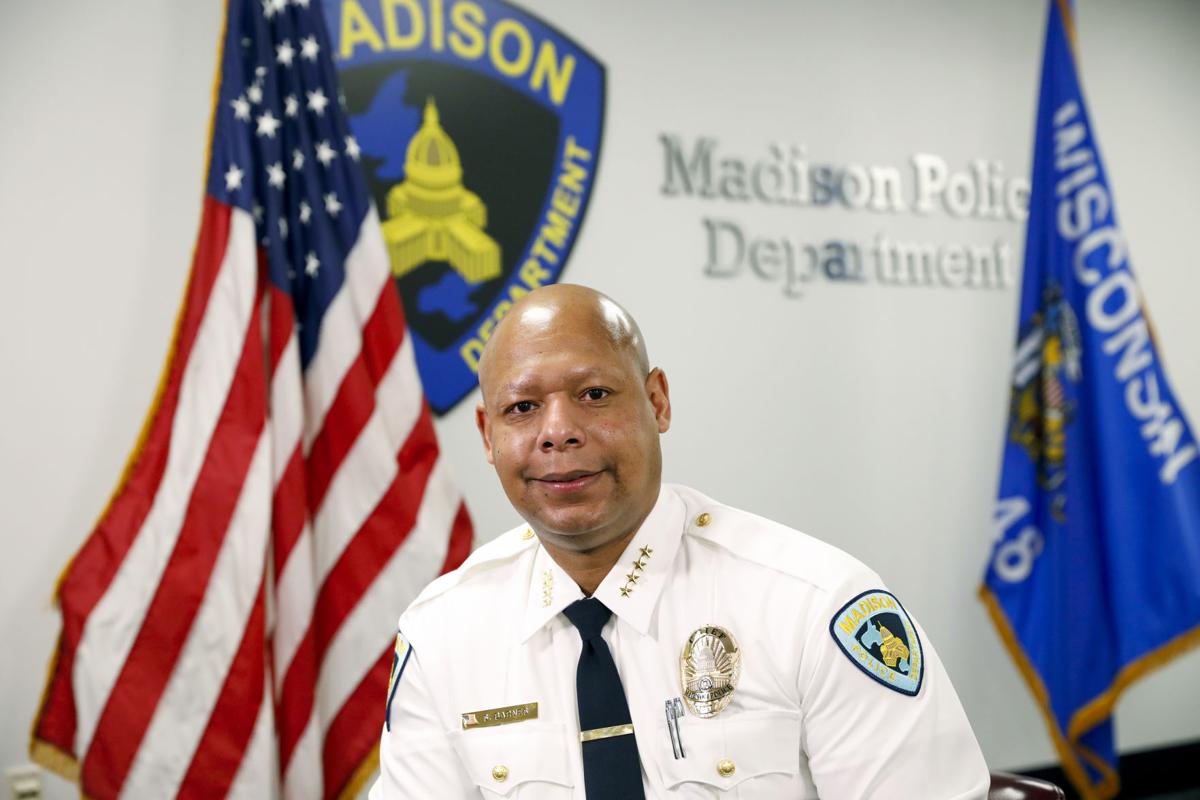 On his first day, Madison Police Chief Shon Barnes laid out what he called an "ambitious blueprint" for the city that includes building community trust, preventing and reducing violent crime and supporting police officers. 
He said his plans are "attainable" but will require a community effort. Ultimately, he wants to "set the model for the entire police community," including building community engagement through effective partnerships. 
"We are never going to move the needle and earn community trust until we recognize how the community wants to be policed," Barnes said in an interview with the Cap Times, shortly after he was sworn in Monday as the city's 30th police chief. "That will require all of us every single one of us coming together."  
Madison's Police and Fire Commission voted 3-2 last December to hire Barnes out of a slate of 43 candidates and four finalists. 
Though he officially began the job Monday, he's already been at work in the city for a couple weeks meeting virtually with community members. Barnes said he laid a foundation of communication but knows it can't stop there. 
Barnes committed himself to holding meetings with any community group who wants to, saying that the difficulty of meeting during a pandemic won't outweigh his desire to build trust in the community. 
Recognizing that not everyone will agree with the direction he takes the department, he welcomed different opinions and said that the city and MPD won't succeed until "all voices are heard and all opinions discussed." 
"In 2020, we saw so many opportunities where people did not want to listen to each other's opinions. There was no compromise, and I think those days are starting to be over," Barnes said. "They'll be over quicker if we put in the work."
Barnes also said trust should be built within the police department. To better understand the daily rigors of Madison's rank and file, Barnes rode along with patrol officers at night and visited with captains during the day. 
He said he charged captains with creating their own community engagement plans. 
"We will hold each other accountable for the things that we promise our community," Barnes said.   
Under his leadership, Barnes said the MPD will focus on crime prevention and reduction by using "innovative initiatives" and partnerships in the criminal justice system and private sector. He said reducing violent crime will require analyzing alternative solutions to discretionary arrests of lower level offenses.  
Barnes wants to be "data informed with a little bit of heart" in his approach to addressing crime in Madison and include residents in the MPD's decision making. He specifically mentioned a "steady blue lights" initiative, in which officers in squad cars would display a blue light to signal safety to the community. 
Also, Barnes said he wants to create a system in which every officer knows the community well. He suggests dividing up neighborhoods by geographic and cultural boundaries and policing those areas, according to how the community wants to be policed. 
Looking back on his childhood, Barnes said it doesn't align with one that might lead to becoming a police chief. 
He grew up in a small, rural town in North Carolina and described his neighborhood as tough and one that required him to grow up fast. He witnessed his first fatal act of gun violence when he was 12. 
"Those experiences helped to shape my view of community," he said later Monday night at a community welcome event hosted by Blacks for Political and Social Action of Dane County. "I want you to know, Madison, that you have a police chief that understands community."  
Barnes was raised by a single mother, whose resilience strongly influenced him, along with the man she would marry several years later. Their core values of integrity, honor and service are ones Barnes says he continues to live by and instill in his three children. 
He describes himself as a "humble spirit" and "hard worker," and his leadership style as one that is team oriented. He said his administration will be based on respect, communication and collaboration. 
Barnes began his professional career as a public high school teacher. That experience taught him how to connect with young people on a personal level and the value of empathy — lessons he applies toward his policing career. 
Barnes most recently served as the director of training and professional development for Chicago's police oversight group with past experience as the deputy chief of police in Salisbury, North Carolina. 
He said he's excited about the city's new Civilian Oversight Board and independent auditor, and their role of being a trusted voice in the community. 
"I understand now that everything I've been through in my life — the experiences, the people I've met — have prepared me to this moment, and I look forward to moving this police department forward," Barnes said.  
Barnes comes to Madison and the police chief role in a difficult time for law enforcement agencies across the country. Madison, in particular, struggles with entrenched racial disparities across many indicators, including law enforcement. 
Community leaders at the virtual welcome event said Barnes is the right person to move Madison forward while acknowledging the city's challenges. 
Leaders including Madison Metropolitan School District Superintendent Carlton Jenkins, Dane County Supervisor and State Rep. Shelia Stubbs, District Attorney Isamel Ozanne, among others, expressed their support of Barnes as the city's next chief. 
"We are very encouraged that you are here and that you have taken this position," said Kirbie Mack, vice president of Blacks for Political and Social Action of Dane County.   
William Greer, who sits on the PFC, said Madison is a city with great potential that hasn't been reached because of its racial disparities. 
"Many of our residents are blockaded by barriers of race, culture, education and lack of incentive and aspiration from those around us," Greer said. "Those of us who have been in the city realize that for some time we have been at a …  tipping point. Whether we will go up or down from this point has been at question for some time."  
City Council President Sheri Carter acknowledged Madison residents' diverse cultures, languages and experiences and said it's up to Barnes and the MPD to respect them. She also warned Barnes that Madison is vocal. 
"We will tell you when we think you're wrong. We are not shy folks here in Madison," Carter said. "However, we will stand behind you and I don't want you to ever think you're here by yourself." 
Share your opinion on this topic by sending a letter to the editor to tctvoice@madison.com. Include your full name, hometown and phone number. Your name and town will be published. The phone number is for verification purposes only. Please keep your letter to 250 words or less.