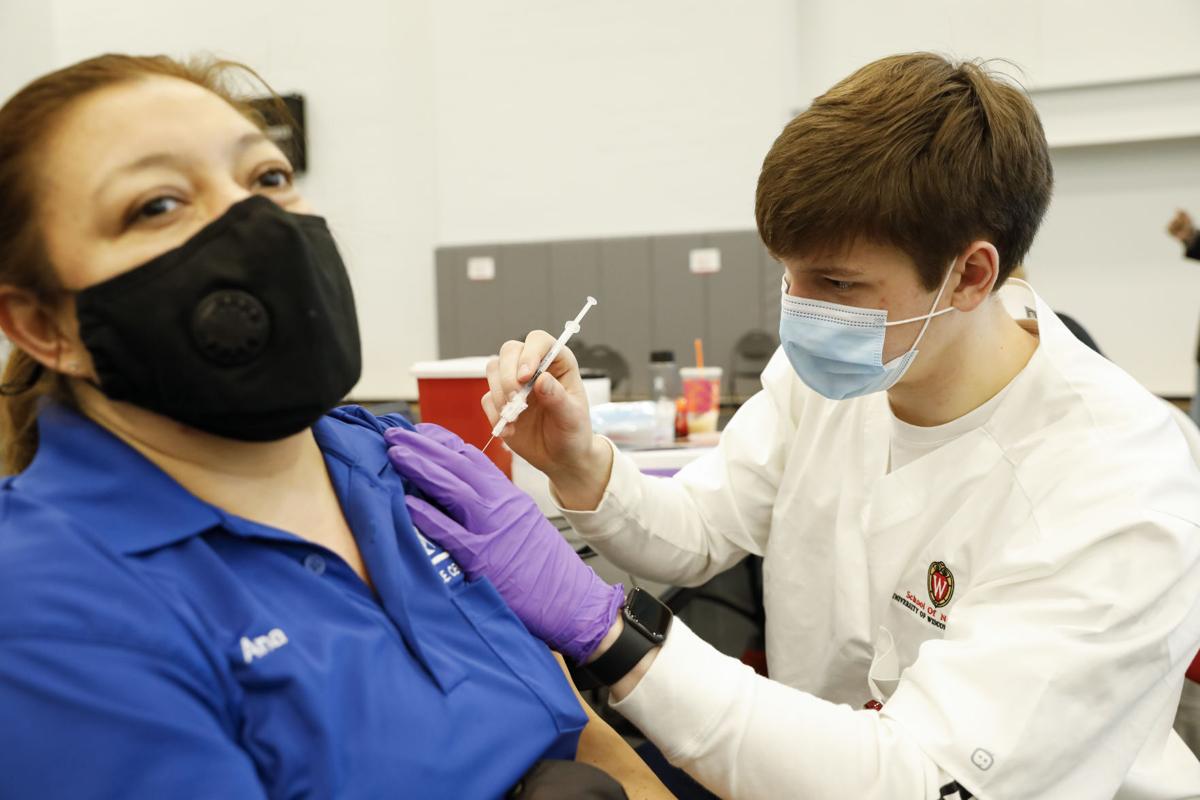 As COVID-19 cases continue to decline and vaccinations increase, Dane County has eased restrictions for gatherings and sports.
A new order from Public Health Madison & Dane County, the agency's 13th COVID-19 directive, bumps the limit from 10 to 50 people for indoor gatherings, and from 50 to 150 for outdoor gatherings. However, the limits are 25 people inside and 100 people outside for gatherings with food and drink. For gatherings of more than 50 people, masks are required.
The order goes into effect on Wednesday, the same day the previous order expires.
The new order comes about a year the first case of COVID-19 appeared in the county. And also as cases in the county decline from seven-day average high of 488 on Nov. 15 to 107 on Tuesday. The seven-day average for hospitalizations has dropped to 64 from 168 at the start of December.
"Though this order is intended to reflect hope and progress, I also want to stress caution," said Janel Heinrich, director of Public Health Madison & Dane County. "While we are progressing through a phased reopening, I continue to ask you to consider limiting the activities you engage in."
She said restrictions in the county so far — some of which have come under fire, notably restrictions on sports that have prompted some parents taking their kids out of the county to compete — have resulted in lower rates of infection and death than in other parts of the state.
The new order allows for all sports, including contact sports previously deemed high-risk, as long as people wear masks. Except when actively competing, a 6-foot distancing requirement remains in effect. And sports in which physical distancing isn't possible, crowds are limited to 25 indoors and 100 outdoors, not including employees.
The order continues to ban bars from serving patrons, except for takeout, and keeps restaurants at 25% capacity and businesses at 50% capacity.
Masks are required for anyone over 5 in an enclosed building where people outside a person's household are present, people in line to enter an enclosed building, people driving or riding in vehicles with people outside of their household, and at outdoor restaurants and bars.
Regional vaccine site possibility
Officials on Monday expressed hope that the vaccination effort will begin to curtail the spread of the virus in coming weeks, but said people need to continue to avoid gatherings, wear masks and social distance.
"Each of us has a different comfort level with risk," said Madison Mayor Satya Rhodes-Conway. "But no matter how much risk you are willing to take personally we need you to continue to help reduce our collective risk."
As of Monday, 11.4% of the county population had received vaccines, primarily eligible groups including healthcare workers, nursing home residents and people over 65 years. But health officials on the county and state level say supply of the vaccine is well behind the vaccinators' ability to give it out.
Last week, Dane County applied to the federal government to become one of two regional vaccination sites in the state, which would bring 6,000 more doses a day to the county on top of the current allotment from the federal government. So far, the most doses given out in one day was 4,754 on Jan. 27. In total, 83,792 doses have been administered in the county
Dane County Executive Joe Parisi said the decision on whether to approve the vaccine site will likely come in the next two weeks.
"There's a potential that by the end of March that site could be up and running," he said.
But he stressed urgency in light of new variants of the disease that have cropped up in South African, South America and the United Kingdom that may be more transmissible and less susceptible to current vaccines. Those variants have been detected in various spots across the country, including Wisconsin.
"We are in a race between the variant and the vaccine," he said.
Even after people receive vaccines, health officials say they need to continue to take measures to prevent the spread because it's possible that people who have been vaccinated can still spread the virus.
"Every time this virus spreads it continues to mutate," Parisi said. "So it's critically important that we continue to mask up and continue social distancing while we continue to ramp up vaccinations."