KING, Wisconsin — Walter Sundling wanted to live at the Wisconsin Veterans Home at King.
Held captive by the Nazis during World War II after his plane was shot down over Germany, the 90-year-old Air Force veteran was healthy when he asked to move to the community surrounded by southern pines he visited as a child. He had his own apartment at an assisted living facility in Madison, but wanted to be near others who had served their country, at the home between Stevens Point and Oshkosh.
"He said, 'I'd love to be with veterans. I'd really like to be with my own kind and I've heard so many good things about King,'" said Sundling's daughter, Sharon Blando, who lives in Milwaukee. "He was just so happy to be with the vets."
Two years later, Blando said, the Purple Heart recipient developed gastrointestinal bleeding from untreated constipation. Two heart attacks followed and Sundling later died, the result, Blando claims, of widespread neglect at Wisconsin's largest state-run, skilled nursing facility. Despite her father's advanced age, Blando believes abysmal care at King expedited his death last year.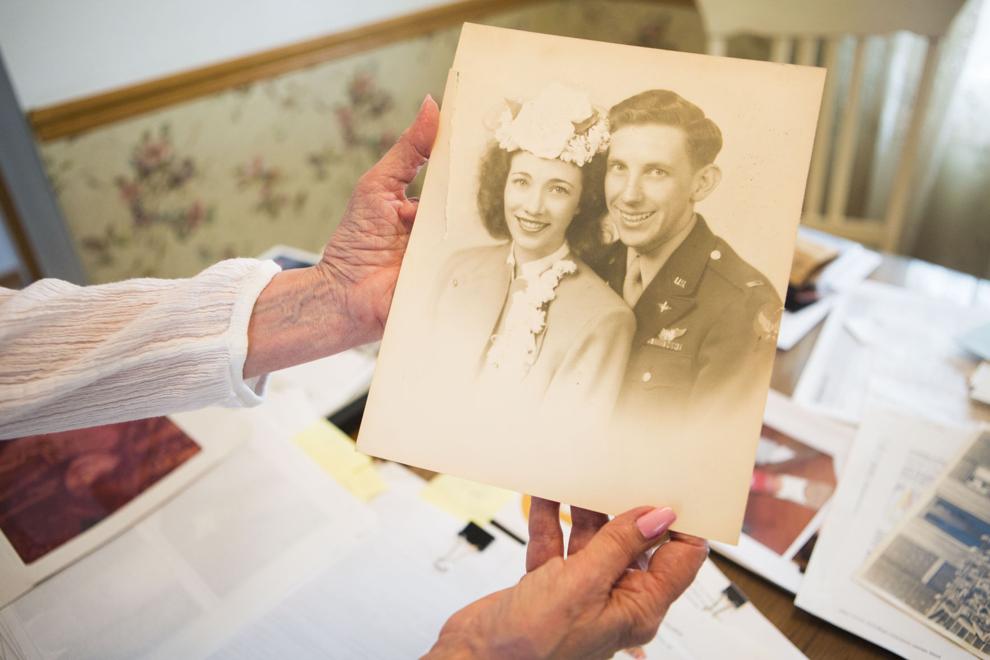 Sundling's story is consistent with what current and former King employees, residents and family members say is a much larger problem: Elderly and over-medicated veterans with complex combinations of physical and mental ailments are not receiving adequate care at King, even as the state brings in millions more each year than it spends to care for its residents, transferring the surplus elsewhere.
The Cap Times visited the King veterans home several times and interviewed 25 current and former employees, residents and family members, all of whom said King's staffing shortages and the state's efforts to cut costs there have hurt the most vulnerable veterans. Most of those interviewed spoke on the condition of anonymity for fear of retaliation, a practice they said is entrenched at King and the Wisconsin Department of Veterans Affairs in Madison.
Officials at WDVA and in Gov. Scott Walker's administration say the allegations of neglect and cost-cutting are not true. They point to consistently high marks the nursing home has received from the federal government and say the home is a model of high-quality care. King has routinely received four- and five-star rankings from the federal Centers for Medicare & Medicaid Services, above average compared to other nursing homes in Wisconsin.
Employees counter that much of the information used to determine those strong ratings is self- reported, not checked by the federal or state government.
The state brings in millions of dollars from the federal government to care for King residents and surplus revenue is projected to climb. King currently has $38.9 million in excess revenue, according to the Legislative Fiscal Bureau, up from $31.2 million at the close of 2013-14. The surpluses come as the state has sought to pull its veterans homes out of million-dollar deficits over the last decade. The agency said it reinvests some of the extra money into the homes and spends the rest on salaries and other programs for veterans.
The practice raises the question of whether the state should be collecting money and diverting it from those who have served the country, who are now sick and disabled because of it.
It is what has led Sen. Luther Olsen, R-Ripon, whose district includes King, to ask whether the home should be overseen by some other state agency.
Following questions by the Cap Times last week about care at the home and how money there is spent, Olsen called for a legislative audit, joining several Democratic state lawmakers. Current and former King employees and residents say a non-state, independent investigation and audit is needed.
"The biggest concern I have about the excess revenue is making sure enough gets reinvested in King to keep it up to the caliber that the home has to be with the member needs," Olsen said.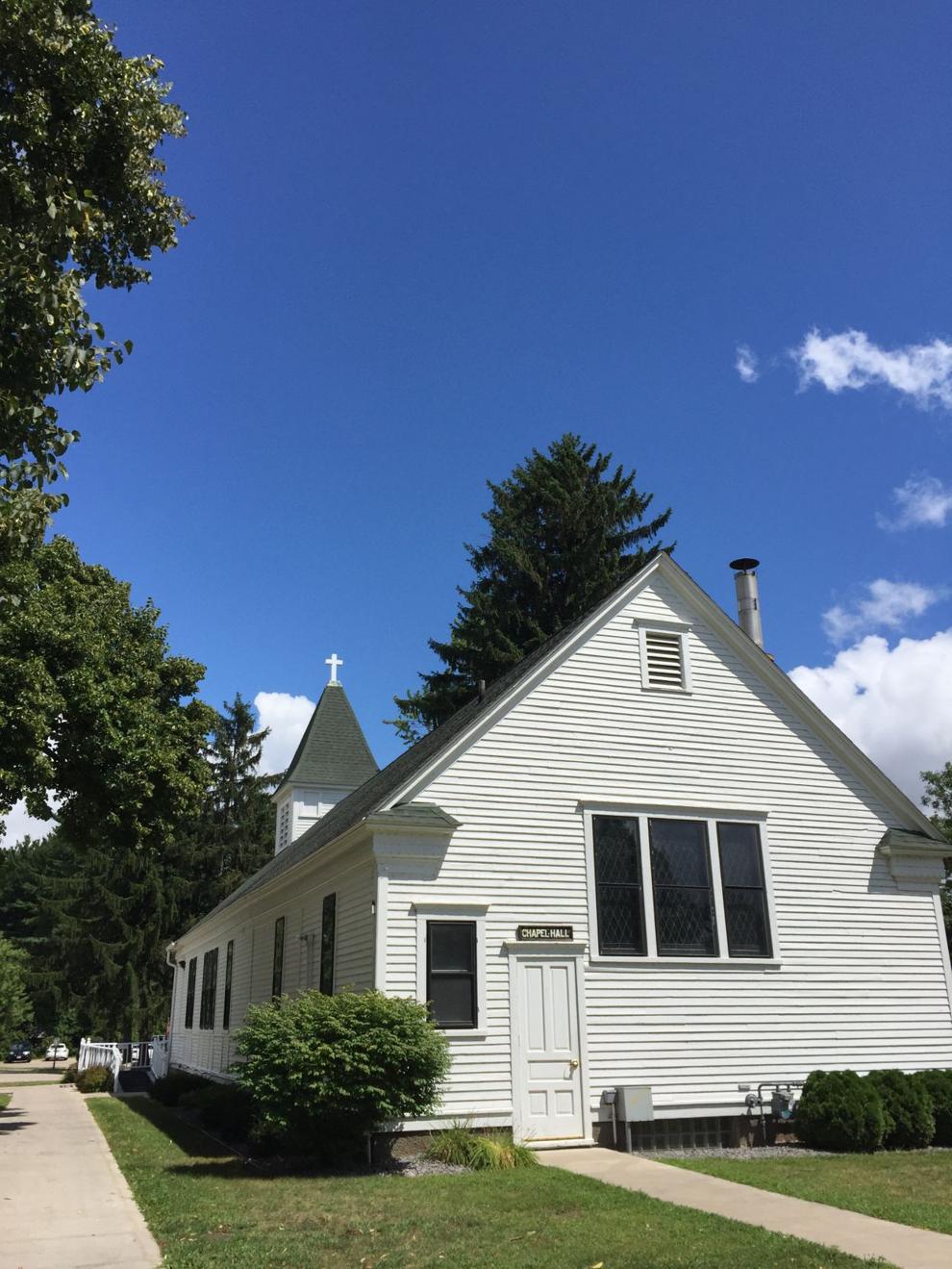 The common perception of the Veterans Home at King, named for Civil War General Charles King, is that it is an idyllic retirement destination nestled on a clear blue lake. It is where the state has pledged to give veterans an "outstanding living experience."
"We want veterans and their family members to enjoy living at King while also receiving the top quality care they deserve," said Carla Vigue, a spokeswoman for WDVA. "Our record reflects that attitude. Wisconsin should be proud of our veterans homes."
But veterans and their families tell a different story. Pictures provided to the Cap Times by an employee who did not want to be named for fear of retribution show mold on a wall and a large red stain on the floor of a tub room where veterans are bathed once a week. Employees said the red stain was fixed and the mold was painted over, but remain concerned about the conditions of other tub rooms at King. Carpeting in one late-stage dementia unit is yet to be replaced after being soaked with urine, according to King employees who requested anonymity for fear of retaliation.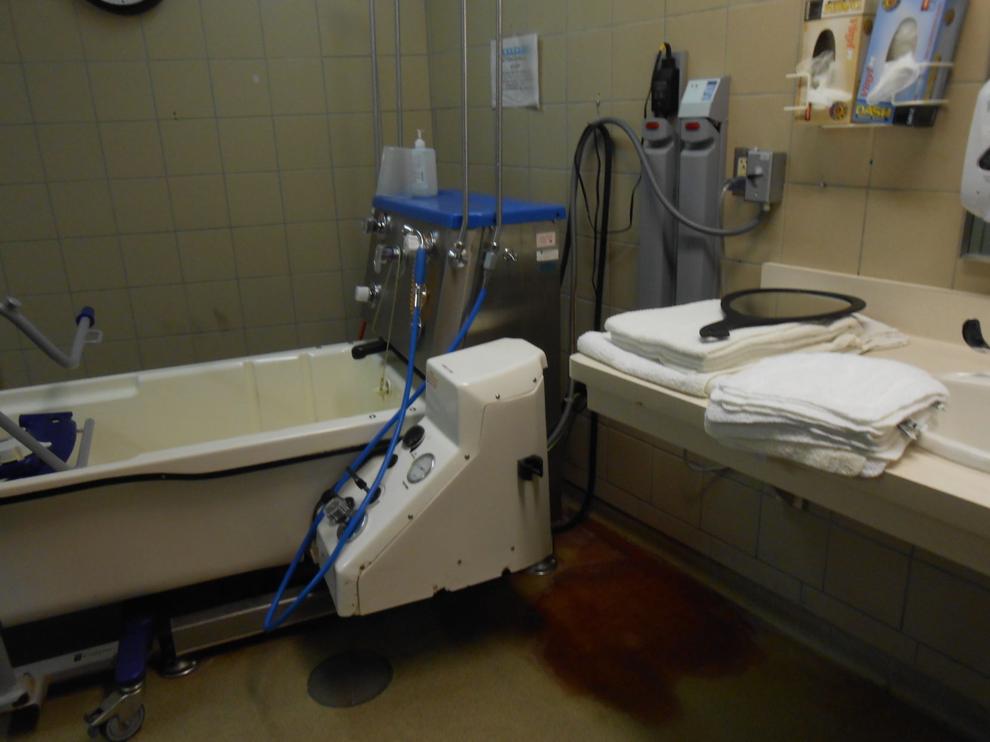 Veterans are packed into small rooms reminiscent of college dorms. Medical equipment, including the nurse paging system, is outdated and some functions minimally, former and current employees say. Beds are antiquated, some welded together. In one federal inspection report from earlier this year, inspectors found King did not have a control program for certain infections, a lapse that had the potential to affect 195 residents. The same report also found that residents were washed with dirty washcloths placed in the drain of a soiled sink.
The agency denied that the home has any outdated medical equipment and said it has fixed the mold on the wall.
King is one of three nursing homes in Wisconsin run by the state Department of Veterans Affairs. It is open to veterans and their spouses from across the country who can receive government subsidized care.
According to King's internal census report for April 2016, there are 682 residents, 545 men and 149 women. The average length of stay is 4.3 years and the average age is 80. The majority of King residents — 480, or 69.26 percent of the total population — pay for their stay with Medicaid.
Half of King's residents have been diagnosed with dementia and 58 percent have been diagnosed with depression or anxiety. Forty-nine individuals have been diagnosed with post-traumatic stress disorder, according to the census report, but employees say that number is likely higher because new diagnoses are not updated in the facility's computer system after initial intake evaluations.
Of King's veterans, 229 are from the Vietnam War era. It has 132 World War II veterans and 130 Korean War veterans, including 20 Purple Heart recipients and two prisoners of war, according to King records.
The home offers work therapy for residents and boasts several amenities, including a library, bar, movie theater, barber shop, chapel, fitness room, commissary and bowling alley. Volunteer organizations also host events including barbecues, bingo and holiday parties and make grocery runs for residents.
As King makes millions in surplus revenue each year, state officials have increasingly transferred money away from the home to fund programs and salaries in Madison, a practice approved by the Legislature and Gov. Scott Walker.
Several former King employees who observed admission practices said the state keeps the homes as full as possible, alleging exceedingly sick veterans are accepted regardless of its capacity to care for them. More heads in King's 721 beds means more money flows to the state from Medicaid, Medicare and the federal Department of Veterans Affairs.
State officials have used King's money to subsidize its other veterans homes and have transferred more than $20 million in total since 2007 back to Madison to pay for other departmental expenses and salaries. The Department of Veterans Affairs plans to transfer another $18.6 million from King over the next two fiscal years, according to the Legislative Fiscal Bureau. This year, WDVA transferred $12 million out of the fund for the homes.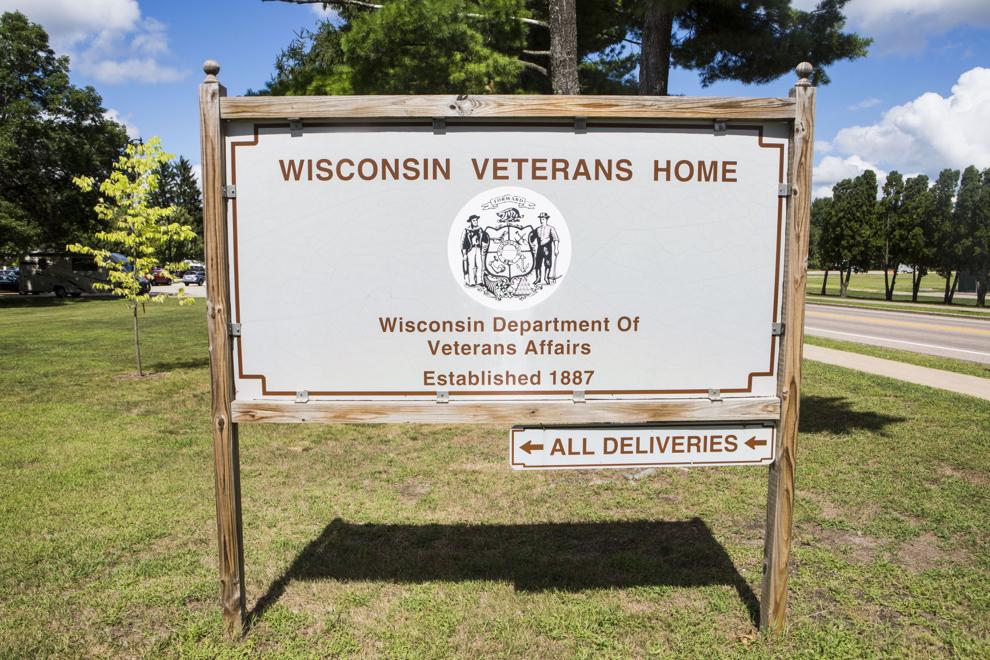 Researchers interviewed for this story questioned how King can continue to hold the line on costs to maintain its surpluses and still deliver quality care.
The latest $12 million transfer out of King is an anomaly in an industry struggling to keep up with low Medicaid reimbursement rates and high health care costs, said David Grabowski, a professor at Harvard Medical School who tracks health care policy, with a focus on nursing homes and their financing.
"Twelve million sounds like a really high number to me given the shortfalls that we see in many nursing homes," he said. "The idea of transferring lots of dollars out of a building is almost unheard of."
The agency acknowledges King's surpluses and said it has reinvested more into the home than it has transferred out of it. It says it has invested or plans to invest more than $116 million into King across 39 maintenance and new construction projects since 2011, many of which are set to start later this year or next year.
"Yes, King is making money but yes, we are reinvesting back into King," said Jim Parker, administrator of the division of enterprise services in WDVA, who oversees the agency's budget.
"We have approved numerous upgrades and additional staff positions for the veterans home," said Walker spokesman Tom Evenson. "Governor Walker has a deep respect for our veterans and a sense of duty to provide the care and services they deserve and have rightfully earned."
In 2014, Walker signed a bill approving a new $80 million nursing facility at King. Construction on the John R. Moses Skilled Nursing Facility is scheduled to begin in spring 2017, replacing an aging residential building that has sat vacant for at least 20 years.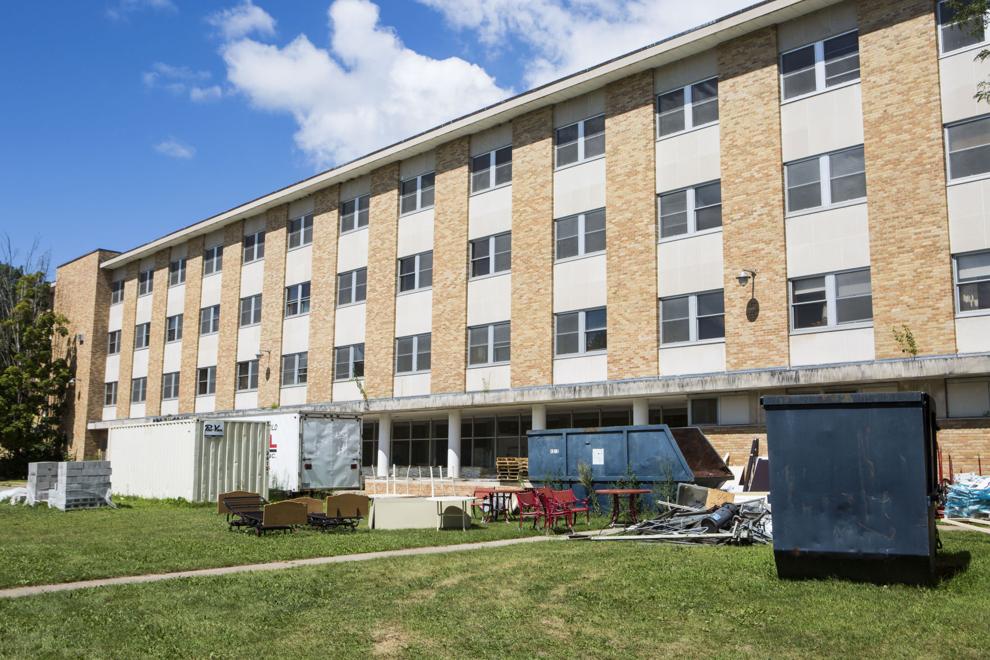 But employees and residents said WDVA's spending priorities are out of line. It has allocated $400,000 to upgrade a museum exhibit at King, but employees said it has denied funding for a computerized system for scheduling staffing and tracking, showing which certified nursing assistants have clocked in or out and which staffers are on the floor.
In Walter Sundling's final months, medical records provided by his family and photos show his legs and feet swelled with fluid to twice their normal size, a condition known as edema. An open wound on his leg grew, untreated and uncovered. He slumped in a wheelchair for months, his head hanging at his chest. Blando said she asked repeatedly for a reclining wheelchair, persisting until staff found a broken one from the basement. It took several weeks of pleading to get it cleaned and fixed, she said.
Sundling's medical records indicate he was allergic to morphine, but doctors at King prescribed it to him anyway. During a routine medical appointment, a cardiologist not affiliated with King ordered him to stop taking the painkiller, according to his medical records. Two weeks later, a King doctor prescribed it to him again.
"The neglect is just unbelievable," said Blando, who was at the facility with her daughter, Kristi Williamson, up to four times per week to visit her father. "He was not getting adequate health care. Even when issues were reported to (staff), they did not treat the problems."
King's top administrator, Jim Knight, disputes Blando's allegations of neglect. In two letters written before Sundling died, Knight responded to Blando's request for an investigation into the care of her father.
In one letter, Knight wrote that he directed the home's medical director, Alan Strobusch, to review Sundling's clinical records. He also wrote that nurses on Sundling's floor were interviewed, along with 21 residents to determine if there were concerns about care overall. There were no concerns, Knight wrote.
In another letter, Knight explained that Sundling was prescribed a "long acting" morphine for chronic pain, rather than a "short acting" morphine, which was the kind doctors said Sundling was allergic to, he wrote. Knight also noted that nurses at King were making weekly calls to Blando and were committed to working with her on her father's care plan.
Despite Knight's responses, Blando said she talked to lawyers about suing for neglect but decided that it would be too costly.
Like Blando, those who live and work at King say the gold stars and accolades politicians heap on the facility paint a picture far different from their reality.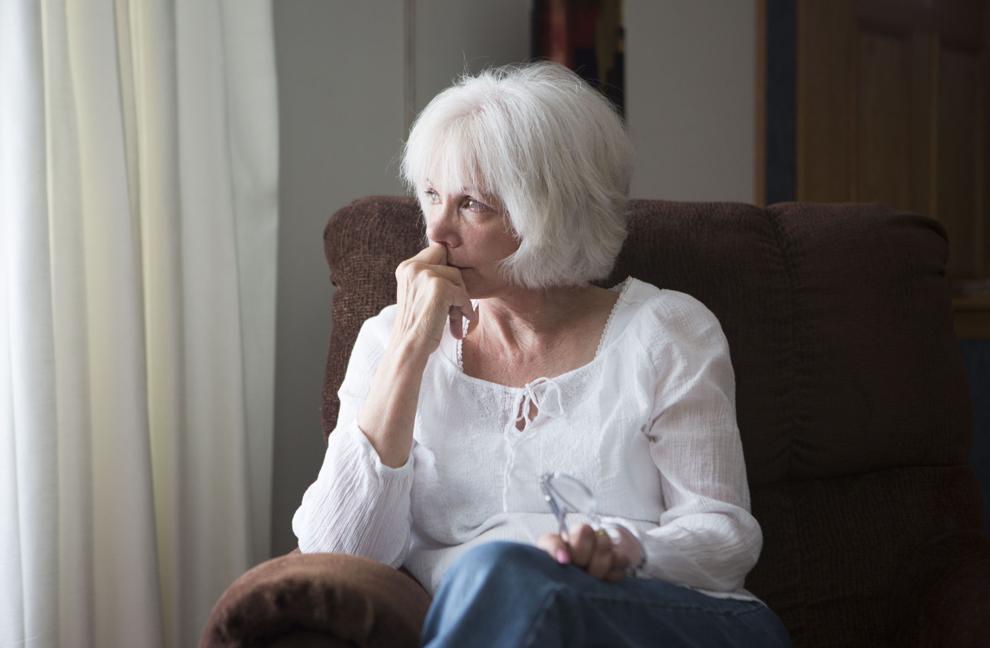 "What they're telling you and what they give you is two different things, that's the bottom line," said Al Hager, a former resident who now lives in a private nursing home near King.
Hager, an Army veteran who uses a wheelchair, said a knee injury brought him to King in 2013. He lived there for 19 months after having knee surgery and was told he'd be able to walk again soon. He still cannot walk and needs help to get out of bed and onto the toilet.
He said he routinely waited for an aide to come for nearly 20 minutes after turning on the call light to help him to the bathroom. He recalls having an accident and laying in his own waste waiting for help.
"It is degrading to a human being," he said. "We don't allow it to happen to a dog, why should it happen to a human being?"
Other residents who can't get to the toilet on their own tell similar stories, corroborated by volunteers, staff and family members. Residents will call for a nurse and, because others have more immediate needs, they wait. Sometimes it takes 20 minutes, sometimes 40 and sometimes no one comes at all, they said.
Frank Crivello, 70, a former Milwaukee County judge and prosecutor and an Army veteran, came to King three years ago following a stroke. He said he has also had accidents because he cannot move on his own and has trouble getting help from aides.
"They don't have the ability to care for me," he said. "I require a lot of care. (But) you learn to cope with things."
He can no longer feel his left side and said he has been asking for a new wheelchair for months, to no avail. He slumps in the one he has now. It is hard for him to push and hurts his hands, he said.
Fred Gabardy, 66, a U.S. Army veteran from Madison, said he has become depressed the longer he has lived at King.
"I was glad when I got here, it seemed like a nice place, there was a lot do to, a lot of boat rides, a lot of bus trips, and all that stuff," said Gabardy, who is diabetic and has lymph node problems. But the boat rides became less frequent, the bus trips to Milwaukee Brewers games stopped and popular amenities like the coffee shop have been cut, he said.
King residents and their family members said they do not have the opportunity to thoroughly discuss their care plans or changes in medications with a doctor. Residents often don't understand which pills they are taking or why. Models of care are outdated, employees and residents say, and do not include individualized care that considers a resident's military background or complex mental health issues like post-traumatic stress disorder.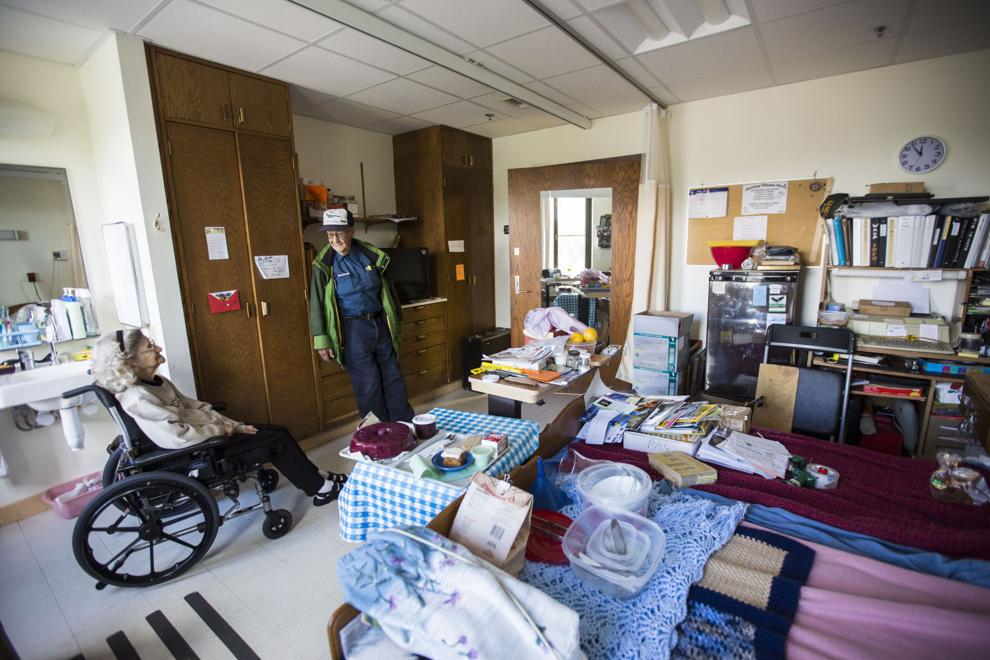 One diabetic resident who has used an insulin pump that was given to him by the federal VA hospital nearly two years ago said he was ordered to stop using it when he came to King because staff didn't know how to operate it. Now his days are interrupted by insulin shots administered by a nurse, said the resident, who asked for anonymity fearing King administrators would retaliate against him. State veterans officials disputed his story and said residents are allowed to use insulin pumps.
Officials also denied what more than a dozen people interviewed for this story described as a common practice at King where residents are "snowed," heavily drugged with painkillers and left in a zombie-like state. Residents and employees said loud, erratic individuals will disappear for about a week and return to King "snowed."
It is sometimes the only reliable solution for those with volatile or uncontrollable behaviors, former certified nursing assistants and nurses from King said, but some residents said they feel over-medicated.
Concerns about over-medication at King echo problems with narcotics abuse at the federally run VA hospital in Tomah. A federal investigation into the Tomah VA in May found that patients were overprescribed medication resulting in several deaths, and that a culture of retaliation and lack of transparency allowed problems to persist.
Sharon Blando, Walter Sundling's daughter, said he was "snowed" frequently. She said nurses gave him higher doses of powerful painkillers because they did not keep up with his daily Tylenol regimen. He would often ask why he felt so tired, she said.
"He would be out of it for days and then wake up and say 'Something's not right, you've got to get me out of here,'" she said.
Multiple people interviewed said when they have tried to leave King they are sent down a bureaucratic hole of paperwork and delays. Residents and family members interviewed said many veterans lack a close family member to regularly visit and advocate on their behalf.
"I think we're kind of treated like cattle, I don't think we get the respect we deserve," said Richard Rohlf, 68, a U.S. Army special forces veteran from Clover Leaf Lakes, who served in the Vietnam War. "They want you to be like a little baby, and that sucks."
Jim O'Donahue, 89, is an Air Force veteran who lived at King with his wife Pearl, 89, from 1998 until finally moving out earlier this month. The couple from Milwaukee said they tried to leave King for years, applying to be discharged and being re-routed from one staff member to another.
He and his wife moved to King to live in one of its historic white cottages, but were forced to move into one of the residence halls in 2012 when the cottages closed. The state plans to eventually demolish most of them. As King has become more of a nursing home and less of a retirement community, its policies are aimed at creating more dependency, not empowering its members, charged O'Donahue and others.
"A retired veteran is a financial liability, whereas one requiring nursing care, they make money off of that one," he said.
O'Donahue kept a running list of activities and amenities stripped from veterans after arriving at King. The list now tops 200. It includes the elimination of member use of the pontoon boats and the closing of a woodworking shop, the DAV scooter repair shop and the popular coffee shop, which was replaced earlier this year with a vending service.
"Everything is money motivated," he said. "Whatever we can do with less money."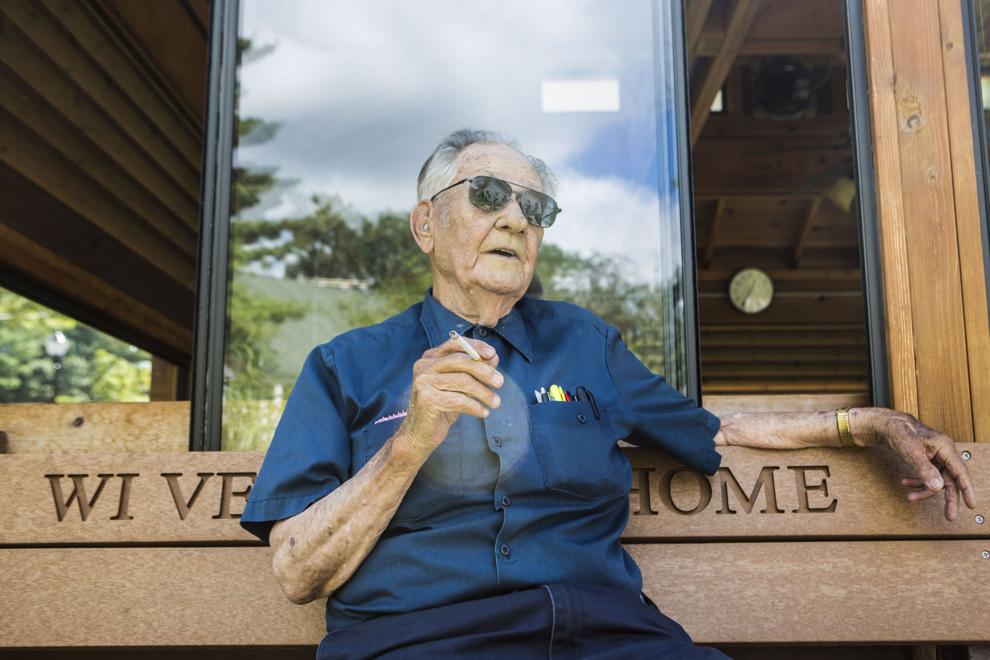 O'Donahue is also concerned about the quality and safety of King's tap water, which runs through aging lead pipes to faucets and spigots across campus. There are signs posted at King warning residents of elevated levels of lead in the water, telling them to let it run before using. O'Donahue wouldn't drink it. He said it had a funny taste and was sometimes discolored.
State water quality reports show that the water is safe, but meanwhile, volunteers said more residents are buying bottled water at the grocery store to avoid drinking out of the tap.
"Neglect" is frequently used to describe the treatment of veterans at King. Ann Eichendorf, who lives in Plover, believes her husband was neglected. He died from pneumonia while living at King in 2014. He was 85.
Maurice Eichendorf, a Korean War veteran, had diabetes and came to King after a series of falls. He relied on oxygen, but it was rarely turned on or working properly, said Ann Eichendorf.
"I could tell it wasn't working right because he'd get flushed and have a hard time breathing," she said. "So many times I would ask them, 'Could you check the oxygen?' And they'd come in and say, 'Oh it's fine,' then the next one would say, 'Oh, there's not oxygen in here' and she'd run like crazy to get the oxygen filled. You can't believe how often this happened."
Eichendorf and her son, Mike, visited Maurice at least twice a week and said they witnessed widespread neglect of veterans by an overburdened and rotating staff.
"It's just really, really not good," she said. "How can they do this to sick people, our veterans who served our country and protected them?"
Eichendorf said she did not reach out to administrators at King or lawmakers while her husband was still alive because she was afraid that he would face retaliation at the home. After her husband died, she routinely called Sen. Julie Lassa's office to voice her concern, but did not file any formal complaints with the state. She needed time to cope with her husband's death, she said, and didn't want to continually rehash the events that led up to it.
The state has denied allegations of neglect and emphasizes that staff at King have always been open and willing to discuss a resident's care with their family.
Nearly all the King residents interviewed for this story also complained about the food served there. In 2006 the state switched to a frozen method to save money, according to a 2011 audit of the veterans homes. King now prepares meals for its facility and the state's Union Grove veterans home about 36 hours before it is to be served. Meals are frozen on trays, then reheated.
"I would get fed better at Waupun (Correctional Institution) than I would get served at King," said Hager, the army veteran who left King for a private nursing home. "You can't have a choice like A, B. It's just A. All vegetables taste the same."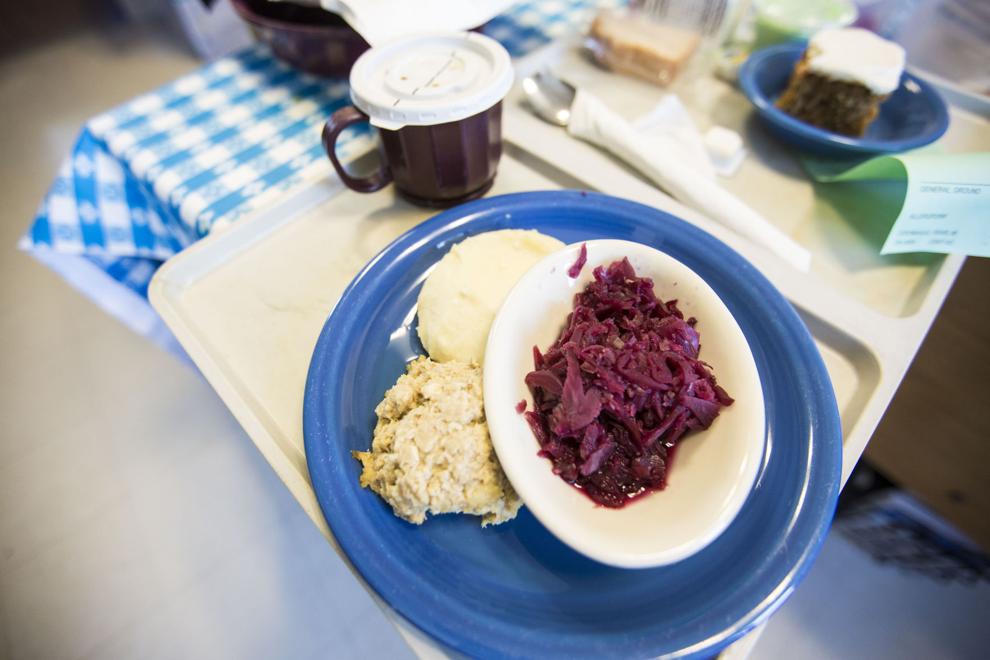 Several longtime King volunteers said there are many residents who are happy at King but also said there are systemic problems.
One volunteer, an Air Force veteran who lives near King, grew up visiting the home. She has volunteered there for six years but didn't want her name used fearing that the veterans organization she works with would lose funding from WDVA. She has watched King become less personal and more institutional.
"The atmosphere is not the same at all," she said. "It was a gathering place for the veterans to come, it was very homey and now it's just cold."
There is a strong network of volunteers who sponsor activities for veterans, she said, and who step up as the administration cuts back.
"There are a lot of things that are done at King by volunteers that would not get done if it were not for them," she said. "I guess it comes down to a money issue. We're running right at 700 members pretty constantly here at King and I know King makes money. Yet there's always the cry, 'We have to cut this and we have to cut that.'"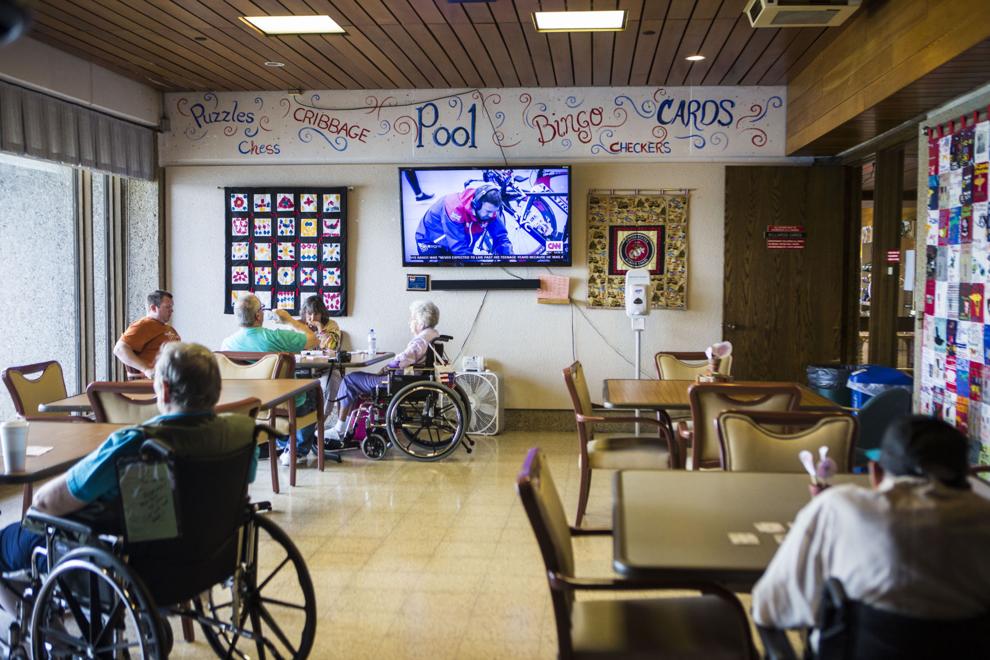 "There's good and bad … some of the (bad) things you'd have to be blind not to see," she said.
One example, she said, is the resident bathing schedule. Residents do not have tubs or showers in their rooms and are scheduled to bathe once a week, she said.
"That's awful," she said. "Once a week? Come on."
WDVA officials deny that the agency aims to cut costs and maintain that critics are in the minority at King. Most people who live and work there enjoy it, said Vigue, the WDVA spokeswoman.
"We don't cut at King," she said. "This is a home for people and these are our veterans. We want them to be happy where they are living for the final years of their lives … I would say the majority of our staff takes a great deal of pride in what we provide for those veterans."
Several former and current employees said they do take pride in their contribution to veterans at King and said they voice concerns in the hopes of seeing the home improve.
Nurse and nurse aide shortages have challenged nursing homes across the state and the country, and King is no exception.
A shortage of direct care staff and frequent turnover has plagued the facility for nearly a decade, resulting in inconsistent, haphazard care, critics said. Despite implementing small pay increases in the last six months, current and former staff said the state has done little to invest in its employees or aggressively recruit or retain them.
As of July, there were 100 job vacancies there, said Jim Knight, King's commandant, the home's top official.
"That's not totally uncommon for us," Knight told the Board of Veterans Affairs, a WDVA advisory board, at its July meeting. "Within 25 miles of here there are eight other nursing homes in addition to King … When it comes to our nurse aides, that has been an area where we have a hard time recruiting."
Staffing records provided to the Cap Times by an employee who did not want to be named show 381 un-staffed CNA shifts that needed to be filled over a two-week period in August. If staff members don't claim shifts, managers assign them. Mandatory overtime for certified nursing assistants can top 52 hours in a two-week period, according to those who have worked at King. In past years, King has spent more money on overtime than it would have by hiring full time employees, according to a 2011 legislative audit of the facility.
The agency said its most recent payroll shows that 5.5 percent of all hours it paid were overtime hours for caregivers. To keep overtime costs low, it uses a temp agency to fill shifts, said Vigue, the agency's spokeswoman.
"We want our staff to be happy with their jobs and understand that our staff is key to providing quality care to our veterans who live there," Vigue said. "We dispute any suggestion that care to veterans is being compromised."
Some former and current employees said King is top-heavy, with a focus on filling high-paying administrative roles. Each of the four halls at King has an administrator, a director of nursing and two assistant directors of nursing. But the bulk of patient care is done by certified nursing assistants.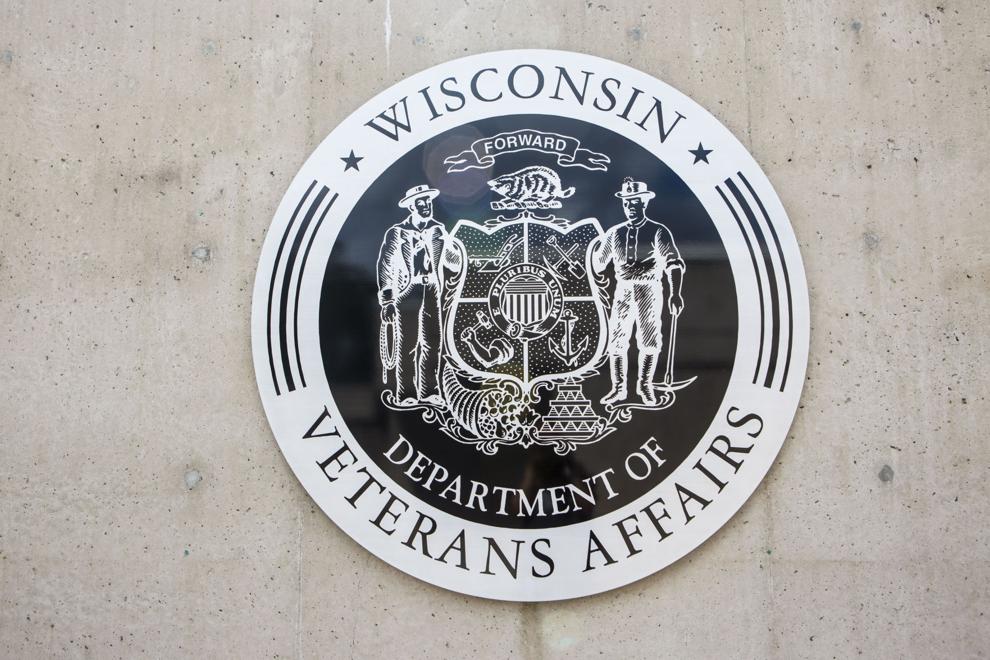 "They're burning them out," said a former King employee who worked as a CNA there for five years, but requested anonymity to prevent retaliation for others she knows who still work there. CNAs are leaving about as fast as new ones are hired, she said. They "really work until they almost drop. I've seen them work there until they just can't do it anymore."
WDVA officials said it has been proactive in recruiting and retaining nursing staff. The agency plans to change its weekend work policies for CNAs in January 2017, so aides can work only alternate weekends, Vigue said. It has also increased wages for Licensed Practical Nurses from $17.60 to $19.05, said Vigue. Last month it launched a pilot program to pay CNAs 80 cents more per hour and $1.20 more per hour for overtime.
"The approval of a pilot of this nature is not a common occurrence and we are looking for it to contribute to the benefit of our dedicated employees who are the critical lifeline for our veterans," Vigue said.
Several former and current King employees interviewed for this story said direct care staff are not treated well, often driven out of the job by intense hours, forced overtime and minimal benefits. They spoke of a work atmosphere with rampant bullying, retaliation and intimidation. Concerns about patient care or protocols are met with hostility or ignored by management, employees said, noting the culture at King reflects attitudes at the agency's headquarters in Madison.
The former CNA, along with other former direct care employees, said that as more veterans are admitted to King, overworked nursing staff increasingly lack the capacity to care for them well, despite their best intentions.
"The staff works extremely hard and it goes from the RNs to CNAs," she said. "They are there for those veterans 100 percent."
But, she said, lapses in care persist.
According to former and current nursing employees at King, staffing levels dwindle throughout the day. Daytime shifts have four to eight CNAs for 46 to 53 patients across two floors, with one Registered Nurse and Licensed Practical Nurse per floor for each shift. In the overnight shift there is no LPN working, and only three CNAs for up to 53 residents.
Despite the prolonged staffing shortages, WDVA said care has never wavered.
"We are still providing the top quality care possible," said Vigue. "We do have to backfill sometimes with temporary agency staffing because we don't want our staff to be overworked. The care we provide is the best in the country."
Despite its critics' concerns, federal and state reports show King meets Wisconsin's minimum staffing requirements. There are no federal standards that specify best nursing home staffing levels.
But how a facility meets minimum staffing requirements is only a piece of the picture, said John Bowblis, a professor of economics at Miami University of Ohio, who studies staffing levels in nursing homes.
Inconsistent care that results from turnover also affects quality of care, he said.
"The CNA staffing levels seem to be OK but the turnover might be an issue," said Bowblis, who reviewed King's federal quality ratings.
Bowblis said other factors should be considered when looking at the quality of a nursing home.
"Food service (ratings) are a lot lower, activity staff is a lot lower in two of the facilities and those are two things that affect quality of life, more than quality of care," he said.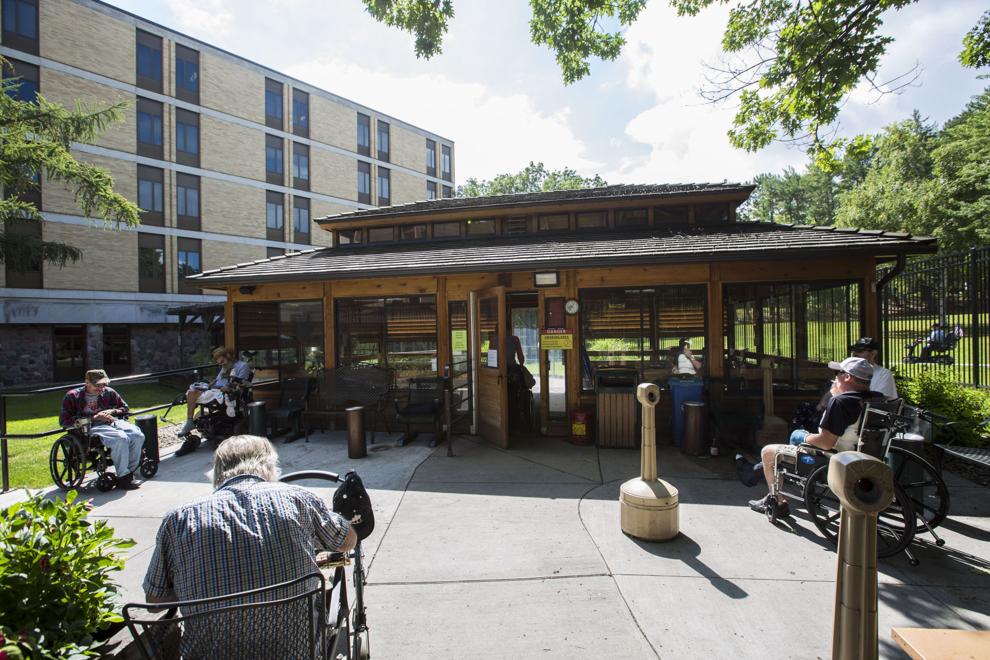 Capacity levels may also make a difference, he said. King's average capacity, at about 95 percent, is 15 percent higher than the national average of 80 percent, he said.
How King continues to score high marks from the Centers for Medicare & Medicaid Services depends on who you ask.
WDVA officials said the metric is fair and rigorous, a true reflection of King's strong record of quality care, especially when compared to other nursing homes statewide. But researchers, along with current and former King employees who have watched federal inspectors on campus miss incidents, said the rating system has holes.
"There's certainly value in the five-star rating system, but it's far from perfect," said David Grabowski, the Harvard Medical School researcher.
The federal government considers both self-reported information and on-site inspections to determine how to rate a nursing home. Each home is evaluated in three areas: staffing, state health inspection reports and quality of care measures. The agency ranks a home on each factor individually then gives it an overall score.
Staffing and quality of care ratings are determined by self-reported data that is not audited by the state or federal government. Former and current King employees said staff acts differently when they know inspectors are on campus and said reports are subjective.
Last year, a report from The Kaiser Commission on Medicaid and the Uninsured warned against relying too heavily on the CMS ratings.
"There is a need to further improve both the state survey process and the enforcement system. Staff turnover and recruitment problems and fiscal problems at the state agency level may hamper survey and enforcement efforts," the report said.
Researchers also said the CMS ratings don't tell the whole story of a home.
"Ultimately, you'd want data that can be audited," Grabowski said. "It feels very subjective to have a surveyor come in and review a nursing home. It's certainly a piece of the broader quality picture, but it's a piece that we rely on heavily."
Grabowski said he would not recommend choosing a nursing home based on the five-star rating, but said people instead should use it as a starting point.
Over the last four years, state Sen. Julie Lassa, D-Stevens Point, said her office has received dozens of complaints about King, with many callers asking to be anonymous for fear of retribution. Her district neighbors Sen. Luther Olsen's, where King is located.
Lassa has written letters to WDVA Secretary John Scocos and Walker asking them to investigate and said she has also requested an audit of the home's finances. She wants the state to authorize an independent investigation into the home.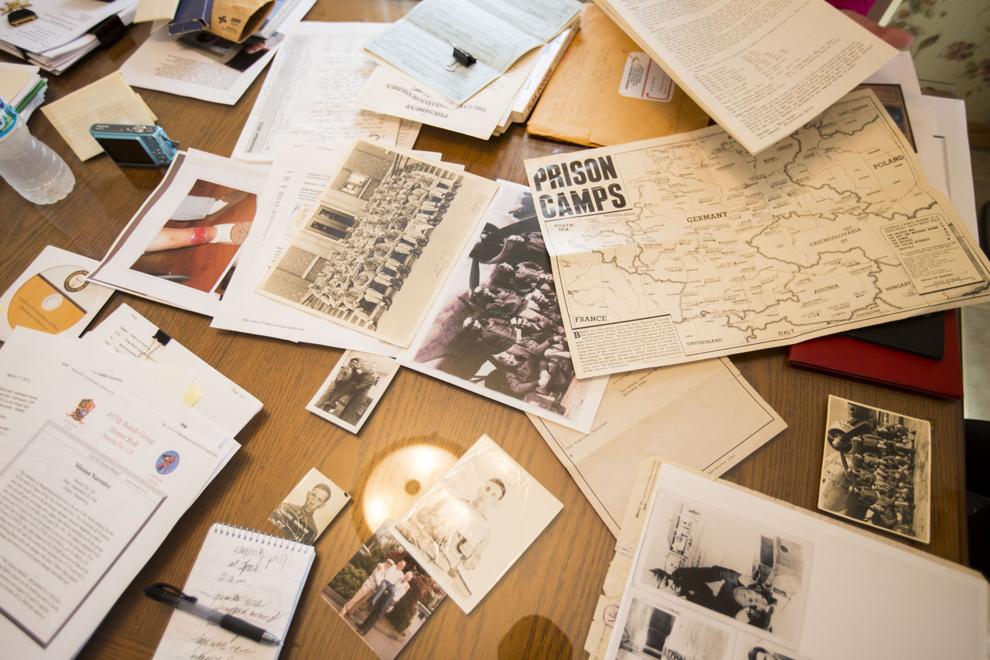 "I've been hearing about these allegations and I've reached out to the administration and both the governor and DHS. I've reached out and asked for an audit and so I'm just really frustrated that neither the Legislature nor the governor has taken any action on this," said Lassa. "I believe that it needs to be a priority."
Walker spokesman Evenson said Lassa's allegations are unfounded.
"This characterization is pure politics, and frankly, it's not true," he said in an email. "Our administration has been incredibly responsive, and we have responded to questions posed by Senator Lassa on several occasions."
While no new audit of WDVA or the veterans home has been requested by Walker or the Legislative Audit Committee, Walker's office did ask DHS to investigate complaints at King earlier this year, according to a letter the agency sent to the governor's office in May.
DHS investigated complaints of elder abuse, Legionella bacteria found in a hot water tank, and concerns about splitting full-time positions into half-time ones to save money on staff benefits, according to the letter. DHS deputy secretary Thomas Engels reported three incidents where King failed to report allegations of elder abuse to DHS, but also wrote that his agency found the concerns to be largely unsubstantiated and said any issues were now fixed. He noted that unresolved problems would have affected the home's five-star federal rating.
In a November 2015 letter following Lassa's request for an audit, Scocos wrote that her allegations were "untrue and harmful." WDVA "places the highest priority on providing the best level of care and support for all of Wisconsin's veterans and their families and takes seriously the concerns expressed by members and their loved ones," he wrote in the letter to state Rep. Samantha Kerkman, R-Salem, who leads the Legislative Audit Committee with Sen. Robert Cowles, R-Green Bay.
Neither Kerkman nor Cowles responded to questions about why their committee has decided against auditing King or if they would support an audit.
Olsen, the Ripon Republican whose district includes King, said he has heard concerns about staffing and care at King throughout his 12-year tenure, and has spoken with Walker about them.
"I have talked to (Walker) about the concerns that have been raised to me about King and he said that he was going to investigate it," he said. "I would welcome an audit of King to make sure that our veterans are getting the care that they deserve."
Olsen, Lassa and other state lawmakers have also questioned why the millions of dollars in surplus that King generates is being transferred away from the homes.
It might be time to re-examine which state agency oversees King and other veterans homes, Olsen said.
"Maybe with the increased care that the members need, it might be in the best interest of the members to look at who is in charge of King, either the Veterans Administration or the Department of Health and Human Services," he said.
The remnants of Walter Sundling's war story — his uniform, POW medal and his prisoner photo taken by the Nazis — cover his daughter's kitchen table in Milwaukee.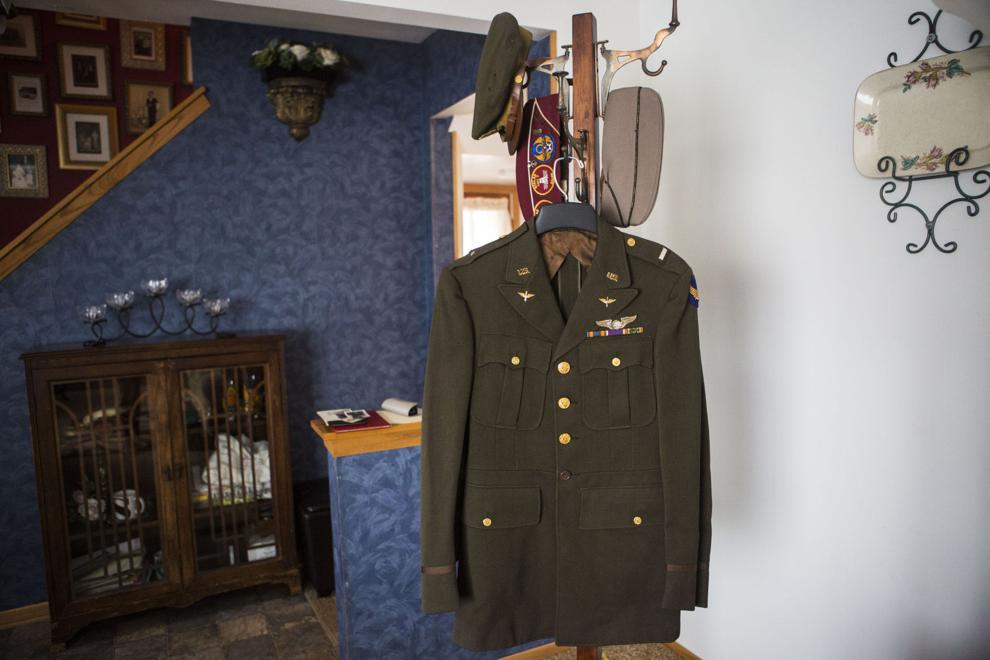 It took him years to talk about what happened during the war, Sharon Blando said, to describe how he was slammed into the nose of his plane after several explosions, parachuted out and was picked up by the Nazis on the ground. He was put in solitary confinement, shuffled between POW camps in trains and on foot, a gun to his back.
It was a military experience that powerfully bonded him to others who had one, too.
Though they served at different times, in different places, fighting against different people, veterans at King said that connection is the community's greatest strength. It's what brought Sundling there, and it's what keeps veterans coming.
---
Editor's note: This story has been updated to reflect the WDVA's response to descriptions of common over-medication of residents and the origin of the name of the Wisconsin Veterans Home at King.
The tub room photo has been updated to show that it was taken in 2013. An employee said the stain has been removed.
Share your opinion on this topic by sending a letter to the editor to tctvoice@madison.com. Include your full name, hometown and phone number. Your name and town will be published. The phone number is for verification purposes only. Please keep your letter to 250 words or less.