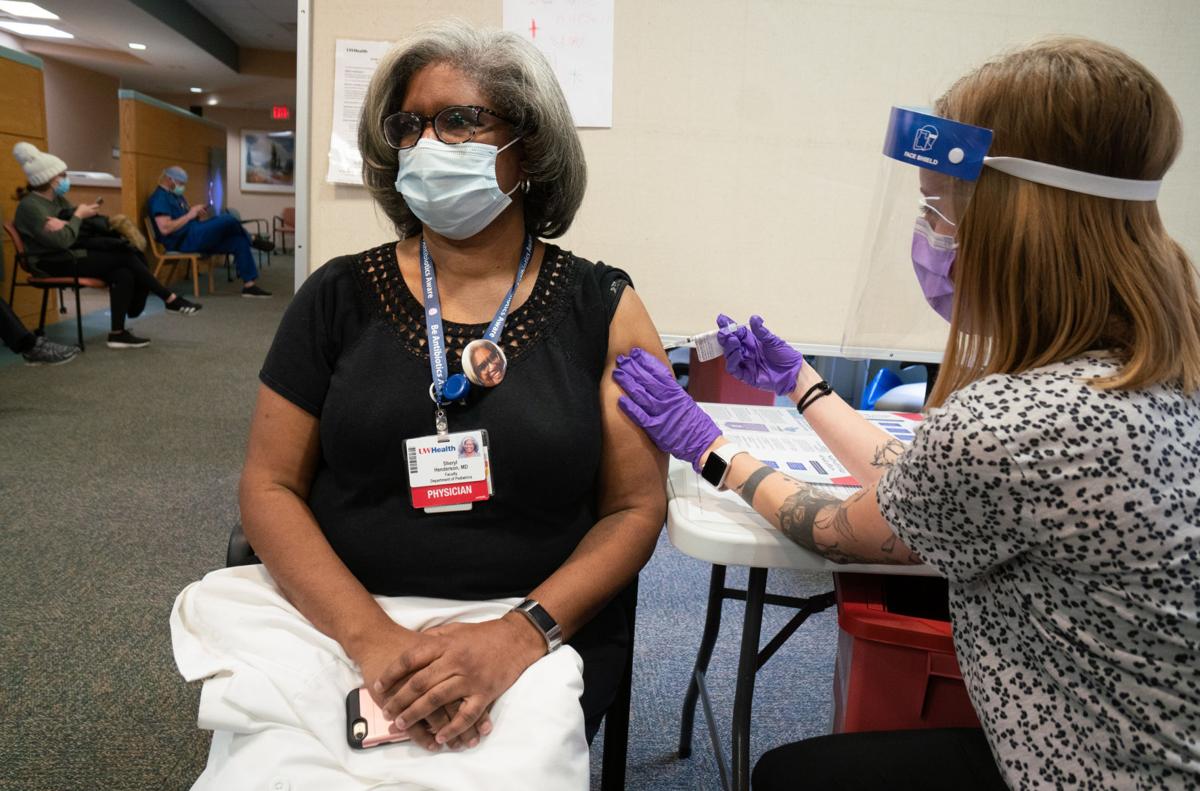 Wisconsin officials next week will review a proposal to make a third of the state, and nearly half of Wisconsin's adult population, eligible for COVID-19 vaccines.
Children remain ineligible because they were not included in clinical trials for vaccines from Pfizer and Moderna, the only ones currently on the U.S. market. Health officials have said children may be cleared for shots in the second half of 2021.
Along with front-line healthcare workers and nursing home residents and staff, the so-called 1a groups to be vaccinated first, the state has already announced that the next phase, 1b, will include non-medical police and fire personnel and 700,000 Wisconsinites over the age of 65.
A plan submitted to the state Thursday by the State Disaster Medical Advisory Committee adds teachers and daycare workers, public transit workers, utility workers, grocery store and other food chain employees, some adults receiving disability benefits and mink farmers. Department of Health Services officials say they will make a final decision over who to include in the next phase next week.
But the number of people eligible vastly exceeds the supply of vaccines, which are doled out by the federal government. And the numbers of doses allocated to states is disappointingly meager compared to initial projections.
In mid-February, the state plans to roll out a website that will let people know about community vaccination sites, similar to one available for COVID-19 testing sites. For those seeking vaccinations from their health provider, officials say checking provider websites for information is probably the best strategy for the time being as some providers are already dealing with an avalanche of calls.
In coming weeks, the state expects only about 70,000 doses a week. So even if all 1.6 million people are made eligible, when they will receive their shots, and what they have to do to get them, is still an open question.
Here's a rundown of what some eligible groups can expect:
The approximately 700,000 Wisconsin residents over 65, who can start requesting shots on Monday, constitute the single largest segment of the eligible population. But they also include a larger proportion of people who lack access to computers or are ill-equipped to navigate vaccinators' websites for information about how to get vaccinated. So many will have to call their providers for information.
Even if all the 70,000 weekly doses allocated to the state went to the state's elderly population, it would take 10 weeks for each of them could receive a first shot, and then the clock is ticking for the final shot of the two-shot series — three weeks for the Pfizer vaccine and four weeks for the vaccine from Moderna.
Health officials say that those calling their doctor's office expecting immediate vaccinations are likely to be disappointed.
"We encourage them to wait a week or two and call again," said Julie Willems Van Dijk, deputy secretary for the state Department of Health Services. "I think they may very well get a different response as our vaccinators get ready to fully vaccinate this group."
Part of the holdup is that the doctor's offices, pharmacies, public health departments and others doing the vaccinating had not requested vaccines, in part because they are not vaccinating the health care workers and nursing home residents that are currently eligible. With the announcement that seniors are eligible, those doing the vaccinations are now requesting vaccine. Willems Van Dijk said vaccine requests this week have doubled over last week.
"It's going to take time, and they need to be patient," she said.
Teachers and daycare providers
Nearly everyone agrees that getting kids back in the classroom is one of the state's highest priorities, but many teachers balk at the thought of putting their safety or the safety of their families at risk.
So the state's 142,000 teachers and daycare providers were placed in the 1b category as part of the effort to open schools before the fall, if not sooner.
Teachers and childcare workers will have several options, depending on their school district. In some areas of the state, community clinics could be set up specifically for educators. Willems Van Dijk said the state is working with pharmacy chains to potentially go to school districts and have a "vaccination day" during which the entire faculty and staff in the district can be vaccinated.
She said health systems and public health agencies also are working with school districts to hold community clinics for educators, possibly on-site. School staff can also arrange for vaccinations through their health care providers.
Assisted living facilities
Willems Van Dijk said the federal program to vaccinate nursing home residents and staff is "about 95% through the first dose" and should be finished with the initial dose by the end of the week. Vaccinations at assisted living facilities, scheduled to begin next week, has already started at 52 of the state's roughly 4,000 facilities.
But she said the state is behind other states in the effort because Wisconsin has more assisted living facilities than some other states, and starting the program required that the state save half the 140,000 doses needed.
"It took us a number of weeks to save up those doses as we were also distributing to our health care providers," she said.
While Republican proposals include mandating the state to open vaccination to the general public by March 15, health officials say that mass vaccinations are likely months off and could come as late as summer. That's because there is just not enough vaccine to go around.
As manufacturers ramp up production, and with more vaccines expected to be approved, officials hope to have a clearer picture in coming weeks of when mass vaccination can take place.
"Holding big community mass vaccination clinics is probably not going to happen until we have more vaccine," Willems Van Dijk said. "We'll be ready for that when more vaccine comes flowing into the state."
That said, some people who are not in an eligible category may stumble onto the opportunity to get a shot as vaccinators try to use left-over doses at the end of the day. Once a vaccinator has opened a vial and reconstituted it, they can't put it back in the refrigerator or freezer, so unused doses have to be used. Some health systems have started waiting lists of people who have said they want to be vaccinated, and some providers are working with each other to coordinate the use of leftovers, Willems Van Dijk said.
But in some cases, those giving the shots just have to wing it. 
"What we have asked our vaccinators to do is find someone who wants the vaccine and get it in their arm," she said. "Preferably someone who's in one of the eligible groups, but if that is not possible look around and find someone who wants to receive vaccine."