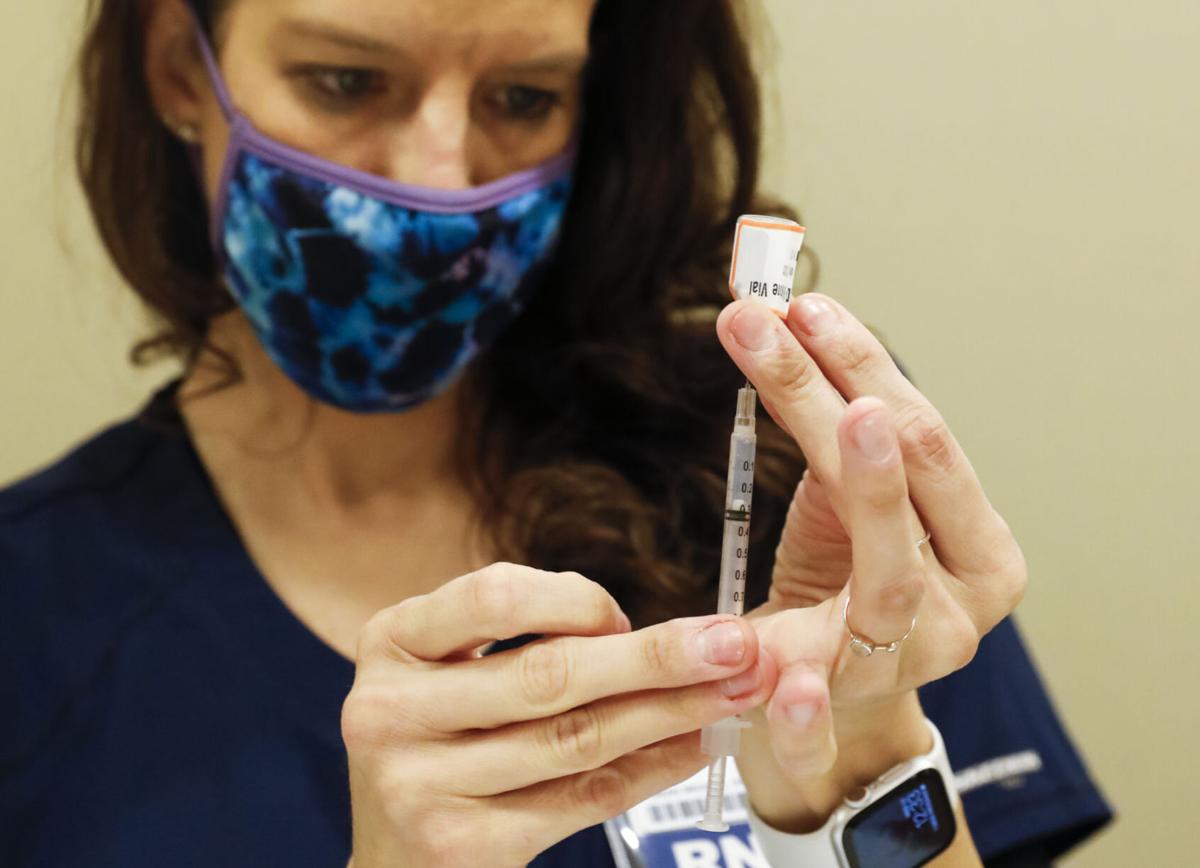 Opening eligibility to senior citizens last week has sparked a huge demand in Wisconsin for COVID-19 vaccinations, but meager supplies continue to plague the state's vaccine rollout.
More than 200,000 Wisconsinites received a COVID-19 vaccination last week, bringing the total who have received a first dose to more than 578,000, about 10% of the state's population. Nearly 108,000 have received the second dose of the two-shot vaccination series.
But the numbers last week aren't likely to be sustained as the state has been receiving about 70,000 doses per week from the federal government, with only a slight increase in the allotment for the next few weeks.
An official with the state Department of Health Services said Tuesday that last week's spike in vaccinations was possible because of extra doses of the Pfizer vaccine in state "hubs," which are facilities equipped with freezers capable of meeting its ultra-cold storage requirements.
More extra doses were borrowed from the state's program for vaccinating nursing home residents. And still more had been allocated to the state previously but weren't ordered previously because of low demand in the early weeks of the vaccine rollout.
Still, the state's roughly 1,300 vaccinators requested 300,000 doses last week, signaling increased demand. But there is only enough vaccine to fill about a quarter of those orders.
"On Friday, when we sent out the allocations to our vaccinators, probably almost no one was happy," said Julie Willems Van Dijk, deputy secretary of the state Department of Health Services.
People over 65, the demographic most prone to severe illness and death from the coronavirus, were cleared to receive vaccinations last week, joining frontline healthcare workers and nursing home residents and staff who were in the first phase of the rollout that began on Dec. 15.
But the sheer numbers of those senior citizens, 700,000, means that many won't get vaccinated for some time.
"If you only have 27% of what you need to give people, people are going to be deeply disappointed," Willems Van Dijk said. "Our vaccinators want to get vaccine into the arms of people who desperately want it. It is a challenging balancing act."
While Moderna, the second company that has a vaccine on the market, has upped its weekly supply by about 1,200 doses, further increases are unlikely for the next three weeks, Willems Van Dijk said.
State officials have taken a pummeling over the sluggish vaccination effort, in part because data from the Center's for Disease Control and Prevention have been posting data showing Wisconsin lagging behind other states in rates of people vaccinated. Willems Van Dijk said that those numbers, used by Republican lawmakers as a cudgel to attack the administration of Democratic Gov. Tony Evers, don't accurately reflect the state's progress in relation to other states.
"Ever since the CDC started publishing vaccination data by state, the Wisconsin data reported by CDC has lagged behind our own data," she said.
That's in part due to the way the state records doses going to the federal partnership with pharmacies to vaccinate residents at long-term care facilities.
For example, she said, on Tuesday the CDC reported that the state has administered 513,385 doses, for a rate of 8,817 doses per 100,000 people. The state, however, reported on the same day that 578,335 doses had been  administered, for a rate of 9,971 per 100,000 people.
"We have been working with the CDC to increase the accuracy of their data reporting, and the discrepancies that we have collectively identified will be addressed both retroactively and going forward," she said.
She said the changes should be reflected in the CDC's data within the next week.
With growing anticipation for the vaccine, and rising hopes for an end to the pandemic, comes growing criticism of disparities in who gets it. Small-scale vaccinators — particularly in the state's rural regions and economically challenged areas with large percentages of minorities — are being put on hold because the Moderna vaccine, which is more transportable than the Pfizer version, comes in packages of 100 doses. So if a pharmacy orders 25 doses, 75 would sit on the shelf, she said.
"In the spirit of getting vaccine as quickly as we can to people, we're saying to people we want you to be able to give 100 doses in a week," she said.
The Pfizer vaccine, she said, can be shipped in smaller quantities, but "we can only make so many deliveries in a week."
Disparities have already emerged, particularly in Milwaukee County, in Black and Hispanic populations that have been disproportionately hard-hit by the pandemic.
The state is working to address those disparities, Willems Van Dijk said. She said health centers administering federal health services, which serve a large proportion of minority residents, were given priority in vaccine distribution.
"One of the things we did this week was make sure that every one of those clinics received their full allotment of vaccine to be sure that we were getting vaccine to providers who specifically serve these populations," she said. "In addition we're also making sure we get vaccine to free clinics."
The state is also working with community groups to reach out to communities of color, she said.