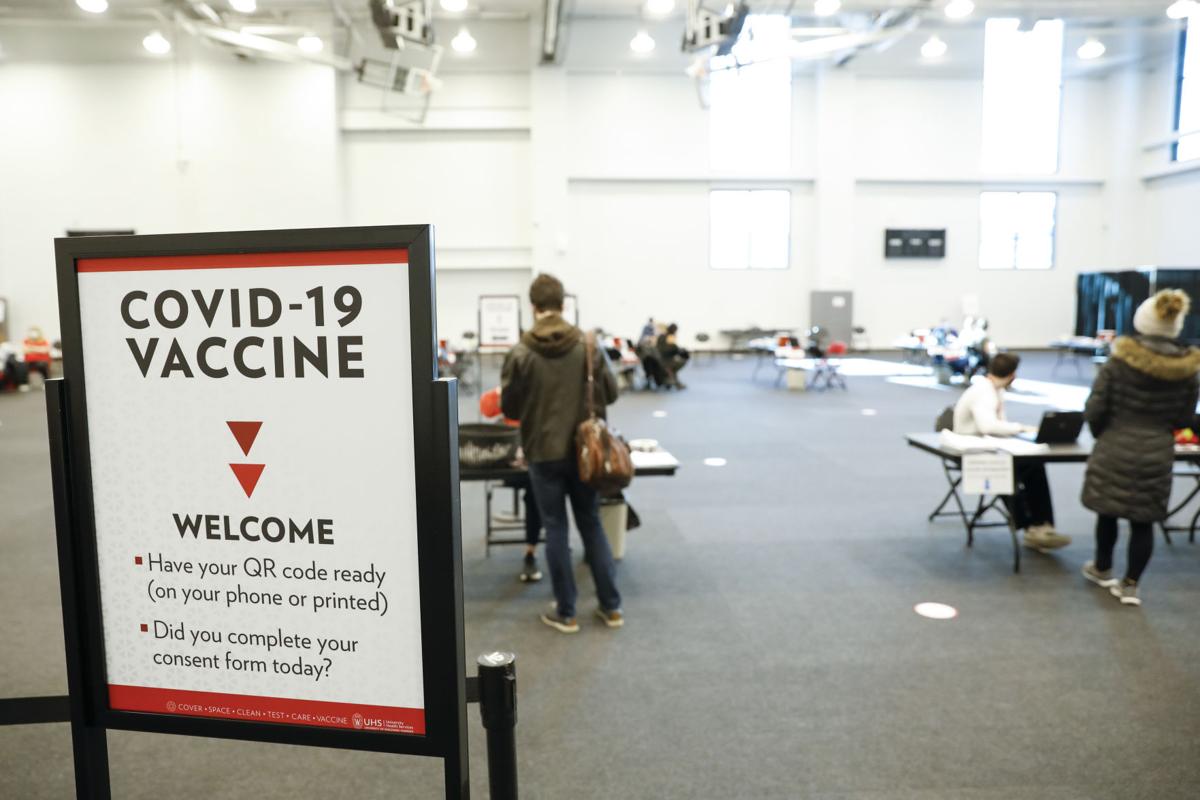 Wisconsin scientists and health officials say the spread of a more deadly and faster spreading mutation of the COVID-19 virus is happening more quickly than the state's capacity to track it as other threatening variants gain footholds in the U.S.  
"At some point we're just going to have to start to realize that old COVID probably isn't going to be around as much," said Jeff Pothof, UW Health's chief quality officer. "As some of these strains are more contagious, they'll become the dominant strains."
The state has reported that five people have been infected by the B117 COVID-19 variant, which was first detected in the U.K. late last year and has become the dominant strain there. 
U.S. officials have said it could become dominant here by the end of March.
Only the first infection in Wisconsin, reported in mid-January, involved a person who had recently traveled internationally. The others were likely infected by community spread. 
"I think B117's out of the gate," said Pothof. "That one's here."
While only five cases of the variant — one of several spreading across the globe — have been detected, they have been spread out geographically, with one in Milwaukee, one in Waukesha County and three in Eau Claire County.
"We are able to sequence only a proportion of positive specimens, which means there are likely many more cases of this variant in our state," said Elizabeth Goodsitt, a state Department of Health Services spokeswoman.
To determine whether someone is infected with the variant, a specialized process known as genetic sequencing has to be done on the virus, and there are only four laboratories in the state capable of performing the test — the State Laboratory of Hygiene in Madison, the city of Milwaukee Health Department, the UW-Madison AIDS Vaccine Research Laboratory and Gundersen Health System in La Crosse. Between them, they can sequence about 600 specimens a week, Goodsitt said, about 11% of cases reported in the past week. But last week, the state's chief medical officer said that less than 1% of COVID-19 cases were being sequenced. 
States surrounding Wisconsin have detected higher numbers of the U.K variant than the Badger State. Michigan has reported 67 cases, Illinois 25, Iowa eight and Minnesota 18.
The Biden administration has announced a $200 million investment in genomic sequencing efforts to monitor the variants, and Wisconsin U.S. Sen. Tammy Baldwin has co-sponsored legislation to bring sequencing capacity to 15% of cases nationwide, up from about 0.3%.
"Variants represent a growing threat to the health and security of our nation, and right now the U.S. is lagging behind other countries in tracking new and emerging variants of this deadly virus," Baldwin said in a press release on Feb. 4 announcing the legislation.
But the spread of B117 threatens to outrun efforts to track it.
"It's going to end up becoming a major player in COVID-19 cases in Wisconsin and nationally," Pothof said.
Health officials have warned that the new variant could undo the progress made in the state since the November surge, when rampant spread pushed case numbers up to nine times what they are today. Scientists estimate that the variant spreads up to 50% faster than the strain that has so far infected nearly 28 million Americans and killed almost half a million.
A British study suggests the variant could boost the COVID-19 death rate by 35%.
So far 1,277 cases of the B117 variant have been reported in 42 states, according to a Centers for Disease Control and Prevention variant tracking site.
The numbers are far lower for other worrisome variants. A South African variant known as B135, which is less susceptible to vaccines, has been reported in 19 instances. And a fast-spreading Brazilian variant, known as P1, has been detected in three COVID-19 infections, two of them in Minnesota. Scientists worry that both variants could evade natural immunity from COVID-19 infections and set off another deadly wave.
Pothof said the B117 variant appears to be susceptible to natural immunity, which may protect infected people for about six months. But it is the most immediate threat because of the rate of transmission that has already occurred.
And while vaccine distribution is inching up, and the Biden administration has announced larger shipments to states in coming weeks, a supply sufficient to vaccinate most Americans is still months away.
"It's this epic battle between the vaccines and the spread of the variant that will determine whether it actually has an impact clinically: more cases, more people in the hospital." Pothof said. "I don't think that question's answered yet."