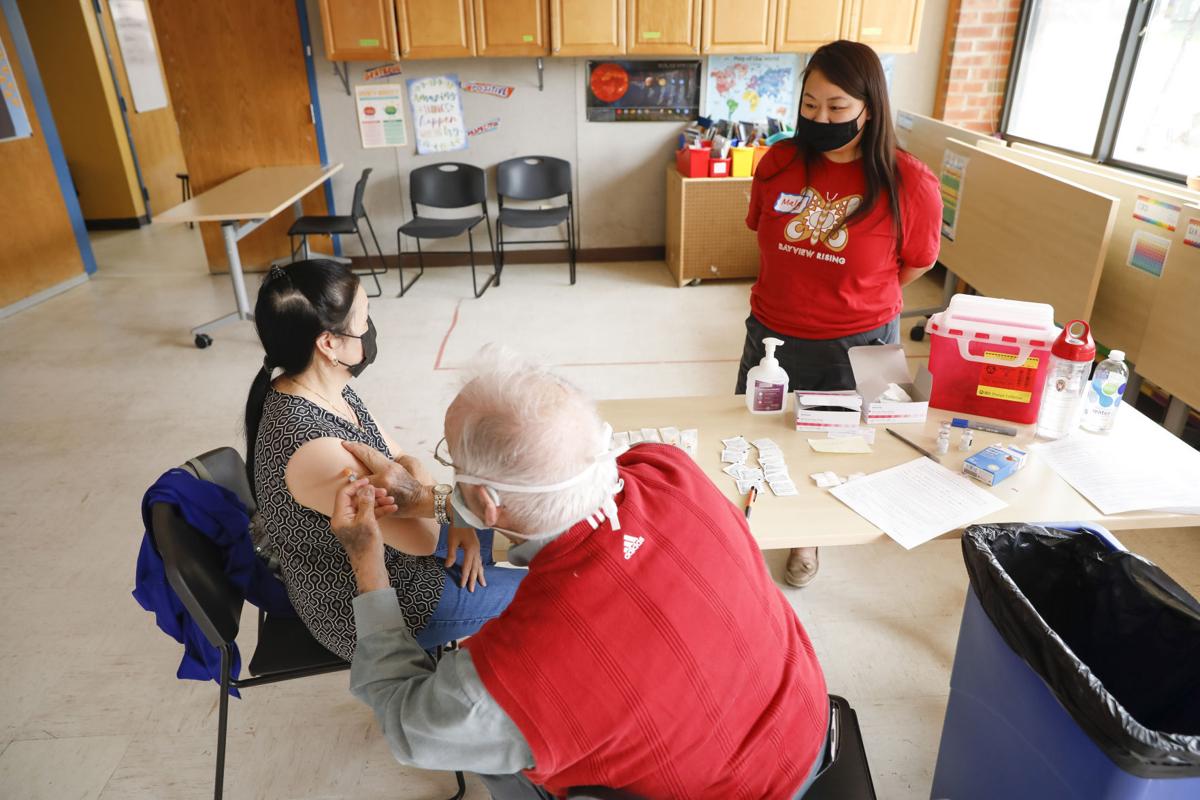 Sharon Wade was wondering how she was going to get a COVID-19 vaccine. The frail 79-year-old Black resident of the low-income Bayview Townhouses in Madison's Greenbush neighborhood has been eligible for two months, but she doesn't drive, and the thought of trying to seek out a vaccine was daunting.
Then she got a flyer from Bayview on her door offering a vaccine. All she had to do was walk a few doors down to the complex's community center.
"This way I don't have to take a cab and go nowhere," she said on Wednesday, a few minutes after getting the first of a two-shot Moderna vaccination series.
Wade was one of 40 Bayview residents who got their first round of shots Wednesday. Many are from racial and ethnic groups that have been disproportionately hit by the pandemic, and who are also disproportionately likely to have trouble lining up a vaccine because of unfamiliarity with computers and the health system.
"We went door to door and asked people if they would like the vaccine," said Nate Schorr, program manager at Bayview. "There are a lot of people 65-plus that are getting it today that otherwise would not have been able to get it."
Push into hesitant communities
The vaccine clinic at Bayview is part of a larger effort to make inroads in communities where people are less likely to have access to regular health care, less likely to have internet access and more likely to be vaccine hesitant. Some are refugees or immigrants with limited English skills, and some are wary of going through official channels out of deportation fears. Some are homeless.
Other groups are also reaching out to pockets in the community that may be on the fence, hoping to overcome hesitancy with easy access. On Tuesday Aaron Perry, whose Rebalanced-Life Wellness Association promotes Black men's health, teamed up with Fitchburg Family Pharmacy and nursing students at Edgewood College to organize a vaccination clinic at JP Hair Design, a popular Black barbershop. 
The clinic at Bayview was conducted by Benevolent Specialist Project Free Clinic, a Middleton-based nonprofit that provides health care to uninsured and low-income patients.
"Our overarching mission is to fill the gaps where the healthcare system doesn't meet the needs of certain vulnerable groups in our community," said Chris Mullen, project manager at Benevolent Specialist. 
Mullen said the group applied with the state to vaccinate its 65-plus clients, and then set up a mobile clinic to visit day shelters for the homeless, transitional housing, ethnic organizations and other groups.
'Word of mouth is huge'
Delivering the shots are a rotating cast of about 25 volunteer doctors and nurses, mostly retired, who provide care at the organization's clinic.
So far Benevolent Specialist has organized clinics at the Urban League, the Hmong Institute, Allied Wellness, the Boys & Girls Club, the Beacon homeless day shelter, Bethel Lutheran Church, the Salvation Army, various motels used for temporary housing, the Jesse Crawford Recovery Center, the Owl Creek and Truax neighborhoods and Occupy Madison.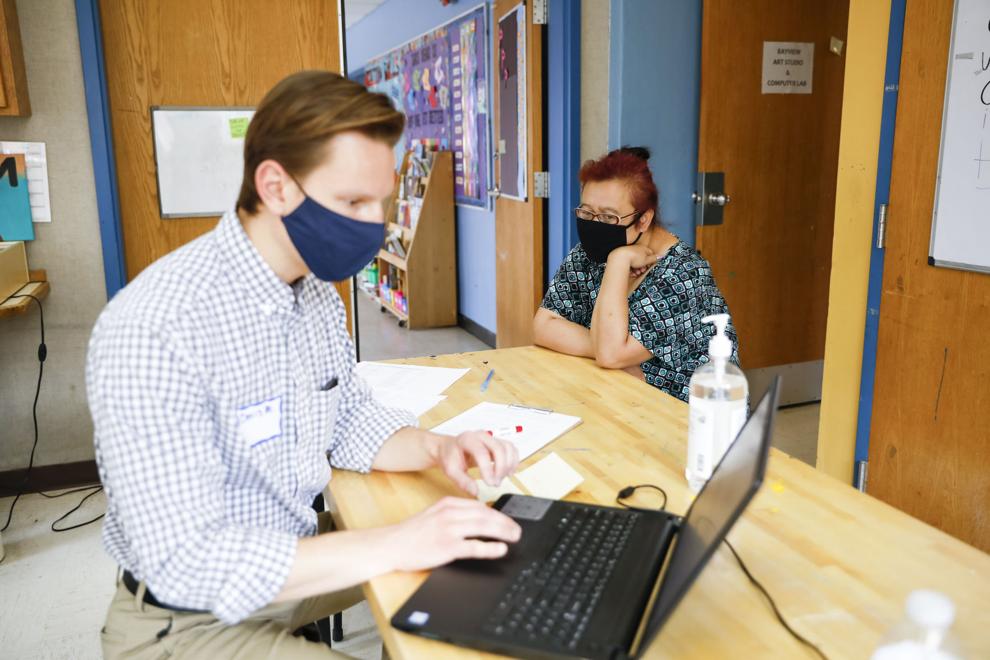 Mullen has also organized events with the African American Council of Churches, getting vaccines lined up for seniors with insufficient computer literacy to navigate online vaccine scheduling systems.
"There was no one directly reaching out to these people," he said.
He said some of the vaccine hesitancy that's been associated with communities of color is crumbling with the efforts of groups like Bayview, who have trusted staff reaching out to residents to offer shots.
"Word of mouth is huge," Mullen said. "It's something to combat vaccine hesitancy. We have to go out into the community. I have to sit by a person that they trust to get people in the door."
He said the group started with about 100 shots per week, but with more supply expected and more networking with public health staff and community leaders, he expects that number to more than double in coming weeks.
Benevolent Specialist has given out about 1,000 doses of vaccine so far, but the group is hoping for more doses from the state in the future. And because it's only gotten the Moderna vaccine, the group has vaccinated only 500 people.
'Get it over and done with'
The two-shot regimen has come with logistical issues. Scheduling a second shot can pose problems, especially with a transient population. Mullen said he tries to schedule the second dose at homeless shelters for when people are expected to show up anyway, to pick up mail or eat lunch.
But for a variety of reasons, about 20% to 30% didn't make their second-shot appointment. So he's "begging and pleading" with the state for a supply of one-shot Johnson & Johnson vaccine.
Benevolent Specialists capped the number of shots on Wednesday at 40. That about doubles the number of residents at the community of about 200 adults and 100 children that have been vaccinated, said Schorr, Bayview's program manager.
He thinks he could have found a lot more takers because people are becoming less hesitant as more neighbors get a shot.
"Seeing it at an institution they can trust, a place they know they can trust, and seeing their neighbors get it is part of bridging that gap," he said.
Maria Gonzales was one of the hesitant ones. But the 51-year-old Bayview resident signed up with her two adult daughters to get a shot on Wednesday.
She said she felt it was "too soon" after the approval of the vaccine to make an informed choice, and she decided to wait and see how others fared. Also, she doesn't drive, so getting to a vaccine site would have been an inconvenience.
"I was going to wait longer," she said.
But when she got the notice from Bayview, she changed her mind.
"Might as well get it over and done with," she said.