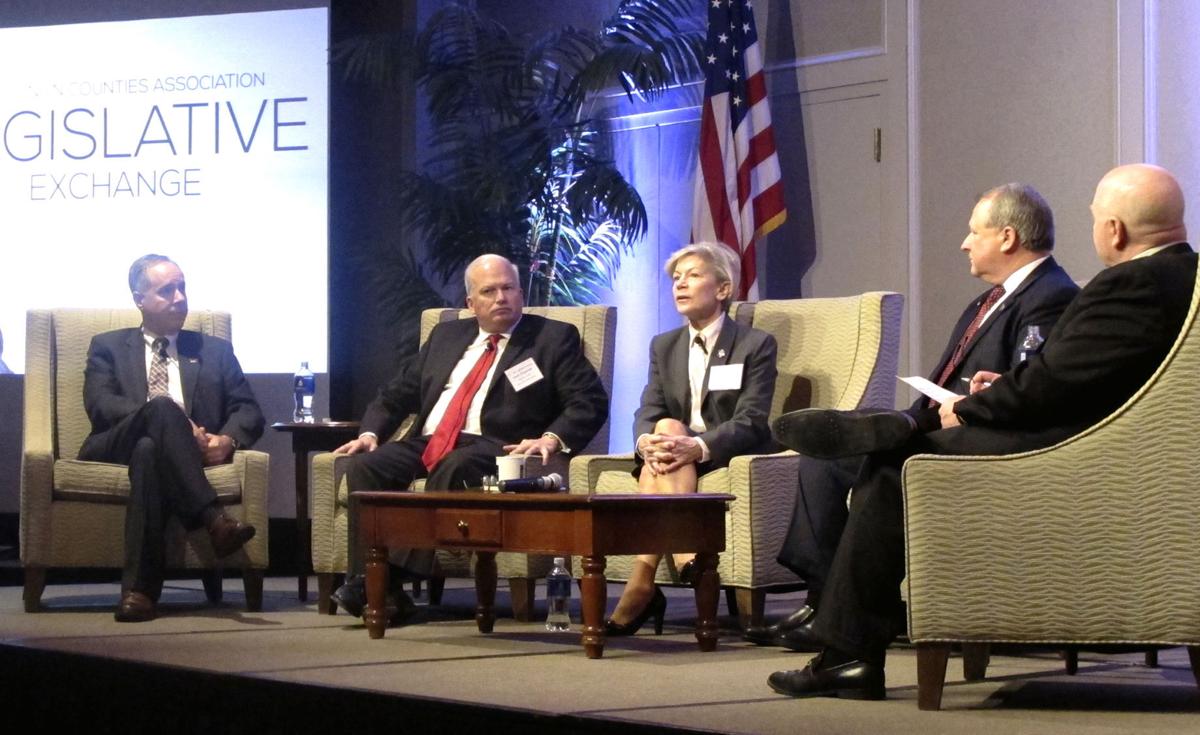 The state's biggest county is putting off a decision on whether to continue its membership in a statewide lobbying association, a group Dane County already left over concerns that it did not represent its interests. 
On Thursday, the Milwaukee County Board of Supervisors voted 15 to 1 to defer a decision on paying its membership dues to the Wisconsin Counties Association until after the county's legal counsel conducts a review. 
The vote came after county leaders notified the WCA in December that it would hold $35,835 in membership dues in a contingency account until the organization met eight conditions. 
"I've been in communication with leadership at WCA, and I'm very pleased that they are hearing our calls of concern and are willing to work with us," said Board Chair Marcelia Nicholson. 
But other supervisors argued the WCA does not advocate for Milwaukee County's best interests and that recent overtures from the association are a result of withholding dues.  
Supervisor Ryan Clancey, District 4, said he wants to make sure WCA is receptive to Milwaukee's concerns year round and not just when the county threatens to rescind its membership. 
The board will reconsider the measure to rejoin the WCA Feb. 24.
Up until Dane County left the group in December, the WCA represented officials in all 72 counties in Wisconsin. Milwaukee County was no longer a member of the WCA as of Jan. 1. The membership organization provides services to counties, such as lobbying, insurance programs and consulting services.  
In the Dec. 18 letter sent to the WCA, Supervisor Joseph Czarnezki, District 11, and Milwaukee County Clerk George Christenson outlined concerns over "real or perceived" conflicts of interests between counties and the association, transparency over the organization's finances, and racial equity and diversity within the WCA. 
"They have lobbied in favor of things that have not been in the best interest of counties,' Czarnezki said ahead of Thursday's meeting. "If you have 72 counties, you're not going to get everybody to agree, but when it comes to serious legislative issues, it's disheartening when they are lobbying in favor of things that are not in our best interests."    
On financial transparency, Czarnezki said Milwaukee County Board members who are on the WCA's executive board don't have access to the association's full budget. 
Responding the same day, WCA Board of Directors chairman Lance Pliml urged Milwaukee County to remain a member, arguing that "we are stronger as counties when we speak together." Pliml also said WCA staff and leaders, including himself, cannot address Milwaukee County's conditions alone and that they would require action by the organization's board of directors or changes made at the annual meeting in September.  
"We all strive to make our respective counties and association better," Pliml said in the letter. "I believe WCA is a better association with Milwaukee County's membership."  
Since then, Christenson said he has received a commitment from WCA that the association will keep him in the loop on election-related issues, describing the situation as a "work in progress."  
Also, the WCA launched a four-part webinar series this month addressing diversity, equity and inclusion with future plans to survey counties on the state of their own efforts in these areas with the goal of identifying training needs. 
"This is by no means the only work we will be doing as an association on this issue, but it is our starting point," said Sarah Diedrick-Kasdorf, WCA deputy director of government affairs. 
The WCA was not present at the board's meeting. Executive Director Mark O'Connell and Pliml did not immediately respond to requests for comment. 
In Dane County, the Board of Supervisors pulled its membership to the WCA during the 2021 budget process in the fall by not including an estimated $42,000 in dues. Board Chair Analiese Eicher said the WCA did not urge Dane County to remain a member. 
Eicher said for years some supervisors insisted Dane County should not be a member while others felt belonging to the WCA had value and that the county could change the organization from within, a view shared by Milwaukee County Board Supervisor Willie Johnson, District 13. 
"We do have a unique set of challenges and differences, and I'm sure WCA is great if you are a small county, but for us, there's just been in 2020 and previously a number of instances where it hasn't worked for us," Eicher said.  
Dane County Clerk Scott McDonell was on the WCA board on and off over the past 20 years, both as chair of the Dane County Board of Supervisors and as a clerk. He said he used to advocate for remaining in the group.
"I thought it was important for us to be at the table to make sure the organization didn't skew one direction too far," McDonell said. "Things have just shifted over the last few years." 
McDonell highlighted when the WCA aligned with the Republican Party and filed an amicus brief asking the Supreme Court not to move the April 2020 election, which came as the coronavirus pandemic began to take hold in the state. Wisconsin was the only state not to move its primary election, and counties including Milwaukee and Green Bay faced long long lines and few polling locations. 
Also, he said WCA did not support Dane County in disputes with Enbridge Energy, which is an associate member of WCA, over carrying additional insurance for a pipeline project in Dane County.   
Some say it would be beneficial to have a separate association to represent larger counties with interests that differ from smaller ones, like regional transit authorities. Czarnezki proposed such an entity in 1991 as a member of the Wisconsin State Senate. 
"Whether we are a member of the WCA or not, I think an urban counties association is a good thing even if we decide we want to belong to the WCA," Czarnezki said. 
Share your opinion on this topic by sending a letter to the editor to tctvoice@madison.com. Include your full name, hometown and phone number. Your name and town will be published. The phone number is for verification purposes only. Please keep your letter to 250 words or less.