After years of anemic bike trail funding, a group of lawmakers and bike advocates are looking to kick-start Wisconsin's bike trail initiatives with a "catalytic" project in the southeast corner of the state.
The Route of the Badger would create a more than 700-mile trail system by connecting a patchwork of existing trails in seven counties in and around Milwaukee. Backers say the project would enhance recreational opportunities, promote healthy lifestyles, boost commuter biking and inject millions of tourism dollars into local economies.
The legislative side of the effort is being led by Rep. Evan Goyke, D-Milwaukee, who said his district is sorely lacking in bike infrastructure.
"It is a dream of a number of my constituents that we expand access to outdoor recreation and develop more connectivity on our trails," he said.
Wisconsin, once the nation's leader in creating bike trails, has been surpassed by neighboring Minnesota and Michigan.
"Up to 2006, we were the trail leader in the nation, and Minnesota and Michigan were close behind," said Dave Schlabowske, recently retired director of the Wisconsin Bike Fed. "Around 2006 or so those states passed us by because they made more investments in trails than we have."
While Wisconsin remains third in the nation in the number of bike trails, Schlabowske said, Pennsylvania is poised to surpass the Badger State, and other states, like Ohio, "are really doubling down on their trail investments."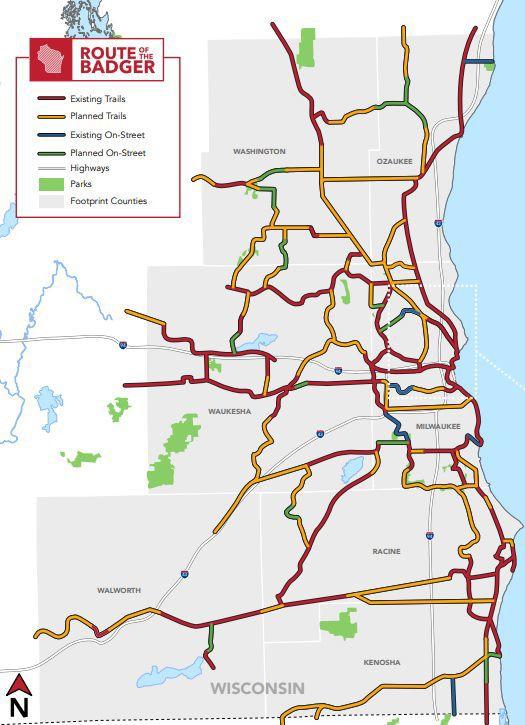 Under former Republican Gov. Scott Walker, support for state biking initiatives were tinged with partisanship. Over his two terms, Walker and GOP lawmakers eliminated transportation funding for local bike paths, diverted federal dollars for bike projects, repealed the state's "complete streets" initiative and took away local governments' right to use eminent domain to create bike paths and sidewalks.
In his first budget since taking office this year, Democratic Gov. Tony Evers proposed reversing the ban on eminent domain, but Republican lawmakers rejected that move.
Still, bike advocates hope for a more bipartisan approach to bike infrastructure at the Capitol.
The Route of the Badger includes both Goyke's Democratic district and conservative suburban Milwaukee counties that were a reliable base of support for Walker.
But Goyke said he sees bike infrastructure as a "purple issue," one that can — and has in other states — drawn enthusiastic bipartisan support.
"Regardless of whose fault that is, we've got to get back to a place of promise," he said after a state Capitol briefing Wednesday on the Badger initiative and the general state of bike infrastructure in the state.
Goyke hopes to form a Wisconsin Legislative Trails Caucus, based on a successful Ohio model, that would bring together lawmakers from both parties to enhance the state's bike network. In Ohio the caucus comprises more than a third of the state's lawmakers and works with a coalition of health officials, business owners, land trusts and others to build and maintain the trail system. The state even passed a constitutional amendment to authorize a bond program to fund bike trails, green space and farmland preservation.
"In two years, the caucus has grown to be a pretty awesome force in the Legislature," said Brian Housh, the Midwest policy manager for the Rails-to-Trails Conservancy.
Ohio is launching an effort to gain support from local jurisdictions that includes an economic impact study to make their case. And the state has cut through jurisdictional boundaries by creating a working group from state transportation, natural resources, tourism, health agencies that focuses on trail issues.
"All of this has been motivated by legislators getting together, recognizing that trails are important to their constituents and then working with the stakeholders," Housh said.
The Rails-to-Trails Conservancy is also backing efforts to bring the caucus model to other states, including Minnesota, Indiana and New York, he said.
The Route of the Badger is one of eight Rails-to-Trails projects across the nation. In addition, the group has launched an ambitious effort to build a continuous trail that would cover 3,700 miles from Washington, D.C., to Washington state, dubbed the Great American Rail-Trail.
Willie Karidis, Route of the Badger project manager, said one of the challenges will be getting buy-in from stakeholders like local officials and property owners. He said the seven-county metropolitan planning organization, SEWRPC, has signed onto the project as a partner. And partnerships are forming to overcome the obstacles that come with nearly every one of the proposed links.
"Every one of the trail sections has its own story," he said. "Each one has its own challenges."
On Tuesday, Karidis said, We Energies announced a free easement for an 11-mile corridor.
He said he expects the Route of the Badger project provides a blueprint for the rest of the state.
"Southeast Wisconsin is where we start," Karidis said. "But this model should be expanded beyond just these seven counties. You have to start somewhere."
Aside from the obvious recreational and health benefits of offering new opportunities for biking, advocates say the state's biking network — as well has the state's hiking, skiing and snowmobile trails — holds the promise of huge economic gains.
According to state estimates, Wisconsin's outdoor recreation generates nearly $18 billion in consumer spending each year and generates 168,000 jobs. According to the American Association of State Highway and Transportation Officials, every $1 million spent on greenways, sidewalks and bicycle facilities creates 17 jobs.
Schlabowske said he's seen an economic renaissance in northern Wisconsin areas like Vilas County, areas where tourist attractions were once sparse, but where a network of picturesque bike trails has attracted tourism dollars.
"Since they've build those trails — gastro pubs and coffee shops," he said. "Boulder Junction and all the communities around there have really benefited from those trails."
As an example, he pointed to the Chequamegon bike festival in Hayward last weekend that brought more than 3,000 mountain bikers to northern Wisconsin. He said he spent about $350 over the weekend, and expects that most of the other cyclists, as well as spectators, spent similar amounts, which likely means over $1 million for local businesses in the small town of Hayward and Cable.
"That's a pretty good chunk of change that those trails up there generated for the communities," he said.