Michael Dix, the owner of Michael's Frozen Custard will close the popular Monroe Street location Sept. 9 while his husband appeals the denial of a visa that would allow him to legally reside in the United States.
Dix, who owns three custard locations in Madison, said in a statement that he is forced to close the 2531 Monroe St. shop due to financial and personal hardship while his husband, Sergio De La O Hernandez, remains in his home country of Mexico.
"It is with a heavy heart that I will be closing the Monroe Street location — the first Michael's location — on September 9th to prevent additional losses to our business," Dix said in the statement. "My separation from Sergio has been extremely painful for both of us and has been disastrous for my business."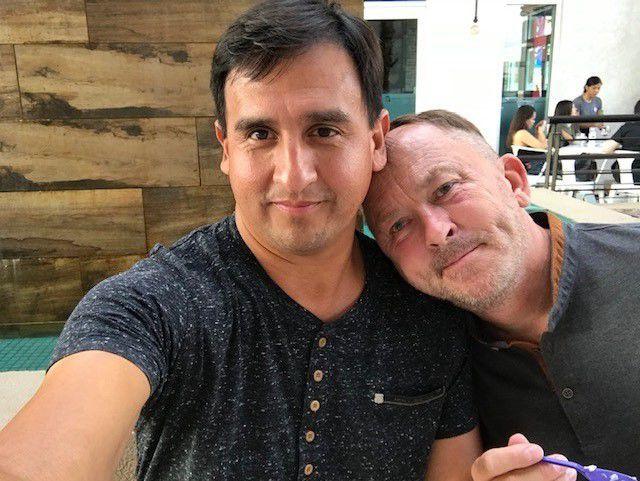 De La O Hernandez, who is undocumented, married Dix in 2015. Their marriage allowed Dix to petition for De La O Hernandez to gain a visa that would allow him to stay in the United States legally.
Jessica Slind, an attorney representing the couple, said De La O Hernandez is required to legally complete the petition process by leaving the country and applying at a consulate or an embassy in his home country.
De La O Hernandez has been in Mexico since Aug. 2018 when he left to complete the visa interview process with the U.S. embassy in Mexico. During the interview, De La O Hernandez learned he was not eligible for a visa because he needed to submit a waiver with U.S. Citizenship and Immigration Services to "forgive" the years he spent in the country without authorization.
To obtain the waiver, the couple has to show that De La O Hernandez's absence causes "extreme hardship" for Dix.
Slind said they were able to show that De La O Hernandez's absence caused economic hardship by being away from the custard stores where he managed daily operations and exacerbated the mental and physical health challenges that Dix faces.
According to data shared by the business' accountant, sales declined by 24% in the first five months of 2019 compared to last year, Slind said. 
"We had a wealth of material to demonstrate that he meets the hardship," Slind said.
However, USCIS denied the waiver Aug. 14. Slind said the agency did not consider the "totality of the experiences" — a requirement of the review.
"We didn't feel that they took into full evaluation of the hardship that we had explained," Slind said. "They seemed to just focus on the financial aspect."
Next, Slind said they plan to appeal the decision to the U.S. Citizenship and Immigration Services' Administration Appeal Office. Slind said that a first analysis occurs, ideally in the first six to eight months, but the complete process can take much longer.
"We're hoping to get a fair, proper review of his case because it's more than deserving of an approval," Slind said. "They more than meet the standard."
Meanwhile, Dix and De La O Hernandez are currently in Mexico evaluating their options.
Dix opened his first custard shop on Aug. 22, 1986. He later launched storefronts at 3826 Atwood Ave. and 5602 Schroeder Rd. Over 30 years after opening the first location, Slind said it is "unfathomable" that the future of the stores are in jeopardy.
"They're really heartbroken," Slind said.