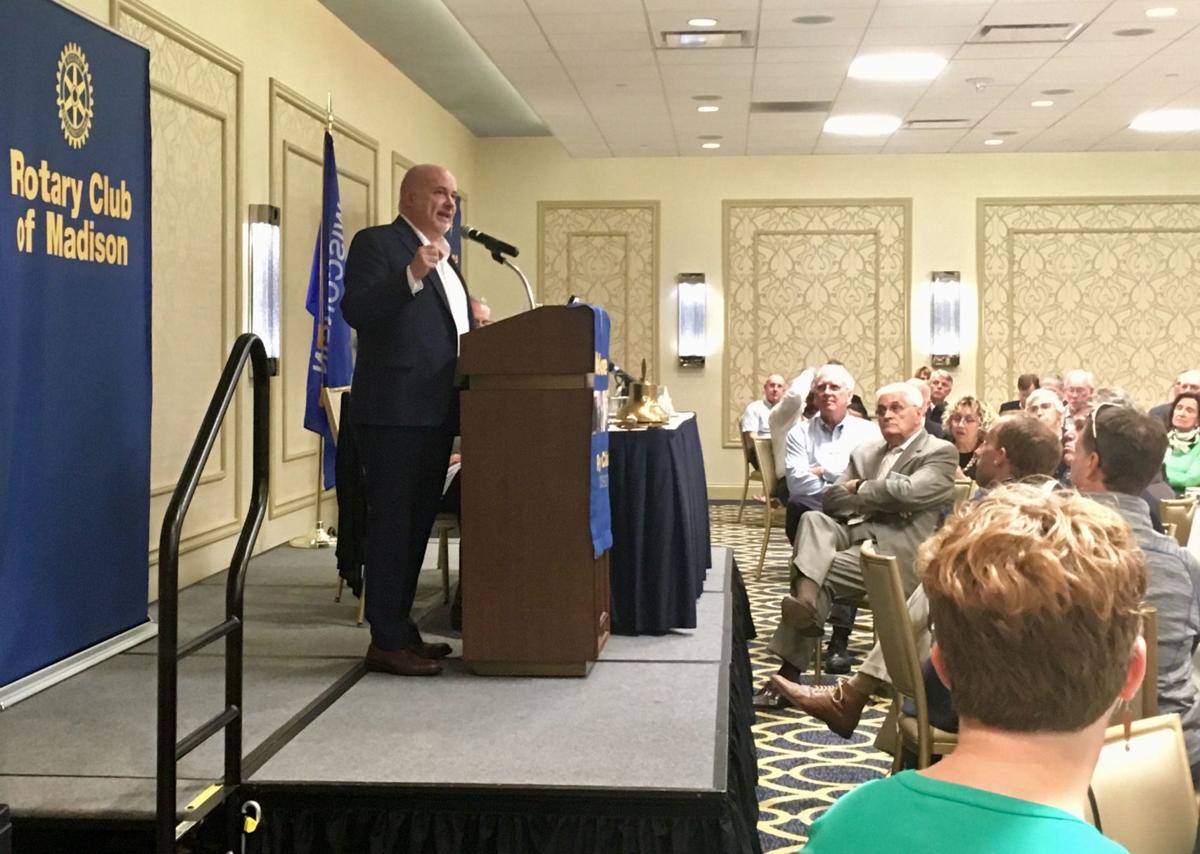 U.S. Rep. Mark Pocan said Wednesday he's hopeful Congress will tackle issues surrounding gun safety, prescription drug pricing and infrastructure when members return this fall. 
Those areas, the Madison-area Democrat told attendees at a Madison Rotary Club luncheon, are ones that could receive bipartisan support in the Democratic-controlled House and Republican-controlled Senate once members head back to Washington, D.C. after the August recess. 
On possible legislation to tighten background checks, Pocan said the action would be "the first time we've been able to address gun violence prevention in any kind of way at the federal level in recent years."
"What I hope doesn't happen, though, is we have another big shooting. That's what really spurs us," he said. "We should be spurred by many, many, many of the past shootings to get that done."
Pocan also predicted there will be a bill quickly introduced in September surrounding prescription drugs "that will be something big" and could deal with pricing arbitration on a number of drugs. 
Otherwise, he said, Congress could act to increase generic drug competition to help drive down prices. 
He also more broadly weighed in on the issue of health care as a campaign topic in the Democratic presidential primary, where some candidates back the elimination of private health insurance and enrolling people into a government-run program and others support a public option. 
Noting he had attended the most recent debate in Detroit at the end of July, Pocan said he found it "a little silly" to see the candidates sparring over "the specifics of the plan when they need to talk about it as a value."
While the topic would be "one of the major debates of the presidential campaign," Pocan said he didn't want to see Democrats get bogged down in the details.  
"My hope, my wish, is that it will be a debate on the value of 'everyone should have access to health care,' and then let's figure out the details, I think, as we go," he said.  
Pocan weighed in on the upcoming 7th Congressional District special election as well. The northern Wisconsin district, held by U.S. Rep. Sean Duffy, will be vacant after the Wausau Republican resigns next month to spend more time with his family. 
A spokeswoman for Gov. Tony Evers said he'd call a special election to fill the seat, though he won't be able to do so officially until Duffy steps down Sept. 23.
Asked if Pocan thinks the seat is winnable for a Democrat, he noted if the special election general lined up with Wisconsin's April presidential primary, more Democrats could turn out than Republicans, which could put the district in play. He added that some voters may want to send a message "especially in the rural area of the state for being hurt by tariffs," depending on how a candidate runs their campaign. 
"Anything is possible I guess, but probable and possible might be two different things," he said. 
Following Duffy's announcement Monday, a number of possible candidates on both sides of the aisle emerged. For Republicans, Sen. Tom Tiffany, of Minocqua, said he's considering a bid and fellow Sen. Jerry Petrowski, of Marathon, said in a statement Wednesday said he "will be discussing options with my family over the next couple of weeks."
Among Democrats, potential candidates include Rep. Nick Milroy, of South Range, Sen. Janet Bewley, of Mason, and Margaret Engebretson, who ran for the seat last year as a first-time candidate but lost to Duffy.
Share your opinion on this topic by sending a letter to the editor to tctvoice@madison.com. Include your full name, hometown and phone number. Your name and town will be published. The phone number is for verification purposes only. Please keep your letter to 250 words or less.