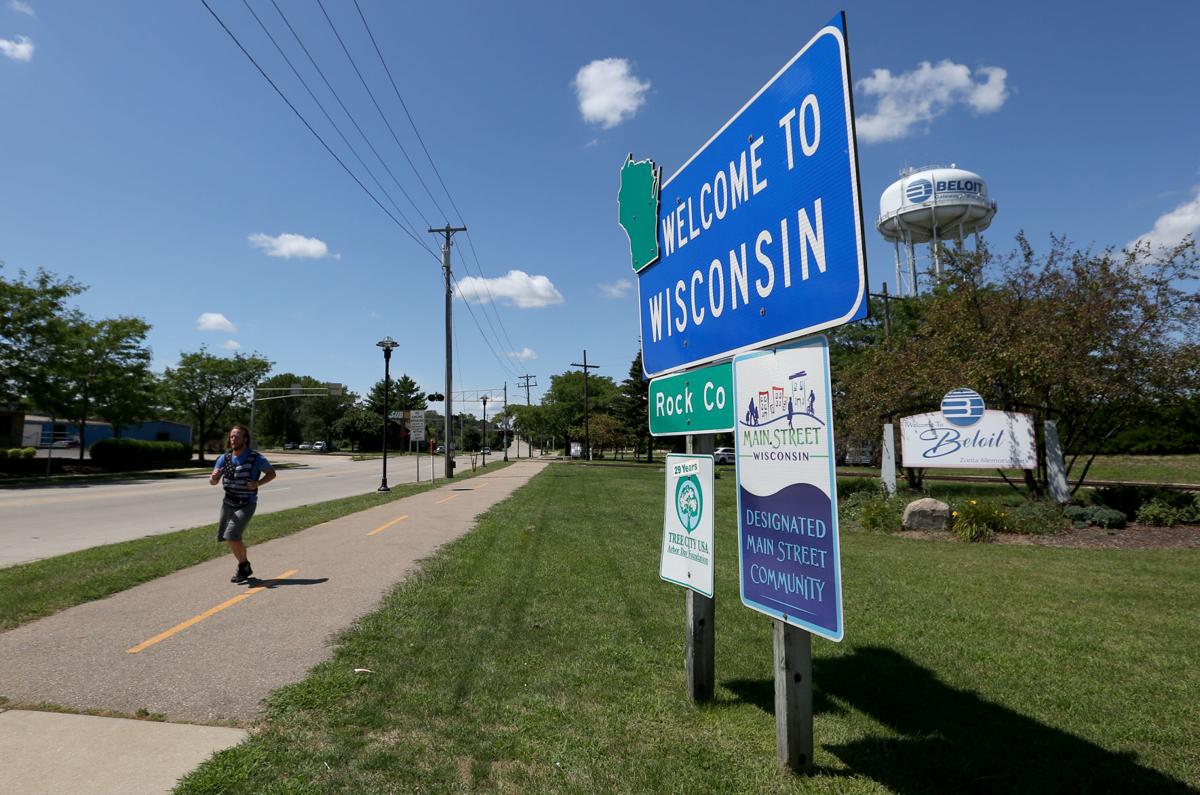 From marijuana legalization laws to investigating sexual assault in the Wisconsin Army National Guard, these were the most read political stories in the Cap Times in 2019: 
For Amy Manganelli, Jan. 1 is shaping up to be a busy day. That's the day her medical marijuana dispensary, Mapleglen Care Center, will begin selling cannabis products to so-called "recreational" users. A one-hour drive from Madison, she expects a lot of her new customers to come from the Badger State.
"We have gotten hundreds of phone calls since May from people saying they're in Wisconsin and will we be open Jan. 1?" she said.
For David Zibolski, the new year will bring a new set of headaches. The chief of the Beloit Police Department, Zibolski is in charge of a jurisdiction located just north of a state line that will mark the difference between legal weed and an illegal narcotic.
Just to his south, the city of South Beloit is poised to become a marijuana mecca for folks in Wisconsin, cutting 25 minutes from the drive time to Rockford, currently the closest locale with dispensaries.
"You're talking Madison here," said South Beloit Mayor Ted Rehl. "Like, 'Oh, my god, Disneyland just moved closer.'"
Marijuana consumers caught on Zibolski's turf shouldn't expect a sympathetic ear.
"I'm not a fan," he said. "I don't think it's good for our kids, our society, our public in general. And the data shows that."
There are plenty who will challenge his data, which include hotly debated statistics on driving fatalities and violent crime. But few dispute his contention that come Legalization Day, a lot of Wisconsinites will be heading for the green, skunky bounty of the Land of Lincoln. 
Megan Plunkett loved wearing her combat uniform when she joined the Wisconsin Army National Guard. It was comfortable, it shielded her from dirt, from bugs, from heat. It connected her to the soldiers with whom she served.
After she was sexually assaulted in it, the uniform made her skin crawl.
"I felt disgusting being in it," she said. "Seeing your assailant wearing something and seeing it on yourself at the same time is a total mindfuck. It represents the men who assaulted me, the men who reprimanded me for it and the bullying I incurred because of it."
Plunkett said she was sexually assaulted by three different men while serving as an officer in the Wisconsin Army National Guard from 2012 through 2018. She reported the assaults to the Guard, which determined that her allegations were "unsubstantiated." Guard investigators acknowledged that there was sex involved, but concluded that Plunkett was always a willing participant.
Her case exemplifies a system that is under growing scrutiny as numerous complaints about a culture of sexual assault and harassment in the Wisconsin National Guard have surfaced in recent months. Gov. Tony Evers and U.S. Sen. Tammy Baldwin have asked the federal government to review the Guard's policies and an investigation is set to start this month.
Wisconsin Gov. Tony Evers on Friday rescinded 82 of former Gov. Scott Walker's appointees who were approved in the controversial December 2018 lame-duck session, after a judge ruled on Thursday that the actions taken during the session were unconstitutional. 
"These seats are now considered vacant, but we are committed to working as quickly as possible to fill them and minimize the disruption to the important work done by these boards, committees and councils," said Evers spokeswoman Melissa Baldauff in an email. 
A Pentecostal church on Madison's east side has concealed allegations of sexual assault among its congregants for over 30 years, and continues to perpetuate a culture of fear and control that fosters abuse, former members say.
The Cap Times interviewed 13 people, four of whom said they were sexually assaulted and manipulated as children attending Calvary Gospel Church. Nine others, including parents, siblings of alleged victims, members who witnessed sexual misbehavior and one pastor who was in leadership at the time of many allegations, corroborate the description of the church's culture, numerous accounts of sexual abuse in the congregation and concealment by its leaders.
The women who say they were assaulted as children — Debbie McNulty, Rachel Capacio, Rachel Huff and Rebecca Martin Byrd, all of whom agreed to publication of their names for this story — say they were groomed at a young age to accept sexual abuse from men in the church as other adults at the time looked the other way.
Their alleged perpetrators, often seen as service-oriented "men of God" in their 20s and 30s, sexually pursued them when they were girls. All of the women were under 18 at the time of the alleged assaults — and one was as young as 11. The Cap Times is not naming the alleged perpetrators because they have not been charged with crimes.
"It basically robs you of your childhood," McNulty, 49, of Madison, said in an interview. She has written about her experiences at Calvary Gospel Church on a blog she created in 2017. "I am trying to get justice for my child self… nobody really spoke for her."
In late summer 2017, Cathy and Rodney Jensen started hearing rumors that their Mount Pleasant, Wisconsin, neighborhood could be changing.
Plans for a massive Foxconn flat-screen manufacturing plant had just been announced in July of that year. The Taiwanese company was planning a 20-million-square-foot complex and promised 13,000 jobs for the state.
The Jensens had owned a home on nearly 3 acres along Southeast Frontage Road for more than 20 years, close to the planned Foxconn development. Cathy Jensen said she went to a couple of village board meetings to get more information, but it was "useless."
Then, like dozens of fellow homeowners, the Jensens received a relocation order from Mount Pleasant.
"They said that they needed .13 acres of our frontage for a road project ... but they would be generous and offer us basically twice the amount and buy our whole property — our whole 3 acres," Jensen said.
Eight months after the Wisconsin Army National Guard finished its investigations into 1st Lt. Megan Plunkett's sexual assault claims, they tried to kick her out.
They did so even though Plunkett was already making her own way out. She was going through a medical discharge for post-traumatic stress disorder connected to alleged sexual assaults by two different men in two different units she served in.
She was not actively training at that time but was having a consensual relationship with an enlisted soldier in her unit. After the relationship ended, Plunkett said that man also sexually assaulted her. As it did in the first two cases, the Guard said her allegations were unsubstantiated, but they went one step further than that, finding Plunkett guilty of "fraternization." In the military, officers are forbidden to have sexual relationships with enlisted soldiers.
"I was like, 'I'm out, I just want to be left alone.' I don't want to cause more problems and then he came at me with fraternization. Are you ... kidding me?" she said. "He… assaulted me and how dare they accuse me of fraternization without asking me what happened?"
In 2009, it looked like Wisconsin was going to be a leader in passing progressive marijuana legislation. Democrats controlled the Legislature and a bill that would have made Wisconsin the 15th state to legalize medical marijuana had the support of Democratic Gov. Jim Doyle. Polls showed wide public support.
But the bill died in committee when Democratic Rep. Julie Lassa voted with Republicans to tank it.
Nearly a decade later, Wisconsin remains on the sidelines, watching as Michigan and Illinois battle it out to see which state can attract marijuana tourists first. 
During eight years of Republican control, marijuana legislation in the Badger State has gone nowhere. Meanwhile, 19 more states have legalized medical marijuana, for a total of 33. Ten states have legalized marijuana for recreational use, including Michigan, the first in the Midwest to do so.
But almost certainly not the last.
In a gesture that would have been unthinkable a year ago, Wisconsin Gov. Tony Evers Friday ordered a rainbow flag to fly above the state Capitol for the first time ever to mark Pride Month.
One Republican state lawmaker responded with a tweet that appeared to question the move on religious grounds.
"Is this any more appropriate than erecting the Christian flag over the Capitol?" tweeted Rep. Scott Allen, R-Waukesha, who also invoked the "#religious" hashtag.
Elected as state representative for the 48th Assembly District, Rep. Melissa Sargent, D-Madison, has been "legislating through listening" to her 60,000 constituents since 2012. The stories and concerns she heard from voters in her district have launched Sargent on an unexpected journey, sending her on a mission that she never anticipated when she first ran for office. 
Sargent, who says she has never used marijuana, has concluded that prohibition of the drug is ruining the lives of a large number of Wisconsin residents. 
Sargent recalled talking to a mother whose child — a recent high school graduate ready for college — was pulled over for failing to use a turn signal and cited for marijuana possession. Sargent does not know what happened to the student, but she said such a ticket can lead to "egregious" consequences, including lost scholarships and housing. 
At an April press conference, Sargent introduced Sarah Fabry, a registered nurse who used cannabis and later cannabidiol (CBD) to treat her Crohn's disease, an inflammatory bowel condition. Fabry said she took care of patients desperate to get cannabis for loved ones with agonizing end-stage cancer pain. She believes legalization would ease a lot of suffering. 
Fabry said her view of marijuana users has radically changed, from "the stereotypical pothead" to "your grandma, your spouse, your child, yourself." 
It was an icy morning, and Tom Litkea trudged from house to barn over frozen ground in sub-zero temperatures, limping through a journey he's made nearly every day since he was a kid working the farm with his dad more than 50 years ago.
The recent spate of arctic weather was tough on the spare New Lisbon farmer. First the sky dropped tons of snow on his barn, straining the roof to the point that he had climb up and clear it off with a shovel. Then the temperature plummeted and the water pipes burst.
"This whole barn was just solid ice," he said as he stepped through the door into air warmed by the body heat of 42 milking cows, frost still clinging to his gray beard. He grabbed a shovel and shuffled down the aisle between two rows of hind ends, clearing dung. Next came the feed, then the milking. Except for help from his son-in-law, a pipe inspector whose job often takes him on the road, Litkea does it all himself.
At 67, the farming life has taken its toll. A few years back a cow crushed his left foot. Another accident sliced the big toe of his right. After putting in 19-hour days to deal with emergencies caused by the cold snap, he can barely walk.
But he isn't ready to quit.
"I do this because I love milking," he said. "I might shrivel up and die if I don't have these cows anymore. They have brought me through my whole life, and I am just gonna be lost without 'em."
Reality, however, is setting in.
Share your opinion on this topic by sending a letter to the editor to tctvoice@madison.com. Include your full name, hometown and phone number. Your name and town will be published. The phone number is for verification purposes only. Please keep your letter to 250 words or less.
Get Government & Politics updates in your inbox!
Stay up-to-date on the latest in local and national government and political topics with our newsletter.