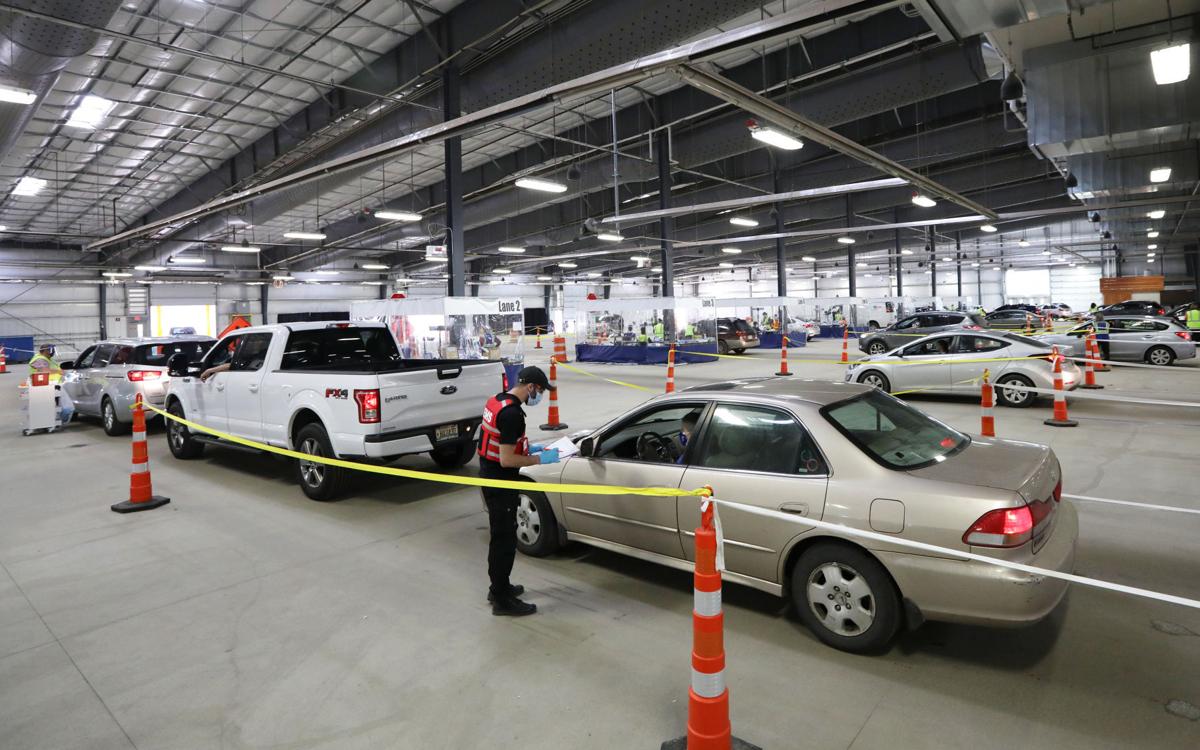 Vaccinations at the Alliant Energy Center will increase sharply this week thanks to resources from the Federal Emergency Management Agency.
Starting Wednesday, the site will become the state's second FEMA mass vaccination clinic. Another mass vaccination site has been operating in Milwaukee since mid-March, and another is slated to open on the University of Wisconsin-Eau Claire campus on Thursday.
Gov. Tony Evers announced Tuesday that the federal resources, which include 26 federal employees, will boost the number of weekly doses at Alliant from 5,600 to 7,700.
"This is one of the largest vaccination efforts our state has undertaken and it takes teamwork at every level to ensure we are getting vaccine to everyone as quickly, fairly, and safely as possible," Evers said in a statement. "I am grateful for FEMA's support to our state and coordinating with our local partners to help our most vulnerable populations get the protection they need so we can all move forward from this pandemic."
As of Saturday, more than 39,000 doses of vaccine have been administered at Alliant since it began the vaccination program on Dec. 29.
As of Monday, anyone 16 and older is eligible for a vaccine in the state. People can schedule appointments by visiting vaccinate.wi.gov or by calling 844-684-1064. People can drive up, walk, bike or take a Metro bus to the site. Free rides can be scheduled at the Public Health Madison & Dane County website.
Appointments for vaccines can also be scheduled with health systems and several pharmacies, including Walgreens, CVS, Kroger, Meijer, Walmart, Hometown, Hy-Vee, Good Neighbor and Amerisource Bergen pharmacies.
Since the week of March 2, the weekly number of doses administered at the site has risen from 1,201 to 5,216. And the number of fully vaccinated people has been accelerated by a transition to the one-shot Johnson & Johnson, which was administered almost exclusively at Alliant last week, while at the beginning of March the site was being supplied with Pfizer vaccine.
According Public Health Madison & Dane County, 42% of the county's residents have gotten at least one shot, and 25% are fully vaccinated. Ninety percent of residents 65 or older have gotten at least one shot.
Statewide, 33% of state residents have received at least one shot and 20% are fully vaccinated.
People are considered fully vaccinated when they receive two shots of the Pfizer or Moderna vaccine, or one shot of the Johnson & Johnson vaccine. Only the Pfizer vaccine has been approved for those 16 and 17 years old. The Moderna and Johnson & Johnson vaccines have been approved for those 18 and older.
The stepped-up efforts come as COVID-19 cases are on the rise, despite the growing number of vaccinated people. On March 21, the seven-day average for cases was 399. On Tuesday that number was 634, the highest since Feb. 19. On average, five people are dying from COVID-19 every day.
It also comes as more highly transmissible and likely more deadly variants proliferate across the state. So far, the state has reported 139 infections from a UK variant that health officials believe could soon become the dominant strain in the U.S. The state has also reported eight cases of infection from a variant from South Africa, and two cases of infection from a Brazilian variant.
On Monday, Public Health Madison & Dane County reported that 21 children and childcare workers, as well as 14 family members, at a Dane County childcare center had tested positive for COVID-19, including the UK variant. The agency didn't name the center or elaborate on the extent of infection from the variant.
"We know the variants are more infectious, and younger children can't be vaccinated yet, so this is an important reminder that we must all continue to take precautions," said Janel Heinrich, director of Public Health Madison & Dane County. "Get tested if you are showing any symptoms, get your children tested if they are showing symptoms, and get vaccinated as soon as you can. The vaccines are highly effective against severe disease and death from COVID-19 infection, even with the most prevalent variants."
Also on Monday, the Boys & Girls Clubs of Dane County announced it is partnering with Fitchburg Family Pharmacy and the UW-Madison School of Pharmacy to host three Saturday COVID-19 vaccination clinics in April aimed at increasing access to vaccinations among the communities it serves. Those communities, largely made up of people of color, have been hard hit by the pandemic and have vaccination rates far below that of whites.
The clinics, for people 18 and older, will be held on April 10 at the McKenzie Family Boys & Girls Club in Sun Priaire, on April 17 at the Taft Street Boys & Girls Club, and on April 24 at the Allied Family Center Boys & Girls Club in Fitchburg. Each will go from 10 a.m. to 2 p.m.
Fitchburg Family Pharmacy has pledged 1,500 doses of Johnson & Johnson vaccine for the effort.