The Madison Water Utility plans to continue operating without the use of a well on the near east side until a technical advisory committee reviews new state recommended groundwater standards. 
Madison stopped using Well 15 on East Washington Avenue in March because testing found the well is contaminated with chemicals known as perfluorinated compounds or PFAS.
The combined levels of PFOA and PFOS, two types of the contaminants, in the well are around 12 parts per trillion and are not considered a threat to human health. The levels are also below a new recommendation from the state Department of Health Services calling for standards of 20 parts per trillion. 
"There's no immediate plan to use the well any time in the near future," water quality manager Joe Grande said following a Water Utility Board meeting Tuesday. 
Grande said that the utility's technical advisory committee, comprised of subject matter experts, will review the latest recommendations from the state and report back to the Water Utility Board. The meeting has not yet been scheduled. 
Even if a decision is made fairly soon, Grande said he does not think the well will be used the rest of the year. 
Wells are evaluated daily to make sure they can meet users' demands and that reservoirs remain full, which are necessary for fire protection. Grande said before last week's rainstorms,  he was having conversations about potential voluntary water restrictions.  
"It's not because we can't supply adequate water or adequate pressure, it's just that we have a hard time filling our reservoirs when the demand increases," Grande said.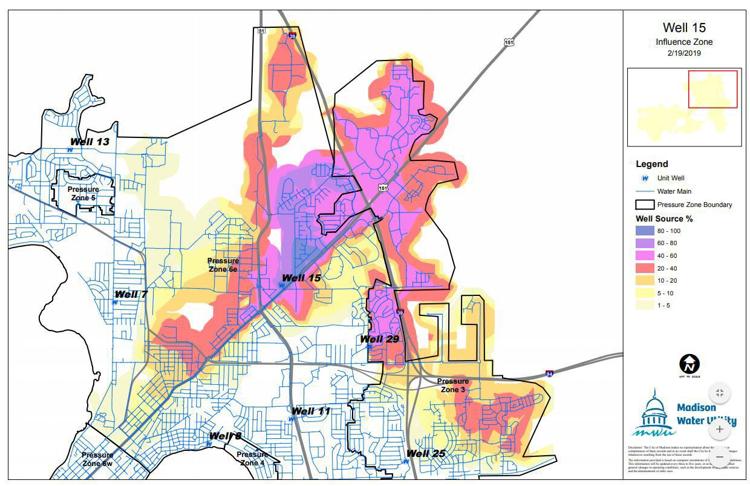 Proposed state recommendations 
On June 21, DHS recommended a combined standard of 20 parts per trillion between the two PFAS compounds, which is below the federal Environmental Protection Agency's health advisory level of 70 parts-per-trillion for the pair. In all, the agency recommended new standards for 27 different substances in order to protect public health.  
It will likely take two to three years for the Department of Natural Resources to put the groundwater standards into administrative regulations and enforce them. 
PFAS compounds are man-made chemicals used for decades in numerous products including non-stick cookware, stain-resistant sprays and certain types of firefighting foam that have made their way into the environment. The contaminants in Well 15 are believed to have originated at Truax National Air Base. 
A group of Greater Sandburg neighborhood residents signed on to a letter asking that Well 15 remain off line until there is a way to remove the PFAS compounds. They also asked the utility to consider more restrictive standards like those in Vermont, which limits five types of PFAS compounds to a combined 20 parts per trillion in groundwater.
 "We are concerned that in relation to the well and also in general the state's focus on just those two compounds could lead to a distorted impression that the water in Well 15 is safe to drink," east side resident Susan Pastor said. 
But public health experts have said residents don't need to invest in filters or buy bottled water. Implications for human health depend on the level and duration of exposure.
DHS is also reviewing an additional 34 PFAS compounds and six more pesticides. Additionally, the DNR plans to ask 125 municipal wastewater treatment facilities to begin testing water flowing in and out of the facilities for PFAS compounds. 
"I think it's really imperative, especially with Well 15 with this decision about whether to keep it on or off, that protecting public health first as soon as possible, especially vulnerable groups is our top priority and that means not waiting until the state figures this out," Maria Powell, president of the Midwest Environmental Justice Organization said.  
The group of concerned residents also asked to convene a Community Resident Advisory Panel to guide decision-making and mitigation efforts at Well 15. Pastor added in an email that she is concerned about the influence of the technical advisory group, which does not include elected officials, anyone appointed by an elected official or a public comment period. 
"I am deeply concerned that decision making about this important issue would be informed primarily by a group with no accountability to the public," Pastor said.