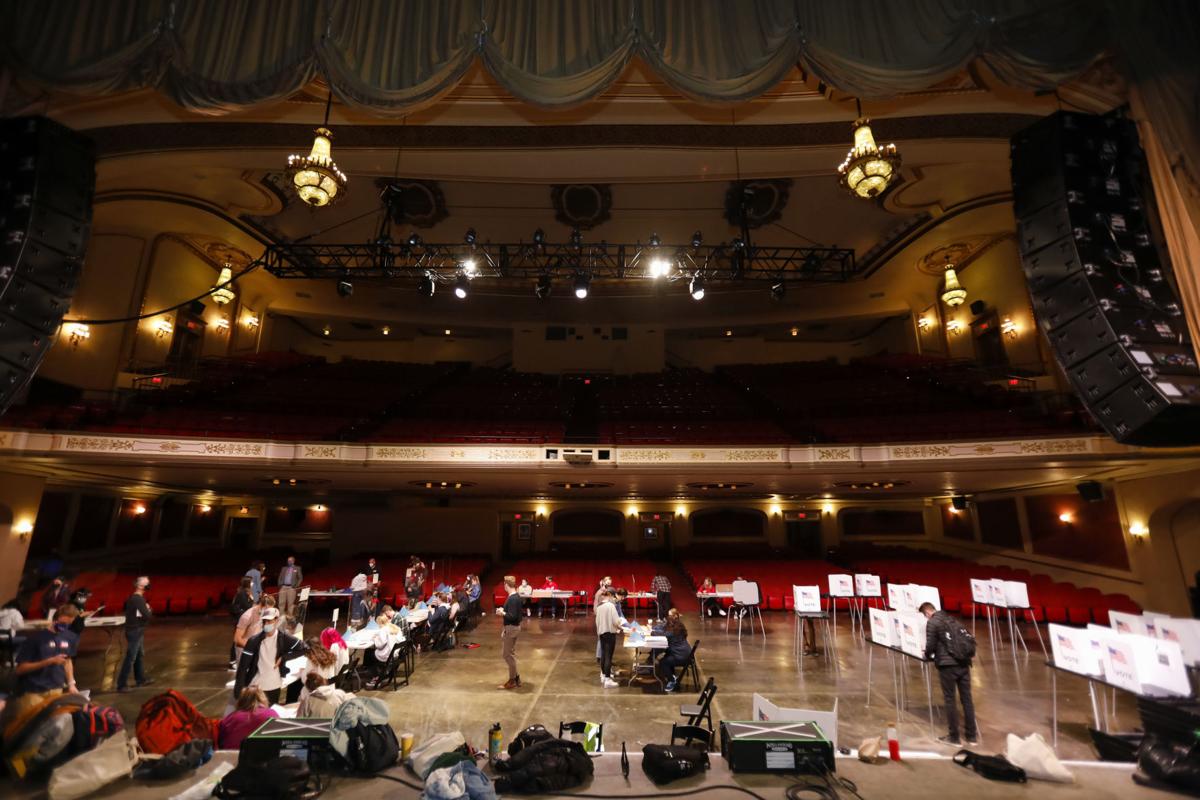 Former Vice President Joe Biden was helped to victory in Wisconsin this week by energetic support in Madison, a Democratic stronghold. Voter enthusiasm was high in the capital city this week, as shown by turnout that was up 5% over 2016.
In the weeks leading up to Nov. 3, signs motivating residents to hit 100% turnout dotted the near east-side Marquette neighborhood, which often competes for the title of most active ward in the city. But it was Ward 16, voting at Whitehorse Middle School in the heart of the east side, that claimed the title for housing the city's best voters.
The ward did not generate the highest number of voters — 2,613 — but it hit 92.5% of its number of registered voters as reported on Nov. 1 by the Wisconsin Elections Commission. These percentages will change once WEC releases updated registration numbers including those who registered at the polls.
Several of the city's traditional heavyweights also fared well with wards 78, 79 and 87 on the west side all topping 90%.
Also showing up on the list of wards that topped 2,000 votes and 90% of Nov. 1 registrations were areas on the city's periphery:
• 38, on the far north side
• 98, on the far southwest side
• 107 and 111, on the far west side
Those wards' numbers were helped by significant absentee voting and, in the case of 107, residential growth over the past few years. Voting at Blackhawk Church doubled from 2016 to 2020, the biggest increase seen in the city.
The neighborhood near Breese Stevens Field, which includes several apartment buildings constructed in the last 10 years, generated the most voters of any ward with over 3,421. Of those, 3,140 voted for Joe Biden, a 29% increase over what Hillary Clinton received four years ago. That same neighborhood previously backed Gov. Tony Evers, Mayor Satya Rhodes-Conway and on Tuesday, supported state Rep.-elect Francesca Hong along with Biden.
Only one downtown ward — 52, voting at the Madison Municipal Building — saw more voters this year than in 2016. Turnout fell off significantly in wards closer to the University of Wisconsin-Madison campus. Ward 56, which includes the southeast campus dorms, had just 41% of 2016 turnout.
With quarantines, bans on gatherings and other obstacles presented by the COVID-19 pandemic, political activity on campus is perhaps lower than ever before in history. And many students may have opted to register and cast their votes from their permanent addresses across Wisconsin, or even in other states. A clumsy process for obtaining a valid voter ID didn't make the process any easier.
A stark view on voting patterns based on wealth can be seen on the city's west side. Ward 78, home to the wealthy Nakoma neighborhood, saw over 90% of registered voters cast ballots, with 74% voting early or by absentee ballot.
Across the Beltline in Ward 76, home of the Allied neighborhood, saw 77.4% of registered voters turn out, the lowest in the city outside the student wards.
In the spring primary, the Madison City Clerk's office generated maps that compared areas of high voter participation with areas of high poverty rates. The conclusion held true in November: wealthy neighborhoods see better turnout than poor neighborhoods.
Share your opinion on this topic by sending a letter to the editor to tctvoice@madison.com. Include your full name, hometown and phone number. Your name and town will be published. The phone number is for verification purposes only. Please keep your letter to 250 words or less.