Curt Brink, the developer behind Hotel Indigo on the 900 block of East Washington, is now seeking to develop other properties on the block, including a five-story office building at the corner of South Paterson and East Main streets and a parking structure in the middle of the block. 
Brink and architects from Potter Lawson will make an informational presentation to the Urban Design Commission on Wednesday, Nov. 20. The proposal is part of Brink's vision for the block, which he has named Archipelago Village.
The Wisconsin Housing and Economic Development Authority would occupy the top three floors and the bottom two floors would be leased out as office space, Brink said Tuesday. 
"There are a few different people looking to lease," Brink said. "It's all going to be office space on the bottom two floors." 
The proposed parking ramp would feature a green roof and serve the businesses that are already in the area, like Hotel Indigo. Eventually the ramp will also provide parking for a previously approved 11-story building at 929 E. Washington Ave. and a future 10-story apartment building that Brink has planned for East Main Street. 
Brink said the apartment building would include affordable units.  
"Twenty percent of it would be reserved for people making 80% of median income," Brink said. "We have been in discussion with the neighborhood about it. People are excited about the 20% being for 80% of median income. It will be close to McPike Park and Willy Street. I'm trying to make it a classic looking brick building." 
Brink said Hotel Indigo, a 144-room facility with a bar and restaurant occupying the site of the former Mautz Paint warehouse, has been a success. But the hotel's surface parking lot can not property serve the demand, which will increase substantially with the addition of the 11-story office building next door.
The five-story building that will feature leased office space and WHEDA will be directly behind Hotel Indigo on the corner of South Paterson Street and East Main Street.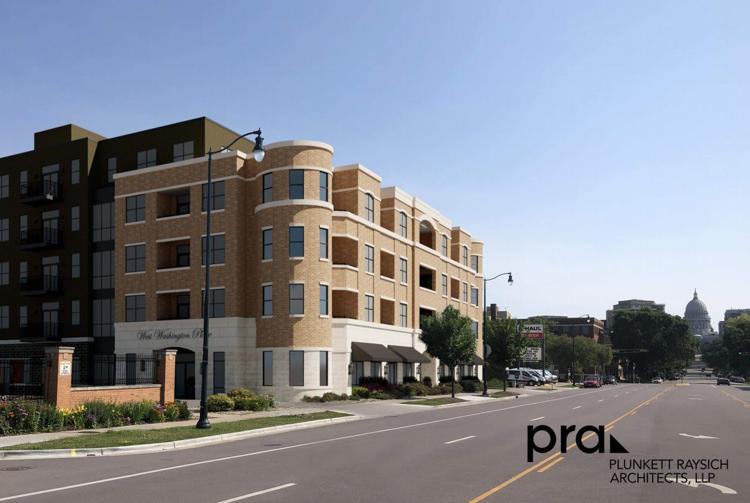 The UDC will also review a redevelopment of the Kelly's Market and Mobil gas station at 636 W. Washington Ave. Plans call for that gas station — one of the few serving downtown Madison — to be demolished. 
A proposal calls for it to be replaced by a five-story mixed-use building that will include two levels of underground parking and approximately 50 market rate rental apartments. The apartments would consist of a mix of studios, one and two bedrooms and limited three-bedroom spaces. The ground level would include a residential lobby and other amenities, a ride-in bike storage area and office space. 
If approved, the development would break ground in spring of 2020 with an expected completion date of May 2021.