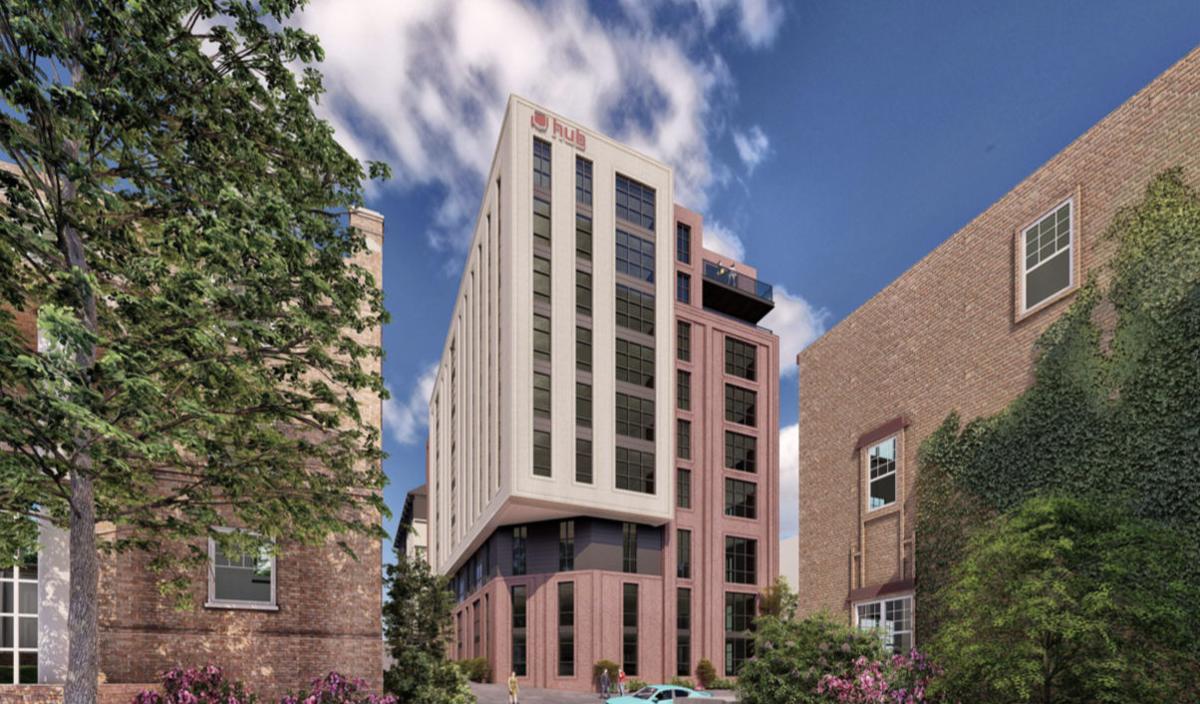 Madison's Urban Design Commission is set to review on Wednesday several high-profile development proposals, some of which are seeking initial or final approval. UDC will meet virtually on July 1 at 4:30 p.m.
Among the items on the agenda is the Hub II (also known as The Langdon) proposed for 126 Langdon St. After an earlier iteration was rejected earlier this year, the project has been re-designed by the Core Spaces development firm, which specializes in apartment buildings near college campuses. It would be a seven-story, 373-bed building with 20 underground parking spaces as well as a green roof.
The Hub II is back before UDC after being referred by the Plan Commission in June. 
There has been some public discussion about the project. A Campus Neighborhood Association was formed this spring in order to give area residents a stronger voice in development projects that target areas with large concentrations of students. The Campus Neighborhood Association was, in large part, a reaction specifically to The Hub II proposal, which has faced a opposition from other downtown residents.
Opponents have started to call attention to management issues at other Core Spaces properties nationwide. A report from last August in East Lansing (Michigan) Info noted The Hub in that city failed to make its move-in deadline, causing significant traffic issues. Core Spaces, according to the report, did not secure a Certificate of Occupancy in time for its scheduled move-in. A Certificate of Occupancy is issued when a building has been inspected and deemed safe for living.
The Hub in Tuscaloosa, Alabama, also faced issues when it opened in 2018. According to The Crimson White, students complained that when they moved in, they encountered flooding and ceiling leaks. Other students said The Hub opened before it was ready and resembled a construction site when they moved in and did not have the promised appliances. There were also issues with sewage backups and mold.
In West Lafayette, Indiana, the Journal & Courier reported that a 15-year-old boy allegedly shot and injured two men on the The Hub's rooftop, near the Purdue University campus. The shooting took place on the pool deck and left disappointment in the community around the level of security provided by Core Spaces.
The proposed Hub II on Langdon St. would also feature a rooftop deck.
Rodney King, the senior vice president of development with Chicago-based Core Spaces, said the firm will "vet security companies closer to the time of opening, which is scheduled for 2022, if we get approved."
He also said Core Spaces will manage the building itself, unlike other properties that are managed by other entities.
A proposed eight-story jail tower that matches the height of the current Public Safety Building at 115 W. Doty St., will be the subject of a presentation before UDC. The Dane County project is seeking initial or final approval. The design of the new jail is proposed to be Terracotta panels broken up by windows.
The new jail project is expected to cost upwards of $148 million and will be used to replace the outdated jail facilities located on the sixth and seventh floors of the City-County Building.
Three other major projects around Madison are scheduled to be reviewed and could receive initial or final approval as well.
One is a proposal to demolish the existing Westgate Mall on Whitney Way near the Beltline and begin a phased redevelopment of the entire lot, excluding the Hy-Vee grocery store. The Westgate redevelopment was reviewed by UDC on May 27 in an informational presentation and is scheduled to go before the Plan Commission on July 27 and City Council on Aug. 4.
The redevelopment would include the construction of multiple four- and five-story buildings across several phases: A 153-unit market rate apartment building; A 70-unit workforce development housing building; a 161-unit affordable senior living building; and an additional 79-unit market rate apartment building.
UDC will also review plans to build a 10-story building at 414 E. Washington Ave. on the site of the old Klinke Cleaners. The building would include 152 apartments and 3,300 square feet of commercial space, with 2 levels of underground parking.
They will also review a proposal to demolish six residential houses from 502-518 W. Washington ave. and three residential houses on North Bassett st. in order to construct a 6-story, 103 unit building.
Get Government & Politics updates in your inbox!
Stay up-to-date on the latest in local and national government and political topics with our newsletter.