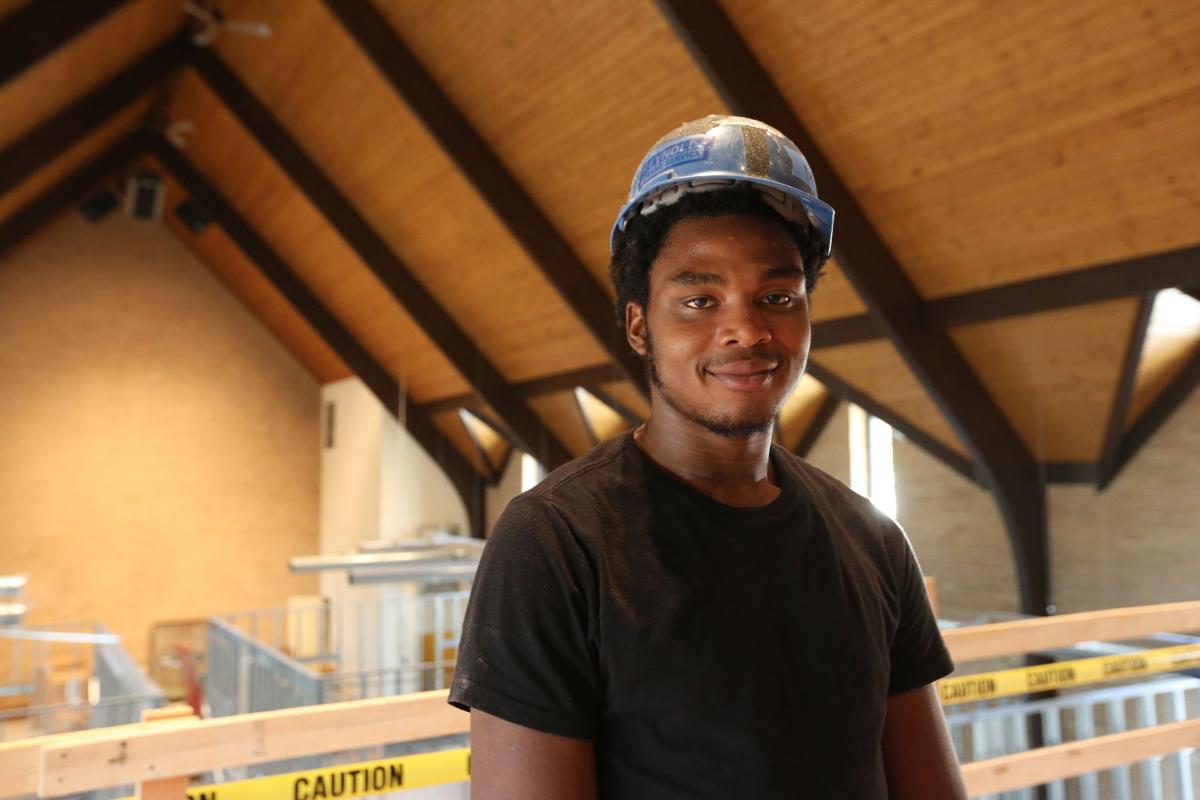 As the local alternative education program Operation Fresh Start looks forward to using a larger space on Milwaukee Street, renovation of the building is a learning opportunity for students.
OFS helps students gain a high school education, job training in construction or conservation and supports them to find post-secondary education or a career. OFS has been running out of a 10,000 square-feet space at 1925 Winnebago St. for the past 28 years and is in the process of renovating the former Holy Cross Church and School at 2670 Milwaukee Street.
About half of the construction will be done by OFS students, including 18-year-old Maurice Wright. While he was first placed on a conservation team, Wright said he always had an interest in construction.
He explained in depth how his crew built a new floor on the upper level of the sanctuary.
"When this is actually done, I can come back and say, 'I did this, I did that,'" Wright said. "This is an honor because I can come back and show everyone what we did."
Wright expects to graduate from Memorial High School at the end of the year and is working toward attending college to become an architect.
This Saturday, Sept. 23, OFS students and alumni will have a chance to work on the new site together at an Alumni Build event. Wright said he plans to attend and is looking forward to meeting former students, many of whom are now working professionally in construction.
"It makes you more confident when you're meeting someone who's doing exactly what you want to do," Wright said. "That really motivates you,"
Douglas Crowder, an alum of OFS, said it was a "no-brainer" decision to attend Saturday's event. He enrolled in OFS in 2011 to break away from the environment and social scene he was a part of at La Follette High School and largely credits the program with where he is today.
Crowder is finishing up his associate's degree in criminal justice at Madison College and works as a corrections officer at Mendota Mental Health Institute. 
"The longer we ignore the problem, the longer it's going to go on," Crowder, 24, said. "OFS does a good job of facing that problem right away." 
Crowder hopes to share his experiences with the current students and let them know the experiences they are gaining at OFS are valuable. 
"It's a good reward on the other side," Crowder said. "Back then, it didn't seem like it meant anything, but it means a heck of a lot more when you get out into the real world and you're on your own and you're filling out an application for a job."
Each year, OFS serves 200 students, but turns away about 100 youth due to capacity constraints. The larger 26,000 square foot building will allow the program to double the number of students and add programming, executive director Greg Markle said.
After renovation, the church sanctuary will be transformed into classrooms and office space. OFS is also adding a training kitchen in the basement, a health care training practice exam room and a construction and conservation training lab.
"It's an extensive remodel and repurpose of a really solid wonderful building," Markle said.
Markle estimates construction is expected to complete in winter 2018-19. 
Students will also have the opportunity to shadow professionals who will be renovating the HVAC system and doing plumbing and electrical work.
Reach Dane will be using a portion of the building for Head Start programs, providing OFS students with childcare opportunities. 
Share your opinion on this topic by sending a letter to the editor to tctvoice@madison.com. Include your full name, hometown and phone number. Your name and town will be published. The phone number is for verification purposes only. Please keep your letter to 250 words or less.