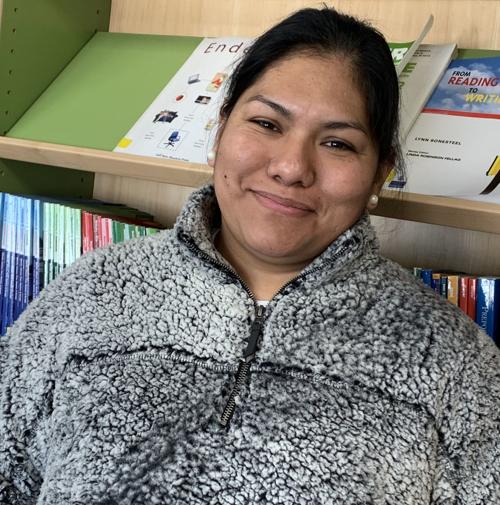 For most of us, the COVID-19 pandemic has presented a long list of challenges, from how to work at home while keeping kids occupied to figuring out what to do if a relative falls ill or needs special care and services.
Imagine navigating the constantly updating information landscape as someone who doesn't speak much English. Tackling that challenge has been the focus of Madison's Literacy Network for the past several weeks.
In light of calls for social distancing and deep cleaning of public spaces, the organization has had to revamp how it helps its students. Normally, Literacy Network staffers would meet face-to-face with students and provide individual educational help. But with much of the city shut down, staff at the nonprofit organization have had to pursue other means of not just continuing coursework, but helping students receive appropriate and accurate information about COVID-19.
"We're really doing our best to help our students to connect to resources that provide them with good information, because the information that's coming out is really scary," executive director Jeff Burkhart said. "And it's changing so quickly. We just know that our students are among the most vulnerable and so we want to make sure that they both get good information and they understand it."
Most of the 350 students currently enrolled in programming through the Literacy Network are English language learners. The group serves approximately 1,000 adults every year and, according to Burkhart, that's only a fraction of the actual need around Dane County.
Students are referred to Literacy Network through nonprofit organizations and word of mouth. The organization offers programs in 30 locations throughout the community, but right now the doors are closed to the public until March 30 at the earliest.
"There's a lot of misinformation out there and we're trying to do our best to make sure that people understand what they need to do to protect themselves and their families, and to dispel the myths that I think are out there floating around," Burkhart said. "So ensuring that we are a trusted source of information is one thing that we're doing. An additional thing that we're working on is just making sure that our students have the resources right in front of them."
Most of the students don't have computers at home and don't have access to some of the other information sources many people take for granted. So Literacy Network has been providing COVID-19 updates and other health information via text message and personal phone calls to students.
"It's very difficult for them to gather information in ways that I think a lot of us take for granted," Burkhart said. "So we're using cell phones, we're using our tools to commMartha Vasquez, who has utilized Literacy Network for over six months, said that information sharing has been a big help.
"I try to understand what is real about COVID-19 and I worry more that people don't think clearly. For example, most people go out and buy a lot of stuff in the stores," Vasquez said. "What about the people who don't have a lot of money, who can't buy food and don't have more money to go buy extra for their family. I fear that. Lots of people go to the store and I don't understand why people don't relax and know that they don't need a lot of stuff."
Vasquez, who was born in Mexico but has lived for over 18 years in the United States, said that she's studying English in order to help raise her kids to be bilingual.
"My kids learn English really easily in school and at home I speak Spanish because I want my kids to be bilingual," Vasquez said. She added that she isn't overly worried about COVID-19 and credits her classes at Literacy Network for helping her be able to stay updated about it.
"I try to read what it is, what happened and what I need to do," Vasquez said. "I am trying to relax because maybe it is not a catastrophe."
Literacy Network is tentatively planning to open its doors for face-to-face classes again on March 30. But Burkhart said the staff met about a week ago to discuss contingencies for if they are not able to resume normal functions.
"The biggest challenge is that because we have such a great number of students in our programs and they're in so many different locations, it's just making sure that we have enough personal time to maintain contact with them. So we're making a lot of personal phone calls, text messaging and just sharing information with folks that way. We're definitely committed to supporting them in that kind of way."
While Vasquez was not certain COVID-19 amounts to a catastrophe, many students have been feeling different levels of fears. Burkhardt said the key to addressing that is continuing to provide accurate information and making sure students are following it.
"I think people are just frightened, generally, but they're reassured that we are doing our best to be a good resource for them," Burkhart said. "So I think we're alleviating some of that fear."
Correction: The number of adult learners served by the Literacy Network has been corrected. It is 1,000.
Get Government & Politics updates in your inbox!
Stay up-to-date on the latest in local and national government and political topics with our newsletter.