With financial partnership from the Wisconsin State Office of Energy and Madison Gas and Electric, the city of Madison announced this Tuesday it will purchase 20 additional electric vehicles by 2020 and charging stations.
Madison received a $129,000 grant from the state and plans to buy Chevrolet Bolts, zero emission cars that can travel 240 miles on a single charge, over the next two fiscal years.
"This is an opportunity here today to witness the transformation of our fleet," Soglin said Tuesday at a press conference. "It's going to improve our community's air quality and contribute globally to the goals of everyone throughout the world."  
In addition to the state funding, MGE is providing $10,000 to implement electric vehicle charging stations around the city.
"MGE and the city have a long history of working together to achieve shared goals," spokesman Steve Schultz said. "Electrification of transportation is a key strategy to achieving deep decarbonization."
The transportation sector accounts for 28 percent of global greenhouse gas emissions. In Wisconsin, 38 percent of the energy consumed in the state is in the transportation sector, Maria Redman, director of the Wisconsin State Office of Energy Innovation, said. 
"We really need innovative projects and leadership, especially on the municipal level," Redman said.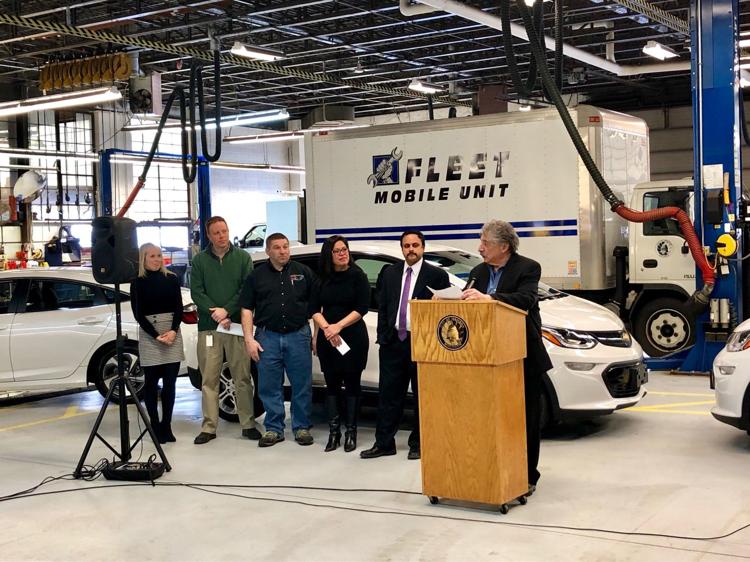 With the purchase of the Chevrolet Bolts, Madison's fleet will have 28 electric vehicles and become the largest electric vehicle fleet in the state. Madison's fleet includes 1,400 vehicles.
Fleet superintendent Mahanth Joishy said he would "welcome other fleets to compete against" Madison.
"Madison should be leading in this area," Joishy said, describing climate change as a war. "We will win this battle with the help of everyone here."
Madison's fleet currently has 19 hybrid vehicles with plans to add 36 hybrid police cars this year. Joishy estimated that the city will have about 60 hybrid vehicles total by the end of 2019.  
"It's my intention for city of Madison to only purchase hybrid or electric when it comes to cars from now on," Joishy said. 
Madison's fleet services is also using biodiesel fuel blends, a renewable energy source that reduces emissions, and utilizing anti-idling technology. Madison Metro Transit is expected to use three electric buses by 2020. The city is also in the beginning stages of a bus rapid transit study.
To keep the city's fleet running, Madison College Auto Technician Program director Paul Flogel is working closely with the Fleet Services to develop new technology education and training for the new electric vehicles and chargers.
"We do have a lot more to do, but these efforts are dependent upon the men and women of Fleet Services, the wisdom of our elected leadership and, of course, the Madison public, which is demanding that we move as quickly as possible to a green program that is going to minimize those greenhouse gases," Soglin said.