When a 70-year-old man recently wandered away from a nursing home in Madison, using one of the Madison Police Department's new drones was effective in narrowing the missing person's location, said Officer Mike Love Monday.
"Using the (Forward Looking Infrared Radar) camera, we were able to quickly rule out they were not in a quarry that was located very close to (the nursing home) or in some fields that would be very hard to access just on foot," Love said.
Love is a member of a new 11-member team within the department certified by the Federal Aviation Agency to operate Unmanned Aircraft Systems, commonly known as drones. The MPD officially launched its new drone team Monday, though the program has been operational since June 1.
The department acquired two UAS devices with three cameras, totaling $17,500, in December 2016 and started the process of formalizing the program and training officers in January.   
Since June 1, the team has been called on five times to use the drones to search for missing people, suspects and fugitives. Police also used them while investigating a homicide and armed robbery at a Culver's restaurant on the city's south side.
"They've been successful in that they've been one more tool in investigation or finding somebody," Lt. Mike Hanson said. Hanson is the commander of the UAS team.
Using a drone that can quickly survey a large swath of area is particularly helpful in searching for missing people. Additionally, the distance a drone provides between an officer and a potentially dangerous suspect is a benefit, Hanson said.
During a police call that requires a drone, ideally three trained officers would respond: a pilot in command, an operator who controls the UAS and an observer who monitors the scene. The team contracted with Middleton-based Breakover Services for training, but several officers already had experience with personal drones or with flying aircraft.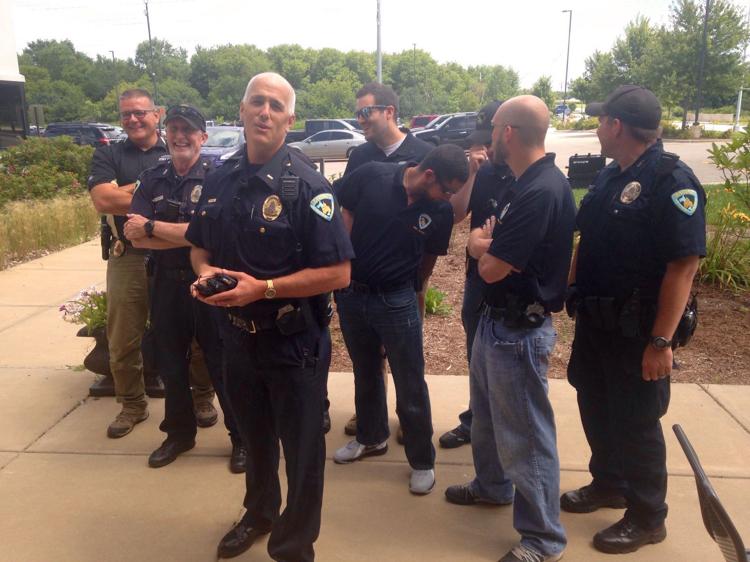 Love, who joined the department in 2013 at 57, had previous experience as a charter pilot, flight instructor and working at the NASA space station in Houston. He said using the UAS devices is a "natural extension" of his flying experiences.
"The beauty of this technology is we're still figuring out how to use it most effectively," Love said. "The more that we use it, the more that we understand how to use it better and to be able to deploy resources."
Under the department's standard operating procedure for UAS devices, officers can use the new tools for specific events such as search and rescue operations, to provide aerial documentation of crime scenes, surveillance of damage and visual perspective to aid public safety operations. It could also be used to survey large crowd situations such as Freakfest on State Street.
Love said the department has permission under its FAA certification to fly over crowds of people. The MPD can also use the drones at night with proper lighting but needs FAA approval to fly within a five-mile radius of the airport.
All still images and video taken recorded by the drone are kept by the department as public records.
MPD guidelines specifically state that the UAS devices shall not be used to conduct random surveillance activities, to target any person based on individual characteristics, to discriminate against any person or group, over any correctional institution or with any type of weapon attached.
"We have no business flying this for fun over someone's backyard," Hanson said, later reiterating that the UAS devices are a public safety tool.
Hanson recognizes that members of the public may have concerns that their privacy could be violated. However, he said the department has checks and balances in place to ensure the UAS devices are used properly.
Each flight request will be reviewed by Hanson to make sure it falls within the department's appropriate uses.
"We're incredibly sensitive to the fact that this is new technology, and it's new to Madison and it's evolving," Hanson said. "That's why it's important to us in our (standard operating procedure) that it is well known publicly and within our team that we have limitations on how we will use our (Unmanned Aircraft Systems)."