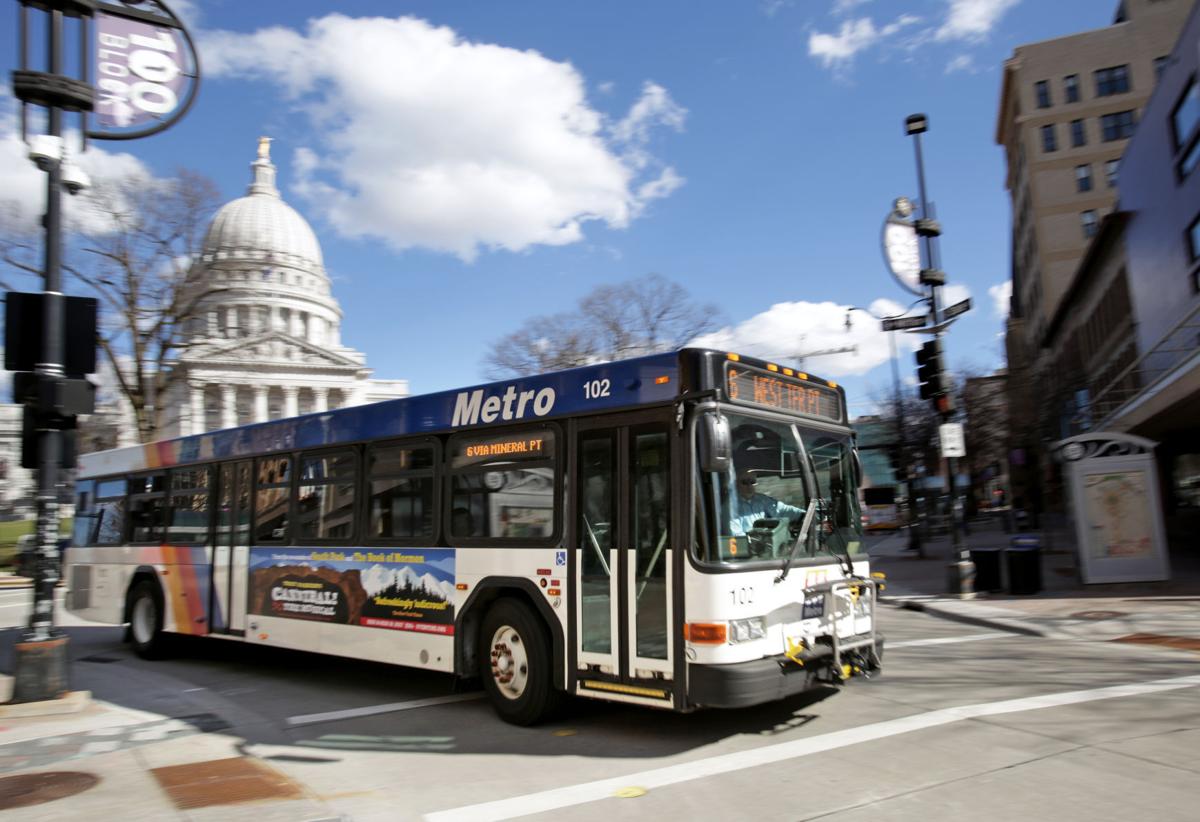 Madison officials want a faster way for buses to cut across town from east to west, through the downtown area and University of Wisconsin campus.
In pursuit of that goal, at it's Monday, Nov. 6, meeting the city Plan Commission will review a resolution, proposed by Mayor Paul Soglin, to plan for the first phase of a city Bus Rapid Transit system.
BRT provides a faster ride down busy roads by using high-capacity buses, limited stops, prepaid tickets and even the power of bus drivers to extend green lights. Madison officials have looked into a BRT system for years. A 2013 study found that there is a "good potential for the successful implementation of BRT in the Madison area."
The 2013 study estimated that a BRT system could shorten the commute from Capitol Square to West Towne from over 50 minutes to about 35 minutes. Trips from the Capitol Square to East Towne could be trimmed from over 30 minutes to 26 minutes. (The estimates were based on potential, not actual, routes for the system.)
The buses, specially branded to distinguish them from other Madison Metro buses, would be 60 feet long and equipped with wireless internet.
If approved by the City Council, Soglin's resolution would start a planning process, looking at what it would take to make the first phase of a city BRT — an east to west corridor — a reality.
That planning process would begin in 2018 and last up to 18 months. It would include plotting routes and stations, ridership estimates and a financial plan. About $1 million in federal and about $1 million in state money would fund the planning process.
The route would run along an east-west corridor for about 10 miles, from near East Towne Mall to the West Transfer Point on Whitney Way, although the exact ending points are to be determined. The full plan also calls for a north-south corridor, with the whole system expected to cost around $155 million to build and almost $10 million a year to operate.
The east-west corridor is expected to cost between $40 and $60 million, with the city hoping that the federal government would foot the majority of the bill through the Federal Transit Administration Capital Investment Grants program, although President Donald Trump proposed cutting funding from the program earlier this year.
BRT is part of Madison's larger sustainable transportation plan, known as Madison in Motion, which emphasizes expanding alternatives to driving.
"It's not that we ignore cars, but we also know that a city that's completely relying on cars is a city we don't want to live in, it's overly congested," David Trowbridge, transportation policy and project manager for the Planning Division, said earlier this year.
BRT is Madison's high-capacity transit answer to crowded and lengthy bus rides around the city. The city has also considered light rail, but was advised by the federal government that it was too small to support the system.
The Plan Commission will make a recommendation on the resolution. The measure was also referred to the city's Pedestrian-Bicycle-Motor Vehicle Commission and Long Range Transportation Planning Committee. 
Also up for approval at Monday's meeting is a proposal for a five-story mixed-use 161-unit apartment complex at 131 S. Fair Oaks Rd. Residents have voiced concerns about the size of the development and the air-quality on the site, as it is close to a Madison-Kipp factory. Recent air-quality study showed that emissions from the smoke stacks at Madison-Kipp have a "negligible effect" on the proposed site.
On her blog, Ald. Marsha Rummel said she believed the development team has "done their due diligence by hiring a third party environmental engineer to be certain they understand the environmental legacy of the site."